Automate reconciliation of sales from your favorite e-commerce systems with accounting to always have your books prepared for correct reporting and hassle-free tax filing! Synder is a smart software for easy e-commerce accounting. Finally, there is a solution to gather everything in one place as Synder allows you to integrate all e-commerce stores and payment gateways and simplify your accounting experience. You don't need to be a professional accountant or hire someone else to do all the calculations for you. Synder will auto-record and account for your e-commerce sales and expenses, categorize payouts, invoices, and other payments. All you need is to be passionate about what you are doing and have high hopes for the future.
Try out Synder on a free Trial and let the software become your vital support. Here is how you can connect your sales platforms such as Shopify, eBay, Amazon, Etsy, Stripe, PayPal, and many other to Synder accounting, give it a shot, you will not regret it!
Overview:
Create your Synder profile
Step 1. If you are getting started with Synder you will need to create a free Trial account first. You can either sign up using your Google account credentials or create an account with Synder credentials.
Step 2. Once your account email is confirmed, you will be prompted to fill in your account information: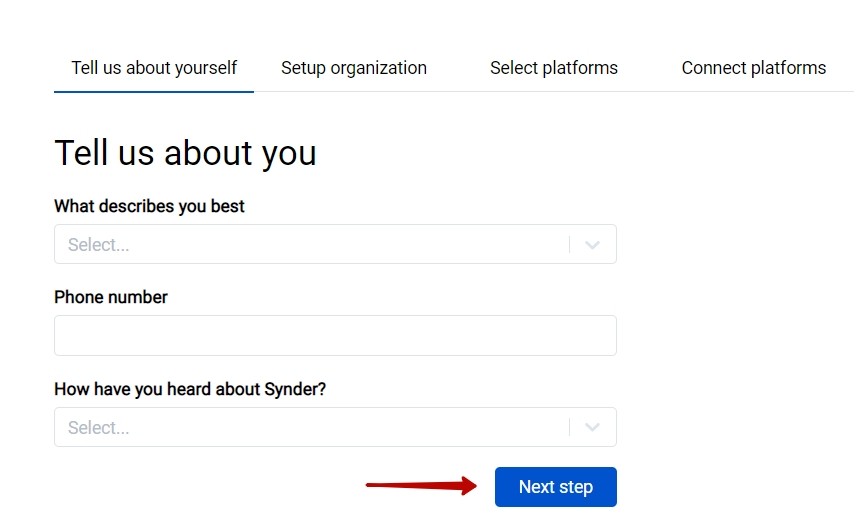 Step 3. Create an Organization for your business (learn more about Organizations management in Synder) by filling in the information about your business and clicking the Next step button: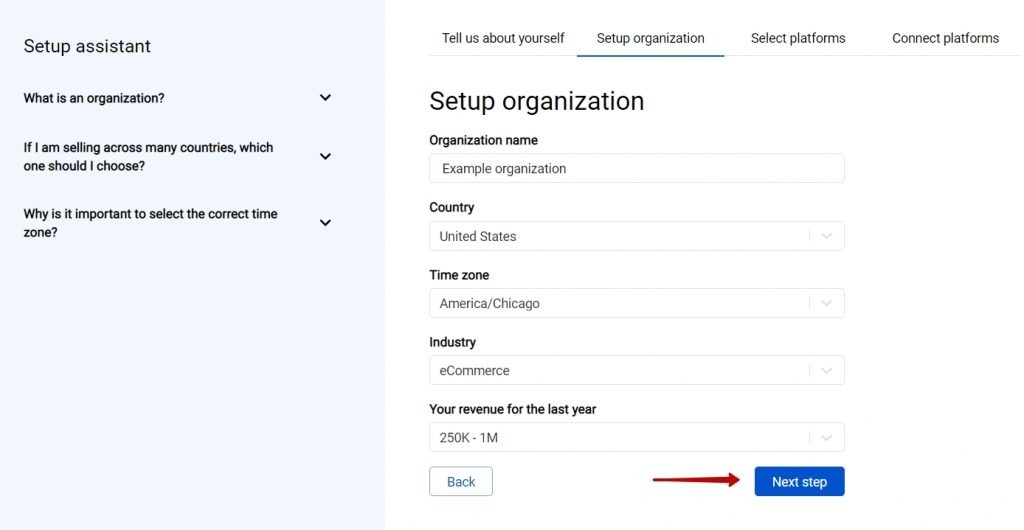 Select sales platforms you use for your business
Step 4. Now you are to select the platforms you would like to integrate with Synder. Mark Synder Accounting and all sales platforms you would like to integrate with Synder (click View all processors to see the list of all available platforms) → hit Next step: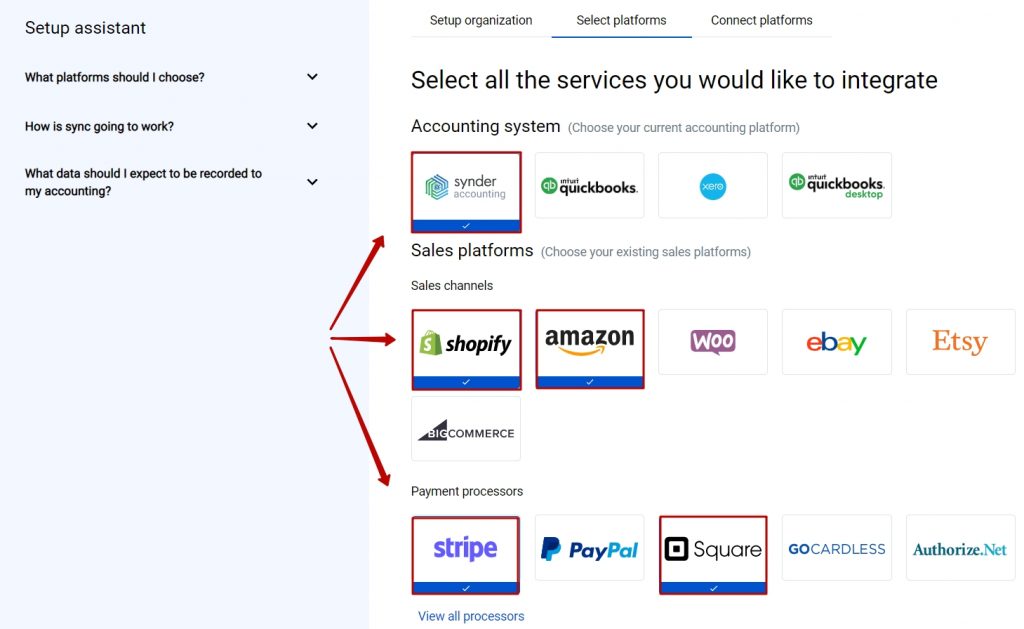 Note: Mark all the services you are using to receive payments, you will be able to connect all of them right away or skip the connection of particular integrations and set them up any time later.

Step 5. Select your home currency and the first month of the fiscal year you would like to set up in your Synder accounting → hit the Connect button.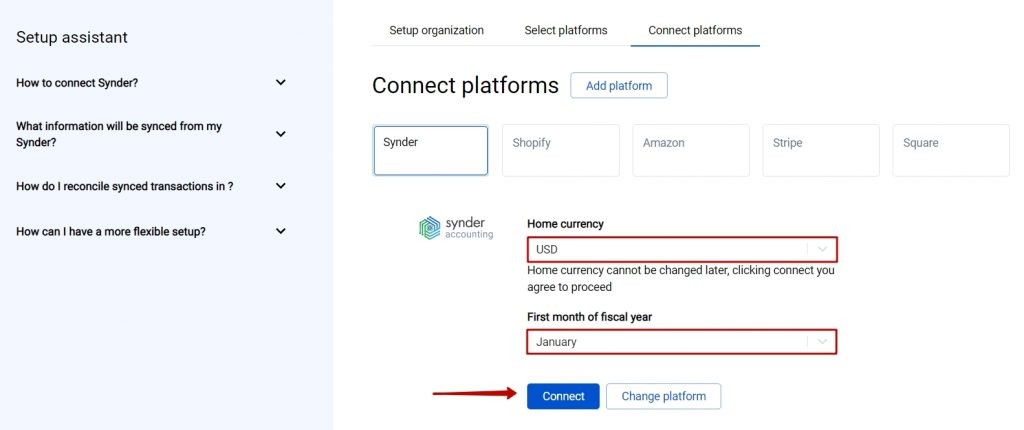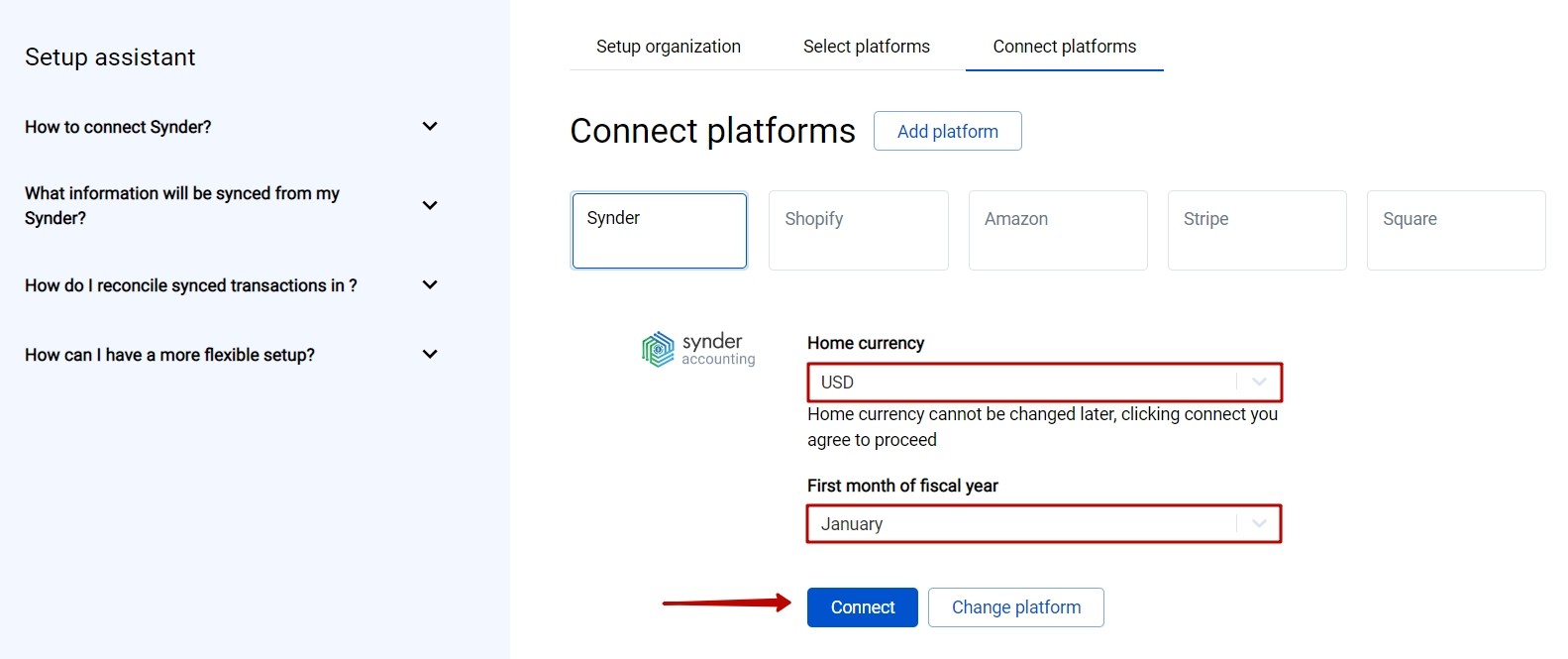 Step 6. Connect your bank account to Synder Accounting following the steps on the screen to enable smooth reconciliation, download, and categorize bank transaction data automatically:
1. Click on the Connect bank button → hit Continue.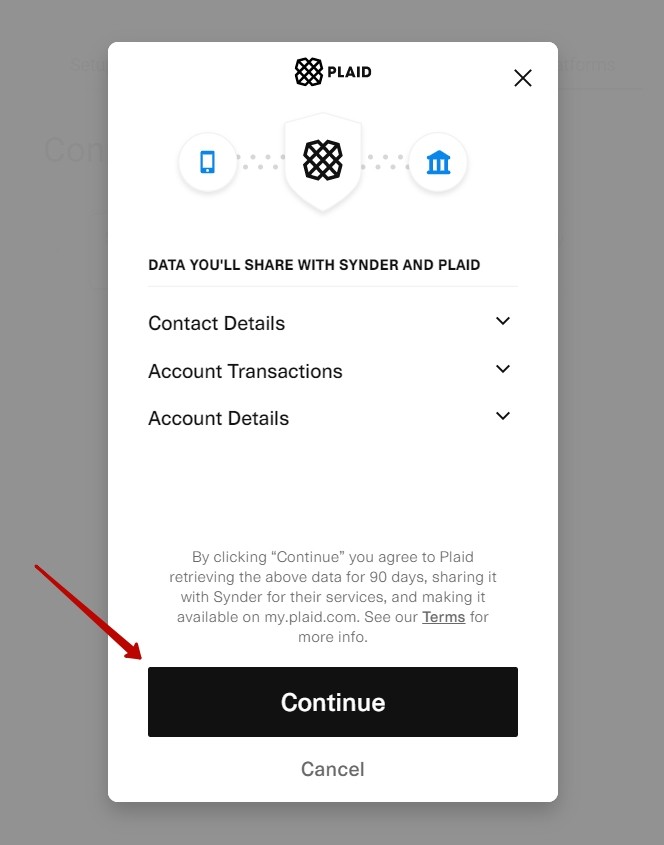 2. Select your bank from the list and provide your User ID and Password → hit Submit.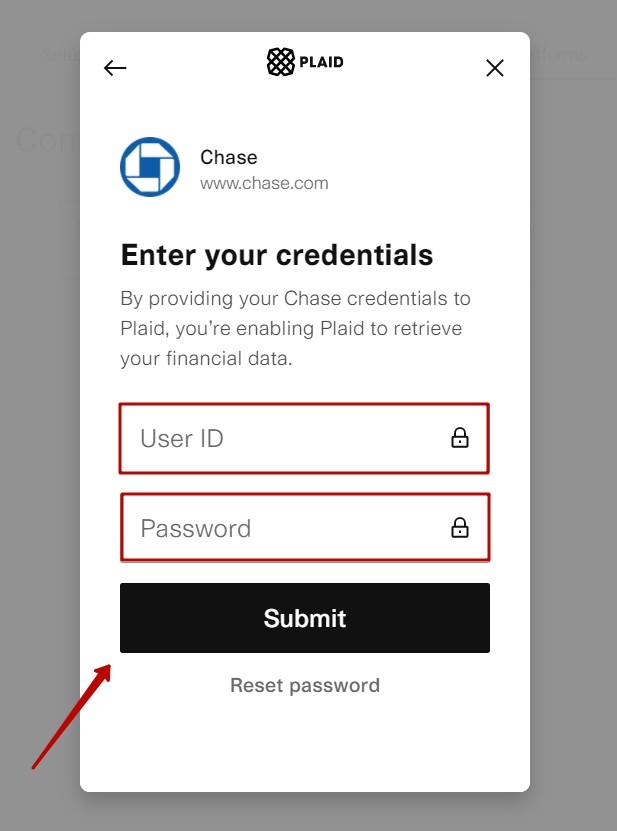 Step 7. Almost there! To complete the setup you just need to connect your sales platforms to Synder. You can integrate them one by one straight away following the steps on the screen: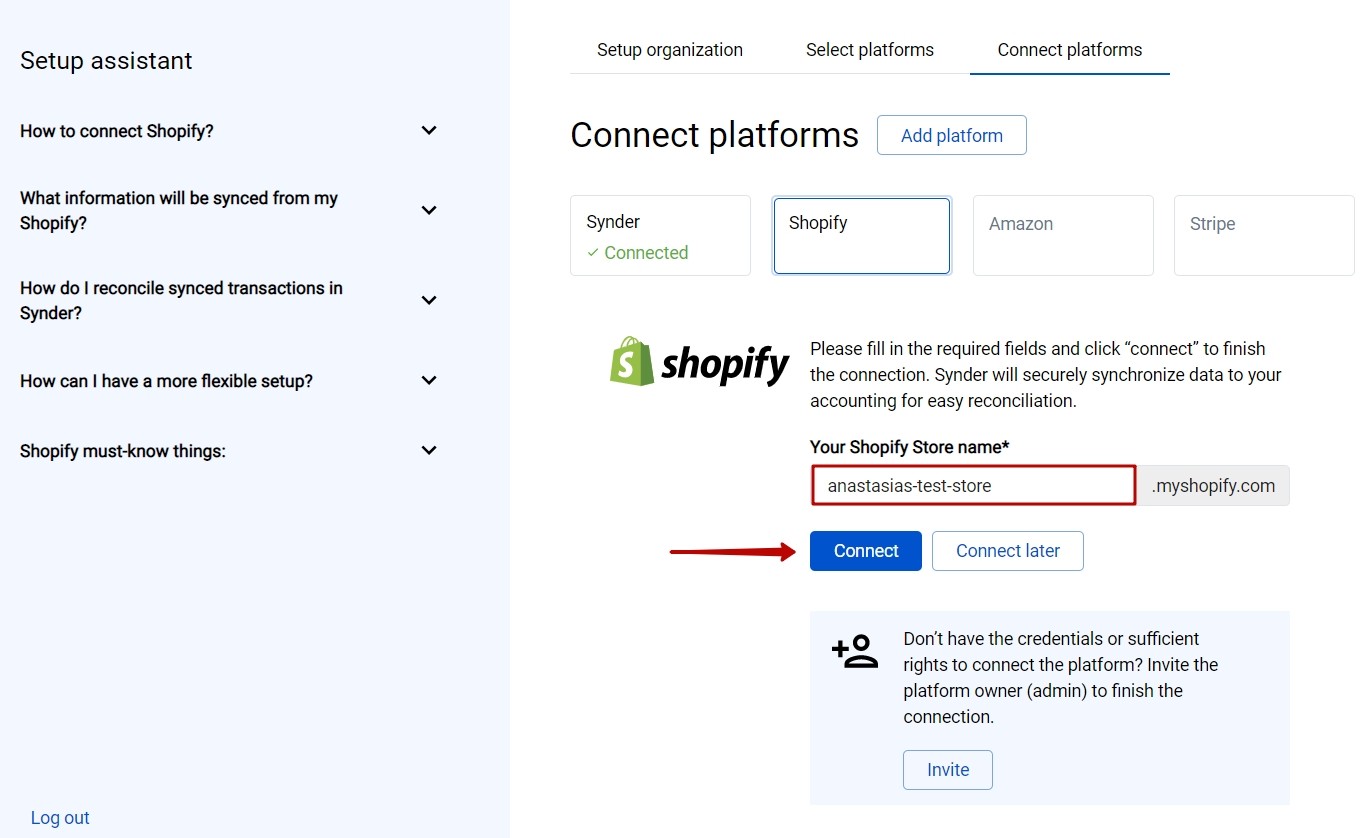 Alternatively, you can skip the connection and set them up later in the Settings: tap the Gear button on the left side menu → hit the Add payment platform button.
Note: You can find our detailed guides on how to connect your sales channels and payment providers to QuickBooks Online/Xero via Synder in our Help center.
Add a new company (client) to an existing Synder account
To connect a new company in addition to an already existing one, click on your current organization in the upper left corner → hit Create organization (learn more about Organizations management in Synder):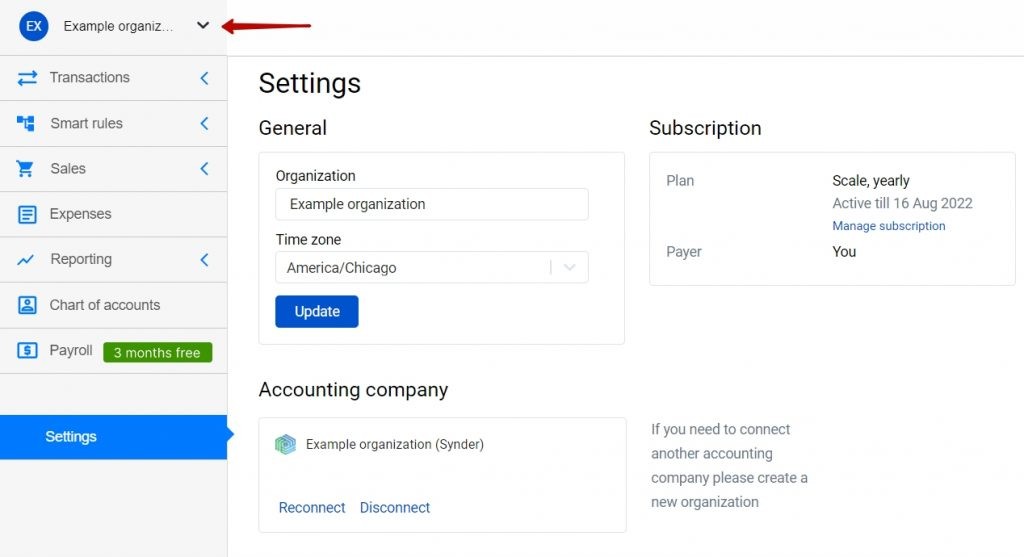 Follow the instructions described above starting from Step 3 to set up a new organization for your or your client's business.
Important notes
Note 1: Each of Synder accounting companies is treated as a separate Organization and each organization has its own billing.
Note 2: Synder is constantly working on adding new sales channels and payment platforms to the list of supported integrations. However, if you use some other provider not mentioned in the list of direct integrations, you will find the Excel import feature very helpful. It allows you to import any data from an Excel spreadsheet to Synder and then operate with the uploaded data as with regular transactions by syncing and reconciling them in your accounting.
Congratulations! Now as you set up the integration check out our 3 Must-Watch beginner guides to find out how Synder can help you automate your bookkeeping.
Get in touch with the Synder team via online chat, phone, or email with any questions you might have so far – we are always happy to help you!
Was this article helpful?