In this guide, you will learn how to reconcile your sales platforms transactions synchronized by Synder to your Checking bank account in Xero.
There are two ways to do it:
1. Automated way using Payouts feature (more accurate)
1) Proper Synder setup
2) How to match records in your Bank Feeds in Xero
1) Proper Synder setup
Once you have connected your payment system and accounting platform to Synder all you need to do is synchronize your transactions. Synder will automatically create a clearing account in your Chart of Accounts for you, called "Platform Bank Account" (for example "Stripe Bank Account" or "Shopify Bank Account"). On this account, you will see all the transactions created by Synder in your accounting.
Note: if you connect several platforms you will have a clearing account for each payment system.
For smooth reconciliation make sure that:
1 – you have the Payouts feature enabled in Synder settings:
Go to Synder Settings and hit Configure in the box with the integration you need.
Open the Payouts tab.
Turn the "Process Payouts" switcher on and select your Checking account from the dropdown.
Click Update.

Important note: With Synder, there is no need to create your deposits equal to your net sales manually (or Add them automatically on your Bank Feeds). Synder will do that for you by creating a Transfer from the clearing account to the checking account for each net amount deposit so that you will just need to confirm the match in Xero -> Checking account reconciliation.
2 – you've synchronized all payment platform payouts (settlements) into your Xero company with Synder:
Go to Platform transactions in Synder.
Filter transactions by Txn type – Payout (Settlement for some integrations) and hit the Apply filter button in the top left corner.
Make sure all payouts are synced successfully to your Xero company.
Precisely Payouts feature will help you reconcile all synced data in one click.
2) How to match records in your Bank Feeds in Xero
1. Go to your Checking account Bank Feeds (or upload your Bank Statement to Xero if needed).
2. Make sure you see the bank record needed highlighted green on the Match tab (if it is not, please click on the Find & Match tab and find the matching transfer created by Synder).
3. Click OK to confirm the match.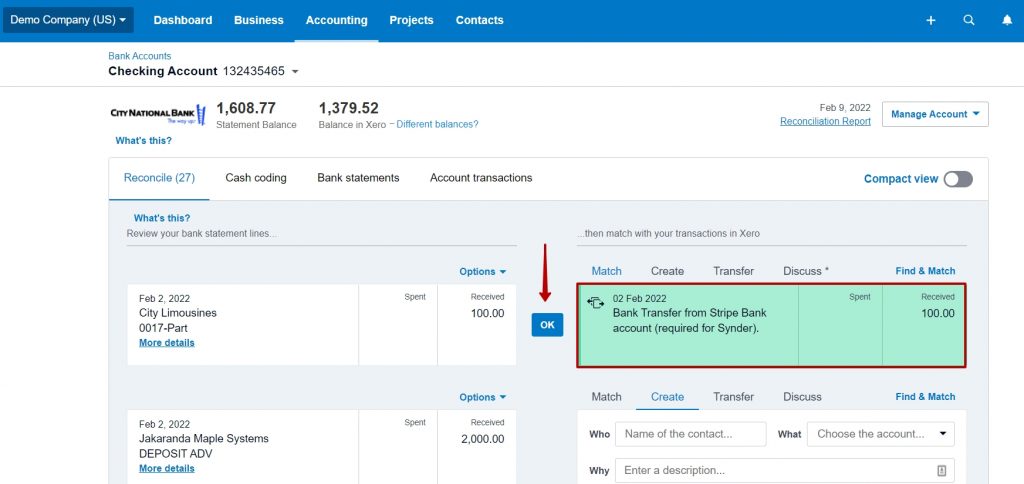 Useful tips:
Please do not use Create option in Xero Bank Feeds, as this will automatically duplicate the income created by Synder.
When Synder synchronizes Payouts creating transfers in your Xero, the balance of the clearing account (for example "Stripe Bank Account") should go down to 0, so ideally it should be always equal to your actual platform shown balance (for example your actual Stripe balance).
If you want to reconcile your clearing account created please use a report exported from your payment platform (for example from Stripe/Square/Shopify/etc), or use Synder export to excel feature to export transactions list for your reference (please note, it is not a bank statement and contains only the sales totals).
2. Manual way (creating transfers manually from the Bank Feed)
Important note: If you create transfers for connected sales platforms manually from the Bank feed in your Xero company, please, disable the Process payouts feature in Synder settings in order to avoid any double entries.
The overall flow is this: Synder synchronizes all the individual Sales transactions and Fees into the clearing account ("Stripe Bank Account" for example) and then you are to create transfers from the clearing account to your Checking account for quick reconciliation.
The steps are listed below, make sure you have opened your Checking account under your Chart of Accounts in Xero and then follow the steps:
Find bank records you would like to reconcile (the description of it usually contains the name of the platform you use Synder with, like "Stripe") and switch to the Transfer tab.
Select clearing account used by Synder (for example "Stripe Bank Account").
Click OK to confirm the transfer of the specified amount from clearing account to your checking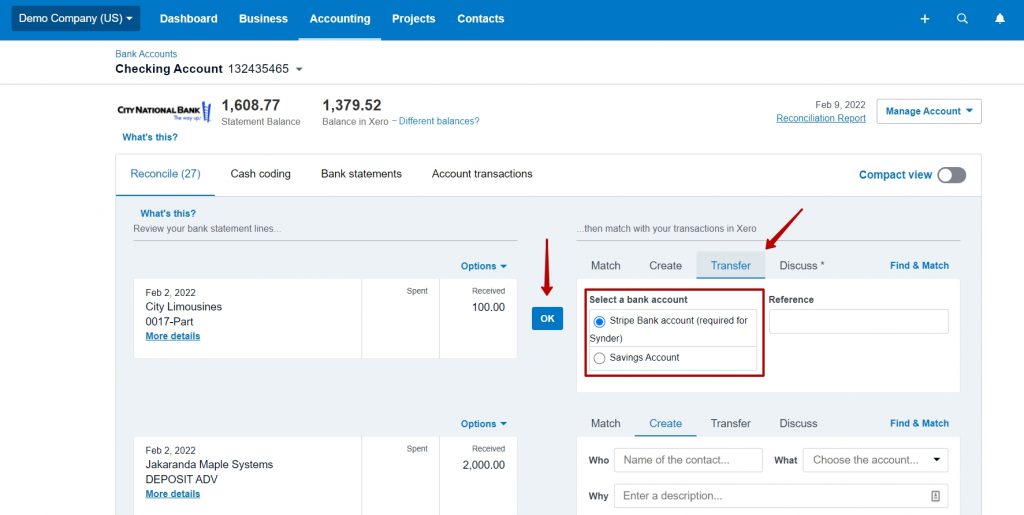 Do the same 1-3 actions for each record needed in your checking account.
That is it, all your sales platform transactions are ready for reconciliation!
Get in touch with the Synder team via online support chat, phone, or email with any questions you might have so far – we are always happy to help you!
Was this article helpful?