To connect a new company in addition to an already existing one, click on your current organization in the upper left corner, then click on Create organization (learn more about Organizations management in Synder).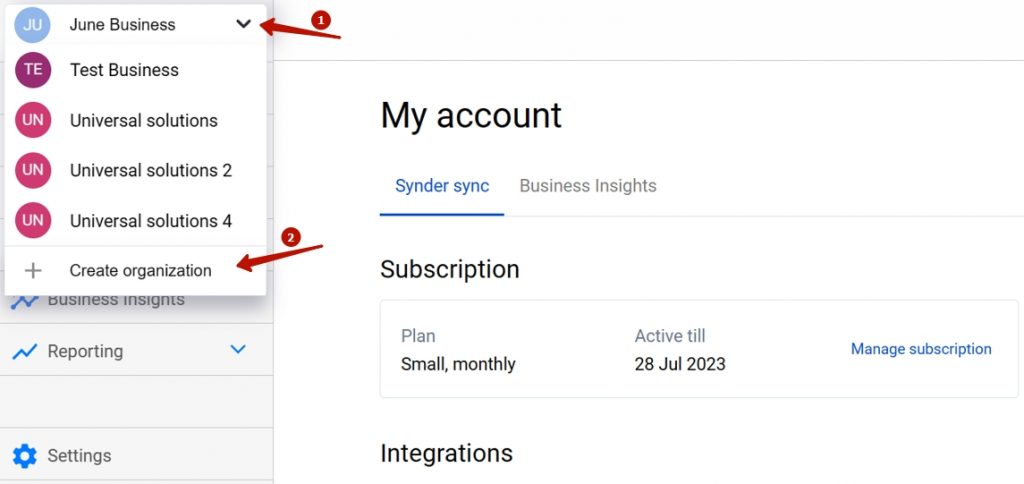 Select the Synder product you would like to use (you may utilize both) – > click on Next step.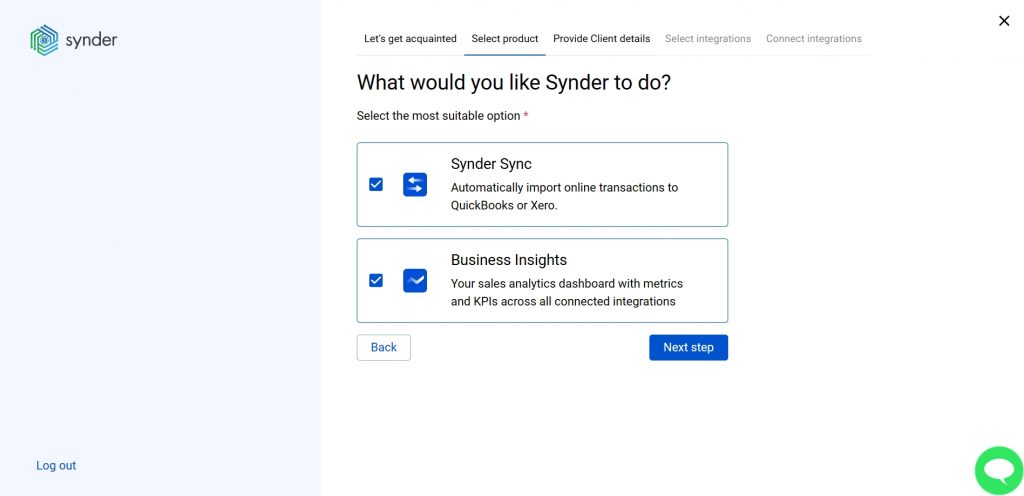 Fill in the information about your business and click the Next step button. You will be able to change the organization's name in the future if needed.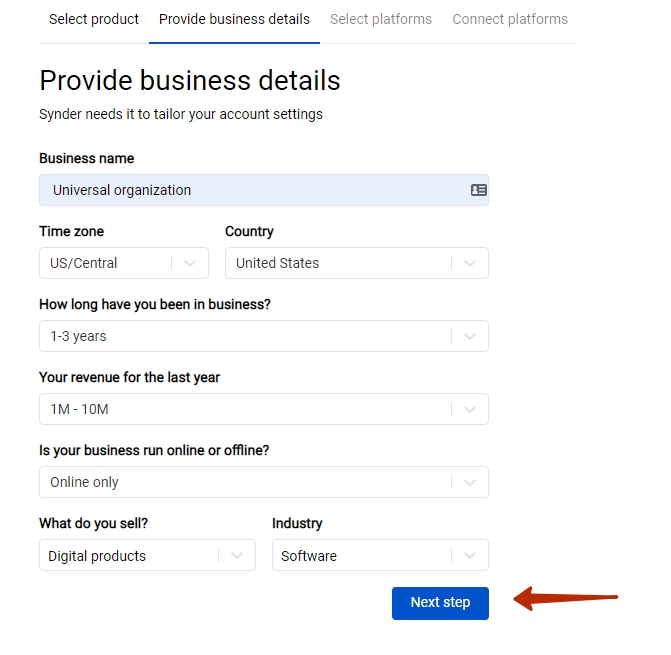 Now you are to select the platforms you would like to integrate with Synder. Mark all sales platforms you would like to connect (click View all processors to see the list of all available platforms) and hit Next step: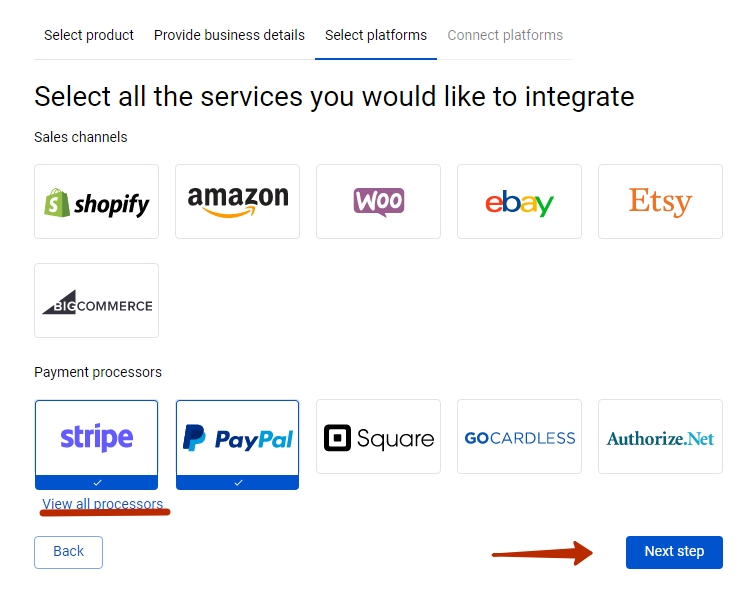 Note: Mark all the services you are using to receive payments, you will be able to connect all of them right away or skip the connection of particular integrations and set them up any time later.
Select your accounting company (e.g., Synder accounting)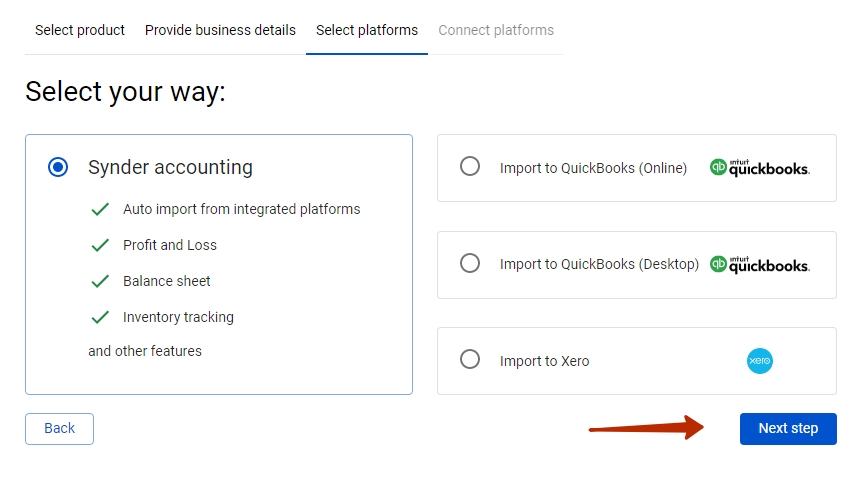 Almost there! To complete the setup you just need to connect your sales platforms to Synder. You can integrate them one by one straight away following the steps on the screen: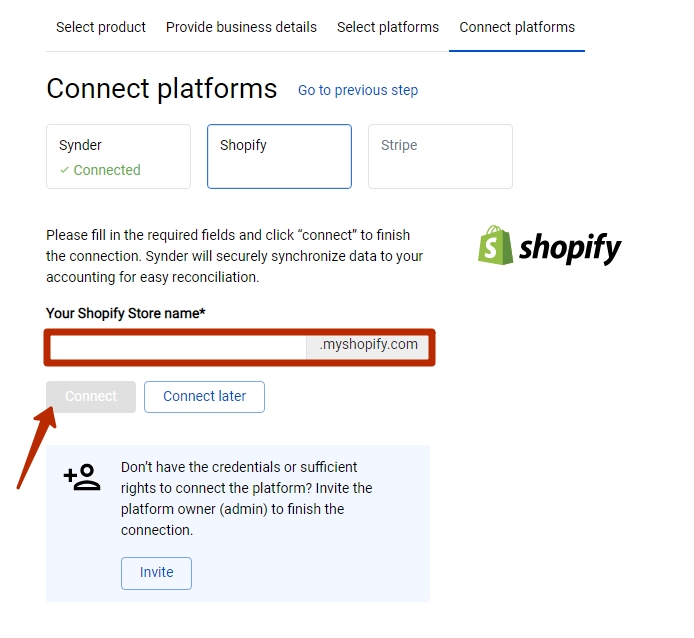 Alternatively, you can skip the connection and set them up later in Settings: tap the Gear button on the left side menu → hit the Add payment platform button.
Note: You can find our detailed guides on how to connect your sales channels and payment providers to Synder accounting/QuickBooks Online/Xero via Synder in our Help Center.
Important notes
Note 1: Each of Synder accounting, QuickBooks or Xero companies is treated as a separate Organization and each organization has its own billing.
Note 2: Synder is constantly working on adding new sales channels and payment platforms to the list of supported integrations. However, if you use some other provider not mentioned in the list of direct integrations, you will find the Excel import feature very helpful. It allows you to import any data from an Excel spreadsheet to Synder and then operate with the uploaded data as with regular transactions by syncing and reconciling them in your accounting.
Check out our 3 Must-Watch beginner guides to find out how Synder can help you automate your bookkeeping.
Get in touch with the Synder team via online chat, phone, or email with any questions you might have – we are always happy to help you!
Was this article helpful?