Learn how to set up your Stripe Xero integration by Synder. Smart accounting automation allows you to configure your workflow with flexible functionality. Let's see how it works.
Overview:
Step 1: Stripe Account Connection
Whether you are setting up your account for the first time (photos #1, #2, #3) or adding another form of payment (start from photo #4, then you will be redirected to #3), you can connect your Stripe payment system.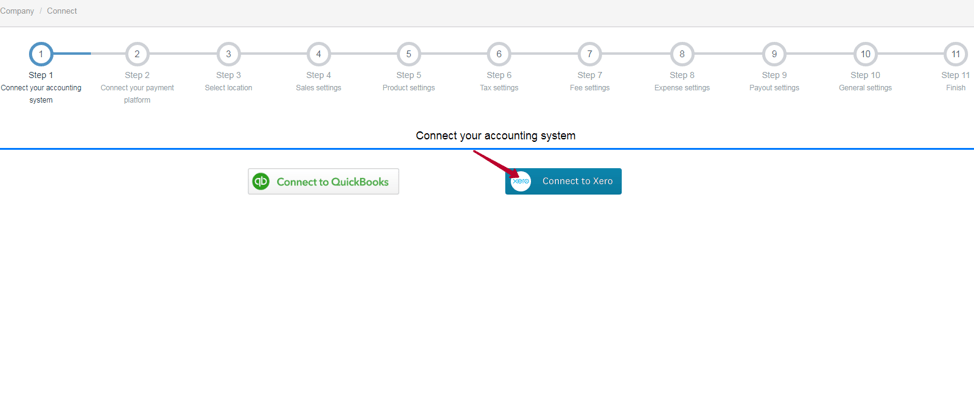 Step 2: Stripe Authorization
After pressing on the Connect button, you will be redirected to the Stripe homepage to grant your permission. After that, you will be redirected back to the app to continue connecting your Stripe and Xero accounts.
Step 3 (optional): Connect Xero accounting platform
If you have several accounting platforms connected to your account in Synder, the app will give you the option to select an accounting company you would like your Stripe account transactions to go to. Otherwise, you will not have this step.
One-Click Setup
After you selected the accounting company you would like to use for synchronization, the app will redirect you to the standard setup configuration option, which is used by 80% of our users. You can press on "I'm ok to start" and start syncing or select "Go step-by-step" to set up the app in the extended mode.
Step-by-step configuration
Step 4: Stripe Sales Settings
Now you can customize Stripe payments settings.
Please select Stripe Bank Account* created by the app as a Bank account.
This will customize where your transactions are going to be stored in Xero. You will be able to also set some Default Settings here for changing the search of customer names priority; however, all of the settings can be customized later.
*Stripe Bank Account will be automatically created by the app in your Bank Account section, as a clearing account, which represents your Stripe in Xero accounting company. All the transactions that the app syncs can be found there. We do not recommend using your actual checking account here, as fees will not be accounted for properly.
Step 5: Stripe Products and Services settings
Step 5 allows you to set up Stripe products and services settings.
Leave the Generic Product option off if you would like the app to bring into your Xero all the product names from Stripe. If you would like to use one generic product for all sales, enable the Generic Product option.
Additional Settings are optional, and you can customize them later.
Product Income Account setting will be applied only for newly created products (or as a default Category for products with no income account associated with them in your Xero).
Get product name from a description for Stripe charge – will treat Stripe payment description as a product name field and bring this name over into Xero.
Step 6: Taxes settings
Enable taxes only if you have taxes set up under your Stripe. Synder will not apply taxes to transactions; however, it can account for taxes correctly if there were any in Stripe.
Step 7: Fees settings
Step 7 allows you to set up your Fee settings.
Please choose the Supplier you prefer (most likely Stripe). Select the account to categorize your Stripe fees under the Category field (for example, Bank Service Charges).
It will customize where the fees are reflected in Xero.
Step 8: Payouts settings
Make sure you selected your actual Checking account in the "Transfer funds to" field. Payouts enabled will automate your Checking account reconciliation process a lot, they will automatically create transfers from the clearing account created by the app (Stripe Bank Account) to your checking.
Step 9: Set up your General settings
Step 9 allows you to set the payments auto-synchronization feature; it will sync all further Stripe transactions automatically with no confirmation. If you need to sync existing Stripe transactions, use the import historical data tab on the left side menu after the setup is finished.
Step 10: Finish Stripe Xero integration setup
Step 10 allows you to finalize the setup by choosing to auto-sync all incoming Stripe online payments from now on (Start to sync) or importing and subsequently manually syncing old transactions (Import historical data).
Congratulations! Your account is set and ready to import from Stripe and sync transactions to Xero for perfect accounting automation. The Synder team expands the borders making Synder a more powerful app for doing small business accounting and bookkeeping.
Was this article helpful?