Today, small business inventory software is available as never before. While store owners can do this all by themselves, there are a lot of inventory management software solutions for small businesses that can automate this process and lots of those that can help with creating new strategies on the way. However, finding the one to pick may become an unnecessary challenge for constantly busy business people.
So, we gathered a list of top-7 inventory software solutions that fit small businesses. Just decide which features are crucial for you, calculate your budget, and choose the most suitable option.
Contents:
1. Why is inventory management so important?
2. Key inventory management software features to look for
3. Top-7 inventory management software solutions
Why is inventory management so important?
Automating your business inventory planning can be an advantage in a constant struggle with your competitors. But the reason for making friends with specialized software isn't only the digitalization trend around the SMB community but also a vital necessity already. Here are the most obvious pros of getting rid of manual inventory management:
Reducing the funds "frozen" in unnecessary stocks;
Decreasing your business warehouse costs such as rent, workers' salaries, and variable costs;
Improving your business order accuracy;
Automating repetitive inventory tasks that can free up your staff to focus on more strategic elements of their role;
Integrating with other business tools: POS, accounting, CRM, bookkeeping;
Ramping up your customers' loyalty with favorite goods always in stock.

Key inventory management software features to look for
When it comes to inventory management software for your business, there are a lot of different features and functions that you need to keep in mind. When you think about it, the basic function of inventory management is tracking the quantity and location of your goods. And that's precisely what a good inventory system does. It keeps track of everything in your business and tells you where to find it when you need it. But that's just the beginning of all that inventory automation can offer.

Understanding how important an inventory management system is for your retail business will help you choose the right one. So let's take a closer look at some key features of an effective inventory management system!
🔗 Instant syncing of an inventory management system
When you have many products, keeping track of the whole journey your product makes is a Herculean task. You need to record each and every unit of product, its selling price, current stock, shipment details, and so on. This can be a time-consuming process when you're dealing with hundreds or even thousands of products manually. Good inventory software will do the calculation for the businesses automatically, providing you with up-to-date information about what's going on in your stock, tracking their movement, and deducting the sold amounts.
🔮 Forecasting and reports on small business performance
Forecasting helps businesses understand how much they need to produce, when they need to produce it, and where they should store it so that they never run out. On the other hand, proper business reporting about the inventory on hand provides you with insightful data. This data plays a crucial role in the long run since you can create special business strategies based on the top-selling products, purchase frequency, and more.
Here's an example of what these reports might look like in Business Insights reports:




Get actionable insights to grow your business and make informed decisions – create a free account.
📯 Stock notifications from inventory management software
When you have multiple locations, it's important to stay on top of your inventory. You need to know when your business is running low on stock so that you can reorder in time to avoid running out and inconveniencing customers.
Some inventory management software provides its users with special notifications and alerts to signify when a business product has hit its pre-defined reorder point and needs replenishing.
📦 Bundles tracking from inventory management software
When selling products, one of the most effective ways to create sales, drive revenue, and also sell the slow-moving stock is bundling products together. To create good bundles, you need to have accurate data on your sales, inventory stock, and purchase frequency.
Synders' Business Insights can provide you with all the necessary information about your business's performance. Based on the activity of the connected store, software gives you an accurate report about the products most likely to be purchased together, and you've already got your bundle!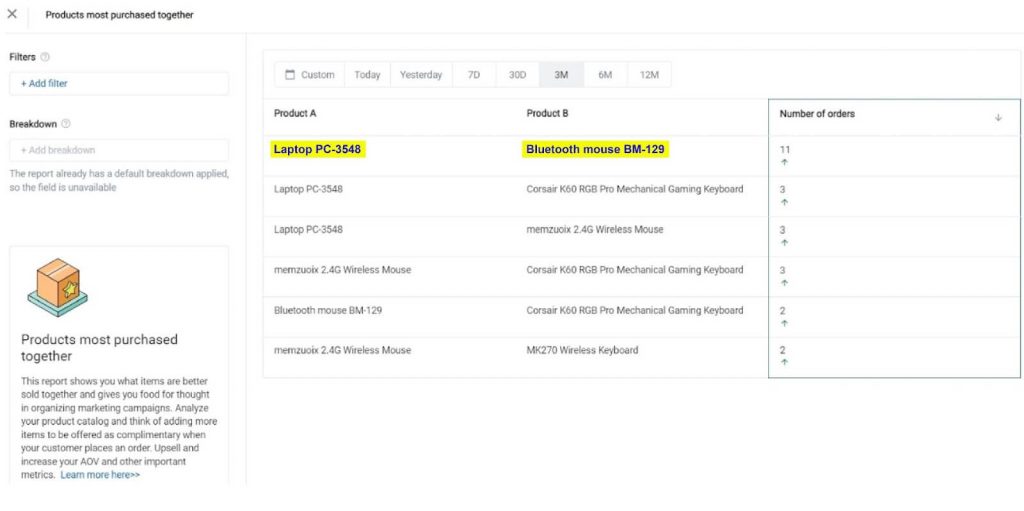 What's more, you can make product bundles by putting together your top- and least-performing products. This way, you can increase the purchase of your slow-moving items and even save on the shipping cost.
📊 Accounting and inventory tracking
Making sure that your inventory and the accounting work seamlessly together is key. Maintaining regulatory compliance is also a critical concern for businesses, and the integration of accounting and inventory management systems plays a significant role in this respect. Accurate tracking and valuation of inventory are essential for financial reporting and tax filing. An integrated system ensures that these aspects are always in alignment, enabling businesses to uphold compliance with accounting standards and tax laws. The system ensures that all inventory transactions are accurately reflected in financial statements, reducing the risk of discrepancies and subsequent regulatory issues.
Note: Keep in mind that accounting software works best in the hands of a professional accountant.
🛒Order management and inventory
One significant advantage of having integrated order and inventory management systems is the ability to have real-time inventory updates. Whenever a customer places an order, the inventory level is automatically adjusted, reflecting the new state of stock accurately. This immediate update helps to mitigate the risk of overselling products, a common problem that can negatively impact customer relationships and business reputation.
Integration of order and inventory management also leads to more efficient replenishment procedures. The system makes it easy to monitor stock levels continuously and can automate the reordering process based on predetermined thresholds. When inventory falls below these set points, a new order can be triggered automatically, ensuring stock is always maintained at optimal levels. This efficiency helps prevent stockouts and supports continuous, uninterrupted service to customers.
🤝 Integrations with the platforms and other software
This all points to one conclusion – to get the most detailed information about where your business stands, you need all your platforms to communicate with each other.
For instance, you can use Synder Sync and take advantage of its automated categorization feature. Imagine the connection between the Shopify business store and QuickBooks Online. By creating a categorization rule, you can create an action that'll deduct the purchase amount in the receipt from the existing amount in your QuickBooks account. Now you'll be updated right inside your accounting system as soon as the transaction is synced!
We've already reviewed two of the most crucial types of integration (order management and accounting) for inventory systems,. Here are other types of integrations:
Supply chain management systems;
Warehouse management systems;
Point of Sale (POS) systems;
E-commerce platforms;
Customer Relationship Management (CRM) systems.
Inventory features that create a seamless management system
There are many must-have functionalities that any good inventory management system needs. But since there's such a wealth of options available, you shouldn't limit yourself just to the basics. Explore your business needs and see what advanced features or integrations will best help you reach your goals.
Top-7 inventory management software solutions
We'll now turn to the main topic of this review: top-7 software. As we've mentioned, inventory management software choices can greatly depend on the specific needs and budget of a small business. We'll discuss various applications and products in great detail to help you choose the right software.
It's a good idea to take advantage of free trials where available to see if a particular software meets your needs before committing.
1. Synder
Selling on multiple platforms and marketplaces calls for an integrated system that is able to track the stock levels across all your channels. Synder is a finance management software that offers robust inventory tracking features for e-commerce sellers. As the software with the largest number of e-commerce, post of sales (POS), and payment processor integrations on the market, it's a trusted partner for many e-commerce businesses, automating data syncing for QuickBooks and Xero users.
Key features, functionalities, and integrations
While Synder isn't an inventory software, but a financial management one, it offers a helpful selection of inventory tracking features.
E-commerce platform integrations: Synder software will fetch correct inventory data from the platforms you're using into your books, so you'll never run out of stock. It imports the data from the sales platforms and assigns the correct product to sales, ensuring your accounting software inventory is accurate and up to date.
Low stock alerts: With Synder, you have more freedom to customize your bookkeeping based on secure if-then conditions, creating low stock alerts. Using smart rules, you can set up automatic emails for stock levels that will get triggered once they fall below your preselected threshold.
Bundles syncing: Having accurate records in your books regarding bundles is important when you run a business where such offers are the norm. Synder lets you automatically record your bundles' sales and reflect that in your stock. 
Inventory tracking channel customization: With Synder, you can categorize transactions from various channels into different accounts based on location, product name, and more, to separately track inventory for different sales channels.
Learn more about the benefits of Synder and track your inventory safely – sign in for the webinar.
Synder offers 5 pricing tiers designed to meet the growing needs of businesses: the Starter plan ($11 per month), the Small plan ($22 per month), the Medium plan ($44 per month), the Scale plan ($79 per month), and the Large plan ($199 per month). This pricing reflects the yearly billing schedule that provides users with a 20% discount, but you can also choose a monthly billing plan with the adjusted pricing. In order to test all the features and tools, users can avail a free 15-day trial.
2. Fishbowl Inventory
Fishbowl Inventory is a complete small businesses inventory management software solution. Its core audiences are wholesalers, retailers, and producers who want to stay in touch with their accounting solutions. But if you think that Fishbowl is a niche tool for QBO fans, you might be wrong! Xero, Shopify, WooCommerce, and Salesforce, are only some names from the list of supported integrations.
Key features, functionalities, and integrations
This inventory management is particularly popular among businesses that need more advanced inventory features than those available in entry-level accounting software, but who aren't quite ready to invest in enterprise-level solutions. Customers appreciate its user-friendly interface and client-centric support. Here are some of the key features and capabilities of Fishbowl:
Inventory Management: Fishbowl allows for real-time inventory tracking and control across multiple locations. It helps with asset tracking, barcode scanning, reorder point setting, and more.
Order Management: Fishbowl's software allows businesses to manage sales orders, work orders, purchase orders, and more. It automates the quoting, ordering, and purchasing processes.
Manufacturing: Fishbowl provides tools to manage manufacturing processes, including bill of materials, work order management, and manufacturing execution. It helps in tracking inventory at each stage of the production process.
Warehouse Management: The software includes features for warehouse management like picking, packing, shipping, and receiving. It also supports barcode scanning and offers advanced features like multi-warehouse management.
Reporting: Fishbowl provides robust reporting capabilities, allowing businesses to generate detailed reports on inventory turnover, on-hand inventory, order history, and more.
Integrations: One of Fishbowl's main strengths is its ability to integrate with other software. As mentioned before, it integrates well with QuickBooks, allowing businesses to maintain the use of QuickBooks for accounting while benefiting from Fishbowl's advanced inventory features. It also integrates with e-commerce platforms like Amazon, eBay, and Shopify, among others.
Material Requirements Planning (MRP): Fishbowl's MRP capabilities can help businesses forecast inventory needs, optimize production schedules, and make more informed decisions about inventory purchases.
Remember, Fishbowl offers different versions of its software tailored to different industries, so the available features might vary depending on the specific version you're using. Always check with Fishbowl's official resources or customer service for the most current information.
Fishbowl Inventory doesn't share its pricing so to find out the exact pricing and payment schedule, you need to ask for a quote. The software offers a 14-day free trial.
3. Odoo Inventory Management
Odoo is open-source software that primarily focuses on small businesses' needs but allows for tailoring to any size, on demand. So, it's highly customizable. It offers 30 native applications and also allows you to add third-party integrations from its own app store in case you need a ready-for-use solution (15,000+ applications available).
The module for inventory control is designed to help you keep track of your business stock levels in real-time. It allows you to create an unlimited number of different products with its own inventory planning.
Key features, functionalities, and integrations
Each application in the Odoo suite integrates seamlessly with the others, providing a unified and streamlined business management experience. Odoo Inventory Management offers plenty of standard inventory features but also a host of special features. Let us look at the unique functionality of Odoo.
Double Entry Inventory System: Odoo's unique double-entry inventory management ensures total traceability from your supplier to the customer. This means that each product movement within your organization, be it from one warehouse to another or from a storage location to a sales floor, is accounted for just like a financial transaction, with a "credit" for the source location and a "debit" for the destination location.
In the event of discrepancies in inventory levels, the double-entry system can help pinpoint exactly where the discrepancy occurred. This can be particularly beneficial for businesses with complex supply chains or those dealing with high-value items.
Storage optimization: Odoo provides the flexibility to define your own storage and removal strategies such as FIFO (First In, First Out), LIFO (Last In, First Out), nearest available zone, and more. The cross-docking feature allows for incoming materials to be directly transferred to outbound gates, minimizing or even eliminating the need for storage in between. With Odoo, you can scrap products effortlessly and generate detailed reports on scrapped items, including costs, reasons, and volumes. It also assists with inventory adjustments, preparing cycle counts for specific zones, products, or batches, even down to individual pallets or boxes.
Alerts and schedules: With Odoo, you can set custom alerts for specific products or suppliers. These alerts will appear for a salesperson when creating quotations. Odoo's smart scheduler automates operations based on product availability and forecasted orders, making the management process efficient and hassle-free.
Powerful search tools: Odoo's powerful search function allows you to easily locate documents for processing. You can search by scanning a barcode or filtering based on any criteria such as customer or product. It can even track expiration dates.
Effective replenishment: Odoo's inventory management system also includes features for effective replenishment. It can automatically propose purchase orders or request quotations based on your future stock forecast. This ensures you maintain optimal inventory levels at all times. You can also manage all your warehouses seamlessly with the same system and establish replenishment rules between different warehouses.
Odoo offers more than just inventory management, it's a whole collection of different applications and functionalities that act as one ecosystem. The plans can be paid monthly or yearly, with yearly plans offering some discounts. There are 3 plans to choose from: One App Free ($0, for 1 app, unlimited users), Standard plan ($24.90 per user, per month), and Custom plan ($37.40 per user, per month). Those prices apply to the first yearly subscription (12 months) for new users. There is a 15-day free trial available.
4. Zoho Inventory
You might know Zoho as an almighty octopus of business automation. So we couldn't walk past this solution. Besides being integrated into its ecosystem, Zoho Inventory has a variety of useful connections with other services: from payment systems to shipping providers. Having entered inventory info once, you can update it in all the channels you use on Zoho Inventory.
This software service provides businesses with a tool for inventory control, purchase orders, and other important features. It helps companies track their products, store information about vendors and suppliers, and generate reports for their business.
Key features, functionalities, and integrations
Zoho Inventory offers a range of features to help businesses manage their inventory, sales, orders, and more. Here are some key features that Zoho Inventory provides.
Inventory Management: Zoho Inventory enables businesses to track their stock levels in real-time across multiple channels. It helps manage item variations, serial numbers, and batch tracking.
Multichannel Selling: It allows businesses to integrate their account with multiple online marketplaces and shopping platforms like Amazon, eBay, Etsy, and Shopify. This helps streamline the process of selling products on different platforms from a central location.
Order Management: The platform lets you create and track your sales orders, backorders, dropship orders, and packing slips, ensuring a smooth sales process.
Purchase Order Management: You can create and manage your purchase orders, track order status, and instantly email your suppliers.
Warehouse Management: Zoho Inventory lets you manage multiple warehouses and keep track of stock movement between your warehouses.
Reporting: Businesses can generate various reports on sales, purchases, inventory levels, and more, to gain insights and make data-driven decisions.
Integrations: Zoho Inventory integrates with a variety of other applications including Zoho's suite of apps and other third-party solutions like shipping services, payment gateways, and accounting software.
Automation: The software offers automation of recurring tasks such as reordering stock, which can save businesses time and resources.
Since there are plenty of plans that Zoho Inventory offers, we'll take a closer look at the features and integrations that the Free plan offers to show the range of functionalities that you can avail of without spending any money. And if you think you need more advanced features, you can always check out other plans.
The Free Zoho Inventory plan, which lets you connect 2 users, offers features including but not limited to:
Sales features
With its free plan, Zoho only lets users create 50: sales orders, invoicing, shipping labels, and aftership tracking per month. So if you're having more orders than that you might want to consider another plan, as you can't purchase extra orders and shipping labels with Zoho's free plan (this option is available for paid plans). Basic multi-currency handling is included.
Inventory features
Zoho offers inventory reports. You can connect to one warehouse. However, you don't have the item tracking capabilities (by batch or serial number).
Integrations
Zoho, within its free plan, offers a good range of integrations such as: EDI (electronic data interchange), e-commerce, shipping, payment gateways, accounting software, CRM software, digital Signature, G-Suite, and one multi-store Integration (available in Shopify).
Zoho Inventory offers 6 plans to its users, so everyone can find something that suits their needs. Plans can be billed monthly or yearly. The yearly option offers a 22% discount compared to the monthly billed plans. Here's the list of all the plans that Zoho Inventory offers with their respective pricing: a Free plan ($ 0 per organization/month), the Standard plan ($ 59 per organization/month), the Professional plan ($ 99 per organization/month), the Premium plan ($ 159 per organization/month), the Elite plan ($ 239 per organization/month) and the Ultimate plan ($ 329 per organization/month). Prices are exclusive of local taxes and represent the yearly billing price. You can also opt for a 14-day free trial.
5. Inflow Inventory
inFlow Inventory is a powerful inventory management software designed for small to medium-sized businesses. As your business grows, so does your inventory. inFlow is a good choice for scaling, offering various benefits at each stage and ensuring you have plenty of guidance along the way. Already at the Small Business plan level, you get a 4h setup assistance, unlimited support through live chat, email, and phone as well as a dedicated customer success manager whose role is to help get the most out of your inFlow Inventory software.
Key features, functionalities, and integrations
inFlow offers a comprehensive set of features that allow businesses to effectively track and manage their inventory, orders, and customers. Here are some key aspects of this management system.
Inventory Management: inFlow allows you to track inventory levels, locations, and movement. It supports serialized inventory and lot tracking, allowing for a greater degree of control and traceability.
Order Management: You can manage purchase and sales orders within inFlow, track order statuses, and handle returns and exchanges. The system can automate picking, packing, and shipping processes to increase efficiency.
Barcode System: inFlow supports barcode scanning for quicker and more accurate inventory input and tracking. It can also generate barcodes, making labeling and identifying products easy.
Reporting: inFlow provides a variety of reports to help you understand your business better. These reports can cover aspects like sales, inventory levels, cost of goods sold, and more.
Multi-Location Support: If your inventory is spread across multiple locations, inFlow can track all of it. You can transfer stock between locations within the system.
Integrations: inFlow can integrate with popular e-commerce platforms, accounting systems, and other third-party tools to provide a comprehensive business management solution.
B2B Portal: inFlow offers a B2B portal that allows your business customers to place orders directly. This can help streamline the ordering process and improve customer service.
inFlow offers 4 plans (plus a custom plan for large monthly sales volumes). You can pay for a chosen plan monthly or yearly (20% discounts with yearly plans). The plans consist of the Entrepreneur plan ($89 per month), the Small Business plan ($219 per month), the Mid-Size plan ($439 per month), and the Enterprise plan ($1055 per month). Those piercing tiers correspond to the yearly billing schedule. Each plan has available add-ons with additional pricing. inFlow offers a 14-day free trial.
6. Square for Retail – free inventory management
Square for Retail is an inventory management software solution for small businesses that gives you the power to run your entire business. Sell anything, to anyone, anywhere. With Square, you can manage your inventory tracking and customize your product presentation with professional graphics, manage customer loyalty programs, and keep track of your customers' activity with detailed analytics reports. All while using the latest trends in payment technology and security features.
With Square for Retail inventory, businesses can now take full advantage of all the features of Square's software and hardware products while keeping their customers in mind. They can create customized solutions to fit their business needs at an affordable price.
Key features, functionalities, and integrations
Whether you're looking for ways to streamline your current operations or want to start fresh with the Point-of-Sale (POS) system, Square can be your right-hand… tool.
Point of Sale (POS): Square for Retail offers a user-friendly POS system that allows retailers to quickly and easily process transactions, accept various forms of payment, and track sales.
Inventory Management: The software provides robust inventory management features, including real-time inventory tracking, product categorization, automatic stock alerts, and more. It also allows for bulk inventory import and export.
Customer Management: Square for Retail allows retailers to track customer information and purchase history, enabling personalized customer interactions. It also supports the creation and management of customer loyalty programs.
Employee Management: The software includes features for managing employee access, tracking sales by employee, and even managing payroll if you use Square's payroll services.
Reporting and Analytics: Square for Retail offers comprehensive reporting and analytics tools, providing insights into sales data, inventory levels, and more. These reports can be customized and are accessible from anywhere.
Multi-location Management: For businesses with multiple locations, Square for Retail can manage inventory, sales, and employees across all stores.
E-commerce Integration: The software integrates seamlessly with Square Online, enabling retailers to sell across multiple channels and sync their online and in-store inventory.
Checkout Features: The software offers flexible checkout features, like the ability to create custom discounts, gift card acceptance, and easy returns and exchanges.
Remember, the free tier does not include advanced features that come with Square for Retail Plus, such as advanced inventory management, purchase orders, employee accounts, and more.
Square for Retail offers 2 plans and one of them is free. The Free plan (no monthly fee) and the Plus plan ($60 per month per location). You can also avail a 30-day free trial.
7. Cin7
Cin7 offers comprehensive features including inventory management, point-of-sale, warehouse management, and other functionalities. It can be a good choice for retail and wholesale businesses. Cin7 is a cloud-based multi-tool for your business inventory control with a whole bunch of other useful features.
It's a great option for businesses that use an omnichannel distribution model. Cin7 sets its mission as providing customers with an all-in-one platform for containing costs as they expand to new markets and add sales channels.
Key features, functionalities, and integrations
Its main product, Cin7 Core, offers a streamlined, user-friendly solution to assist you in achieving your business targets faster and with greater ease. It's a tool designed to expand alongside your business and has been crafted specifically for manufacturers and retailers of all sizes.
Inventory Management: With Cin7 Core, you have the convenience of comprehensive inventory management at your fingertips. It enables you to monitor in-depth sales data and track stock movements with an eye for detail.
Point of Sale: The technology simplifies the point-of-sale process, allowing you to monitor sales, engage with customers, and make sales on the go, utilizing common devices such as iPads.
B2B Portal: Cin7 Core aids you in expanding your customer reach by providing a personalized B2B Portal. This gives your customers the flexibility to manage their orders independently.
Commerce Integration: Incorporate your products into Cin7 Core for a clear view of your inventory across all digital sales platforms, including Amazon and Shopify.
Accounting Efficiency: Cin7 Core's inherent accounting module provides basic functionality. However, for a more comprehensive solution, you can pair it with external accounting software like Quickbooks Online or Xero.
Robust Reporting: You can utilize over 70 customizable reports to gain in-depth insights into your sales, inventory, production, purchasing, and financial data with Cin7 Core.
Cin 7 Core offers 3 plans, namely the Standard plan ($325/month), the Retailing plan ($550/month), and the Manufacturing plan ($650/ month). The prices are exclusive of taxes. All of the above plans can be tried for free before purchasing.
Inventory software for small business: Closing thoughts
Integrating software can be a headache for overloaded business owners. And an inventory control system won't be an exception. Inventory planning is the backbone of any thriving retail business. Inventory management software is where you need to focus your energy to get this job done.
Apart from great features that meet your needs well, choose the solution that offers the best support, the easiest onboarding, and has a wide user community behind it. Keep in mind not only the features you need right now but those that you'll need a few years later. Having an entire management system transferred to a new provider will be harder than ensuring that the chosen software is able to meet your needs as you grow your business.