Today, small business inventory software is available as never before. While store owners can do this all by themselves, there's a lot of inventory management software solutions for small businesses that can automate this process and help with creating new strategies. However, finding the one to pick may become an unnecessary challenge for constantly busy business people. So, I tried to do the job for you and gathered a list of top-7 small business inventory software solutions that fit small businesses. Just decide which features are crucial for you, calculate your budget, and choose the most suitable option.
Contents:
1. What is inventory control in business?
2. Key inventory management software features to look for
3. Top-7 warehouse inventory management software solutions
What is inventory control in business?
When your business grows rapidly, managing inventory tracking correctly requires more effort. Sticking to a pen and paper, in that case, will only mess up the operational routine, which will restrain businesses from healthy development or kill it eventually.
It's a problem many businesses face: too much inventory. But what if you could have the best of both worlds – the right inventory planning, and never running out of it? All of this is possible with a small business inventory software solution designed to manage your inventory.
In this article, we will explore some of the benefits that come from using an automation inventory system for managing your products as well as how to find the right one for your business.
Why is inventory management so important?
Automating your business inventory planning can be an advantage in a constant struggle with your competitors. But the reason for making friends with specialized software is not only the digitalization trend around the SMB community but also a vital necessity already. Here are the most obvious pros of getting rid of manual inventory management:
Reducing the funds "frozen" in unnecessary stocks;
Decreasing your business warehouse costs such as rent, workers' salaries, and variable costs;
Improving your business order accuracy;
Integrating with other business tools: POS, accounting, CRM, bookkeeping;
Ramping up your customers' loyalty with favorite goods always in stock.
Key inventory management software features to look for
When it comes to inventory management software for your business, there are a lot of different features and functions that you need to keep in mind. When you think about it, inventory management is all about tracking the quantity and location of your goods. And that's precisely what a good inventory system does. It keeps track of everything in your business and tells you where to find it when you need it.
Understanding how important inventory management system is for your retail business will help you choose the right inventory management software. So let's take a closer look at some key inventory management features of an effective inventory management system!
🔗 Instant syncing of inventory management system
When you have many products, keeping track of both their inventory and business is a Herculean task. You need to record each and every unit of product, its selling price, current stock, and so on. This can be a time-consuming process when you're dealing with hundreds or even thousands of products. Good inventory software will do the calculation for the businesses automatically, providing you with up-to-date information about what's going on in your stock by deducting the sold amounts.
🔮 Forecasting and reports of small business performance
Having the right amount of inventory at the right time is critical for any business, as it can directly impact its gross profit, working capital and overall financial health. The inability to forecast when to produce and sell products can lead to excess inventory, which is costly. The cost of excess inventory isn't just in the overproduction – it's also in what you could have done with that cash instead. Forecasting helps businesses understand how much they need to produce, when they need to produce it and where they should store it so that they never run out. On the other hand, proper business reporting about the inventory on hand provides you with insightful data. This data plays a crucial role in the long run since you can create special business strategies based on the top-selling products, purchase frequency and so on.
Here's an example of what these reports might look like based on Synder Insights reports:




📯 Stock notifications from inventory management software
When you have multiple locations, it's important to stay on top of your inventory. You need to know when your business is running low on stock so that you can reorder in time to avoid running out and inconveniencing customers. Some inventory management software provides its users with special notifications and alerts to signify when a business product has hit its pre-defined reorder point and needs replenishing.
🤝 Integrations with the platforms in use and order management
To get the most detailed information about where your business is standing right now, you need all your platforms to communicate with each other. Integrating them with a proper order management software is the best solution since you don't need to check every small detail of each product manually – the connected software solution will do this automatically.
For instance, you can use Synder Sync and take advantage of its automated categorization feature. Imagine the connection between the Shopify business store and QuickBooks Online. By creating a categorization rule, you can create an action that'll deduct the purchased amount from the receipt from the existent amount in your QuickBooks account. Now you'll be updated right inside your accounting system as soon as the transaction is synced!
📦 Bundles tracking from inventory management software
When selling products, one of the most effective ways to create sales and drive revenue is by bundling products together. Here's what you need:
to understand which products are selling better together so you won't put two or more not profitable products together;
to choose the inventory management software that'll be able to give you an accurate inventory figure in the end.
If the second point is clear, you just need to choose the inventory management software thoughtfully, there are still a lot of questions about the first one. Calculating and analyzing the products for the selling in bundles strategy may take a lot of time and nerve cells.
But that's not how it should be.
Synder Insights can provide you with all the necessary information about your business's performance. Based on the activity of the connected store, Synder Insights gives you an accurate report about the products most likely to be purchased together, and you've already got your bundle!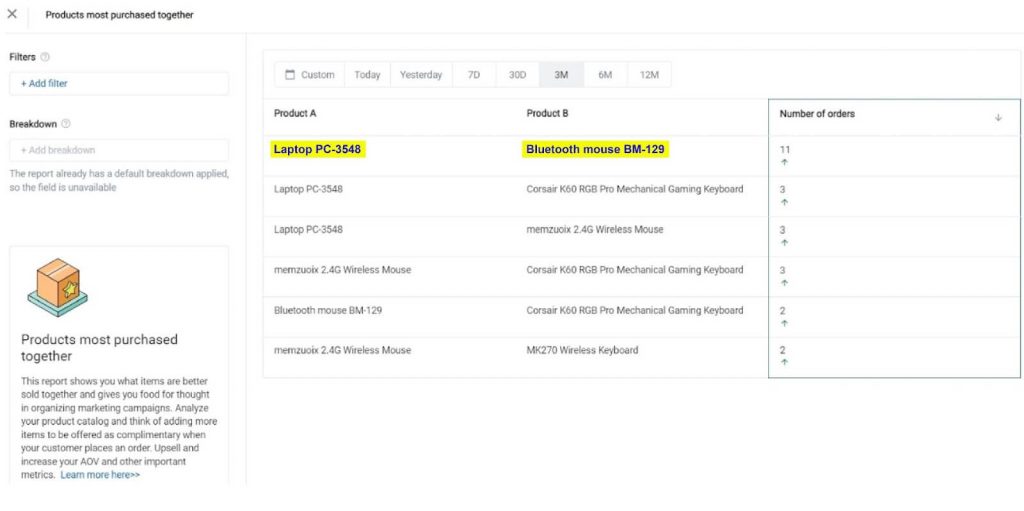 Finally you can get rid of your selling-in-bundles nightmare.
📊 Accounting and inventory tracking
If you're lucky enough to find the software for your business that'll do both: take care of the inventory and the accounting, consider yourself Fortuna's favorite.
Note: Keep in mind that accounting software won't replace a professional accountant when you have a big business – the software will simplify the workflow a lot, but it's recommended to contact a professional to check the results and figure out some issues that might be revealed thanks to the software but can't be resolved with its capabilities.
Accounting is the backbone of each strategy and future business planning because it shows the real numbers. You can play a bit with how you're placing the products, how you're selling them and even change the marketing strategy – all these actions affect the final accounting reports. Having this powerful tool in hand, you can create a better inventory strategy while controlling the one in use right now.
Top-7 warehouse inventory management software solutions
A business is only as good as its inventory. And while it may be tempting to buy more stock when your inventory starts to run low, it's important to keep an eye on what you do (or don't) sell each day and have an accurate inventory system control. Lack of proper data can make it difficult for companies to determine the goods that are popular and the ones that aren't performing well, which can lead to overstocking some items and a shortage of the others.
To make the list, I used the following criteria: affordability, ability to integrate with accounting software, and the overall positive feedback from the business owners who have been using these solutions.
1. Fishbowl inventory
Fishbowl inventory is a complete small businesses inventory management software solution. Its core audiences are wholesalers, retailers, and producers who want to stay in touch with their accounting solutions. But if you think that Fishbowl is a niche tool for QBO fans, you might be wrong! Xero, Shopify, WooCommerce, Salesforce, these are the loudest names from the list of the supported integrations.
Fishbowl's inventory platform comprises two sub-products: Fishbowl Manufacturing and Fishbowl Warehouse. Plus, the company offers additional services and hardware.
Customers appreciate its user-friendly interface and client-centric support. But some users don't like the reporting system, as it's not always applicable to some businesses.
2. Synder
Having accurate and precise inventory together with accurate accounting will provide you with peace of mind and a plan of action for upcoming seasons. Synder software will fetch correct inventory data from the platforms you're using into your books, so you'll never run out of stock.
This software imports the data from the sales platforms and assigns the correct product to sales, which makes sure your inventory in the accounting software is accurate and up to date. With Synder, you have more freedom to customize your bookkeeping based on the secure if-then conditions.
You can also track and categorize your product inventory, locations, shipping, and discounts to have more accurate reports.
Schedule a Demo session to check more Synder benefits and track your inventory with safety!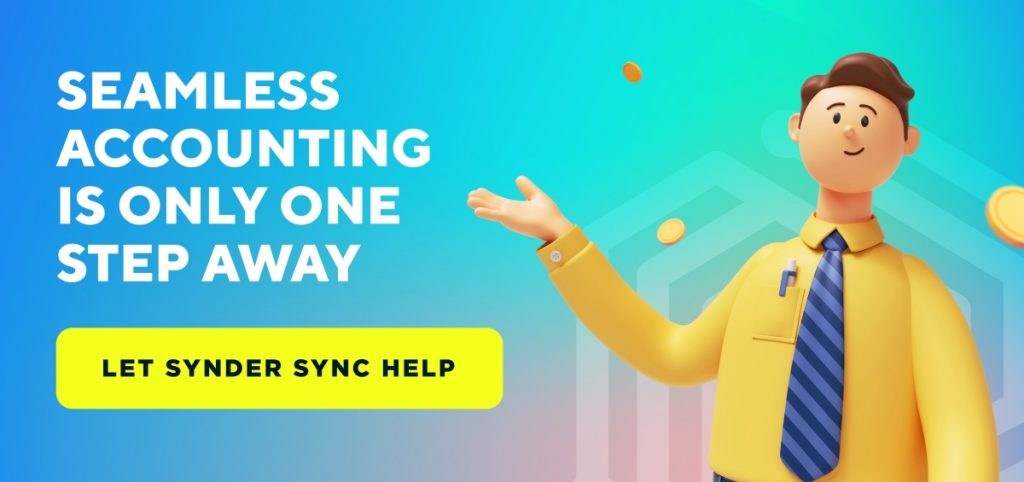 2. Booqable
Booqable is a simple inventory control software that allows you to know what product is on your shelves, where it's located, and how much there is. While many inventory planning systems are complicated enterprise solutions that are rarely used, Booqable offers an affordable, easy-to-use small businesses inventory management software tool.
Booqable is a turnkey management software solution for inventory control of businesses. It can be used to track and manage everything from the initial purchase to the end customer. It also integrates with hundreds of popular e-commerce platforms such as Shopify, WooCommerce, and Magento to make it even easier to manage your online store.
Everything from sourcing and procurement to sending and receiving, Booqable can help you get better business insight into your inventory, enabling you to make smarter decisions.
4. Odoo inventory management
Odoo is open-source software that primarily focuses on small businesses needs but allows for tailoring to any size on demand. So, it's highly customizable. Until you start using it with other products of the company, it will cost you nothing (the trial period is provided).
The module for inventory control is designed to help you keep track of your business stock levels in real-time. It allows you to create an unlimited number of different products with their own inventory planning.
The app allows you to add third party integrations from their app store in case you need a ready for use solution. In the meantime, Odoo provides its client with a bunch of integrated solutions which help to unfold the whole digital infrastructure management for businesses: from marketing to inventory planning.
5. Zoho Inventory
You might know Zoho as an almighty octopus of business automation. So I couldn't walk past this niche solution, as I like Zoho products myself. Besides being integrated into its ecosystem, Zoho Inventory has a variety of useful connections with other services: from payment systems to shipping providers. Having entered inventory info once,, you can update it in all the channels you use on Zoho Inventory.
This software service provides businesses with a tool for inventory control, purchase orders, and other important features. It helps companies track their products, store information about vendors and suppliers, and generate reports for their business.
It's easy to use and deploy: it's a small businesses inventory management software solution requiring no download or installation that you access through your browser. And you can have your inventory control access anywhere. Free trial included.
In general, customers like Zoho Inventory, but their pricing transparency can freak new users out. Sometimes, if you buy a subscription per one product, it will eventually induce you to buy a unit with additional functionality that hasn't been featured in your current plan.
6. Square for Retail – free inventory management
Square for Retail is a free inventory management software solution for small businesses that gives you the power to run your entire business. Sell anything, to anyone, anywhere.
With Square, you can manage your inventory tracking and customize your product presentation with professional graphics. Manage customer loyalty programs and keep track of your customers' activity with detailed analytics reports. All while using the latest trends in payment technology and security features.
With Square for Retail inventory, businesses can now take full advantage of all the features of Square's software and hardware products while keeping their customers in mind. They can create customized solutions to fit their business needs at an affordable price.
Whether you're looking for ways to streamline your current operations or want to start fresh with the Point-of-Sale (POS) system, Square can be your right-hand… tool.
7. Cin7
One more cloud-based multi-tool for your business inventory control and a whole bunch of other useful features is Cin7. Cin7 is a leading manufacturer of inventory tracking and warehousing inventory management software solutions for retail, manufacturing, distribution, and service industries.
It becomes the best option if your business uses an omnichannel distribution model. Cin7 sets its mission as providing customers with an all-in-one platform for containing costs as they expand to new markets and add sales channels.
Business owners will appreciate the high-level support of the product team. Especially when it comes to the initial implementation of Cin7 into their existing infrastructure. Customers also highlight the great flexibility of Cin7 and the convenient analytical platform behind it.
Final word: Importance of inventory software
Integrating software can be a headache for overloaded business owners. And an inventory control system won't be an exception. Inventory planning is the backbone of any thriving retail businesses. Warehouse inventory management software is where you need to focus your energy to get this job done.
Take a deep breath and choose the option that offers the best support, the easiest onboarding, and has a wide user community behind. Keep in mind not only the features you need right now but those that you'll need a few years later.
If you've already gone through the integration management process, what challenges have you faced? Or maybe you're currently choosing your ideal vendor? What's your potential choice? Share your opinion with us in the comments below.