Why is integration with e-commerce platforms so important?
Accounting software is a major part of the operations for many businesses. It helps track expenses, manage books, and maintain financial records with ease. These technologies make it easier for businesses to manage their finances. With the integration with the right accounting software, you can reduce the accounting workload and save time by automating many tasks.
That's why the first step when you're working with an e-commerce platform is to connect it to the accounting software solution you're using.
Struggling with choosing the right accounting software solution? Check our article "How to choose the best accounting software for your business" to see the options!
How does it work?
Integration with an e-commerce platform isn't as hard as it may seem. But it will work much more efficiently if you go through all three steps of integration – connect your e-commerce platform, payment platforms and accounting software.
You start by choosing the preferred sales channel. When integrating an e-commerce platform through Synder Sync, for example, you have a set of options on the fourth step of onboarding. Here is how it looks: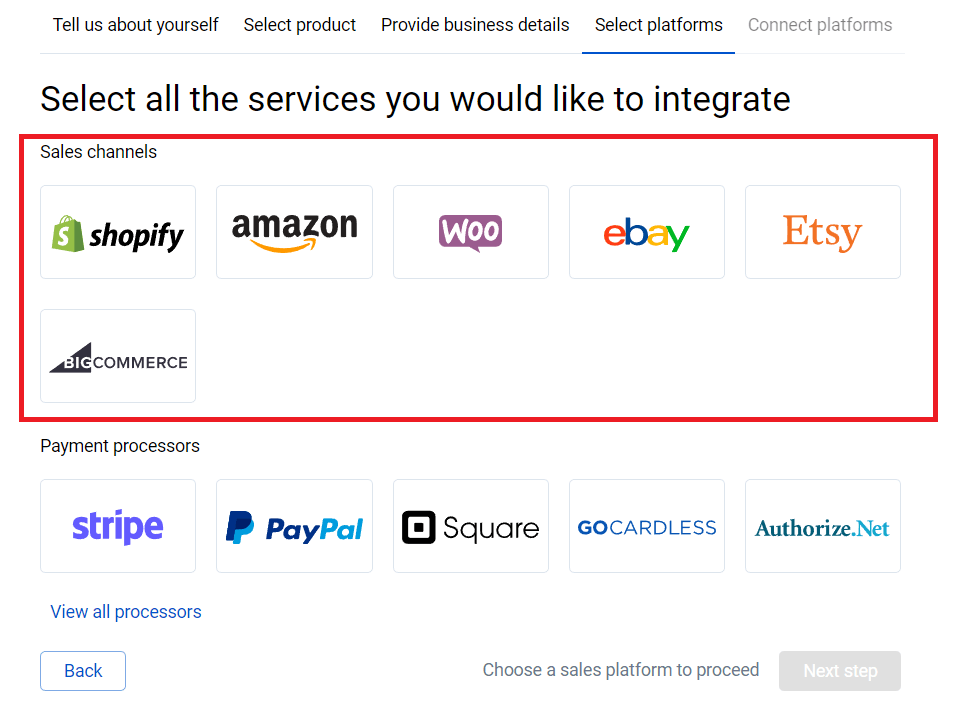 After integrating your sales platform, you can proceed to connecting your payment platforms. Once again, you'll have a list of options. Finally, you'll have to connect the accounting software. Synder will give you four options: Synder Books, QuickBooks (Online or Desktop), or Xero. While you may decide not to connect payment platforms, integrating your accounting software is essential so that you have a safe space where your sales information will be recorded.
After completing these steps, the connected accounting software will have access to the information the e-commerce platform provides, for example platform fees, shipping address, item name (SKU), item quantities and price, discounts, etc.
Why Synder?
Synder Sync is a green flag if you're looking for a reliable provider between the e-commerce platform and accounting software since it syncs all the information available on the connected platform that might be useful for your accounting. The onboarding process is really simple – you can do everything by yourself, or schedule a Demo with our specialists, who will walk you through the whole path with screen sharing where you'll be able to visualize each step.
Here are some more nice features from Synder:
✔️ Hourly updates
Synder updates the information in your accounting per transaction every hour. Right after the moment you've connected the platform(s), the software will be working automatically in the background.
✔️ Consolidated cash flow with no duplicates
With Synder Sync you can connect more than one e-commerce platform + payments platforms that are connected to them to have the whole picture of the business performance. Moreover, there is a 0% chance that the transactions will be duplicated in the accounting system. Synder will sync only the information that hasn't been recorded in the accounting software yet.
✔️ Inventory tracking
Synder simplifies the monitoring of inventory. Combining the information across all channels, Synder Sync keeps track of the product quantities so that the final number is shown inside your accounting software account. No manual work needed.
See your real numbers with Synder Sync and grow them! 🔥