As an entrepreneur or small business owner, you understand the importance of maintaining accurate records, managing invoices, tracking expenses, and generating financial reports. However, handling these tasks manually can be time-consuming and prone to errors. That's where accounting services and accounting software come in, providing a digital solution to streamline your financial processes.
Stay tuned as we take you on a journey to find the best small business accounting software services, empowering you to streamline your financial management and drive your business's success to new heights.
Contents:
1. What is accounting software?
2. List of accounting software solutions
3. Key features to consider in small business accounting software
4. Benefits of implementing accounting software into your small business routine
What is accounting software?
Accounting software is a specialized digital tool designed to automate and streamline financial management processes within a business. It serves as a central hub for recording, organizing, and analyzing financial transactions, helping businesses maintain accurate and up-to-date financial records.
The best accounting software provides a range of features and functionalities that simplify tasks such as bookkeeping, invoicing, expense tracking, budgeting, and financial reporting. By leveraging technology, accounting software eliminates the need for manual calculations, paperwork, and complex spreadsheets, saving time and reducing the likelihood of errors.
Today you can find a lot of accounting software for small business options, both free and with paid subscriptions. However, always remember to take into account the reasons why you need software and how you expect it to help you. Otherwise, you'll be overwhelmed with all the options available in the market.
We're providing the most known options available right now and can't assert that all of these options may necessarily align with your specific needs. The safest solution is to consult a professional accountant who can analyze your business situation and give recommendations regarding the final choice based on your real records.
Several questions need to be taken into consideration before choosing the right software. Would you like to keep your information in the cloud, or is a desktop-based service better for your specific security requirements? Will you be recording inventory? Is it important for your accounting software to automate various workflows, or would you like to perform those repetitive processes manually? What kind of subscription would you prefer: monthly or annual?
Here are some tips for a small business owner on how to choose accounting software for your small business:
Keep in mind your budget limitations
Getting accounting software is great not only for your business but also for you. Manual tasks become automatic, and you free up time to analyze and create new growth strategies. But a penny saved is a penny earned, so don't act recklessly when choosing accounting software for your small business, especially since there are a lot of software solutions that provide main features for additional pricing only. Plus, it's better when a software solution has a trial so you can check all the features before making a final decision and spending money on it.
Make a list of the must-have accounting software features
There are a bunch of different small business accounting software solutions and deciding which one suits you best can be difficult, so it's important to make a list of the required features. Since some accounting software solutions even vary depending on the business, you must be as specific with your requirements as possible.
Consider your accounting skills or consult your accountant
You definitely don't want to mess things up on the first day of using your accounting software. That's why you need to clarify things so you or other users, your accountant or your team members, can manage and connect the platforms without additional help. Otherwise, it's better to make sure that the company accounting software you're using provides the users with a thorough demo session.
Note: There might be an extra fee for more than one user per account when using some accounting software solutions for small business.
List of accounting software solutions
In this part, you'll find details about the following small business accounting software options:
Synder
Wave
Freshbooks
Xero
QuickBooks Desktop
QuickBooks Online

Synder
This accounting software is best fore-commerce and SaaS business owners and accounting and bookkeeping professionals who need a better understanding of their clients financial situation.


Synder is a simple accounting software that reflects the actual cash flow happening between your sales channels, payment gateways, and the real bank account. It differs from the rest of the solutions since it works as a bridge between business channels and accounting software such as QuickBooks Online/Desktop and Xero. Serving as an ecosystem where your business data is stored and analyzed, Synder makes controlling and managing the historical and ongoing cash flow faster and easier. The software has a 15-day free trial (no credit card required).
Accounting software top features:
Daily or per transaction record of data
Simplified inventory tracking
Automated categorization and classification
Help with the reconciliation process
Customized invoicing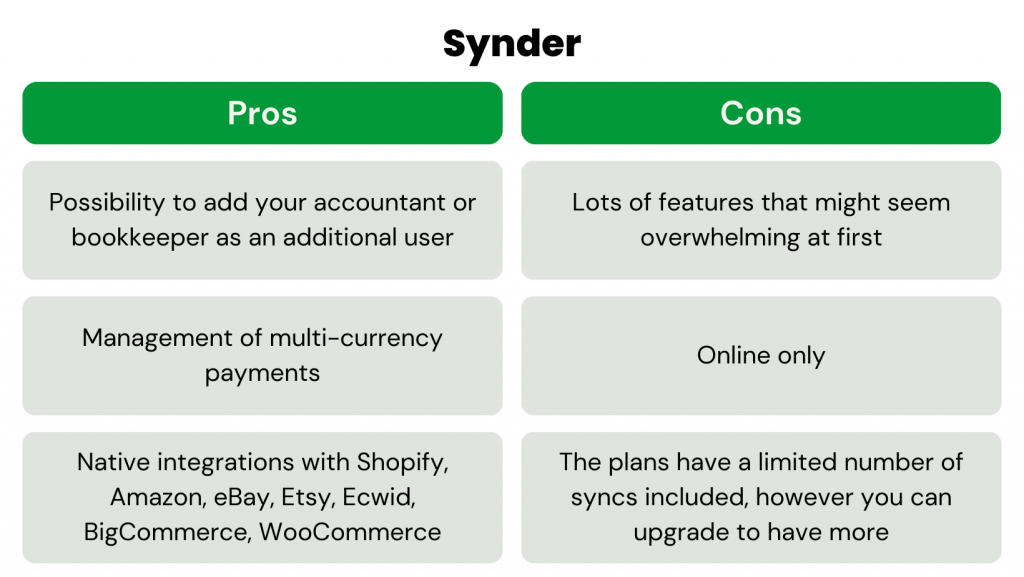 Interested in how it looks from the inside? Create a free account to automate the booking process and never worry about manual tasks again – connect your platforms.
Wave (free accounting software)
This accounting software is best forsmall business owners looking for a free accounting solution to manage their finances


Its free pricing model sets Wave apart, making it an attractive choice for startups and small businesses with limited budgets. Despite being a free accounting solution, Wave doesn't compromise on functionality and provides a user-friendly interface, integration capabilities, and robust security measures. This accounting software has gained a loyal following for its intuitive design and ability to meet small businesses' accounting needs without breaking the bank.
Accounting software top features:
Customized recurring invoices
Payroll management
Expense tracking and categorization
Inventory management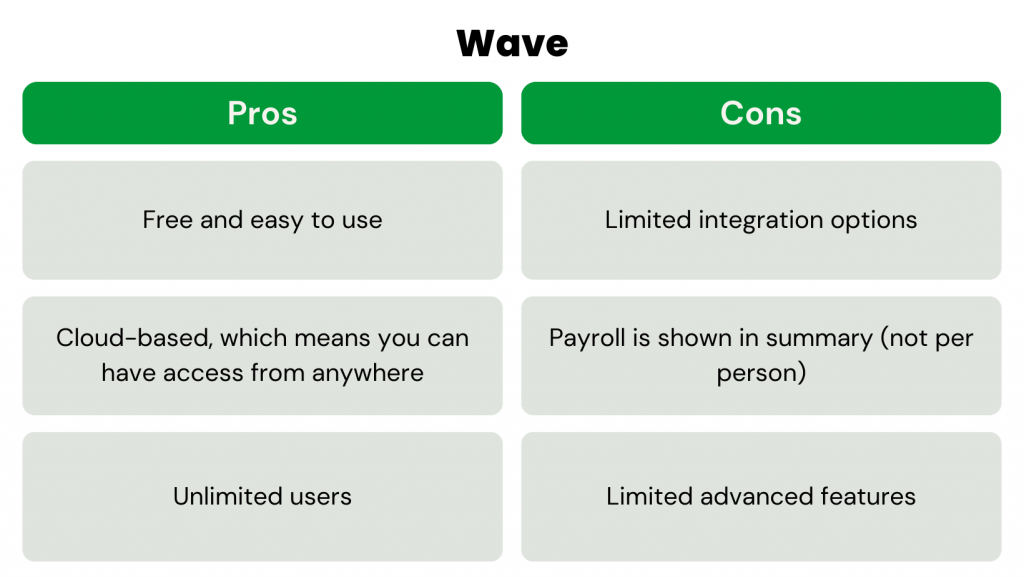 FreshBooks software
This accounting software is best for service-based companies.


FreshBooks is an accounting software that offers a range of features to simplify financial management. The software excels in its time-tracking capabilities, making it an ideal choice for service-based businesses that need to track billable hours accurately. With its robust integrations and convenient mobile app, FreshBooks provides a comprehensive solution for businesses seeking efficient and streamlined accounting processes.
Accounting software top features:
Customized invoicing
Expense recording
Project management
Time tracking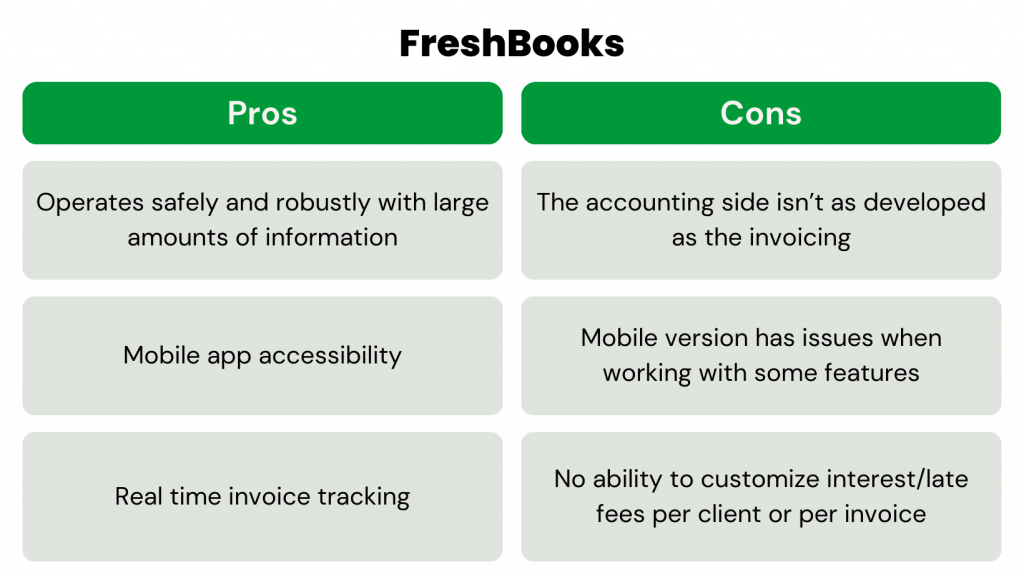 Xero 
This accounting software is best for mid-to-large-sized businesses that want to optimize their accounting.


Among some of the best things about Xero accounting software are its user-friendly UI and the possibility to add an unlimited number of users for free. Unlike other software, Xero makes most features available to all users (except for multi-currency, expenses, and projects that are available only in the top-tier plan).
Accounting software top features:
Payroll processing
Multiple reports
Automated daily bank feeds
Simplified double-entry accounting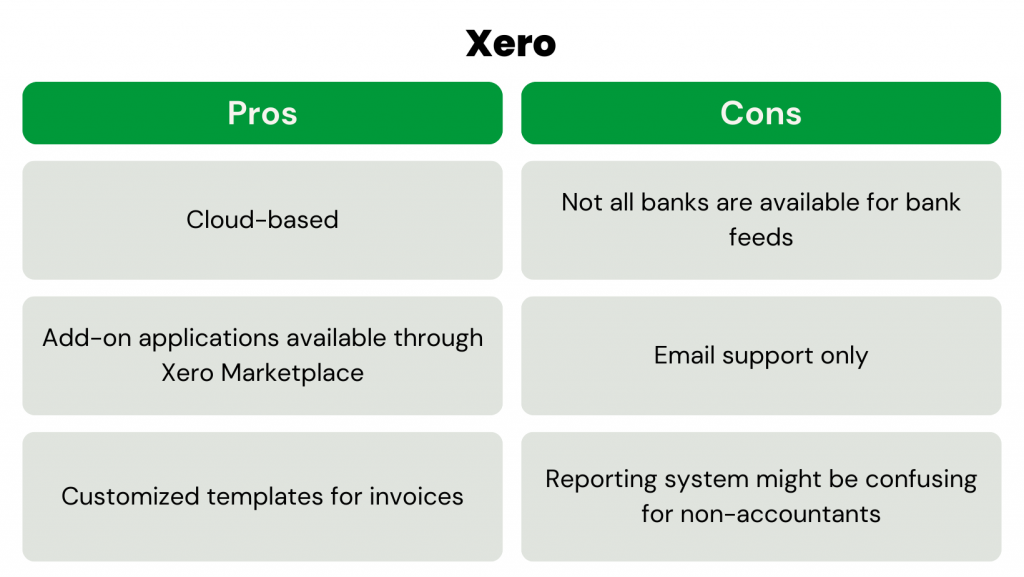 QuickBooks Desktop
This accounting software is best for mid and large-sized businesses that don't need high mobility.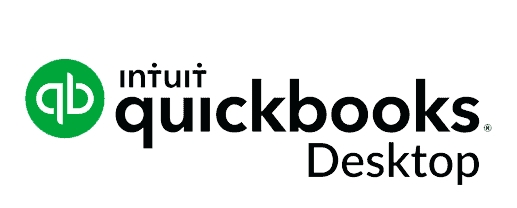 Most people in the tech world would say that the future of accounting software solutions belongs to cloud applications, but the popularity of QuickBooks Desktop shows that there's still a place for it in the accounting world. This accounting software may be overwhelming if your business is very small. But if you're a business owner looking for a stable solution and don't need the high mobility of having your data in the cloud, QuickBooks Desktop may be a good option for you.
Accounting software top features:
Automated payment reminders
Receipt management
Invoice history tracking
Payroll liability reminders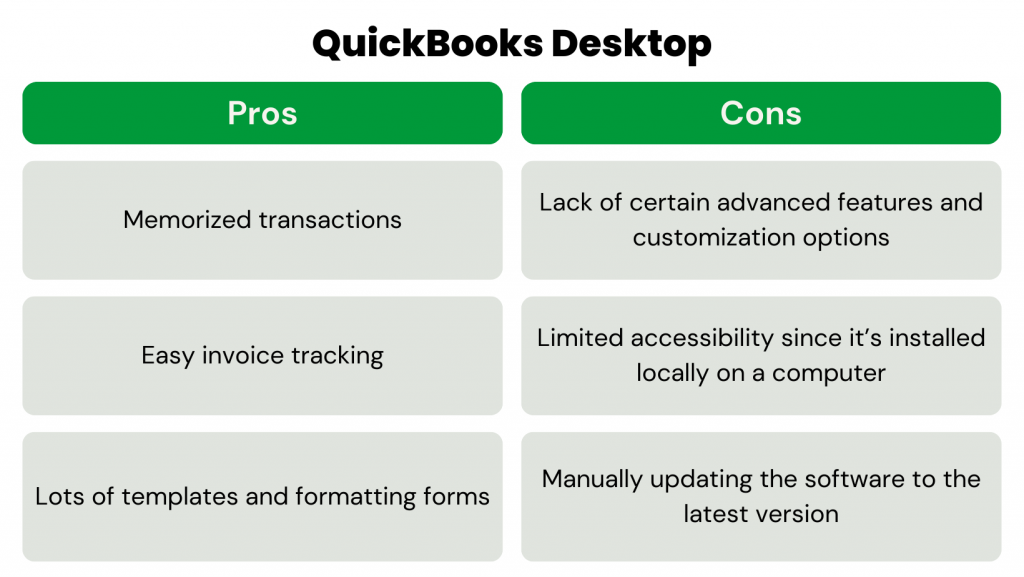 QuickBooks Online 
This accounting software is best fora wide variety of small business owners who want to manage their finances better.


QuickBooks Online is a widely recognized and user-friendly cloud-based accounting software solution designed for small businesses and self-employed professionals. With its robust features and intuitive interface, QuickBooks Online simplifies financial management tasks such as invoicing, expense tracking, bank reconciliation, and financial reporting. It offers the flexibility of accessing financial data from anywhere with an internet connection, allowing for remote work and collaboration among team members and accountants.
Accounting software top features:
Reconciliation
Built-in reports
Invoicing
Inventory management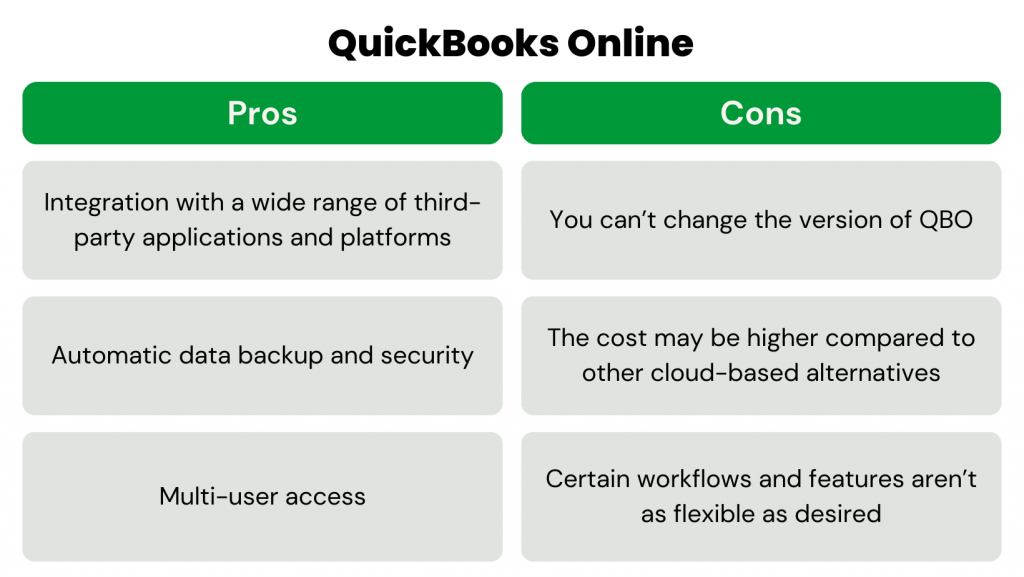 Key features to consider in small business accounting software
Here are some of the main accounting software features the users should be looking at first:
Ease of use and user-friendly interface
Look for software that has a clean and intuitive layout, making it easy for you and other users from your team to navigate and perform tasks efficiently. A well-designed accounting software interface can significantly reduce the learning curve and enhance productivity.
Financial management capabilities of accounting software
A robust accounting software should offer comprehensive financial management features. This includes tools for managing accounts payable and receivable, tracking sales and payments (income and expenses), creating and managing budgets, and generating financial statements such as profit and loss reports, balance sheets, and cash flow statements. The software should provide accurate and up-to-date financial data to help you make informed business decisions.
Invoicing and billing features
Look for software that offers flexible and customizable invoicing options, allowing you to create professional-looking invoices tailored to your brand. The software should enable you to track and manage invoices, send automated reminders for outstanding payments, and support multiple payment methods to provide convenience to your customers.
Expense tracking and reporting capabilities for small business
The software should have features for recording and categorizing expenses, tracking vendor payments, and managing reimbursements. Accounting software should also provide detailed expense reports, giving you insights into your spending patterns, identifying cost-saving opportunities, and helping with tax compliance.
Integration with other software and platforms
Before choosing accounting software, consider its integration capabilities with other tools and platforms that you use in your business operations. Integration with e-commerce platforms, payroll software, and bank accounts can streamline sales and payments data flow and eliminate the need for manual data entry. This integration can save time, reduce errors, and provide a holistic view of your business's financial ecosystem.
Accounting data security and protection
Ensure that the accounting software you choose has strong security measures in place, such as data encryption, secure login protocols, and regular data backups. Additionally, look for software that complies with industry standards and regulations to protect your sensitive financial data.
Benefits of implementing accounting software into your small business routine
The most inefficient and time-consuming business tasks are often related to bookkeeping, accounting, and financial reporting. What's more, they can be rather costly.
Here are some key advantages of implementing accounting software:
Time savings
Accounting software automates repetitive manual tasks such as data entry, invoice generation, and financial calculations. By reducing the time spent on these administrative processes, you and your team can focus on core business activities, enhancing productivity and efficiency.
Improved accuracy in accounting records
Manual bookkeeping is prone to human errors, which can have significant implications for your financial records. Accounting software minimizes the risk of errors by automating calculations and providing validation checks when recording payments. This ensures accuracy in your financial data and reduces the chances of mistakes that can lead to financial discrepancies or compliance issues.
Enhanced financial visibility
With accounting software, you gain instant access to real-time financial data and comprehensive reports. You can easily track income, expenses, cash flow, and profitability at a glance. This visibility allows you to make informed business decisions based on accurate and up-to-date information.
Streamlined invoicing and billing
Accounting software simplifies the invoicing and billing process. You can generate professional-looking invoices, track payment statuses, and send automated reminders for overdue payments. Like that, accounting software improves cash flow management, reduces payment delays, and enhances customer satisfaction.
Efficient cash flow tracking
Tracking and categorizing expenses manually can be time-consuming and prone to errors. Accounting software streamlines expense management, allowing you to record and categorize expenses easily. It provides detailed expense reports, helping you analyze spending patterns, identify cost-saving opportunities, and ensure compliance during tax time.
Simplified tax compliance
Accounting software often comes with built-in tax features or integration with tax software. It simplifies tax compliance by automating calculations, generating tax reports, and ensuring that you have accurate financial data readily available for tax filing. With proper accounting software, you can reduce the stress and potential errors associated with manual tax preparation.
Scalability and growth support
As your business grows, accounting software can scale with you. It can handle increasing transaction and sales volumes, additional users, and integration with other systems or software. Such flexibility allows you to adapt and expand your financial management processes without significant disruptions.
Now let's consider 6 small business accounting software solutions that might interest you.
Small business accounting: closing thoughts on choosing a software to manage your accounting seamlessly
Choosing the best accounting software or app for your e-commerce business can be a daunting task. There are countless app options to choose from, each with its own features. Considering strengths and weaknesses might seem tedious and pointless now, but choosing a small business accounting software app that best fits your needs will save time and money in the long run.
As either you or a member of your team will be spending a lot of time with this accounting software, it's crucial to evaluate the quality of the support available. To make the right choice, a small business owner has to compare, analyze, ask questions and see which database and live support provides the best and the most efficient assistance.
We're providing the most known options available right now and can't assert that all of these options may necessarily align with your specific needs. The safest solution is to consult a professional accountant who can analyze your business situation and give recommendations regarding the final choice based on your real records.