Shampoo and conditioner, sneakers and socks, McDonald's Happy Meal – these are just a few examples of successful product bundles that sell like hotcakes. Want to have something similar and maximize your sales?
In this article, we'll discuss what product bundling is and what benefits it offers to businesses, consider product bundling strategies and methods you may use to create product bundles and sell them, as well as analyze what metrics to look at to measure how successful your e-commerce sales are.
Contents:
2. What do you need to know about a product bundle?
3. Why sell products in bundles?
4. Product bundling strategies: How to create product bundles and sell them?
5. E-commerce product bundling made easy: Collect the right metrics with Synder Insights
What is product bundling?
Product bundling is a marketing technique in which a business groups together two or more products or services and sells them as a single unit. Referred to as a package or product bundle, these products or services are usually grouped under one SKU (stock-keeping unit) code.
What do you need to know about a product bundle?
Bundles come in different types – a product bundle may consist of several items of the same product, or several different complementary products. Bundles are usually (but not necessarily) sold at a lower price than if the same products were sold individually.
Bundles can be sold offline and online, although the latter variant is more widespread – it's become a staple of e-commerce stores. Ultimately, product bundling encourages sales and increases customer engagement.
Why sell products in bundles?
Increased sales and customer engagement aren't the only reasons why bundles are so popular in e-commerce. Product bundling offers numerous benefits:
Clearing out old inventory and freeing up warehouse space. Product bundling is a great opportunity to sell unpopular products and reduce inventory waste. Choosing a good product bundling strategy solves all your problems. Why not bundle an unpopular item with a popular one and sell both?
Decreasing costs. Bundles allow for saving up on marketing and distribution costs as you have to deal with a bundle as a single item instead of a multitude of items. Packaging, shipping, marketing, stocking are just on top of that long list. That's a good way to increase your manufacturing performance!
Increasing customer average order value (AOV). Encourage your customers to buy more and increase your average order value and therefore your profits and sales. Bargains sell!
Increasing customer satisfaction. Providing good value at a reduced price makes customers feel appreciated and understood. When they know that their needs are satisfied and their customer experience is good, they come back to your store for more. A well-thought product bundle is a good way to show your customers that you care.
Benefiting from seasonal opportunities. Halloween and Christmas, as well as summer sales, for example, are peak times for product bundles. Create a product bundle your customers would buy again and again. Everyone's buying, your customers won't want to miss out!
Product bundling strategies: How to create product bundles and sell them?
If you're considering introducing product bundles into your e-commerce store, you might wonder where to start. Creating a compelling product bundle includes, but isn't limited to, choosing what products to group together and how to promote them. We've got a list of actionable steps that will help you to create bundles that sell.
1. Research your customers and their behavior
How well do you know your customers? What do they buy and when? What products do your customers purchase frequently/avoid? What products can you group together to meet their demands and increase your sales?
Studying your customers and their purchase behavior may be educational. Analyze your current sales and try to identify bundles that customers already create. Pay attention to the following:
Complimentary products. There are products that are used together and the demand in one translates into the demand in the other: a shampoo and conditioner, razor and razor blades, torch and battery, etc. Selling them individually may give you more profits, but at the same time result in inventory waste. Having these items in bundles is likely to solve this problem.
Repetitive sales. If you're selling a variety of frequently bought products such as toothpaste, soap, toilet paper, paper towels, protective masks, sanitizers, etc. that are usually bought in large amounts, you might as well create a compelling bundle. Your customers have already bought these products from you, they're likely to need them again and come back to your store. Don't pass on the opportunity to bundle items that satisfy everyday needs!
Customer bundles. While complimentary products and repetitive sales provide you with some clear examples of universally accepted bundles, you may also explore some of the more unusual pairs of products already created and bought by your customers. If you're selling clothes and accessories and know that your clients tend to buy a certain cap and glasses and pair them – that's a summer bundle! Find unconventional bundles already created by your clientele and expose them to your entire customer base. Chances are, these bundles are exactly what you're looking for!
E-commerce product bundling should be based on the analysis of your customers' preferences. Understanding what resonates with your customers and what makes them purchase specific products is a perfect place to start creating a successful product bundle.
2. Offer discounts and showcase the value
What's the best price for this item?
Customers are always looking for bargains and if there's an opportunity to save some money with a product bundle, they'll take it. Make your bundles more appealing by offering small discounts and comparing the price of individual items to a bundle. Create product bundles that showcase the value to your customers. Let them see the difference and make the right decision.
3. Choose the right product bundling strategies for promotion
Now that you know what products to pair, it's time to make sure you know how to make these bundles shine. There are lots of product bundling strategies, pick what fits your needs best:
Display bundles strategically. If no one sees your bundles, no one buys them.
Create time-limited bundles. Urgency plays an important role in making purchases.
Use price anchoring. Seeing the initial price for these items if bought individually and comparing it to the price for a bundle might nudge your customers to buy them.
Promote your bundles as gift options. The hassle of making purchases during the holiday season might be avoided with the help of bundles.
Use multiple channels for promotion. Find out what channels your customers prefer and promote bundles there.
While following these simple steps provides you with a compelling product bundling strategy, e-commerce product bundling is meaningless if you don't measure your efforts. Keeping track of customer and product KPIs allows you to make data-driven decisions affecting your bottom line.
E-commerce product bundling made easy: Collect the right metrics with Synder Insights
Measuring the performance of your e-commerce business in general and the performance of your product bundling strategies is not an easy task. But with the right accounting software even the most sophisticated KPIs can be acquired in a matter of minutes.
Synder Insights is a comprehensive solution to successful product bundling for your business. The tool offers a set of actionable and clickable reports on the vital metrics necessary for accurate evaluation of how well your e-commerce business is performing, as well as how effective your strategies are. The insights allow you to create product bundles that sell, choose the best product bundling strategy for your store and find solutions to the most complex issues easily!
All e-commerce stores have best selling products and least performing products. Knowing these products is key to bundling the right products together and increasing your revenue.
Move inventory of lower selling products
To bundle products correctly, start with studying the Top performing products and Least performing products reports. You can sort the items by various filters in order to analyze their performance, predict demand, diversify the range, etc. When you identify those products that are not selling well, you can put together bundles that would offer these items at a lower price, making it a no-brainer to purchase the bundle instead of just the one item.
In this case, we have a best-selling laptop (see 1 on the picture) and a product that's not selling well – a backpack (see 2 on the picture). If we offer a bundle that is 20% off the cost of the backpack if it's purchased at the same time as the laptop, it makes it an easier decision for the customer to choose both. What's more, the report shows that a 'Unisex gray backpack' was sold only once during the last 3 months (see 3 on the picture). Based on this information, you might want to either bundle it with a laptop or lose this item altogether. The list of alternatives for your backpack is vast.

Find bundles your customers already create
Additionally, Synder provides you with the Products most purchased together report, which gives you insights into which items are already bought by your customers together and therefore should be bundled.
Synder instantly analyzes your sales from all connected online channels (Shopify, Amazon, Walmart, eBay, etc.) and provides you with a top performing pairs list sorted by the number of orders when these items were bought together. Analyzing such pairs across countries, sales channels and customer cohorts will empower you with very specific data-based offers to your audience!
In this example we can see that the laptop and bluetooth mouse are commonly bought together. So, why not bundle them and make it an easier decision to purchase both?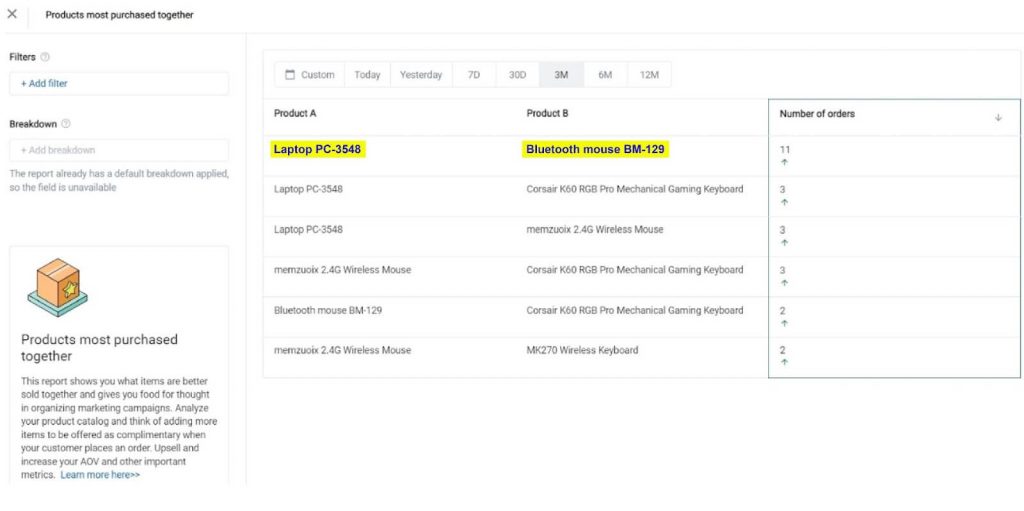 Product bundles for higher revenue
What's more, you can get detailed statistics on AOV in order to understand how successful and effective your strategies (including bundling) are. In the Average order value report, you can display the statistics by period (today, yesterday, 3-12 months, or custom). When customers purchase two items instead of one (even if one of those items is purchased at a discount) it increases your AOV and your gross revenue.
Let's use an example here. A company wanted to increase their AOV to eventually increase income. Here's what they started at:

As the company wasn't satisfied with the numbers, they looked for ways to increase AOV and decided to implement bundling strategies. This is what they've got 2 months later:

These reports are just part of what Synder Insights can do for you in terms of metrics. Check out the full list of indicators available.
E-commerce product bundling is meaningless if you don't measure your efforts. Keeping track of product KPIs allows you to make data-driven decisions affecting your bottom line, and Synder is just the tool you've been looking for!
Final thoughts
Product bundling is a great way to increase your sales both online and offline. Creating a compelling product bundle as well as choosing the right product bundling strategies for your e-commerce business should be data-driven as only scrupulous data analysis allows you to foresee the performance of bundles among your customers. Turn over the calculation of metrics to automated software that can do it accurately and in a few clicks. Save time and money, trust the automation!
Ready to experience automation and simplify e-commerce product bundling with Synder Insights? Learn more about the tool by starting a free 7-day trial.
Not quite ready for a free trial of Synder? Want to see what else it can help you with? Book a demo with one of our specialists and they can show you all the ways Synder can help you automate your accounting, and get one source of truth that helps you make the right business decisions.