From ecommerce stores to SaaS startups, businesses need to receive payments from customers, and payment gateways are one of the most common ways to do this. There are many options for collecting money online – credit cards, Buy Now Pay Later cards, or PayPal, just to name a few.
However, not all payment gateways are the same. What you may require depends on your business's size and needs. Here's an essential guide to receiving payments and choosing the best payment gateway for your business that will answer numerous questions starting from What is a payment gateway? and How does a payment gateway work? to How to choose a secure payment gateway?
Ready? Let's get started!
Contents:
2. What are the types of payment gateways?
3. How to choose payment gateways wisely
4. Choosing a secure payment gateway
5. How many payment gateways do you need?
6. Best payment gateway: Review of solutions for a small business
What is a payment gateway?
As the name suggests, a payment gateway is a technology that allows your website to process payments. You may also meet such related terms as payment processors, payment providers, or payment platforms. Although not all of these terms are technically synonymous, yet in common life, they're broadly used to describe similar solutions.
Basically, payment gateway providers read and transfer payment information from your customers to your bank account, ensuring that the money is available and received, along with necessary data.
What are the types of payment gateways?
Payment gateways come in many shapes and sizes. But they are all the same in one regard – they allow you to get paid online.
Here are some of the payment gateways types and their benefits for business:
On-site (self-hosted) payment gateways
Self-hosted payment gateways handle the entire transaction on their servers. Amazon, for example, uses the Amazon Pay processing system. The checkout and payment processing go completely on their site. The biggest advantage is the extra level of security. But only very large businesses can afford to create their own custom processing system.
Off-site (hosted) payment gateways
Off-site payment gateways are called so because your customer checks out on your site, but the payment processing happens on the provider's backend. Like in the case of the Stripe payment gateway, they collect payment for your product from your customers and pay you back within a particular time. What's great about it for merchants is that the provider commits not only to processing payments but also to handling other related issues, like disputes or refunds.
Redirecting gateways
When the gateway takes a customer to a different payment page to handle the complete transaction (i.e. processing and paying), it becomes a "redirect". An example of redirection is PayPal. On the one hand, using this platform adds an extra step for a customer and means that a merchant has less control. On the other hand, small businesses can use a redirect-gateway to incorporate the convenience and security of a major platform.
If you're selling online, you don't have to be an online payment gateway expert. However, understanding the basic flow of major payment gateway providers is a must to feel confident in what you do.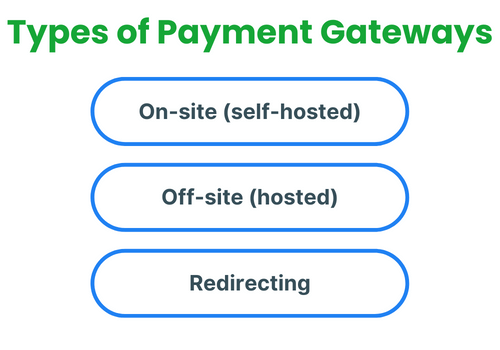 How does a payment gateway work?
As it was previously mentioned, a payment gateway enables payments online and ensures the interchange of data and funds between customers and businesses. This interchange requires customers and businesses to work together in order to complete transactions online.
How a credit card payment and other payments are processed by payment gateways
Typically, the flow of a payment gateway includes the following steps:
Step 1. An order is placed and confirmed on a merchant's website.
Step 2. A customer enters card details and the payment gateway checks if the funds are available. At this point, this ecommerce transaction has to be authorized by the customer's bank.
Step 3. If the payment is authorized, the merchant gets paid and the money is deposited either into the merchant account or the aggregated merchant account that belongs to the payment gateway.
Step 4. Once the money is deposited into the merchant account, the payment can now be made to the business's bank account.
Assuming that there are no refunds or chargebacks, credit card payments follow this simple flow and usually take no more than a few minutes. The exchange of information is secure as the data is encrypted and protected.
Now that you have a basic understanding of how payment gateways authorize credit card payments and finalize transactions, you may be wondering how to choose from all the payment gateway options available on the market. The answer is simple – choose wisely.
How to choose payment gateways wisely
For your ecommerce business to thrive, it needs a payment gateway that will serve your business and your customers in the best way. What you need may depend on your business's size and requirements.
Let's think about what these requirements may be and what questions a merchant needs to answer before choosing the best payment gateway:
Expectations. Besides being able to accept payments, what do you expect from a payment gateway?
Ecommerce platforms and frequency of purchases online. Where do your customers spend money? How often do they buy things online?
Popularity. What payment gateways are popular among your customers?
Multicurrency. Should customers complete their payments in bitcoins, dollars, or another currency? Can this payment gateway accept all of them?
Fee. What is a monthly gateway fee?
Types of credit cards accepted. What types of credit cards are allowed? Does it accept the credit cards you need?
Terms and timing of payouts. How much will your business have to wait to get paid? What are the terms and conditions of dispute settlements?
Mobile payments. Does it support mobile payments? Can your customers pay online irrespective of what device they use?
Security. Is the payment gateway in question secure?
Transaction limits. Is there an upper limit on the number of transactions you can process each month? Is there a threshold limit to payments?
Integration with operational software. Can this payment gateway integrate with other systems, such as accounting software?
Let's face it. Answering these questions is tough and somewhere along the way you might arrive at the conclusion that you need to use several secure payment gateway providers to receive payments. And security must always come first.
Choosing a secure payment gateway
As the number of ecommerce transactions grows, so does the possibility of fraud. Fraudsters nowadays come up with much more than just phishing emails, that's why spotting fraudulent transactions and choosing a secure payment gateway is as important as ever.
Security features should be a top priority when considering payment gateway options. There are a number of security measures you'd want to consider:
1. Payment Card Industry Data Security Standard (PCI DSS). Check if your provider is compliant with this set of rules and security regulations that are implemented by the major card schemes and ensure that payments are fulfilled in a secure manner.
2. Encryption. Payment gateways must encrypt customers' data to guarantee its secure transmission.
3. Tokenization. Sensitive cardholder data might also be converted into a security token that is used for future payments.
4. 3D Secure Authentication. When customers enter their card details, they have to go through an additional step to verify their payment.
5. Employee training. Make sure that people working with processing payments know and adhere to the latest security regulations. Each payment must be in safe hands.
As long as your payment gateway options pass the security requirements, you're free to choose the top payment gateway satisfying the needs of your business. Or maybe a few.
How many payment gateways do you need?
Not all of your customers will have cards and accounts with the same payment processor. In most cases, you'll need to sign up with more than one payment provider.
Therefore, there's a possibility that you might need to have integrated platforms that support more than one payment method. You should understand the cost of each of the platforms that you want to use, which may include different processing fees, platform fees, and costs related to security.
The more payment gateways you connect, the more options and flexibility you offer your clients. At the same time, the complexity of your bookkeeping increases proportionally.
If your Shopify store has several payment gateways simultaneously, for example, the native Shopify Payments, PayPal, and Stripe — besides more complex fee calculations, your business may face certain difficulties in accurately recording all sales without duplicating the data from every connected sales channel.
There's smart software, though, that automates the flow of your sales information from payment processors into your accounting system avoiding errors in data.
How to bring data from all your payment processing systems into your accounting
Synder Sync is one of the top solutions on the market that can help sort this problem out. This powerful product gives you detailed and unlimited data synchronization with customizable settings to meet all of your accounting and reporting needs.
The solution allows you to connect both your sales channels and payment platforms and transfer detailed information from them to your accounting software with no duplicates or losses.
With Synder, you'll get access to fast and hassle-free reconciliation, accurate and flawless reporting, simple categorization with the help of Smart Rules, and much more. More importantly, handling international payments will become an automated process requiring your attention only at the initial setup.
Check out what Synder Sync has to offer by signing up or booking a seat at our webinar where you can join Synder specialists and explore the tool's functionality in more detail. Organizing your multichannel and multicurrency sales has never been easier and more secure!
Best payment gateway: Review of solutions for a small business
Choosing the right payment gateway is crucial for the smooth operation and financial success of any small business. A well-suited payment gateway not only ensures seamless transactions but also bolsters the trust of customers in the business's digital dealings.
We'll explore and compare the best payment gateway solutions available for small businesses. This solution review will delve into their key features, ease of integration, security measures, and pricing, providing you with comprehensive insights to help you make an informed decision that can significantly benefit your business's transactional needs.
Stripe
Founded in 2010 and launched in 2011, Stripe is one of the best payment gateway providers in the world focusing on ecommerce transactions. Stripe allows businesses to accept credit card payments, mobile wallet payments, in-person payments, bank debits and transfers, Buy Now Pay Later payment options, and a lot more, and manages them further. Stripe's customers can process payments in more than 135 currencies and get access to one-click checkout and transaction dashboards to visualize payments.
Stripe offers custom payment solutions for ecommerce businesses allowing them to tailor payment processes to their needs. The payment gateway has a number of APIs that let users either build their own on-demand marketplaces, crowdfunding platforms, and create subscription services, or take advantage of native integrations with some of the biggest ecommerce platforms such as Shopify, BigCommerce, WooCommerce, etc.
Key features of Stripe:
Great variety of payment options. Extend your customer base by offering multiple payment options in multiple currencies.
Built-in APIs and developer tools. Explore a wide array of customization options to offer the perfect checkout experience. You can customize a prebuilt hosted payment page and embeddable UI components.
Invoicing. You can bill your US customers with customizable invoices via Stripe.
Payouts. Get paid once a transaction has settled with unified payouts across the payment methods and currencies you accept.
Fraud prevention. Manage risk and fight fraud with Stripe Radar and Dynamic 3D Secure.
Dispute handling. Stripe has an end-to-end automated process for handling disputes and helps submit evidence.
Fee:
The US fee: 2.9% plus $0.30 per transaction.
The EU fee: 1.5% plus 0.25€ (standard European Economic Area cards); 2.5% plus 0.25€ (UK cards).
Customized plans with volume discounts are available for larger volume needs.
There's no monthly fee.
Points to consider:
With lots of APIs and developer tools available, Stripe might require a developer to implement some of the features.
Many advanced features of this payment gateway are expensive and might incur an additional fee.
Stripe is surely one of the best payment gateway providers with multiple features, which makes receiving payments online easy and smooth.
PayPal
Established in 1998 and bought by eBay in 2002, PayPal has become one of the best and most well-known online payment gateways globally. The company opens opportunities for facilitating payments between both personal consumers and businesses online.
With PayPal, personal consumers can shop, make payments, and transfer money safely and securely, while businesses get access to a set of solutions to simplify their day-to-day operations – in-person payments, phone-based credit card payments, online invoicing, cart integration, etc. PayPal integrates with Shopify, BigCommerce, Squarespace, and other big ecommerce platforms, as well as offers a variety of customization options.
Key features of PayPal:
Easy to set up and use. PayPal is by far the most straightforward payment gateway that allows your customers to pay from anywhere and doesn't require any special knowledge on your part.
Invoicing. You can send free customizable invoices and get paid fast.
Offers multiple payment options. PayPal works with credit and debit cards, Buy Now Pay Later options, PayPal Credit, and Venmo, as well as allows your customers to pay by scanning a QR code, etc.
PayPal credit payments. Your customers may use their PayPal credit account and don't have to have a physical card.
Ecommerce features. With PayPal, you get access to not only payments but also hosting your listings (so that you can sell online without a website) and inventory tracking.
Payouts. Instant payouts to your PayPal account; transfers to your bank account usually take 1-3 days but it might take up to 5 business days (depending on your bank) or may be made instantly for an additional 1.75% fee.
Fee:
Depending on your PayPal Business plan, you'll pay a monthly fee:
Payments Standard – $0 fee;
Payments Advanced – $5 fee;
Payments Pro – $30 fee.
On top of that, you'll have to pay transaction fees that may vary from 2.29% to 3.49% plus $0.09 to $0.49 per transaction.
Points to consider:
You need to have a PayPal account to work with this international payment gateway.
Fees may become an issue, especially if your transactions are small.
Due to its popularity, PayPal is a popular target for fraud.
With PayPal, you can do almost anything. With a high score of 4.7 on Capterra, no wonder this online payment gateway is so popular. Its popularity and range of available features may be worth the fees.
Square
The history of Square started in 2009 when it was founded by Jack Dorsey (co-founder of Twitter). Since then, Square has become one of the best online payment gateways accepting both online and in-person payments that comes with a free mobile card reader and doesn't incur any setup expenses.
Square works with Apple Pay, Google Pay, and all major credit cards, and allows its users to accept payments not only by website, but also by invoice, or over the phone.
Square is the best choice for merchants who don't want to put much effort into setup. You can download the software on any device and accept credit card payments using a plugin mobile card reader Square gives for free. No special skills are required.
Key features of Square:
Easy setup. Merchants with minimal technical background can set up and use Square.
In-person and online sales. The tool is ideal for those who have a storefront and want to expand by selling online.
Ecommerce functions. With Square, you'll get access to standalone checkout and payment pages and embeddable Buy Now buttons. The tool allows you to create your own website or use Square Checkout on your existing site.
Affordable card readers. The first reader is free, additional ones are offered at an affordable price.
Sell on social media. Use Square to sell on Instagram, Facebook, or TikTok.
Add-on features. You can make use of third-party integrations – invoicing, marketing, loyalty, payroll, team management. Don't forget that each integration comes with an additional fee.
Fee:
There's no monthly fee for the payment gateway's basic services. Applying for Square's premium products incurs additional fees.
Depending on the transaction type, the following processing fees apply:
Online transactions incur a fee of 2.9% plus $0.30;
POS transactions result in a fee of 2.6% plus $0.10;
Manual entry transactions via Virtual Terminal have a 3.5% plus $0.15 fee;
Invoices' process fee is 3.3% plus $0.30.
Points to consider:
You must use Square Payments to work with this payment gateway.
Limited options for international payments.
Square offers affordable pricing for small businesses whose turnover may vary from month to month. The tool is convenient as it divides its software by industry and merchants can choose what they need by category.
Braintree
Braintree was originally launched as an online payment platform in 2010 and was later acquired by PayPal in 2013. The payment gateway supports in-store as well as online payments, offers simple pricing, and is easy to use.
Braintree has a simple interface that allows for a seamless checkout experience and integration with major ecommerce platforms, analytics apps, accounting software, and more, making it one of the top payment gateways.
Thanks to its ties to PayPal, Braintree accepts PayPal and Venmo, as well as Apple Pay, Google Pay, and most credit and debit cards, including Visa, Mastercard, American Express, Discover, JCB, Diner's Club, and UnionPay. Braintree supports over 130 currencies and is open to merchants in over 45 countries. The tool offers a number of additional features – recurring billing, automatic account updaters, reporting, data encryption via the Braintree Vault, and fraud protection, just to name a few.
Key features of Braintree:
Merchant account. Braintree offers you to get your own merchant account but also allows you to use others.
PayPal integration. Merchants using this payment gateway get access to the PayPal ecosystem which lets them instantly accept popular payment methods.
Quick and easy checkout. The tool has a simple checkout page that is suitable for both web and mobile devices.
Data encryption. Your customers' data is secure with Braintree Vault.
Excellent developer support. You'll need someone with a coding background to get the best of what Braintree has to offer.
Fee:
There's no monthly fee, you only pay for what you use.
Depending on the type of transaction, you'll be charged the following payment processing fees:
A 2.59% plus $0.49 fee per transaction via a credit or debit card and digital wallet. A flat fee for each chargeback is $15 ;
A 0.75% fee for ACH direct debit (with a maximum fee of $5);
A 3.49% plus $0.49 fee for Venmo transactions, available in the US only.
Points to consider:
Braintree requires web development skills – you'll need a specialist to tweak it.
Braintree is available for merchants in the United States, Canada, Australia, Europe, Singapore, Hong Kong SAR China, Malaysia, and New Zealand. So if your business is elsewhere in the world, you won't be able to use Braintree as a merchant.
Braintree is a payment gateway that offers its users great UI, transparent pricing structure, and advanced fraud protection along with smooth PayPal integration. What's more to ask when looking for the best payment gateway for your business?
2Checkout
2Checkout was created in 2006 and acquired by Verifone in 2020. Nowadays this payment gateway provider has more than 20,000 clients globally and allows them to accept online and mobile payments from customers from over 180 countries in nearly 100 currencies.
2Checkout accepts all major credit cards and payments and allows its users to host their own checkout page, get access to recurring billing, and integrate the platform with other ecommerce platforms and accounting software. Online businesses that sell digital services (web hosting or web design, for example) find this payment gateway provider especially useful, as it lets them set up subscriptions.
Key features of 2Checkout:
Localized buying experiences. 2Checkout is one of the few payment gateway providers offering coverage in 200 countries/territories.
Checkout options. You can choose between hosted or inline carts.
Recurring billing. 2Checkout enables merchants to charge their customers on a periodic basis.
Secured transactions. This payment gateway is PCI DSS compliant.
Fee:
Just like many other payment provider options, 2Checkout doesn't charge a monthly fee. However, your transaction fees depend on which pricing plan you sign up for:
2Sell obliges you to pay a 3.5% plus $0.35 fee per transaction;
2Subscribe has a fee of 4.5% plus $0.45 per transaction;
2Monetize includes a fee of 6.0% plus $0.60 per transaction.
Points to consider:
This payment gateway isn't available for high-risk merchants.
2Checkout is a payment provider that lets you operate in countries where Stripe, for example, doesn't work.
Authorize.Net is owned by Visa and is one of the best payment gateways allowing to streamline the payment process. It's a flexible payment gateway that accepts all major credit cards and digital payment services.
Key features Authorize.Net:
Transparent flat rate pricing. Choose a plan and you'll know what you owe to your payment gateway.
Security. Just like many other payment gateways, Authorize.Net has its own fraud protection – An Advanced Fraud Detection Suite – that prevents suspicious transactions. That's why it's the best payment gateway option for high-risk industries.
Customer information manager. Returning customers won't have to re-enter payment details.
Fee:
There are two plans depending on whether you have a merchant account or not, but both of them have a monthly gateway fee of $25. Processing fees vary:
The All-In-One plan has a fee of 2.9% plus $0.30 per transaction;
The Payment Gateway Only plan includes a $0.10 fee per transaction and a daily batch fee of $0.10.
Points to consider:
This payment gateway doesn't have a well-developed POS system for in-person transactions.
You must be registered in the US, UK, Canada, Europe, or Australia to process payments with this service.
Authorize.Net should definitely be one of the online payment gateways to consider while examining the options for receiving payments.
Other payment gateway providers and apps you might want to consider
Choosing a top payment gateway isn't easy and sometimes requires you to consider additional payment gateway options.
If you work in higher education, healthcare, retail, government, or utilities, you should give some thought to Bluefin. While the company isn't new (it was established in 2007) and doesn't publicly disclose its pricing, the contracts are tailored to each merchant to ensure the best experience.
Looking for new ways to supercharge sales? Add Afterpay to your payment options and allow your customers to have more control over their purchases with their Buy Now Pay Later option.
If you're struggling to get your recurring payments straight, GoCardless might be the best choice for your business. This payment gateway is ideal for subscriptions and invoices.
Vertical software companies should look no further than Payrix – embedded payments are a breeze with this solution. With Payrix, you can grow, open new opportunities, innovate, and transform your business.
Checkout.com is one more rapidly developing online payment gateway conquering the ecommerce arena. This payment gateway will be the best choice for businesses that want to test something new and focus on crypto.
If you're starting small in Australia, but dream big and want more control over your multicurrency payments, give Pin Payments a try. This payment gateway lets you offer localized pricing for your customers worldwide and makes payments simple.
Law firms have likely heard about LawPay – an online payment processor that makes getting paid faster and more secure for them. Payments accepted by LawPay are compliant with ABA and IOLTA guidelines.
Want to take customer feedback, track sales trends, as well as set employee hours, and manage payroll? Clover is here to help. Scaling your business and figuring out how and where to put your resources will be possible with this payment processor.
The list of top payment gateways is set to be continued as more and more tailored payment processors emerge allowing for wider choice and better experience. Why limit your business to only one?
Final words on choosing the best online payment gateway
Payment gateways are one of the most common ways to collect money online. Choosing the best one for your business isn't an easy task. But how many and which payment processors will meet your needs will depend on the type of online business that you have. There are many different payment gateways on the market and you should carefully choose the ones that will suit your business needs best. Don't limit your business to just one gateway. The more payment options your store has, the more clients you're likely to attract. With the right automated software, keeping tabs on multiple payment gateways is no longer an insoluble problem.