What makes Shopify accounting special for thousands of ecommerce businesses? Firstly, it's the option to connect several payment gateways to your online store. Secondly, the ability to accept Shopify POS and manual payments in addition to online orders. For customers, these features make paying for goods extremely convenient. But for merchants, using multiple Shopify payment methods at once becomes challenging in terms of bookkeeping. The good news is that this problem has a simple solution. Whether you're using Shopify Payments or connect a variety of third-party payment gateways, like PayPal, you can account for all your Shopify orders correctly. Want to know how? This article will tell you.
Contents:
1. Best Shopify accounting software: how to keep your bank account organized
2. Shopify QuickBooks integration
3. Shopify payment gateway options: Shopify Payments vs. other payment processing options
4. Accounting for Shopify Payments
5. Accounting for Shopify POS and Shopify manual payments
7. Best payment gateway for Shopify
8. Tips on how to choose the right Shopify payment processing method
Best Shopify accounting software: How to keep your bank account organized
While Shopify is one of the best platforms to start an online business, one should keep in mind that the bigger your business gets, the more complex bookkeeping you'll have. That's when you'll need to consider using accounting software. When you're choosing an accounting software for Shopify, keep in mind that it should have certain useful features. Want to know which?
Well, it should be able to do the following:
Process Shopify POS and Manual Payments. If you want to export Shopify orders from the POS terminal or enter them manually, the accounting software should have additional settings to process these types of data.
Gather data from all payment providers that you connect to your Shopify store. There are several ways for customers to pay online without using a credit card or Shopify Payments, like PayPal and AmazonPay. Your software has to import transaction data from all payment gateways accurately and without duplicates.
Account for Shopify fees. You can be charged several transaction fees for online transactions, depending on your country, Shopify subscription plan, and other third-party payment provider fees if you use them. Other expenses should be taken into account too, like Shopify sales tax and shipping.
Synder performs all these functions without errors. It's a smart accounting product that integrates ecommerce, payment, and accounting platforms seamlessly. The software streamlines the flow of financial data and provides easy accounting without discrepancies.
Let's see what it can do for your Shopify store.
Shopify QuickBooks integration
Understanding Shopify payment gateways processing is an important step towards selecting the right accounting solution for your business. For example, if you're using Shopify Payments, you won't see transactions in QuickBooks right away. Shopify provides financial data only after you've received payouts (transfer of funds to your bank). It can take a few days for the funds to appear in your bank account. That's why the integration software that knows how to gather data in the right way is essential for healthy ecommerce bookkeeping.
Synder is a flawless solution for Shopify QuickBooks integration. Once you connect Shopify to QuickBooks via Synder, the software imports all your sales details into your accounting software in the correct way.
Here's how it works:
Benefits of using Synder
Synder automatically creates a Clearing Account in your Chart of Accounts in QuickBooks where it stores all the details from your Shopify orders.
Once money payout happens, Synder makes a transfer to your checking account for easy reconciliation. From now on, your Shopify orders will be synchronized to the Shopify Bank Account.
Thus, all your most important information — Shopify orders, Shopify inventory, Shopify customers, and Shopify shipping — receive an automatic update.
Shopify fees and sales taxes become easy to account for, too. Synder allows using the Apply taxes setting to recognize tax details in each Shopify sale and record them in QuickBooks.
In addition, Synder can import historical data from your Shopify account (if you need it), and supports the multicurrency function, which automatically converts the money you receive to your home currency.
How to connect Shopify to QuickBooks via Synder Sync
If you're using QuickBooks, Synder Sync is the best tool to connect your sales channel and accounting software solution.
In this video, our expert explains how to connect your Shopify store to QuickBooks accounting using Synder in a few quick and simple steps:
What if you don't have QuickBooks? Time to look for a reliable accounting system, which might as well be Synder Books.
How to connect Shopify to Synder Books
You can connect your Shopify account directly to Synder Books so you'll have all the information from all your sources in one place without any additional accounting software. The details about your sales will go to Synder and stay there, ready to be accounted for.
Synder Books also provides its users with detailed reports about your business performance through P&L reports and balance sheets.
Learn how you can connect your Shopify account to Synder Books with the guidelines from this Synder integration tutorial:
Shopify payment gateway options: Shopify Payments vs. other payment processing options
When it comes to payment options, each ecommerce business owner will have different needs based on their business and the type of customers they attract. Let's look at the payment methods Shopify provides its sellers with.
To choose the payment gateway, you need to go from the Home page of your Shopify account to Settings → Payments. Here you'll see three options for payment:
Shopify Payments
Other payment methods
Shopify manual payments
Option #1. Pay with Shopify Payments
Shopify Payments is an integrated payment solution offered by Shopify. It's designed to simplify the process of accepting payments online for online store owners and provide a seamless checkout experience for customers. With Shopify Payments, businesses can bypass the complexities and inconveniences associated with setting up a separate third-party payment provider or merchant account.
One of the key advantages of using Shopify Payments is that it eliminates the need for manually entering payment credentials into the Shopify platform. When you activate Shopify Payments, it becomes the default payment gateway for your online store, allowing your customers to make direct payments without being redirected to a third-party checkout page. This streamlined payment process enhances the overall customer experience and reduces the chances of cart abandonment.
By opting for Shopify Payments, you can also avoid transaction fees that would typically be incurred when customers make purchases and payments using a third-party payment provider. These transaction fees can accumulate and eat into your profit margins over time. However, by activating a Shopify Payments account, you can bypass these additional charges and keep more of your earnings.
Shopify Payments provides a secure and reliable payment infrastructure, ensuring that your customers' sensitive information is protected. The platform supports a wide range of payment methods, including major credit cards, digital wallets, and alternative payment options, catering to the diverse preferences of your customer base.
Setting up Shopify Payments is a straightforward process. After signing up for a Shopify account, you can enable Shopify Payments within the platform's settings. Depending on your location and business requirements, you may need to provide some additional information, such as your bank account details, to facilitate the transfer of funds from your sales.
Option #2. Pay with other Shopify payment methods (payment providers approved by Shopify)
In addition to Shopify Payments, Shopify also allows merchants to accept payments through other payment providers that are approved by the platform. These external providers may include popular options such as PayPal, Stripe, and other third-party payment gateways.
When using an external payment provider, your customers will be directed to a checkout page that is hosted outside of your online store. This means that the payment process occurs on a separate page managed by the payment provider, rather than within the familiar interface of your Shopify store. While this may introduce a slight deviation in the user experience, it still enables your customers to securely complete their transactions.
To activate or change a payment provider, you can access the Payments page in your Shopify admin. From there, you have the option to select and configure the desired payment provider for your store. Shopify provides a range of pre-approved payment providers, making it easier for you to integrate and start accepting credit card payments.
It's important to note that when customers make payments through these external payment providers, each payment needs to be processed before it's transferred to your merchant account. This processing step introduces a slight delay between when the customer pays for their order and when you receive the payment. The duration of this delay can vary depending on the specific payment provider and their processing procedures.
Once the payment is successfully processed, the purchase amount will be transferred to your designated merchant account. This ensures that the funds are securely transferred and made available for your use.
If your Shopify store accepts payments through multiple channels, such as PayPal, Stripe, or other platforms, it's crucial to connect these payment platforms to Synder as well, which assists in syncing and recording transactions from different payment providers into your accounting system. By clicking the Plus icon in the top-right corner and following the provided steps, you can establish the necessary connections between Synder and these payment platforms. This integration allows Synder to accurately recognize and record Shopify fees amounts into your accounting records, ensuring proper financial tracking and management.
By leveraging various payment methods and integrating them with Synder, you can efficiently handle transactions from different sources while maintaining accurate and organized financial records for your Shopify store.
Option #3. Pay with Shopify manual payments
Shopify recognizes that not all customers prefer to pay for their orders using a credit card. To accommodate such cases, Shopify provides a feature that allows merchants to set up manual payment methods. Manual payments enable alternative payment options beyond credit cards, providing flexibility and catering to the diverse preferences of customers.
Manual payment methods are typically used when customers wish to pay using offline methods or prefer not to disclose their credit card information. Some common types of manual payments include:
1. Cash on Delivery (COD)
With this option, customers can choose to pay for their order in cash upon delivery. This method is particularly useful for local or in-person transactions where the customer can physically hand over the payment to the merchant or delivery person.
2. Bank Transfers
Shopify store owners can provide their customers with the option to make payment via bank transfer. This involves customers initiating a bank transfer from their own account to the merchant's designated bank account. The merchant typically provides the necessary bank details (account number, routing number, etc.) to facilitate the transfer.
3. Invoicing
Shopify sellers can generate and send invoices to customers for payment. The invoice can be customized to include details such as order items, pricing, and payment instructions. Customers can then follow the provided instructions to make the payment using their preferred method, such as a bank transfer or online payment platform.
By offering manual payment methods, merchants can accommodate customers who prefer or require alternative payment options. This can be especially beneficial for businesses operating in regions where credit card usage may be limited or where specific payment preferences exist.
To set up manual payment methods in Shopify, Sopify store owners can access the Payment settings within their Shopify admin. From there, they can configure and enable the desired manual payment options. Merchants can also customize the instructions and information provided to customers during the checkout process, ensuring clarity and smooth payment handling.
It's important to note that manual payment methods require additional coordination and communication between the merchant and the customer. Merchants need to ensure they have appropriate systems in place to track and manage manual payments, including confirming receipt of payment and updating the order status accordingly.
Using manual payment methods alongside other payment options, merchants can provide a broader range of choices to customers, thereby increasing the likelihood of their target audience completing a sale and improving customer satisfaction.
Accounting for Shopify Payments
Shopify gives online sellers an option to accept payments from different payment providers. You can use Shopify Payments, Shopify's native payment gateway. There are also several ways for customers to pay online without using a credit card, like PayPal and Amazon Pay, for example.
The variety of Shopify's payment methods can become both a great growth opportunity and a challenge to ecommerce business owners.
The automation software will need to gather data from each payment provider separately but account for them in one place. And of course, it has to provide accurate reconciliation at the end of each month and keep your books in order.
Is it possible?
With Synder, it is.
Organizations feature in Synder allows you to connect each payment gateway, no matter how many of them you use, separately to your Shopify company in Synder. Then the software will accurately extract financial information from each source and record it in QuickBooks with precision.
With Synder, the data about Shopify Payments transactions plus other payment processing companies will supplement each other without duplicates and errors. Even if you're using a payment processor that's not on our integration list, it's not a problem. You can migrate any data to Synder through Excel at any time. You can be free to use as many payment gateways as your Shopify store needs.
Accounting for Shopify POS and Shopify manual payments
Synder can easily account for both Shopify POS transactions and orders entered manually. All you need to do is select them in the settings of your Shopify company in Synder. As simple as that!
What is Shopify POS?
Shopify POS is a point-of-sale app that allows you to sell products in person. It's a great addition to online sales for many merchants. You can use Shopify POS to sell almost anywhere, including brick-and-mortar stores, markets, and pop-up shops. That's why you might want to use it for your business too.
Synder works with Shopify POS orders without a hitch. Once you adjust the settings and allow Synder to "see" your POS orders, the software synchronizes them right into your QuickBooks. Synder automatically synchronizes newly created POS orders by default settings, and historical data import is also available for your POS transactions.
If you want to learn more details, check this guide on Shopify POS synchronization by Synder.
Specifics of Shopify manual payments
Orders that accept manual payments are marked as unpaid on the Orders page. After you receive the payment, you must manually approve the order.
This process can make gaps in bookkeeping. But Synder will help:
When you select Manual Orders in your Shopify company in Synder, all transactions entered by you manually in Shopify will be accounted for just like any other ones, without errors or discrepancies.
What's more, if you synchronize manual orders in Shopify and they get refunded, you can easily update these transactions in Synder to keep your accounting in order. Visit our guide on refunds for Shopify Manual Payments to learn more.
Shopify PayPal integration
When it comes to third-party payment providers, PayPal is one of the most popular options Shopify sellers and buyers use. If you're running a Shopify business, you might want to consider PayPal integration too.
Why do people choose PayPal for their Shopify stores?
First and foremost, PayPal is one of Shopify's default payment providers. That's why you can set up Shop Pay with PayPal in less than a day. As soon as you open a store, you get a PayPal Express Checkout account activated with any of your Shopify packages. Using PayPal with Shopify also offers functionalities like easy cart integration, multiple customization options, online invoicing, and facilitates credit card payments over the phone. In March 2022, PayPal had 429 million active accounts and the number is continuing to grow. Over 220 million active PayPal users globally come as a great bonus of this payment provider as well.
No wonder that PayPal opens the top of alternative Shopify payment processing options.
How to account for transactions if you choose PayPal as your Shopify payment provider
Usually, to account for PayPal transactions, you have to create a bank type account for them in your QuickBooks and then enter your PayPal sales and expenses transactions manually.
Another popular option would be to export all PayPal transactions to Excel sheets and use importing apps to get them to QuickBooks faster.
However, both of those options require a lot of manual work to do. There's a better solution that can save you hours of work. Moreover, the whole process will be totally automated!
You can easily connect PayPal to your Shopify store using Synder software. It helps data flow smoothly into your QuickBooks system. With just a click, you can achieve error-free reconciliation for all your Shopify sales that were paid via PayPal.
All the PayPal transaction details, including processing fees, get recorded and accounted for correctly. Start saving time now! Synder is free to test.
Best payment gateway for Shopify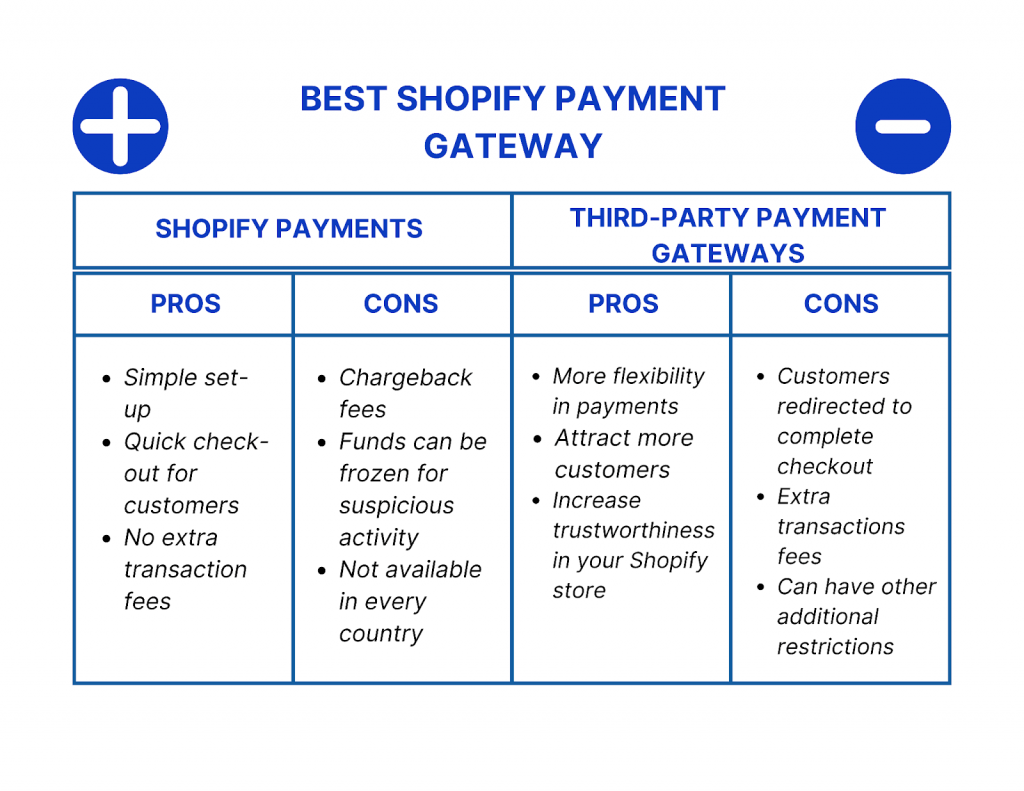 Tips on how to choose the right Shopify payment processing method
There are many factors to consider when browsing through the list of payment gateways. Every business has different needs, which is why there are so many options out there. The right payment gateway will make your life easier and help you streamline your checkout process while staying secure.
There's no right or wrong option, but here are some tips to consider when choosing a payment gateway for your Shopify business.
Provide payment options
If your business accepts orders from a large number of customers or merchants, it's in your best interest to set up as many payment gateways as possible. This will make things easier both for customers who will be able to choose how to pay, and the growth of your business in the long run.
Consider your location
Consider the geographic scope of the customers and vendors when deciding which payment gateway is best for your business needs. You may have different partners or suppliers based on your location that would require a specific type of payment gateway for their transactions.
Check out the full list of payment gateways available per country provided by Shopify here.
Research the target audience
Have a clear understanding of the shopping preferences of your target audience. After you do the research, you'll find out not only which strategy is right for your business, but also which payment provider is most likely to be used for payments.
Take into account the fees
Fees are just as important as other components like the type of audience you're targeting or what products you're selling. If you aren't careful, the expenses can get out of hand fast.
Every payment gateway provider will have different costs and the way they charge you will vary as well. In order to avoid nasty surprises, it's essential that you do some research and understand exactly how much each provider will end up costing you.
Here's a full video with the recommendations from Shopify to learn more:
Key takeaways from Shopify payment processing options
Ecommerce businesses have special needs when it comes to bookkeeping. Multiple payment processing options and different platform fees make calculating the net income amount in your bank difficult.
The Shopify QuickBooks integration provided by Synder allows importing payments into your accounting software, synchronizing, and categorizing data in your books with incredible accuracy for a perfect reconciliation process.
You can enjoy the benefits of using multiple Shopify payment options without the fear of discrepancies in your accounting:
Shopify POS
Shopify Manual Orders
Shopify Payments
Third-party payment gateways
Shopify PayPal integration
All these options can easily become a source of increased cash flow for your ecommerce business. With the seamless Shopify QuickBooks integration that Synder provides, your bookkeeping process will always be effortless and trouble-free.