Synder is rolling out a new feature that allows accountants and bookkeepers to manage multiple clients with separate pricing plans under a single Sign Up. This feature is called Organizations. If you are running a professional accounting or bookkeeping practice, take a moment to pay closer attention to this novelty that Synder is offering. It may incorporate everything you want your software for accounting automation to be able to do.
By now, you are probably wondering, what comfort can this new feature bring into my habitual workflow and why use it? We're glad you asked!
It will be easy to get the answers as you move along with this article. Below you will find a 360° review of the new functionality and a resume of benefits to reap.
Contents:
Introduction to the new Organization feature in Synder accounting software
You welcome every opportunity to expand your business and warmly greet each new client who reaches out to you. Carry on! But adding more companies to the workflow makes your accounting practice more and more complicated. How to continue providing top-notch service without having to lose clients because you are piled up with spreadsheets?
Automation is the key. The beauty of Synder software is in the smart automatization of payment and accounting processes. The new Organization feature makes your accounting flow even more intelligent. The solution is simple yet brilliant.
What is this feature? In simple terms, Organization is what you create in Synder App to keep track of the financial flows from payment platforms to accounting systems for each of your clients' businesses. Separately. At the same time.
How will you profit? No more calculations about how many clients your pricing plan will cover. Now your accounting software will have room for every business client on your waiting list. No limitation to how many companies you want to add to your accounting practice, as well as more flexibility and transparency to build winning relationships with clients.
We want your accounting practice to flourish.
Add clients' companies to your accounting automation software
If you provide professional accounting or bookkeeping services, you most likely account for several companies or entrepreneurs that are your clients. But it's not easy to funnel all this accounting data through a single automation program. Synder makes the difference. Now, thanks to the new feature on our app, you can create a separate Organization for every business entity or self-employed entrepreneur to whom you provide accounting or bookkeeping services. The whole workflow becomes smooth, consistent, and well-ordered.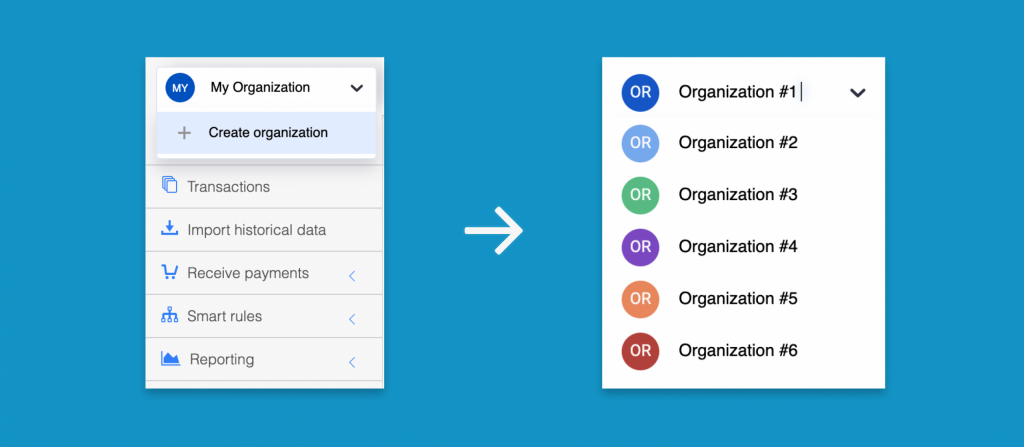 Creating a new Organization in the Synder accounting app is easy. Sign up to Synder for free and go through a few simple guided steps that you will see in the app. If you already use our accounting software, open the menu in the top left corner of your Home Page and start creating, following the tips.
Store accounting data for each client separately on your online software
Thanks to the Organizations feature, your online software will independently store the accounting data for every business to which you provide your professional services. Organizations will look like tabs on your Synder account. Name these tabs after your clients' business names or whatever you choose to name them. You will be able to connect each of them to their own pricing plan, payment platforms, and accounting system. But all gathered together under an umbrella of Synder automation software for accountants.
It's like having 10 different shoeboxes under your bed, filled with invoices and receipts for every business you account for, with client name stickers on each box. But online, and not collecting dust.
Connect different clients to different payment and accounting platforms
What about transactions, you ask? Transactions will synchronize as usual — automatically, smoothly, in the background. But for each Organization separately. 
Choose the accounting system your client uses for bookkeeping — like QuickBooks Online or Xero. And connect it to the payment platforms on which your client gets paid. Synder imports payment data from Shopify, Square, Stripe, PayPal, Amazon, eBay, and other popular gateways. The choice of the payment platforms you can connect to your accounting systems via Synder App is wide, and the list is expanding.
You can connect any company for whom you do bookkeeping or accounting to the payment platforms on your own, or you can let your client do it. How? By adding other team members to manage Organizations in Synder accounting software. Keep reading to find out what other advantages this option can bring.
Add team members or client representatives to Synder accounting software
To each Organization you create in Synder accounting software, you can add a free team member or a representative from the client's side. The members you invite will have different access rights depending on the role you attach to them.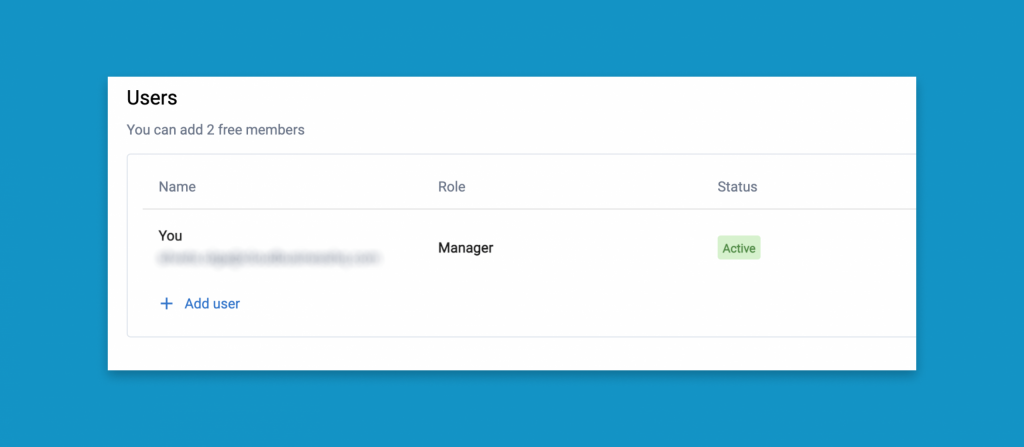 A person you want to add as a new free member to an Organization will receive an invitation email. The app will help you send the invitation in a few clicks.
Go into the settings to add a new user and choose the role you want to assign: manager or a member.
The manager has full control of the accounting workflow in Synder software. Managers can appoint and delete other users from Organizations as well. They can connect new payment platforms, change pricing plans and subscriptions.
The member is a role with fewer access rights. Members can sync transactions, create invoices, and configure settings, but can't add or delete other members. They don't have the same level of control over the account as managers do.
Let clients choose the pricing plan for accounting automation
The most anticipated change the new Organization feature brings to your practice is letting clients choose the prices and plans for the accounting automation services they want to use. This function ensures more flexibility and transparency. It is a unique situation when accounting software serves not only for utility purposes but helps build trustworthy business relationships.
Not only will your clients obtain more flexibility for their decision-making process, the ability to choose between different pricing plans and billing options is just a taste of what is to come. If you add to the Organization a representative from the client's side, they will be able to pay for Synder accounting automation on their own! In this case, you will not have to include software expenses on your bill and can offer more of your accounting expertise.
The underlying idea is simple and beautiful, delegate the lower-level work to technology. Spend more of your billed time harnessing professional skills to deliver exceptional services in accounting and bookkeeping. Instead of being the worker bee, step up to the manager role and lead your clients' business finances more extensively and with a broader perspective. It's an opportunity accountants and bookkeepers could not imagine twenty years ago, but which is open today.
Match prices for accounting software with clients' business needs
As a professional accountant, you deal with various businesses. You know that no two companies are identical. All of them operate differently and have unique financial models. If the accounting needs of companies vary, don't they require different pricing approaches? The answer is obvious but hard to implement in software. At least, it was until now. Now you can use a single app for accounting automation and adjust it to the needs of your clients.
The new Organizations feature in Synder App will provide you and your clients with more flexible billing options. You can decide to pay for the accounting automation services by yourself or let the client choose a better pricing plan and upgrade. The decision of one client will not affect other clients with different pricing choices on your Synder account. As a result, you will be able to bill clients differently depending on their unique business model.
Your accounting practice will be agile enough to adapt quickly to the changing demands of different businesses. It is a top priority if you want to run a successful business in accounting and bookkeeping services in the modern tech-focused world.
Get notifications to track accounting activity on your clients' organizations
Every business needs more clients to thrive. And your accounting practice is no exception. But managing multiple clients in one go can turn into mayhem without prioritization in place. Businesses vary not only by their pricing demands but financial milestones as well. The reporting periods in accounting will be individual to different clients. Proper planning will help focus on the accuracy and precision of your services.
Many accountants choose Synder software because it eliminates the need for manual data entry. However, we don't want you to forget about important milestones in your client's accounting calendar, just because Synder software provides smooth automation in the background! That's why we added notification settings to every Organization you create on your app.
You will get critical reminders in your email. Notifications will inform you about the activity on your accounting app and you can choose how often you want to receive them.
To get even more out of this automation tool, turn on a reconciliation reminder. It will remind you monthly that it's time to reconcile! Your accounting workflow will benefit from such accuracy. That's all we dream about at Synder.
How accountants will profit from accounting automation software
As a professional accountant or bookkeeper, you get paid for your professional services. And accounting software is an integral part of these services. The question is, how to bill for it fairly and reasonably?
The Organization feature in Synder allows more agility in finding the right answer to this question.
Even the most experienced accountant can't perform their best without some automation software today. The reality of online financial flows has become too complex to keep trying to harness all this data in Excel. If you still do, it is time to think about the perspectives. The most significant advancement to the accounting and bookkeeping profession have come through technology. The changes have been dramatic during the last twenty years, but will evolve even faster in the coming future.
Some professionals worry that because of software automatization, no one will need bookkeepers and accountants anymore! But it's more like getting a promotion. Today business owners are increasingly looking to accountants and bookkeepers who can provide more diversified services. The strategic advice is of high value, too. It brings more possibilities for accountants to earn money than just manually filling out paperwork. Think of it like becoming the captain of the ship. Now your job is to navigate clients through the deep financial oceans. Follow fair winds blowing and help them avoid becoming a shipwreck or running ashore.
Automation software will bring about more new frontiers. Take a step back and evaluate the value of these beautiful metamorphoses.
Transparency and clarity in pricing can establish a more trusting relationship. You can communicate your value to clients clearly and use this value to catalyze growth. When clients realize that you understand what matters most to them and can adjust to their needs, they are less price sensitive.
The ability to see your client's perspective will make your service more client-focused and prosperous. Your services improve as you understand your clients' businesses better. Have you ever sat down to think about what your clients value most about your work? By discovering what your clients appreciate most, you will spot what they are willing to pay more for. It will open up new potential for your accounting practice growth.
Showing off more professional skills and expertise will help you exceed client expectations. Sharing useful tools and solutions with your clients is key to succeeding in the future of accounting. Teach them the financial basics and how to read reports. Give proactive advice and insights regarding their financials. Recommend apps that improve business operations and strategic growth. No technology will ever substitute the expertise of an experienced professional and advice from a compassionate human.
Bottom Line
Automation software helps the accounting profession evolve. Many practitioners have come to understand that accounting practices must become more flexible in terms of what they can offer to their clients. Businesses demand a more personalized approach and a better understanding of their accounting needs.
Adapting to every client's unique financial identity will help you earn more professional credibility and trust. If you're leveraging technology, you can make your accounting practice more productive and profitable too.
Synder automation software will help you cultivate more agility in processes that tomorrow's accounting will require for success. Connecting different clients separately in the same accounting app and letting them change their pricing plans thanks to the Organizations feature may become a turning point in your career. Start building more transparent, unique, and trust-based relationships that will last. It could mark a new era for your accounting practice.
Join us in Twitter, LinkedIn, or Facebook for more fresh news and updates from Synder.