What are the steps necessary to reconcile a bank statement? What are you primarily doing when you reconcile your checking account? Find the answers in this helpful article!
Overview:
Reconcile PayPal in QuickBooks with Synder
Our customers have found that the most accurate way to record all PayPal sales, fees, expenses, and refunds is to sync everything into a "clearing" account in the QuickBooks Chart of Accounts. The app will create a "PayPal Bank Account" and once your PayPal withdraws money to your Bank the app will record transfer from PayPal Bank Account to your Checking, therefore replicating the actual money-flow when funds first hit your PayPal account and then are transferred to bank checking with the help of Paypal QuickBooks Online integration.
*Before you begin, make sure you currently don't have PayPal connected in QuickBooks banking nor use any other synchronization apps, as this could lead to duplications. QuickBooks "pre-matches" the transfer from "Clearing" to "Checking account" for exactly the same amount to the bank statement line – on this stage, QuickBooks basically makes a guess, which of the bank statement lines corresponds to a certain transaction that is created in "Checking account", so it offers you to confirm its guess clicking "Match". So, you can easily reconcile PayPal account in Quickbooks.
Customizing Your Synder Settings
First of all, go to Settings to make sure all the accounts are selected correctly. To access settings select the organization needed at the top right of the page – – > Settings button on the left menu of the app – – > find payment platform (if you have several connected) you want to customize settings for – – > click on the Configure button.
Make sure you have the clearing (PayPal Bank Account) account selected as a Bank account in the Sales and Fees and Expenses tabs.

Make sure to enable the payouts feature in Synder settings and select your Checking account.

Synchronize online payments automatically with QuickBooks or turn on the manual mode.
NB!: this will work for newly appearing transactions, historical ones are to be synchronized manually if that is needed. See how to import historical transactions into your accounting platform.
How to reconcile in QuickBooks Online
After you record PayPal transactions in QuickBooks, and once these transactions get synchronized into your accounting system for the time period you have chosen, you will be able to find them in your "Clearing Account" in the "Chart of accounts".
As soon as the transfer from your "PayPal Bank Account" to your "Checking Bank Account" occurs, the payout will appear in Synder and get synced automatically.
Let"s have a look at what you get in your "PayPal Bank account". You can see it reflects both individual charges to your clients as well as gross payout to the bank, making the balance go down to "0" (the same way as your PayPal has "0" money left).
Once Synder synchronizes the payout and its status say "synced", go back to QuickBooks "Banking" tab and refresh bank feeds. You'll be able to see that the "Add" option for the bank feeds record was changed to "Match" (or "Confirm"). This means that Synder did the job for you and now you are ready for smooth reconciliation, just clicking "Confirm" (or "Match") for all of your PayPal transfers there. That"s what it will look like: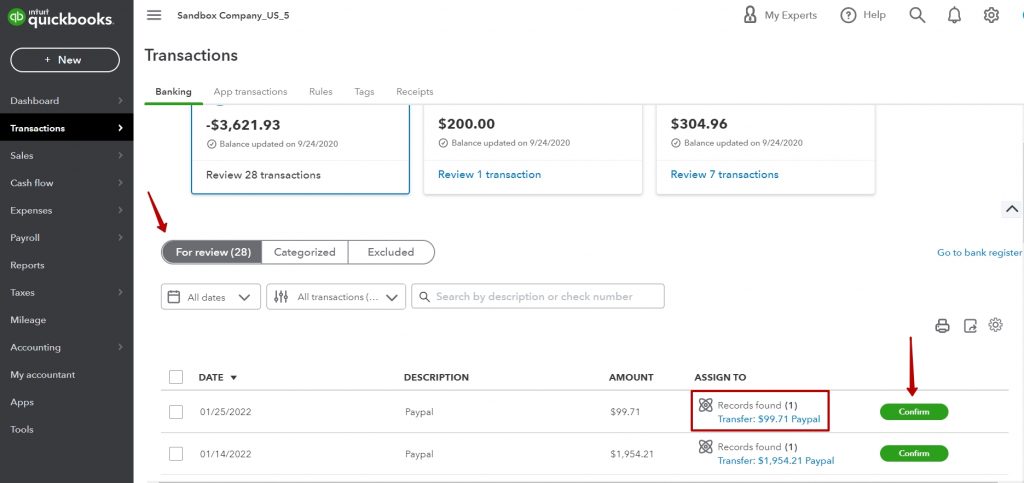 Congratulations! You have successfully pulled in all PayPal data and can easily reconcile your bank statement now avoiding manual data entry and having recorded all sales, fees, expenses, and refunds.
Helpful Tips:
The PayPal Bank Account balance should be equal to the balance of your actual PayPal (or very close to it in case some transactions are still in the process of the sync), this way you can track that everything works properly.
If you would like to reconcile PayPal Bank Account you can use the PayPal reports for this.
PayPal Bank Account will not show up under the Banking tab in QuickBooks, this is the correct flow of the app, so no worries.
Now you know why is it important to reconcile your bank statements, and how to properly reconcile accounting. Should you have any questions on how to reconcile a bank statement, please contact us via online support chat, phone, or email.
Was this article helpful?