According to experienced business specialists, the key to gain new customers is to cover more channels of communication with potential clients. Sales platforms such as Walmart, Shopify and eBay (and its payment gateways like Stripe, PayPal, Etsy, etc.) provide your customers with an easy and convenient way to complete purchases online so that business owners can enjoy the benefits of an incoming stream of customers. However, many business owners struggle to handle the accounting part that might seem tricky at first glimpse.
This is where Synder comes into play. Being a smart accounting software, Synder mirrors the actual money flow happening in your Walmart and records live transactions and historical data in your accounting system, providing you with precise tax, customer, item and other transaction details. With the Synder solution, you will be able to reconcile synced data in one click, track inventory and many other things.
Looking for an easy way to connect your Walmart stores with QuickBooks or Xero company or Synder Accounting? With Walmart integration by Synder all your sales and expenses will be automatically recorded and prepared for one-click reconciliation in your QuickBooks or Xero or Synder Accounting.
Excited? Let's connect your Walmart store to Synder and automate your books!
Note: If you have Walmart Canada, please check this guide.
Overview:
Start Walmart integration from scratch
Step 1. Create an account
If you are getting started with Synder you would need to create a free trial account. On our website, you will be able to create a free trial account with no credit card information required to test the app.
Step 2. Select the product(s) you are going to use
Synder Sync;
Business Insights;
Or both of them for the perfect control of your business.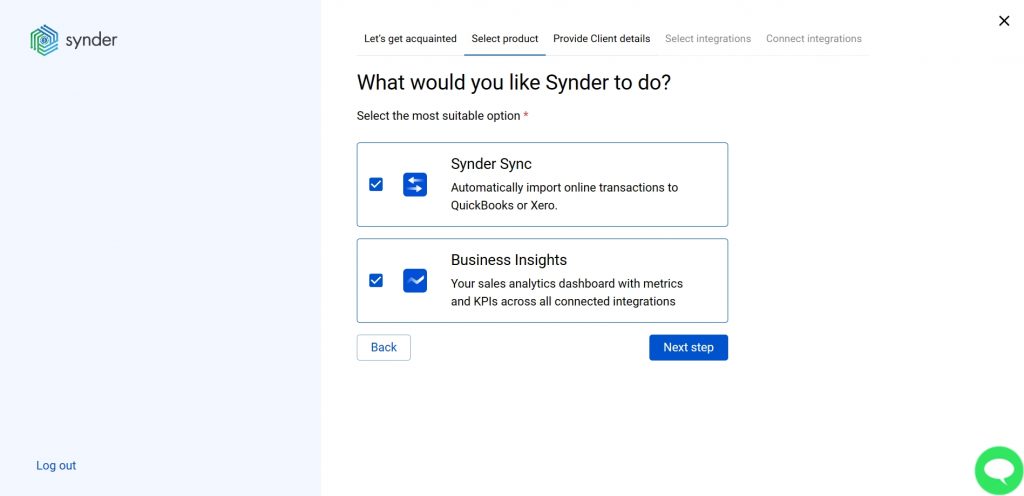 Synder sync: choose this product to push all of your transaction data from all sales channels into QuickBooks Online, QuickBooks Desktop, Xero, or Synder Books – our native accounting solution.
Business Insights: this Synder product lets you see how your business is doing. It aggregates data across all of your connected sales channels and payment gateways and provides you with timely insights into your products performance and your customer behaviors, as well as the financial health indicators such as total sales, average order value, etc. The data is updated every hour!
Step 3. Provide your business details
Going through the set-up process of an Organization for your QuickBooks/Xero company or Synder Accounting – just fill in the information about your business and hit the Next step button.
Step 4. Select the platforms you would like to integrate
Your accounting company (QBO, QBD, Xero) or proceed with the built-in Synder Accounting;
Sales channels and payment gateways.
You will need to select all the services you are using to receive payments; you will be able to connect all of them right away.
Alternatively, you can skip the connection and set them up later in the Settings: tap the Settings button on the left side menu → hit the Add payment platform button.
Note 1: You can find our detailed guides on how to connect your sales channels and payment providers to QuickBooks Online/Xero via Synder in our Help center.
Note 2: Click View all processors to see the list of all available platforms.
Note 3: We're always happy to hear any feedback from our customers, so if you can't find the payment platform you're looking for, you can request it by contacting our Support team.
Note 4: Synder constantly works on adding new sales channels and payment platforms to the list of supported integrations.
However, if you have any unsupported providers you would like to sync to your accounting system, you will find the new Excel import feature very helpful. It allows you to import any data from an Excel spreadsheet to Synder and then operate with the uploaded data as with regular transactions by syncing them to your accounting company. Now you can consolidate transaction data import from all payment and e-commerce platforms you are using at no extra costs with Synder.
Step 5. Connect your platforms
Connect your QuickBooks Online or Xero company by clicking on the Connect button and grant permission to the software to record data in your QuickBooks or Xero company or proceed with our own Synder Accounting.
Note 1: if you are a QuickBooks Desktop user, check out this video tutorial to learn How to connect and sync data into QuickBooks Desktop.
Note 2: check out this guide if you would like to integrate QuickBooks Online or Xero.
Note 3: if you are going to continue with Synder Accounting, check out this video tutorial to learn how to Integrate your platforms with Synder Accounting.
Step 5. Almost there! If you want to use Walmart's REST APIs to manage your business in any way, you need to enter a couple of important things to access the APIs:
Provide your Walmart clientID;
Provide your Walmart clientSecret.
These API credentials can be generated in the Developer Portal.
Access the Developer Portal
Step 1
Login to Walmart here.
Step 2
Click Settings (the Gear icon).
Step 3
Select API Key Management tab under API section.
Step 4
Next, select API Key Management to access the developer site. This will automatically log you into the Developer Portal using your Seller Center credentials. You can also access various documentation by selecting the links under the Quick Links heading.
How to generate your credentials in Developer Portal?
Step 1
In the Developer Portal, click My Account in the top right corner, and select Marketplace (US & Mexico) as the Login Type. Your login details are the same as your Seller Center credentials.
Step 2
Next, you will be directed to a page where you can generate your API credentials (Client ID & Client Secret).
Step 3
Click on Add New Key for A Solution Provider

Step 4
Select Synder in the list of solution providers and click on Next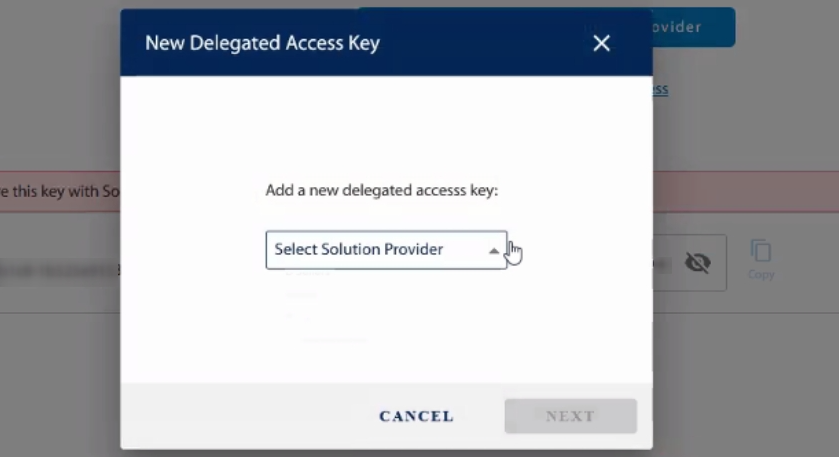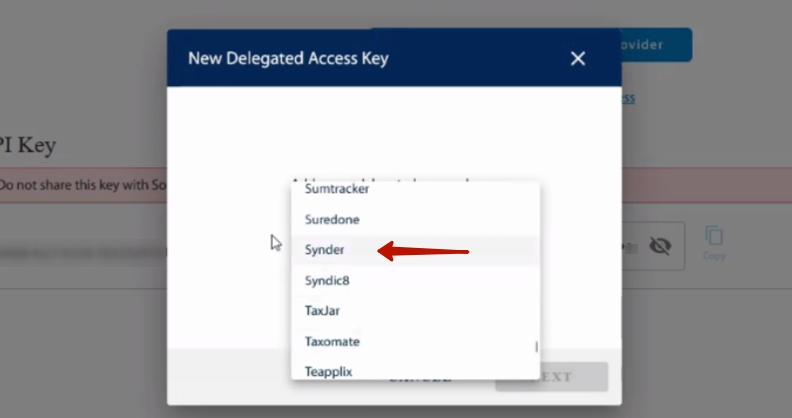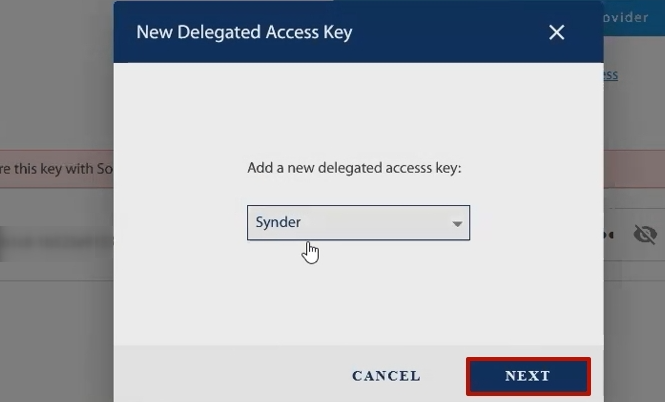 Step 5
Grant Order Management read access and Reports read access. Then, click on Submit.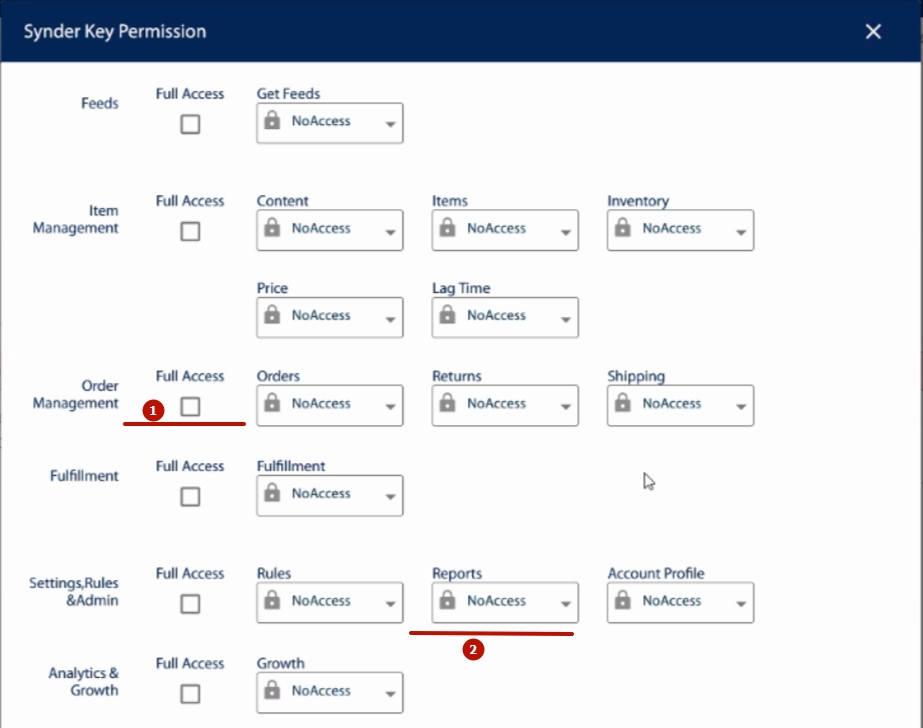 Step 6
Copy and paste the generated Client ID and Client Secret into the Synder connection form to authorize Synder and finish the configuration.

Insert the generated Client ID and Client Secret into the Synder connection form to authorize Synder and finish the configuration.
Connect Walmart to an existing account
If you already have a Synder account and would like to integrate a Walmart account, follow the steps below:
Step 1. Switch to the needed Organization in the top-left corner of the Synder page.
Step 2. Navigate to Settings on the left-side menu.
Step 3. In the Payment platforms section and click Add payment platform.
Step 4. Select Walmart in the dropdown.
Step 5. Provide your Walmart clientID and your Walmart clientSecret. Hit the Connect button.
Bravo! You have set up the integration between Walmart and Synder! If you feel like some adjustments are necessary, you can manage that in Synder Settings in the left menu → hit the Configure button under your Walmart platform.
Tips and tricks on the Walmart integration
1. It works with Walmart Orders and Returns only.
2. Walmart allows fetching orders created in the last 180 days and a maximum of 20000 orders at a time.
Get in touch with the Synder team via online support chat, phone, or email with any questions you might have – we are always happy to help you!
Was this article helpful?