There's no doubt that every business aspires to grow. A more complicated issue is how to fuel this potential growth in the changing sales landscape. With everybody selling or buying something on a daily basis, which means a lot of competition, the major thing is to implement some working strategies that can help a company scale steadily.
Sales people today know numerous techniques that can boost sales, but the crucial moment is to define which one or maybe a combination of which techniques or strategies will work for this particular business in a certain time frame. Such decisions must be based on thorough research, reliable data on the company's processes and BI insights, in other words, be data-driven.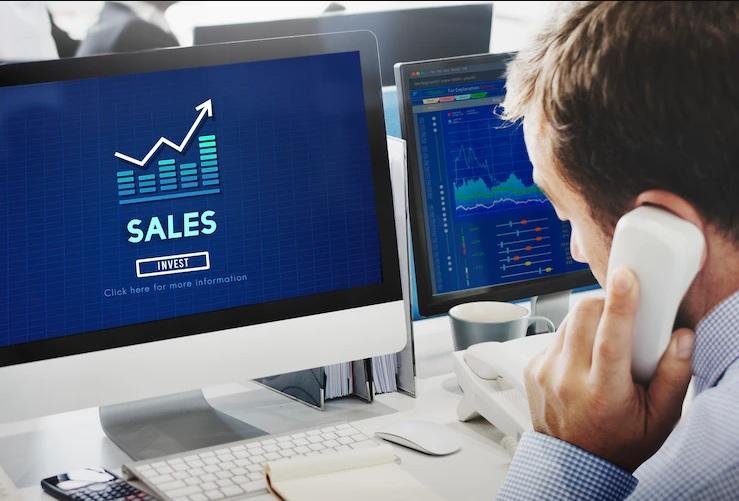 In this article we'll look at the following:
1. Changing sales landscape: challenges
2. New marketing trends and strategies that help to increase sales in 2023
3. Classical marketing strategies increasing sales
4. How to grow online sales: inbound sales strategy vs outbound sales strategy
Changing sales landscape: challenges
In the ideal world a unique product or service and customers willing to buy it continuously would be more than enough to keep on increasing a company's sales forever. In reality, though, we have to take into consideration some quite obvious, but still important factors at play in the sales process today.
According to the Deloitte report "Re-invent sales for the 21st century" such factors are:
New sales technologies (mobile apps and platforms)
Evolving tools always demand evolving users, which means adapting and learning for both the parties, clients and sales people. The most important thing is to try and keep pace with the exponential growth of technology, which might be a challenge.
Savvier and more sophisticated customers
It's only natural that the access to more information, competition for customers make clients price-sensitive and deal-conscious. In other words, customers tend to have higher expectations for products and services, desiring to get higher value at a lower price.
Controlling sales over various channels like on-line stores, brick and mortar stores, e-commerce sites, catalogs might be complicated and demand a lot more time, energy and skills.
It's hard to argue that social media is the power that governs many processes today, including sales. It might be a great tool to reach larger audiences but it needs constant attention, content creation and monitoring. All that requires a definite strategy to get the most out of it.
Focus on cost of sales and net margin
As companies today face more budget scrutiny, sales executives make optimizing returns on investments and lowering acquisition costs their top priorities.
All these challenges require adequate solutions that might go beyond some well-known marketing strategies.
New marketing trends and strategies that help to increase sales in 2023
When talking about the changing sales landscape, it seems logical to get hold of the trends dominating the world of commerce today. There are many local reports focusing on the new trends in the sphere of commerce, but Deloitte went a step further and produced the report "2022 Global Marketing Trends" based on two global surveys and 18 in-depth interviews with global executives to ensure that the findings of these reports are globally relevant. The Global Marketing Trends Executive Survey polled 1,099 C-suite executives from global companies located in the United States, United Kingdom, France, Japan, and the Netherlands in April 2021. 
The Global Marketing Trends Consumer Survey polled 11,500 global consumers, ages 18 and above, in May 2021 across 19 countries: the United States, Canada, Mexico, Brazil, Chile, South Africa, Sweden, United Kingdom, Italy, Ireland, France, Spain, Turkey, Switzerland, Denmark, Portugal, Japan, India, and China.
According to the report, 2022 is referred to as a year of recovering and for some businesses even thriving in the customer-centric world as opposed to 2021, which was focused on responding to an unprecedented shock.
Now, the data that was received during the polls and interviews helped to outline the following global marketing trends and strategies:
1. Purpose – a beacon for growth
Many companies today are trying to redefine their purpose beyond profit, which means that they're focusing on some "higher purpose" like solving ecological problems or fighting inequality to resonate with their customers. According to the 2022 Edelman Trust Barometer findings, about a half of the respondents believe that businesses should do more to address societal problems (climate change – 52%, economic inequality – 49%, workforce reskilling – 46%).
The results of the Deloitte survey of customers prove this trend with one third of consumers under 25 years old choosing sustainability as a top criterion for beauty and personal care product purchases as well as a quarter of customers choosing data privacy for their banking decisions. 57% of customers agreed that their loyalty to brands is fostered by the brands' commitment to address social inequalities.
Price and quality still head the charts when it comes to choosing goods and services but the "higher purpose" is obviously a trend.
2. Authentically inclusive marketing
Consumers the brands reach today are getting more diverse by differences in ability, race and ethnicity, sexual orientation and companies feel the necessity to reflect these differences.
Consequently, supporting diversity and inclusion in public and behind the camera helps brands to win future customers, especially younger generations, as reflected in the following chart.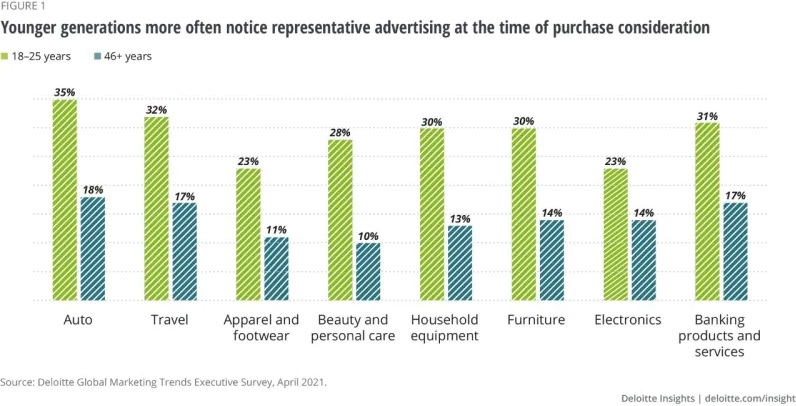 According to the Global Marketing Trends Executive Survey, high-growth brands (those with the annual revenue growth of 10% or more) are more frequently using key performance metrics for diversity, equity, and inclusion (DEI) objectives in comparison to their lower-growth competitors. So DEI is becoming a strategic priority for 94% of CEOs according to the 2021 fortune/Deloitte CEO survey. Focusing on DEI is implemented through:
teams and suppliers reflecting their market;
bringing diverse voices to the organization;
measuring commitments.
3. Building the intelligent creative engine
With the rise of AI and big data marketing today is becoming more analytical. Hence, the demand for analytical skills among marketing professionals is growing in contrast to creativity which was the top necessary quality for working in the marketing sphere before.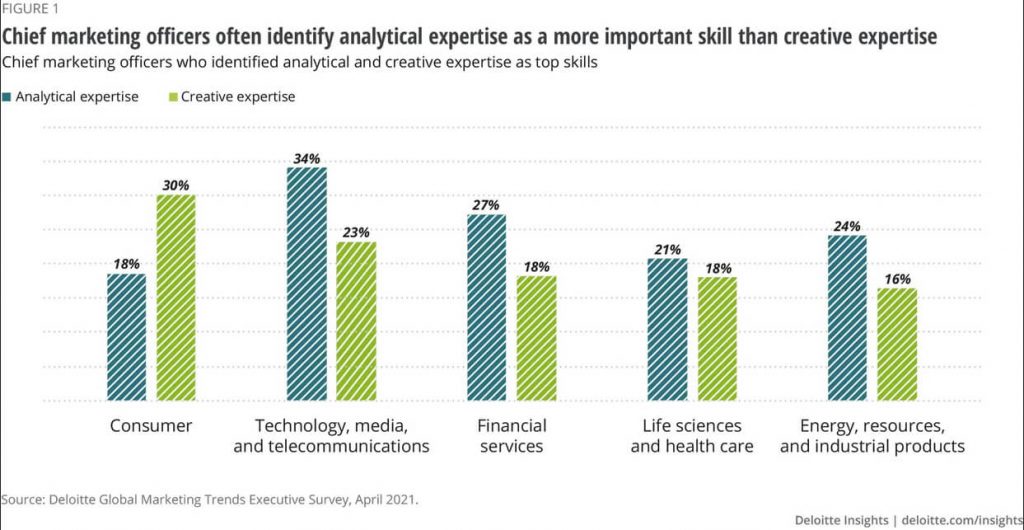 This doesn't mean that creativity is left behind. What it means is shifting to the mindset of close collaboration of professionals with creative and analytical skills. To build the right creative engine, companies might resort to:
integrating a remote workforce to fill the gaps in their teams;
optimizing hybrid ways of work.
That'll bring diverse thoughts and make partners around the globe closer than before.
4. Meeting customers in a cookieless world
Strengthening brand-customer relations has been a priority for marketers during the last decade. AI and big data advances have greatly contributed to techniques allowing businesses to target their customers better with the help of third-party cookies (data coming from third-party sites). Today this trend is reversing to data privacy as more and more customers have some concerns about their private information. This brought about a wave of restrictions, regulations and disabling third-party cookies, which hindered the previously effective customer engagement techniques.
According to the Deloitte executive survey results, high-growth brands are leading in the shift to a first-party data environment. 61% of high-growth companies are shifting to a first-party data strategy, while only 40% of negative-growth companies follow this strategy. The most effective in terms of growth companies implement the following key steps to insure a smooth transition to first-party data strategy:
Cultivate unique first-party data through offering value in exchange;
Build deeper relationships with ecosystem partners;
Rethink the analytics.
5. Designing a human-first data experience
This trend is closely connected with the previous one. Marketing has always relied on detailed customer data to make customer experience better. With a considerable setback in data tracking marketers have to work hard to gain customers' trust back. Indeed, geo-tracking, active device listening, and third-party cookie-based recommendations can be a little scary for customers to say the least.
The Deloitte survey of customers looked at 10 brand interactions that use customer data and asked respondents to rate the interaction on a scale of creepy to helpful. The results were quite revealing. While 68% of customers found their favorite brand sales alerts really helpful, 53% deemed active device listening creepy.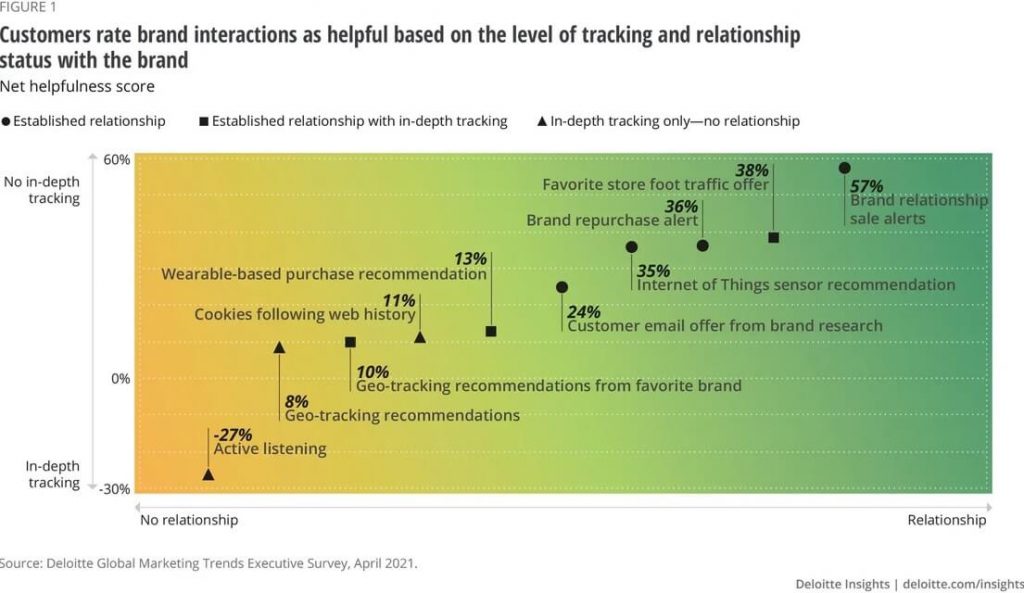 The result of the survey helped to come up with 4 main steps to design a human-first data experience:
Start with the relationships. First the company earns trust, and after that goes forward with deeper tracking methods.
Empower the customer. Choice of the customer is essential when implementing tracking methods.
Involve privacy and security teams from day one.
Convey the necessity of information asked in simple words.
6. Elevating the hybrid experience
It's far from surprising today that we live a huge part of our lives in the digital world. E-commerce with online shopping has grown beyond expectations. Remote working, telemedicine, studying online, to mention but a few examples of the shift to the digital world. Hence, successful brands today deliver new digital experiences to cater to their customers' needs and work on the implementation of new hybrid customer experiences. It means that more and more businesses are focused on a successful blend of physical and digital experiences. Many companies already use the contact center solution to provide a hybrid and omnichannel experience to customers. The Deloitte executive survey results show that 75% of global executives will invest more in delivering hybrid experiences over the next year, including personalization (43%), innovation (43%), customer connection (40%), and inclusion (38%).
While the education sphere has clearly benefited from using hybrid methods of teaching and learning over the last years, businesses are to follow suit by putting human need at the center and becoming more flexible. There are some steps to achieve that:
Meeting customers in their preferred channels
Younger generations now gravitate more to buying through social networks, using virtual reality headsets, while older generations tend to buy after face-to-face interactions or a discovery phone call.
Rapid feedback really helps to understand what customers need from brands.
Build the infrastructure for a cohesive experience
All the facets of this new hybrid experience should be perfect on their own, and yet complement each other.
7. Supercharging customer service with AI
Two marketing tactics that AI can successfully deliver today are getting the right offers to customers at the right time and providing customers with great post-sales service. According to the Deloitte customer survey, when the customers were asked about the options that proved to be more helpful while making purchase decisions, the most common answers were "timely offer" and "knowledgeable customer service". The exact numbers are in the following chart.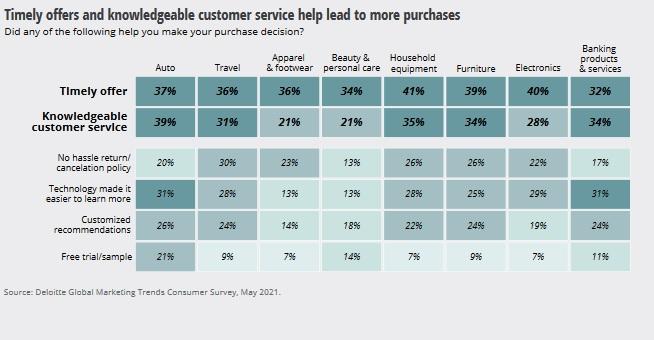 It seems logical that designing and implementing the AI strategy may be the most effective way to ensure the right offers meet customers at the right moment in their customer journeys.
At the same time AI and outsourced contact centers with human customer agents should not be mutually exclusive, rather work in harmony to deliver the best service. So the future of marketing seems to be a seamless blend of AI and human service.


Classical marketing strategies increasing sales
However difficult it might be to digest the thoughts that the future already dictates changes across various industries, the fastest to absorb and implement new strategies are going to be ahead of the game.
It seems logical to turn to classical marketing strategies for increasing sales in various types of businesses to refresh the basics. When googling "general strategies for increasing sales" one comes across MBA 4 methods to increase revenue, as increasing sales is aimed at generating revenue. These are the following:
Increase the number of customers.
Increase the average transaction size.
Increase the frequency of transactions per customer.
Raise your prices.
As simple as that but not detailed enough to answer the daunting "how" question. For more detailed guidance in the matter of increasing sales let's turn to Brian Tracey and his "21 sales strategies to increase sales". These strategies fall into 6 groups we're going to look at.
1. Increase leads
The more people know about your business and have access to it, the more are going to buy from you. This category encompasses the following strategies that help a business to bring more customers:
Define your customer. This means having detailed information about customers you believe are going to be your clients. Age, gender, family size, salary, beliefs, likes, interests – all that can help you understand your clients and deliver more accurate messages about your products/services.
Identify the problem you're solving. Adopting a "help" not "sell" mindset makes you serve your clients better. You have to know what their weak point or problem is and work out the right solution they'll buy from you.
Try the 100 calls method. That's an exercise that builds confidence and creates more leads. The idea is to reach 100 customers by phone or e-mail as soon as possible and practice your sales pitch as well as see the reaction of customers.
Utilize ads. The idea here is to try various channels and platforms to promote your brand. Spending money on advertising wisely should pay off.
2. Connect with your customers
Establishing trust with your clients is one of the most important goals for a business and it can be achieved using various methods.
Utilize social media. Social media has a great potential not only as a place for advertising but also a way of sharing valuable educational information. Responding to comments and answering questions is a necessary part of building trust with your clients.
Promote "insider information". Sharing the news of the company, information about upcoming sales helps to keep your loyal clients in the loop and attract new leads, as everyone is happy to get a great deal.
Maintain relationships. Stick to "Once a customer, always a customer". Loyal customers should feel valued to promote your brand in their circle.
Implement a referral program. Direct referrals are more effective than advertising. Awarding your loyal clients for referrals is a great way to show they're appreciated.
3. Provide value
Potential customers should know what the value of your product or service is. At the end of the day we don't buy products, we buy what they do to our lives.
Offer a freebie. Offering something valuable for free can give a taste of your product or service and make your clients buy.
Sell the benefit not the product. Trying to help, not just sell, often builds more trust and brings better results.
4. Present the product effectively
Effective product presentation contributes to the increase of conversion rates. The following points should be the ones to focus on while achieving this goal:
Competitive advantage. In the world of competition, it's crucial to explain why your product or service is better than the rest. It obviously takes knowing your competitors inside out.
The right price. Determining the cost of producing and selling, the value of the product or service and comparing it to your competitors' prices might help to set your price.
Clear messaging. The most important benefits of your product should be stated clearly across all the channels so that the clients could make no mistake about what they're buying.
Market content on multiple channels. The more channels you use to promote your brands, the more potential clients you can reach.
5. Increase the number and size of transactions
There are some ways to make your customers buy more and more often.
Stay top of mind. Consistent posting on social media, after-purchase calls, emails with some offers – everything to be the brand that comes first to mind when the customer needs to buy what you sell.
Increase savings. The more the customer buys, the larger discount they get. Free shipping on orders over $100, for example, seems like a good deal.
Look for the opportunities to upsell. Products and services that complement each other make your customers return for more.
Want to know how to find the best products to sell in bundles? Try Synder Insights and get access to the products most purchased together report and save valuable time! See the full list of available reports here.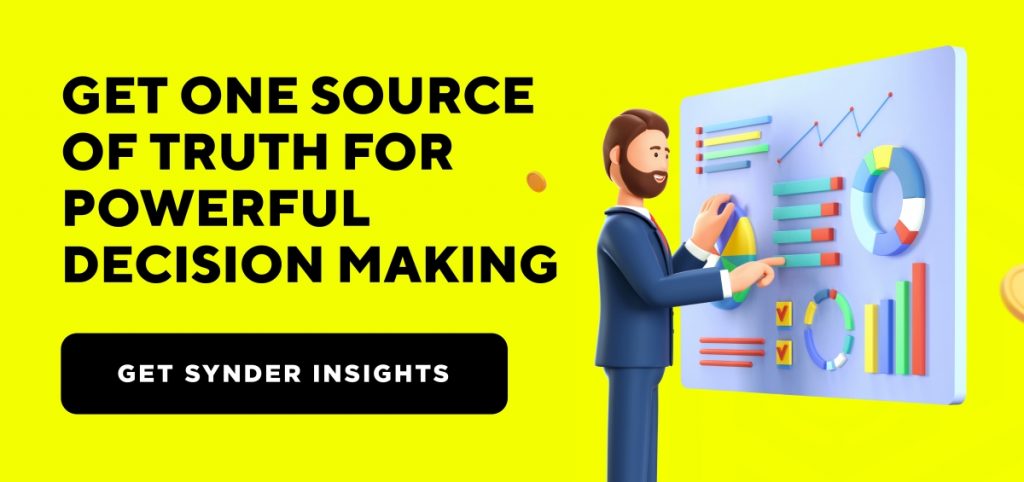 Raise your prices. A small increase of 5-10% doesn't normally drive your loyal customers away, provided that the quality of your product/service is maintained on the same level.
6. Invest in yourself
Converting people who are interested into paying and loyal customers takes skills and knowledge. Investing in yourself and your marketing team can change the situation drastically.
Attend sales training. While some people might be naturally good at selling, others need special training, but everyone benefits after getting some new techniques or taking a look from a different perspective.
Learn to negotiate. The ability to negotiate effectively can drive your sales up and maintain good relations with your customers.
Develop a prospecting strategy. If you're set on increasing sales, there should be a plan of your prospects that'll bring the maximum return within a certain period of time.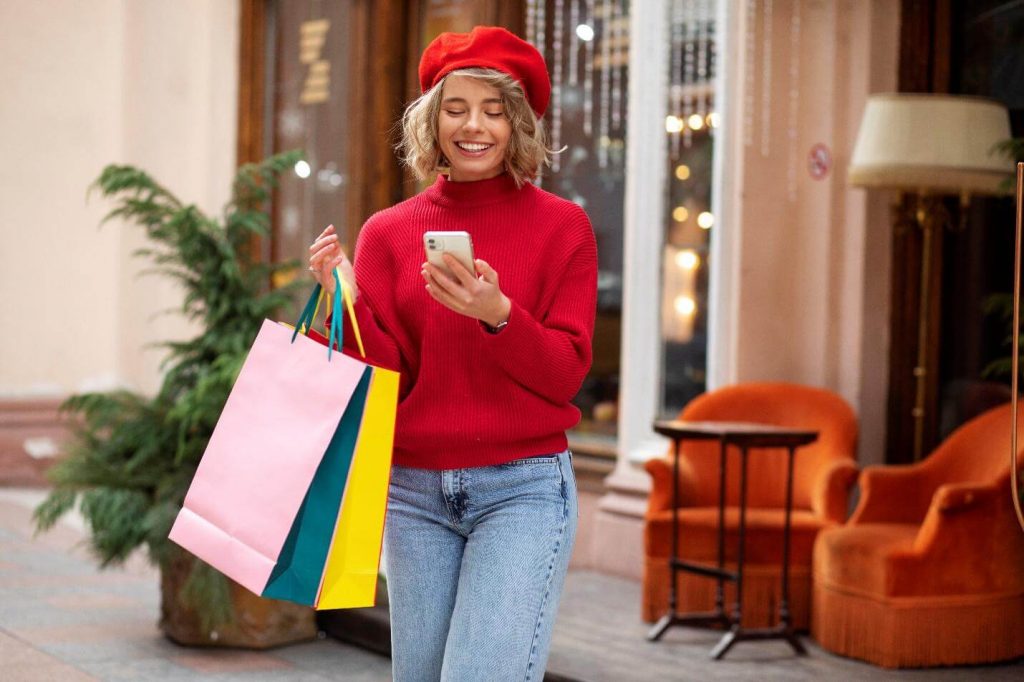 These strategies seem like a viable and very detailed plan of action for a business that wants to increase sales and they resonate with 13 ways to increase sales, given by the Forbes Business Council Members.
How to grow online sales: inbound sales strategy vs outbound sales strategy
All the strategies mentioned before work with all types of businesses. As e-commerce clearly has its peculiarities, let's have a look at two strategies that apply to online businesses more.
Inbound sales strategy
This strategy means that your future clients or prospects come to you attracted by your lead source channels, whether a marketing campaign, organic social media posts, webinars, videos or valuable blog posts. The main conditions to attract leads are:
your blog content is consistent and engaging;
your brand is easy to find online.
The benefits of the inbound sales strategy are the following:
lower expenses (the combination of paid and organic traffic is used);
higher trust and more credibility between your future customers and your brand;
growing website traffic and higher-quality leads;
the opportunity to nurture leads that'll convert later.
Outbound sales strategy
The idea is the opposite to the inbound – you come looking for clients. This strategy is particularly important for growing SaaS businesses that the potential clients aren't familiar with.
The benefits of the strategy are:
high speed (the outbound brings immediate result);
highly targeted outreach (reaching ideal clients who just don't know you, but are ready to buy).
The outbound sales strategy is more expensive as the majority of tactics like cold calling, social selling, and outbound email require paid delivery.
The good thing is that there's no need to choose between them – use a working combination of both instead.
There are plenty of methods and recommendations to increase sales on various platforms like Amazon, Etsy, Shopify, EBay and others if you only try looking.
Bottom line:
In this vast array of strategies to boost your sales there should be a combination working wonders for your business. The critical thing is to find and practice it consistently to bring the best possible results. Working on your sales strategy is particularly important as the holiday season always yields to the so-called slow January and new strategies might help you to maintain or even grow your sales.