'Tis the season to be jolly…And it's finally here. November and December-the dream months for retailers. It is the time when people stock up on presents for the coming holidays. Some really splurge on Christmas gifts – it only comes 'round once a year after all…
Alas, this cannot go on forever and January historically sees a significant drop in store and online sales in both B2C and B2B segments. There are a couple of reasons for it, which we will look at in a little while, but the main reasons may be the lack of both: knowledge on consumer behavior in marketing and therefore marketing activity boosting client engagement in this period, which makes this drop a self-fulfilling prophecy. This doesn't have to be your story. In this article we look at:
— consumer behavior model during holidays and after holiday season in the US
— some reasons for slow January(B2C)/ December-January (B2B)
— tactics for keeping sales up after the holiday season
Consumer behavior examples or how do people spend?
According to the recent report by Deloitte, based on the survey of more than 4,000 customers, shopping habits are not yet back to the pre-pandemic levels, though some trends seem to be heading that way. The report also states the opinion of the key retail executives on the current shopping tendencies and expectations.
We'll have a closer look at some key findings on consumer behavior examples represented in the report here.
1. All is bright … for high-income
The average spending is set at $1,463 this year, against $1,387 in 2020 which means it's actually 5% up, but it has to be noted that this growth is driven by higher-income households.
78% of households claimed that they found themselves in a similar or better shape than a year ago compared to 71% in 2020, while lower-income families make up 65% of the non-spenders this holiday season.
Retail executives believe though that 73% are going to spend more or even significantly more this year, which is an optimistic look at the consumer behavior model.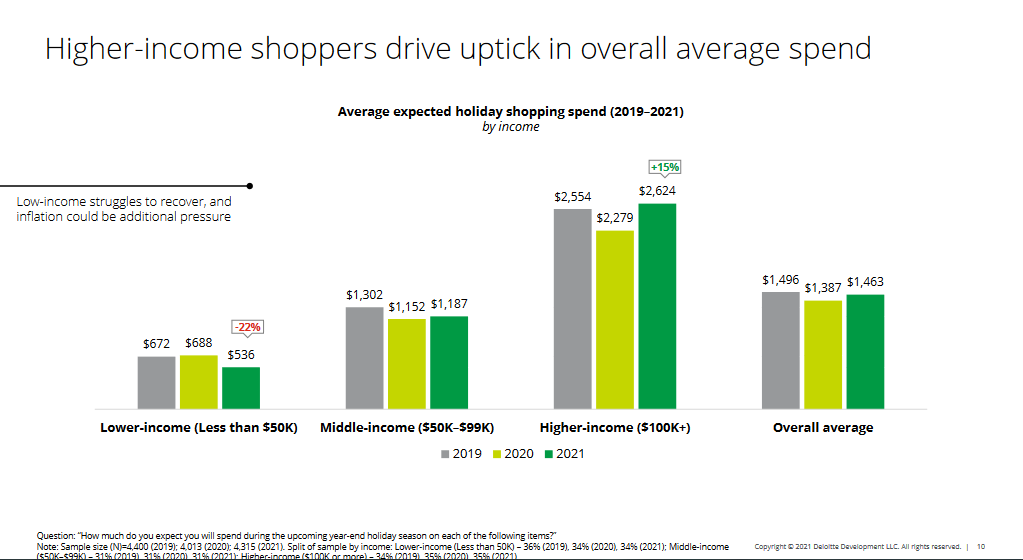 2. Delivery time fright
The main point here is that 68% of customers plan to shop earlier this year considering potential shopping and stockout issues.
A staggering 75% of shoppers are especially concerned about stockouts with electronics, accessories, toys and hobbies, while 64% of retail executives are worried about getting inventory in time.
3. Consumer behavior model
62% of all shopping is going to be done online as people still rely on e-commerce as a convenient and safe buying experience, while 28% stated that they plan to use social networks mainly to research products.
Spending on experiences is 15% up as less people (40%) have health and safety anxiety.
40 % of retail executives expect a considerable boost in online shopping channels.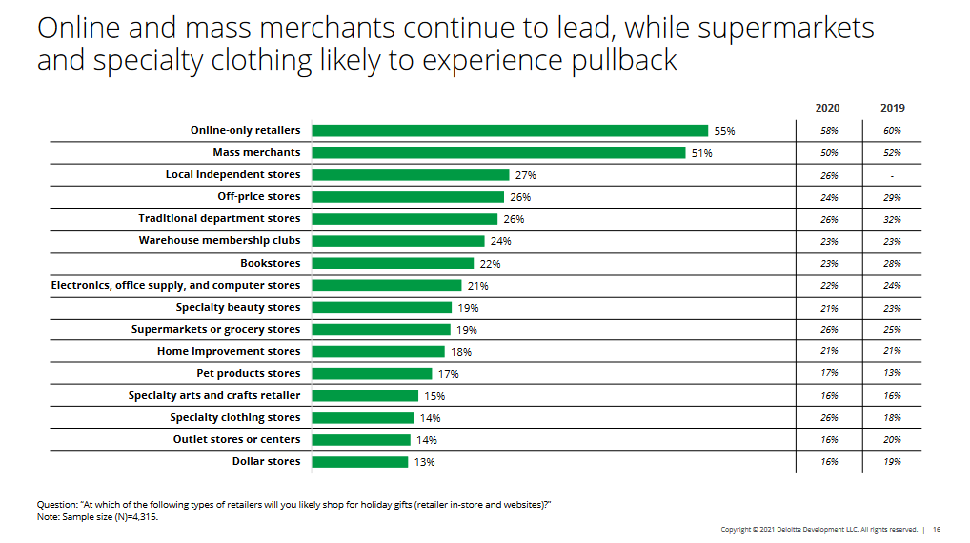 4. Inflation
Almost twice as many customers (39% against 20% in 2020) believe that they spend more because of growing prices, while 50% of those who plan to minimize their spending blame it on higher food costs.
Retail executives prove these tendencies by stating that retail product prices are increasing (53%) and promotion activities are going to be lower (57%).
If we turn to the Gallup poll on the issue of consumer behavior model, there is at least one significant contradiction to the Deloitte report. It says that most Americans didn't start their shopping early this year unlike it was expected to in the Deloitte report. The total gift spending is $886 which is also slightly up in comparison to 2020.
The meaning of e-commerce is hard to underestimate here as according to the poll shoppers are much more likely to buy gifts online than visit stores.
In a nutshell a lot of gift shopping is done between November and December influenced by many factors including pandemic and inflation.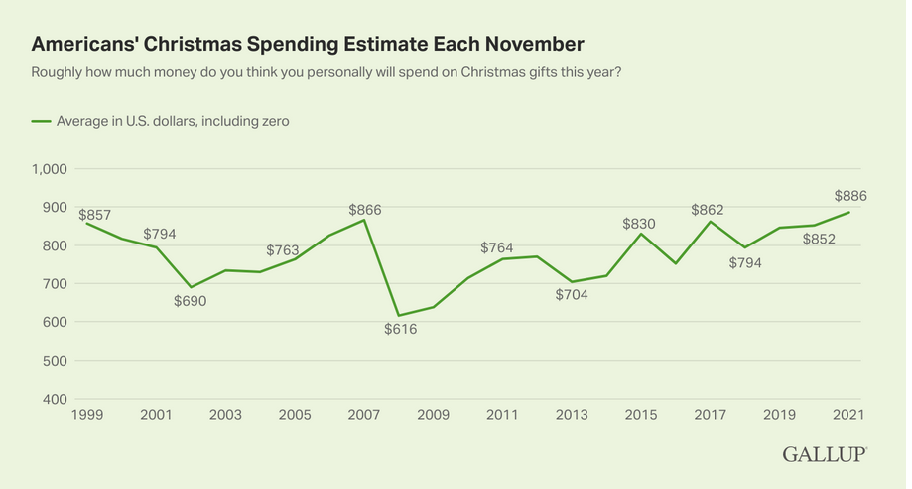 Reasons for sales slump
When it comes to the B2C sector, the January-February drop in spending is quite easily explained by many people being in low spirits because of overspending before the holidays even though many retailers try to keep sales after Christmas and introduce marketing loyalty programs. It is quite natural to start economizing after letting yourself splurge on gifts.
The other reason is product returns. In other words, increased sales in November and December are a loan until January when people start returning "bad presents".
If we talk about B2B sector, the reasons for Slow December-January are more diverse:
Normally the decision about the purchase is made by the higher executives who might be on holiday in this period.
The budget of the company is mostly spent before December so new contracts in this period are rare.
We may add up holiday fuss in December and "after-holiday tiredness" in January.
Whatever the reasons are, our main goal is to try activating after Christmas holiday sales for the company not to be left in the dust after the crazy holiday shopping. The situation may be improved with some marketing recommendations and careful planning. Online businesses have lots of methods to turn to when it comes to the issue of how to keep sales after the holidays. We will have a look at some of them next.
How to entice your customer (B2C)?
If we focus on B2C sector first it seems that there is no marketing cure for slim wallets and lack of shopping interest after holiday shopping. Or is there?
1. Make the most of the holiday activity
It is vital for a business to keep the conversation going with both the old and new customers after the holidays. Using marketing automation strategy is a great solution here. Personalized emails, reminders about their abandoned carts, personal recommendations based on previous purchases will help you to remind them about your business once the January salary arrives. Another great strategy will be a holiday photo card creation for all the customers; indeed, you will get more repeat customers and good feedback from your clients.
It is wise to increase your average order value by upselling (recommendation of a product upgrade) or cross-selling (recommendation of related or complementary products). So whatever was planned, looked at but never finished in the cart might be of use in the after-holiday season. The main goal here is to convert holiday traffic into after holiday sales.
Engage your old and new customers by marketing loyalty programs. Reaching some VIP status with a special discount program really makes your customers happy and gives them the feeling of importance while building your company's positive reputation. These are the benefits of loyalty programs for customers.
2. Help your customers to be the best themselves
New Year's Eve is all about resolutions with new starts, reinventing lives, chasing new hobbies. It is wise for a business to leverage this theme for generating more sales during slow January.
Top 10 New Year Resolutions for 2021 were:
1. Focus on improving your health
2. Look after your finances
3. Pursue an aspiration
4. Invest in your relationships
5. Look after your mental health
6. Live more sustainably
7. Disconnect from your phone
8. Read more books
9. Get out of your comfort zone
10. Plan that once in a lifetime trip
I bet any product or service can be somehow connected to these topics, which will necessarily generate more sales in the dark hours of January.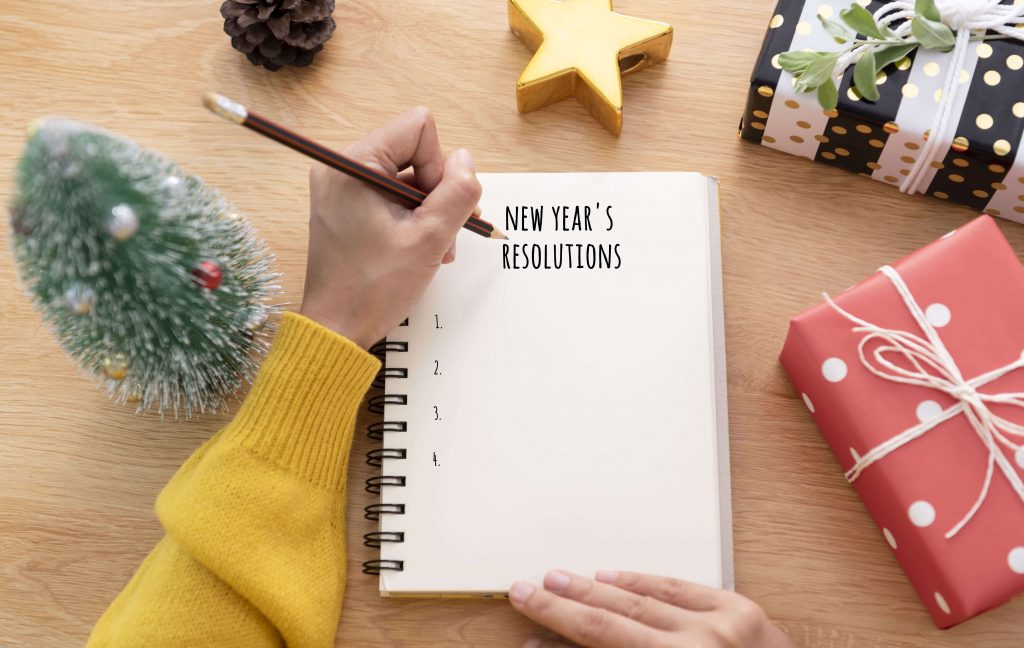 3. New Year – new holidays
After the most special and loved-by-all holidays Christmas and New Year there is no need to lose heart as there is something to celebrate practically every day. Promotions and marketing loyalty programs can be connected to various occasions and observances. I decided to give it a go and check what there is in January. Have you heard or maybe celebrated National Spaghetti Day (January,4), Sherlock Holmes' Birthday (January,6), Make Your Dream Come True Day (January,13), Winnie the Pooh Day (January,18) or Data Privacy Day (January, 28). The full list is here. The trick here is to give your client some reason to come back and spend money by creating the atmosphere of holidays. It is a simple consumer buying behavior model: there is a holiday, so there is a gift. And why not celebrate something every day? Keeps you in good spirits.
4. After Christmas holiday sales
Everyone loves after holiday sales for the feeling that you are getting a real bargain-the price of some things cannot be lower than after the season. So if you keep sales high after the holiday rush it might help generate interest and attract more traffic to your online store. It also helps to sell off some older inventory and introduce new things right before Valentine's Day.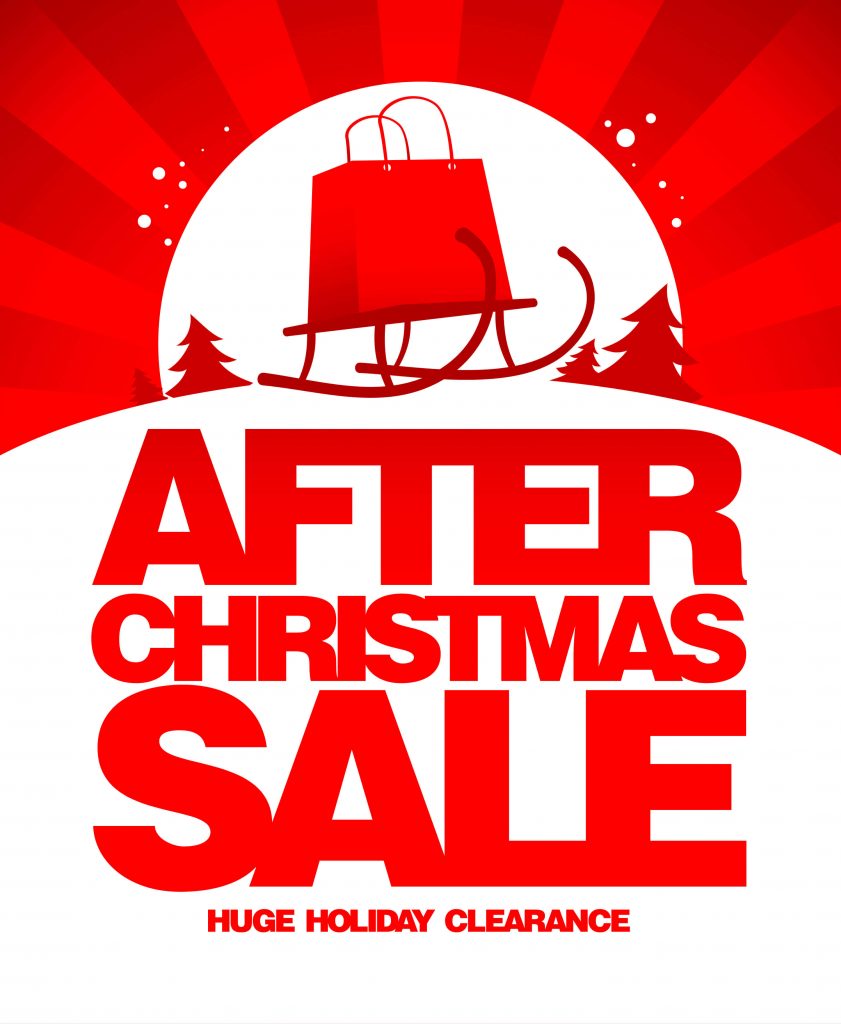 If we turn to the second reason of low sales in January-returns, there are a couple of tips that help to minimize them. Everyone has received a BAD present at least once in their life. There is even a holiday fun activity "tell about your worst present ever", which is actually quite funny. My worst ever present was a frying pan (I was 23 at that time), but certainly the champion was a girl who got a canister of gasoline from a might-be boyfriend. Obviously he never became one. Returning to returns, here we can employ the following marketing automation strategy:
Clear and precise product description might help to bridge the gap between expectations and reality, which in turn will minimize the number of returns
Personalized product recommendations based on what the consumer bought or intended to buy might help to turn one product return into a big purchase of some other products
Customer loyalty programs in retail are hard to overestimate. Return of one product doesn't mean the customer dislikes all of your products and it is even more important to leave positive feelings after product return.
This strategy might help to build strong relationships with your customers and speed up your slow January.
Catering to your customer in B2B sector
While B2C enjoys a holiday boom of sales in December, B2B sector sees a significant drop in sales for the reasons mentioned before.
Many tactics for the B2B sector are similar to those of B2C, so let us look through some of the most effective ones.
1. Christmas and after Christmas holiday sales
Sales are always effective as long as you explain that this might be a once-a-year opportunity and your hesitating clients might sway.
2. Using budget surplus
Having a budget surplus in December is not a very typical situation but still. Marketing automation strategy aimed simply at reminding customers about your company and product may generate sales through the companies that have a surplus budget and want to use it rather than lose it.
3. Send gifts
A trivial but working solution. Sending a gift to a potential customer might be a good reminder about your product especially if you add a personal card to it. After all December is not about just finishing the year off, but about planning for the next year. Working on marketing loyalty programs and building good relationships with your old and potential clients will always pay off.
4. Secure Q1 marketing budget
Many brands expect their customers to buy before holidays and consequently don't feel the need to allocate an appropriate holiday and after holiday marketing budget. According to marketing experts at Digital River, securing Q1 marketing budget will help you to be at lower competition, get your advertising product at a lower price because of the season and your business will stand out from the crowd with the help of well-planned advertising campaigns. Obviously, analyzing your web-site traffic will help to send the money in the right direction. Benefits of marketing automation and retargeting cannot be played down in this case.
Bottom line
Studying the consumer behavior model, analyzing your traffic and sales, deploying marketing automation for e-commerce, retargeting and marketing loyalty programs might not only save the day, but also turn the dark days of sales slump into the bright days of e-commerce success.