E-commerce business is the most promising and fast-growing industry, however, having clients pay you remotely may become challenging. This is when online invoicing can help you. There are multiple invoicing software available that come to the aid of creating invoices and sending reminders. However, invoice accounting requires a lot of time, effort and patience. Small business owners need to take into account the fees of sales channels, shipping addresses, inventory and other payment details. Even a small error in the invoicing process may bring about big problems in cash flow management. Here are the most common issues in invoicing that businesses may face.
Contents:
What is an invoice?
By Investopedia definition, an invoice is a time-stamped commercial document that itemizes and records a transaction between a buyer and a seller. The invoice specifies all the details of the payment, such as product or service, price, due date, and other information about a buyer and a seller.
Invoices are extremely helpful to receive payments by credit card. In this case, a customer only needs to open the invoice and enter the credit card details. Voila, the purchase is done! Moreover, invoices enhance the accounting process as they outline information about shipping, location, and taxes that are recorded in the books.
Recently, paper invoices were replaced by electronic invoices which are less time-consuming. For business owners, it is much easier to update information or eliminate errors in online invoices. And for customers, it takes much less time and effort to pay online than to use paper billing.
How to create an online invoice
There are many invoicing apps that can help you automate the invoicing process. You can use specific software for these purposes or use an "invoice creator" tool in your QuickBooks, Square, or PayPal, etc. account.
One of the easiest tools to create an invoice is provided by Synder accounting software. Synder connects payment processors such as Stripe, PayPal, and Shopify with QuickBooks or Xero. So, you can receive payments from different platforms at the same time and automatically record them in your books. We will have a closer look at how to create invoices in Synder to get the most from payment automation later in this article
8 invoicing issues that affect your cash flow
If you are a beginner in electronic invoicing, you may face some difficulties with managing online transactions. Even some small and insignificant errors may cause big problems with reports and statements. Here is a list of the most common issues in invoicing that may affect your cash flow management.
Manual billing
Many business owners, who only recently turned their business into online commerce, don't automate the invoicing process and create each invoice manually. Such an approach makes sense when you only have a few transactions per month. But if you are aiming at boosting your sales, you need to minimize manual billing as much as possible. There are many apps that provide simple invoice templates to make the payment process easier. You just need to fill in the necessary information into the gaps and send the invoice to your customer. Invoice templates will save your time and minimize the risks of missing some data about the transaction.
Here is an invoice example in Synder.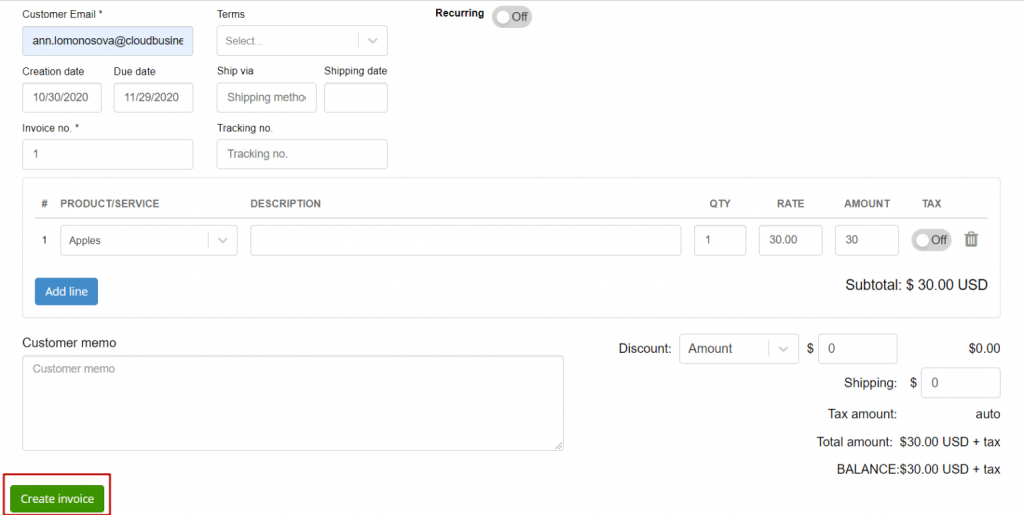 Missing information
Even when using invoice templates it's difficult to be 100% sure that you included all the data in the invoice. Anyone can make mistakes. For example, you might forget to fill in the shipping address in the invoice and send it to your client. As there is no shipping data in the invoice, you may have problems with counting the amount of tax and recording this transaction in your books.
In general, you should remember the key invoice components that are essential for your accounting:
Due dates
Names and addresses of a buyer and a seller
Contacts
Sale details about the product or service
Payment details
Tracking incoming payments
The tricky part about using an invoice generator in PayPal, Square or other payment processors, is that transaction details don't record in your books automatically. You have to manually track and record the data in your QuickBooks or Xero account. As an alternative, Synder monitors the status of the invoice and enters data in the books automatically on its own. As soon as your client pays the invoice, Synder will synchronise the payment with your accounting platform. Moreover, all the transaction details (customer name, inventory, shipping, discount, tax, etc.) will be reflected in your account automatically.
Monitoring inventory
Another issue with online payments is how to track inventory. If your clients don't pay invoices on time, it can be difficult to monitor the number of products left in stock. For example, if you record inventory in QuickBooks, you have no choice but to enter all changes in product amounts manually. Synder can help you automate this process. It synchronises transactions and changes inventory in QuickBooks, so you will have a precise account of products in stock.
How does it work? Synder takes the name of the product in the invoice and compares it with all products in QuickBooks. When the names match, Synder reduces the number of products in QuickBooks.
Managing multi-currency payments
If your business serves customers using different currencies, the purchasing process becomes much easier for them. However, it is a nightmare for a business owner or a company's accountant to record multi-currency transactions in the books and count taxes. Some payment processors such as Stripe apply exchange rates to record the payment precisely in Quickbooks or Xero. Unfortunately, this feature doesn't always work correctly. As a result, business owners get a report with wrongly synchronized transactions.
In comparison, Synder uses an official bank exchange rate, recalculates the amount of the payment, and applies accurate taxes. And it happens absolutely automatically!
Counting fees
One of the biggest problems with invoices is the fee that a payment processor charges for making a money transfer. If you work with many payment platforms at the same time, it will take hours to count all the fees for each transaction. Synder automatically finds the fee information in the sales receipt and records it in your QuickBooks or Xero account. By the end of the month, you will get reports with separate profit and expenses information. You won't have to collect all the fees manually and look for the amount of the fee for a new payment platform. Synder will do it for you!
Irregular payments
To make your business profitable, it is important to keep a balance between profit and expenses. It is a common situation when companies have to cover expenses before they receive any money from clients. Ideally, the incoming and outcoming payments should run parallel. However, in the real world, it is a challenge to make clients pay on time. Tracking the status of payments and making reminders manually requires a lot of time and effort. Synder provides a special feature "Smart Rules" to avoid such situations. Using this tool, you can create your own rules for customers who didn't pay the invoice on time. Synder can send them an email, text in messenger, or even record a voice message to make sure that a client received the invoice and didn't forget to pay it. When your incoming payments are scheduled, you will be able to plan outgoing transactions more effectively. 
Negative associations
Many companies often make a mistake after receiving the payment – they don't say "Thank you" to their customers. Business isn't just "sell and forget". You need to involve your clients in the purchasing funnel and make them buy more and regularly. One of the key moments is to leave positive emotions after the purchase. Happy clients are regular clients. Invoicing software usually allows sending a "thank you" email to the client after the payment is done. However, if you want to make this process more personalized, have a look at Synder invoicing system.
Conclusion
To sum up, online invoicing is a must-have for developing business. It helps to automate the payment process and makes it much faster and easier. However, it is worth paying extra attention to invoice accounting. To manage a high volume of transactions error-free and quickly, you should consider using accounting software for small businesses. Start a FREE TRIAL in Synder right away to reach the next level of e-commerce accounting.