E-commerce sellers are now looking for the best bargains and deals. For many entrepreneurs, the idea of running a business is a dream. Running your own company can offer you freedom to make decisions, set your own hours, and get to work on whatever you choose.
Technology has made this easier with Shopify apps.
This is the final blog post in the series about the best Shopify apps to increase your sales instantly.
Don't forget to check out part 1 (about marketing apps) and part 2 (about management apps).
In this article we will look at the best Shopify apps to boost your sales and conversion, for shipping, dropshipping and upsells. And the first apps will be connected with the pricing and upselling with cross-selling to catch an eye of customers.
Contents:
AfterShip Order Tracking & SMS
Shopify app to increase sales #1: Prisync (5.0 ⭐️)
Competitor price tracking & monitoring software is a must.
14-day free trial available. Then from $129/month.
If you are looking to improve your traffic, conversion rate, or increase sales, then the Prisync App is for you. It helps you increase your daily orders, improve your search engine rankings, and strengthen your brand through social media and keyword activity.


With this app, you can monitor the pricing of your competitors and import all your products with a single click. Upon connection, all your data from Shopify and Prisync accounts will be synced.
What you will gain:
Automated price tracking
Sales growth and margin increase
Automated competitive pricing strategy
Monitoring competitors' pricing
Shopify app to increase sales #2: Reveal by Omniconvert (5 ⭐️)
Increase your customer lifetime value.
Free plan + 30-day free trial available
Reveal by Omniconvert is your go-to service if you want to improve Customer Lifetime Value. By monitoring and analyzing customers' buying patterns across different channels, Reveal helps you segment your customers into different groups based on their buying behaviors (using the RFM model).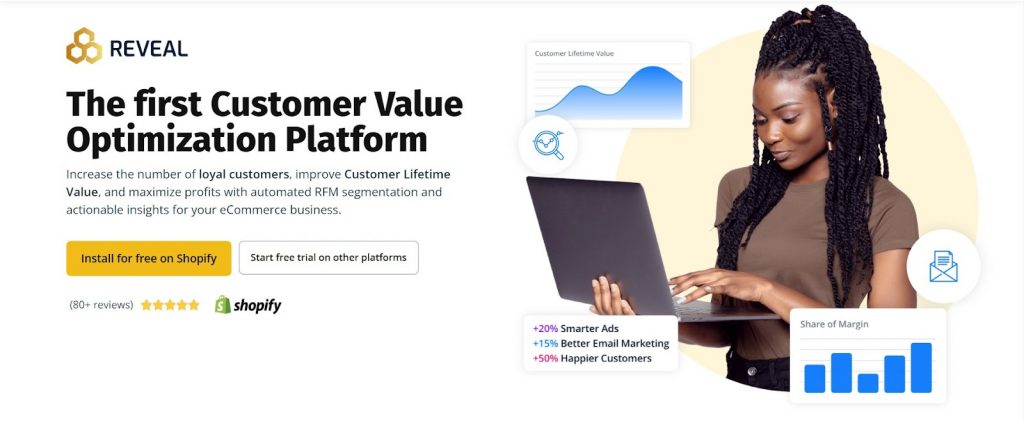 The rich data you'll get using this app will help you predict your customers' future buying behavior. You can also create highly personalized offers, email flow and campaigns and build custom audiences to retarget high-value customers and attract similar audiences.
What you will gain:
Advanced automated customer segmentation (RFM)
Real-time product performance reports
Advanced email marketing
Automatically build look-alike audiences for socials and analytics platforms
Shopify app to increase sales #3: LimeSpot Personalizer (4.8 ⭐️)
Turn your shoppers into buyers.
15-day free trial available. Then from $10/month.
LimeSpot Personalizer makes building an e-commerce store fun and easy. You can personalize your store with different offers to draw more traffic, and increase conversions and sales. With a variety of products and various pricing points, this app will help you to offer products with an overall higher value and conversion rate.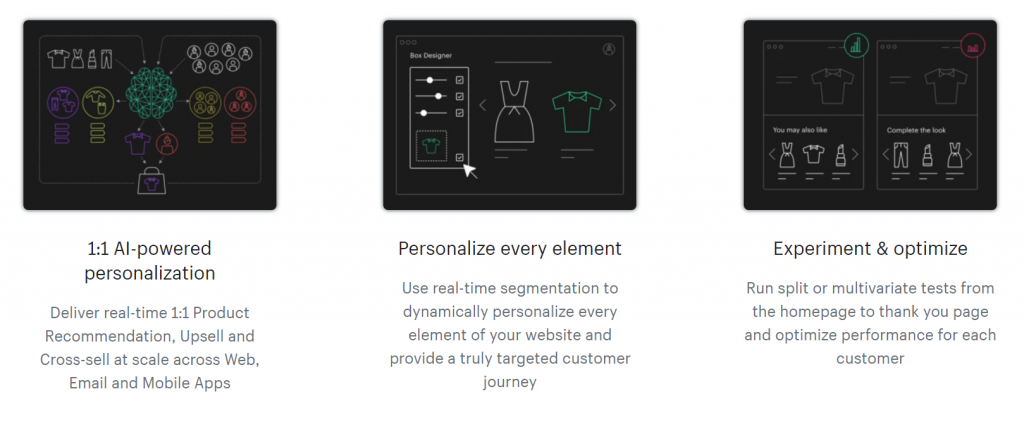 This is an ideal app for e-commerce businesses looking to add a personal touch to their product pages. You will be able to optimize your store according to what the current customer is looking for and make sure the conversion is as smooth as possible.
What you will gain:
Effective audience segmentation
Intelligent product recommendations
Smart content and email personalization
Automated optimization
Delivery tracking apps are essential for dropshipping businesses. Most importantly, these apps allow you to keep track of the shipment for your customers. You need to keep the customer updated on any delays and this can be a very time consuming task if you do not have an app to keep your customer in the loop.
Dropship apps help you by allowing you to make deliveries and track them via GPS. This makes delivering your products much easier. So here is the list of the best Shopify apps that will definitely help you!
Shopify App for streamlining and simplifying your workflow #4: DSers( 5.0 ⭐️)
Access thousands of suppliers and place hundreds of orders in one click without any hassle.
Free plan available
DSers AliExpress dropshipping tool is designed to help e-commerce business owners streamline the dropshipping business process for sellers. DSers offers almost everything an online store owner needs to grow their business, including fulfilling bulk orders, placing hundreds of orders in a few seconds, integrating tightly with AliExpress, and having access to over 150,000 Shopify sellers.


The DSers dropshipping app also provides you with 24/7 customer support, which means when you come across any problems with your orders, you can reach out to DSers support team to get timely help.
What you will gain:
Find new suppliers selling the exact same product but with higher ratings and cheaper prices
Place all new orders from customers in just a few clicks
Automatically track the status and information of all orders
Link each variant of the product to the corresponding variant provided by the vendor with Mapping
Automatically sync the AliExpress tracking number and transmit it to your store to notify your customers
Automatically apply pricing rules to all new products you import from your suppliers
Pre-select your preferred shipping method: by country, price, or delivery time, depending on your preference
Create a Pack Of AliExpress Products to increase the average cart value with Bundle Products.
Shopify app to increase sales #5: Easyship (4.4 ⭐️)
Supercharge Your Shipping. Grow Your eCommerce Business.
Free to install.
Easyship is the leading global shipping solution that allows all merchants to offer fast, reliable, secure international shipping. It has a range of shipping solutions that can make the shipping process more accessible and affordable.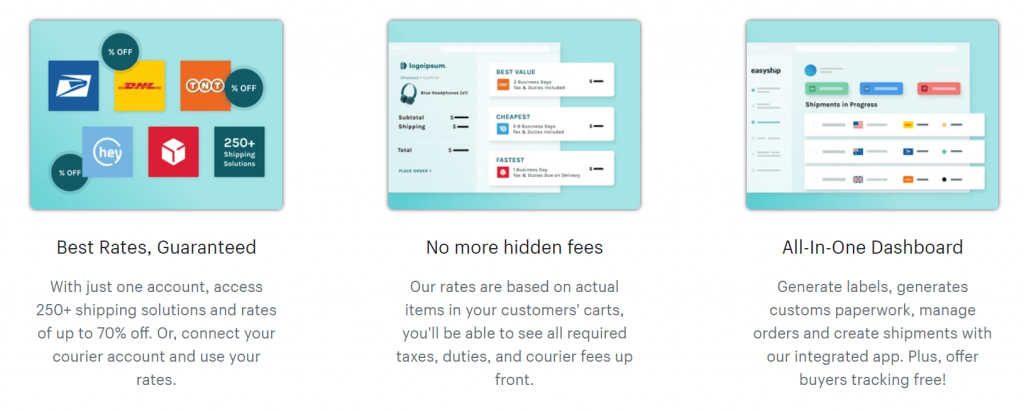 Businesses need to be able to sell their products globally and Easyship offers a perfect solution for this. It simplifies the business of shipping and takes away all the hassle associated with ordering and shipping products.
What you will gain:
Easy shipment management on one platform
Flexible shipping options
Increased checkout conversions
Global growth and revenue boost
Shopify app to increase sales #6: Free Shipping Bar (4.9 ⭐️)
We Help E-Commerce Owners Run Business Easier.
Free plan available.
If you want to offer free shipping to your customers, then this app is for you. Free Shipping Bar offers daily shipping deals from popular retailers. It provides you with real-time tracking of your shipments and deliveries. So you can monitor everything happening with the package right up to its delivery.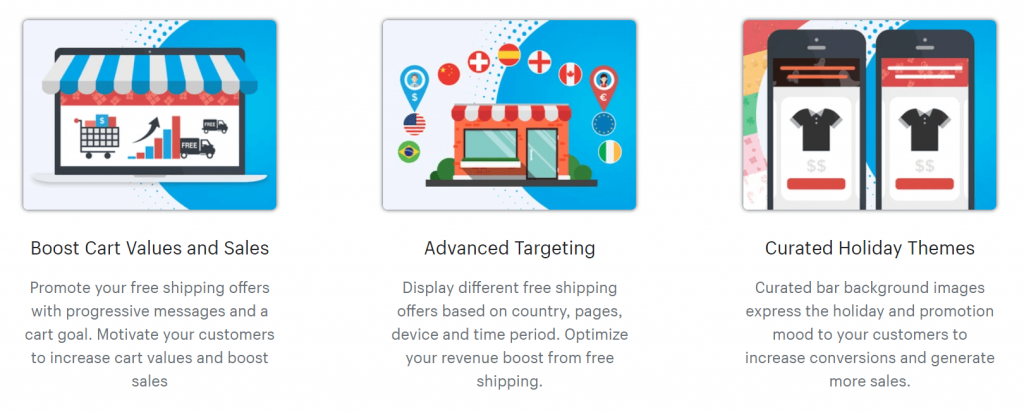 With Free Shipping Bar, you will be able to stay focused on what matters most, making sure your shipments arrive safely and on time. This app helps you track and optimize your free shipping activity so you can increase conversions and improve your margins.
What you will gain:
Increase in average order value
Geo tracking the performance of each bar
Exchange rates to the customers' currencies
Progressive messages when customers put more items in their shopping carts
Shopify app to increase sales #7: AfterShip Order Tracking & SMS (4.6 ⭐️)
Everything you need for the best tracking experience.
Free plan + 7-day free trial available.
As a Shopify business owner, AfterShip is a good solution to avoid the hassles of shipping many items such as huge packages and multiple items per order. Easy to use and affordable, the app provides a real-time shipping status. It also shows a shipping confirmation.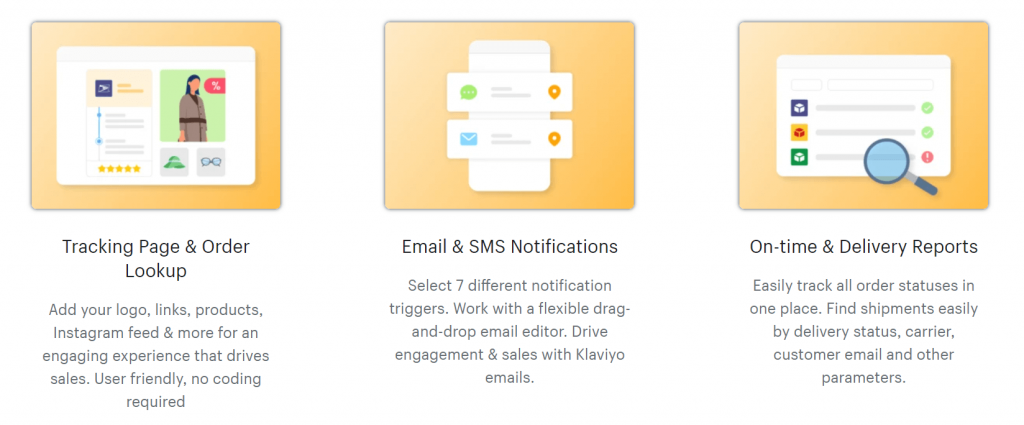 AfterShip offers the best tracking services for e-commerce businesses on the market with an intuitive interface and comprehensive features to ensure shipping is 100% accurate, and track the packages throughout the whole shipment process.
What you will gain:
Monitoring of shipment process
Sending notifications to customers
Automatically generated tracking page
Multiple shipping solutions
Shopify app to increase sales #8: Packlink PRO (4.8 ⭐️)
Ship better, sell more.
Free to install.
Packlink is a shipping platform which is available for all Shopify merchants. You can choose from various options to ship the orders and an array of payment gateways to accept payments. This app uses your Shopify account and the Shopify API to handle orders.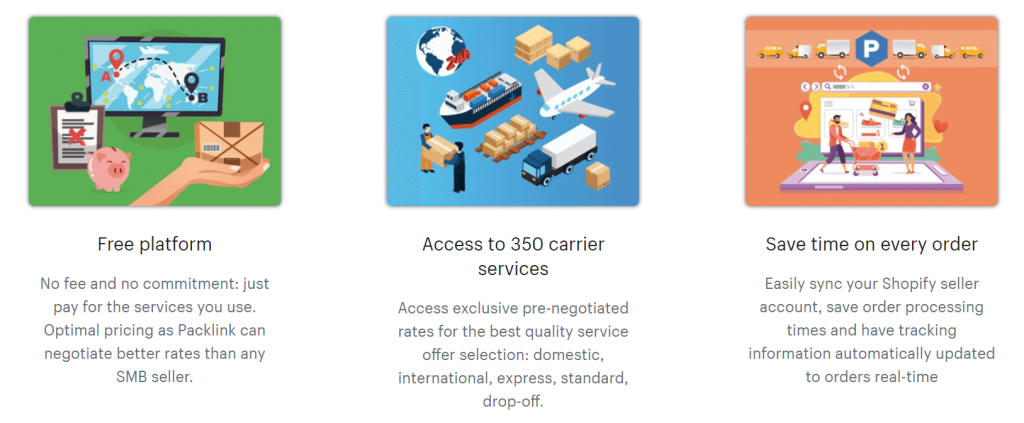 This app is an excellent way to cut down on manual work that is required when shipping products. The app saves you time and effort by gathering all the necessary information and helping you to send goods quickly and easily.
What you will gain:
Automated import of Shopify orders
Accurate tracking of all the orders
Increase in conversion with optimized checkout
Global shipment
Shopify app to increase sales #9: Oberlo (4.3 ⭐️)
Start a business and design the life you want – all in one place.
Free plan available.
Oberlo Dropshipping App is a great way to get started with dropshipping. This app will take the pain out of setting up the dropship, and enable you to enter the specific discounts, promo codes, shipment details and/or any product codes required.


The Oberlo app will also show you a great deal of useful information that will help you understand the dropshipping market. It will also provide you with the information you need about entering a buyer's pocket and shipping fees.
What you will gain:
Real-time tracking of the orders
Customization of your listings
Possibility to add multiple users to your store
Powerful product data
Shopify app to increase sales #10: Automizely Dropshipping (4.8 ⭐️)
Easy, Fast, and Reliable Dropshipping.
Free to install.
Automizaly Dropshipping provides you with everything you need to manage your dropshipping inventory, logistics and orders. Drop shipping is one of the cheapest ways to sell products online. It doesn't require a lot of set-up or buying new products. Automizely has you covered.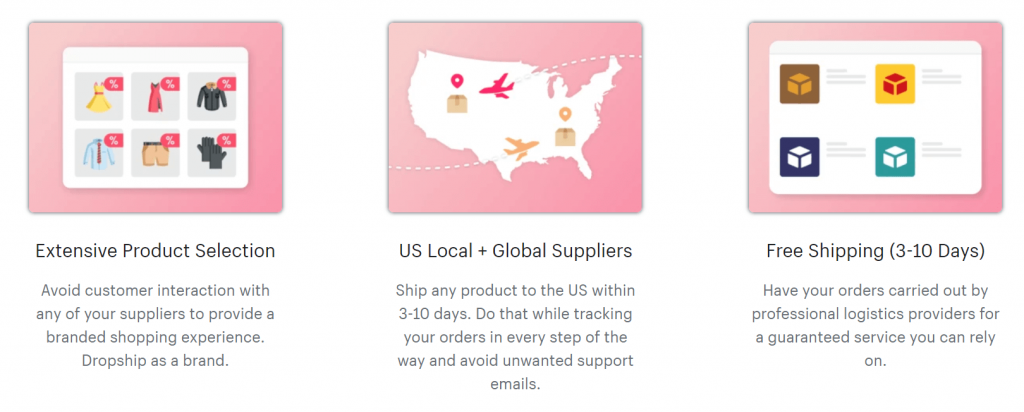 The app is integrated with numerous shipping plugins, so that you can easily ship products with several different services from one system. Automizely is well-designed and easy to use. It is a perfect way to build an effective dropshipping strategy.
What you will gain:
Brand recognition due to the logo on the order packages
3-10 day shipping to the US
1-click import to your Shopify store
Pricing automation to reduce errors and protect profit margin
Shopify app to increase sales #11: Spocket (4.6 ⭐️)
10x your Dropshipping business with Spocket.
Free plan + 14-day free trial available.
A great way to make more money is to sell items in bulk. In order to do this you need the right app, the one that is capable of tracking and making offers based on delivery events. Spocket Dropshipping is a dropshipping app that gives you the tools you need!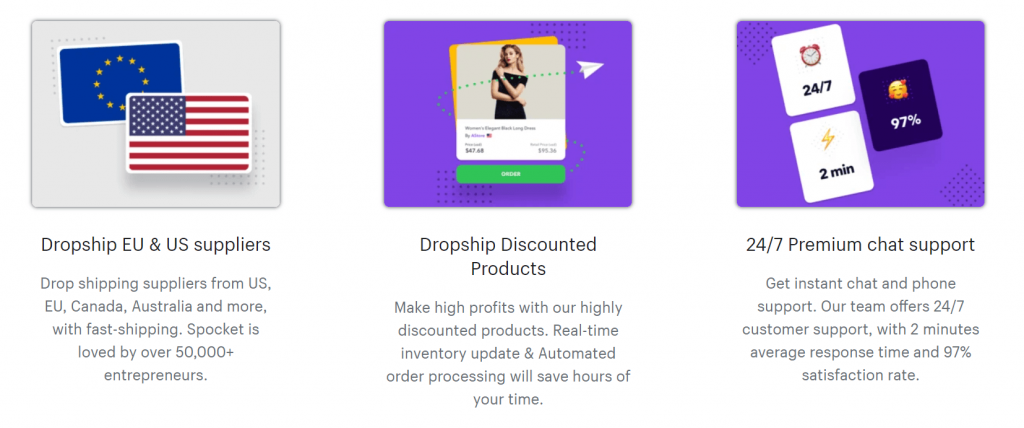 Spocket Dropshipping is a handy app to make any dropshipping business better. There are many features to this app that will help simplify your e-commerce business workflow and it also has an unlimited number of checkout options that could be customized by the user.
What you will gain:
Highest discounts/wholesale pricing
Automated inventory update
One-click order fulfillment
Real time order tracking
BONUS ✨
To sell better you have to know where you are right now. And for that you need to constantly check all your expenses and income to create accurate reports to analyze. Unfortunately, no one is protected from making mistakes.
But we can't say that about Synder, a type of software that is always ready to synchronize all your history data from the sales channels and payment platforms you use and give you a 100% accurate Profit and Loss report.
Book a Demo to observe Synder workflow with our wonderful Support Team and don't forget to sign up for Free Trial to test everything yourself!
What you will gain:
The best experience
Easy-to-use features that will do the accounting for you in no time
Accurate tracking of your income and expenses
Zero balance difference between your accounting platform and bank account balance
Start achieving the business growth you deserve with Synder software now!
Continue reading: part 1 || part 2
In the 1-st part you'll find 10 best apps for marketing
In the 2-nd part you'll find 10 best apps for management