Have you ever wondered how to increase your sales? What Shopify solutions can help you to achieve your goal?
This is the first blog post in the series about the best Shopify apps to increase your sales instantly.
Don't forget to check out part 2 (about management apps) and part 3 (apps that will help with selling).
Let's start from the very beginning and look through the apps in which business owners will be interested in the first place.
Contents:
Email Marketing by CM Commerce
Exit Intent Pop-Ups – OptiMonk
Just for a moment imagine yourself in the customer's shoes or remember the times when you actually bought something online. What were your first steps in understanding that this e-commerce store was the right choice? Reviews. Having an idea about the product from the previous customers' experience.
Shopify marketing app #1: Yotpo (4.8 ⭐️)
Reviews. Your Best Revenue Driver.
Free plan available.
Yotpo is an e-commerce marketing platform with the most advanced solutions for customer reviews, visual marketing, loyalty, referrals, and SMS marketing. It is an amazing app that helps you showcase the type of content you post.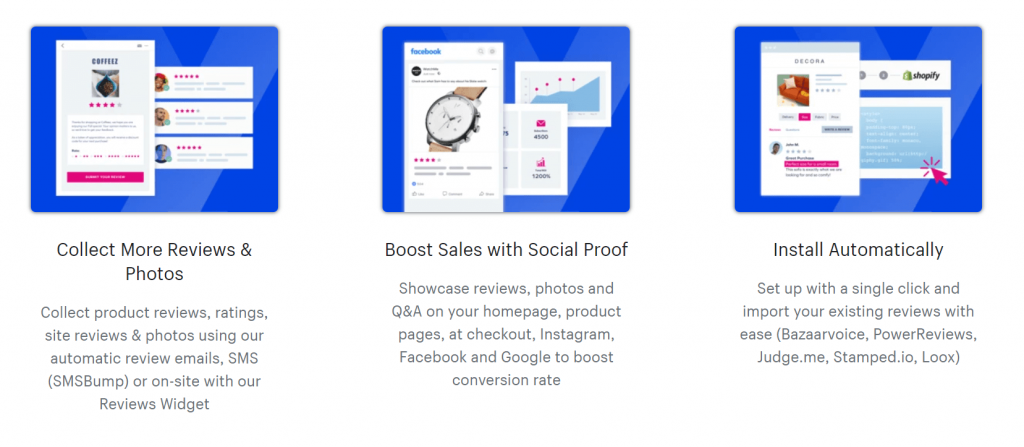 Yotpo was created to help you improve your online store. It helps Shopify businesses owners identify and grow their consumer base by collecting data from customers, rating online purchases, and then sharing the insights back to shoppers.
What you will gain:
Collecting all customers' reviews about your product
High conversion rates
Detailed analytics that will help in planning for growth
Content with customers
Boost in social proof
Shopify marketing app #2: Growave (4.9 ⭐️)
Growth starts here.
14-day free trial available.
Growave is an all-in-one marketing platform that helps Shopify brands reach their audience and increase conversions with ease. If you want to increase your store profitability, increase lead generation, make money from social media, or create a store that converts visitors into customers, we've found you the best Shopify app to help you do that.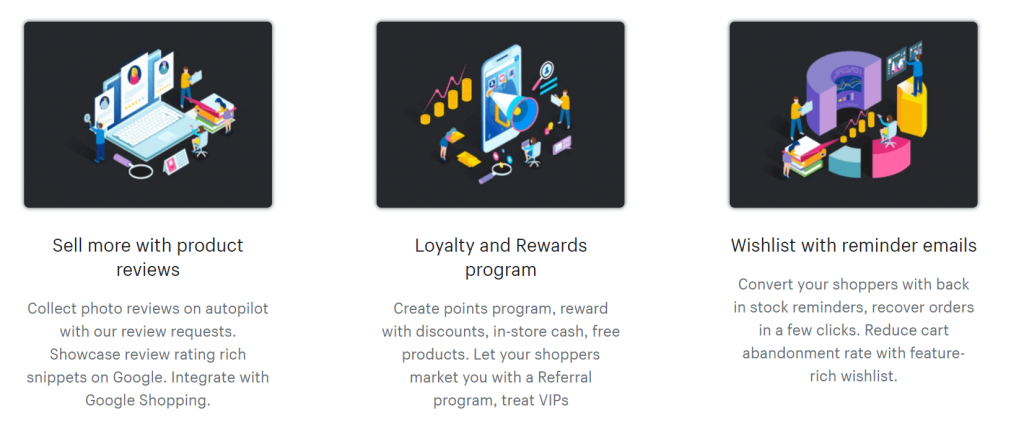 Growave is a type of software that simplifies the experience of running a store online. With the help of this simple yet powerful app, you can increase the number of your customers and sales, reach more people and boost your bottom line.
What you will gain:
Collecting every customers' reviews
Growth in sales with a special offer — Gift Cards
A strong relationship with your customers via loyalty programs
Reducing cart abandonment with the help of wishlists
Shopify marketing app #3: Loox (4.9 ⭐️)
Turn your customers into your best marketers!
14-day free trial available.
Loox was created as a way to connect people to products they love. It's a suite of over 100 apps that helps you achieve your business goals. Loox is a top app for Shopify stores that will help you stay organized with multiple shopping carts, shipping labels, discounts, coupon codes, and integration with various services.


Loox is a Shopify app with such a powerful and intuitive interface that the time spent on it will never be wasted. The main advantage of Loox is that customers can leave their comments with photos, making reviews more vulnerable.
What you will gain:
Boost in social proof
Collecting eye-catching photo reviews to interest new customers
Automated and easy to use email campaigns
Referral discounts
Moderation feature — choose the review you want to show
Monitoring of new reviews to reply to them right away
As a business owner you get to keep your customers happy. This means it's important for them to feel that their need are met and that they are given the best service possible.
One way to do this is by offering them discounts and sales. But tastes of online customers differ, so you need to know what your customers want before you can start giving them deals.
Email Marketing is another popular way of increasing your sales. This powerful tool allows you to capture email addresses of the millions of people who visit your website. You can then use these email addresses to send your custom emails, fill out your mailing list, and invite visitors to subscribe to your newsletter.
Shopify marketing app #4: Automizely Email Pop Ups (4.9 ⭐️)
Everything you need to boost sales on your Shopify store.
Free.
Automizely is a marketing automation platform that automates the process of sending prospects product-based emails to drive conversions. It also includes email analytics allowing you to understand how, when, and why you are sending out marketing emails.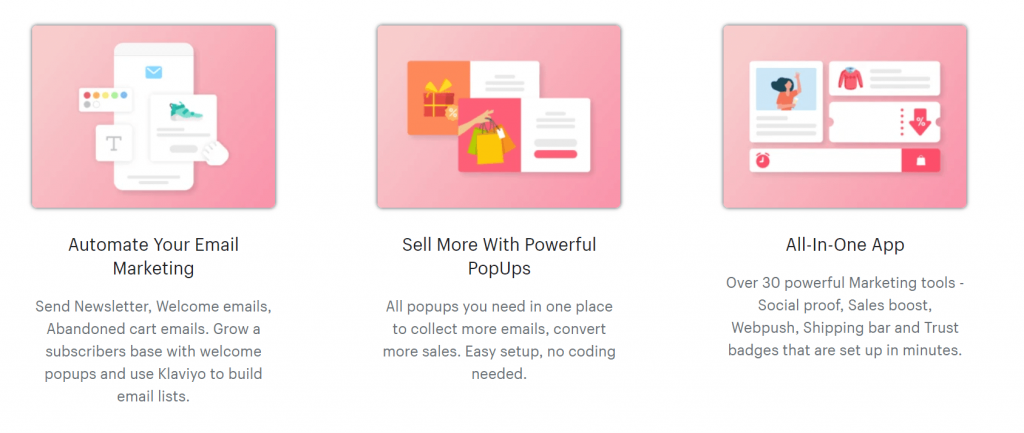 One of the great features of Automizely is its ability to send emails based on actions a customer takes. For instance, if they enter a coupon code, it will be triggered immediately.
What you will gain:
High-converting pop-up and email strategy (email, exit intent, upsell, cart recovery, welcome, abandoned cart)
Boost in social proof
Web push notifications to interest the customers
Better CRM
Professional email newsletters
Shopify marketing app #5: Email Marketing by CM Commerce (4.6 ⭐️)
Every email has a purpose.
Free to install (paid plans starting based on the number of subscribers).
Email Marketing by CM Commerce has a high-quality high-volume customizable customer contact strategy. It offers full customer analytics and reporting, campaign updates, customer retention, and easy tracking of your marketing spend.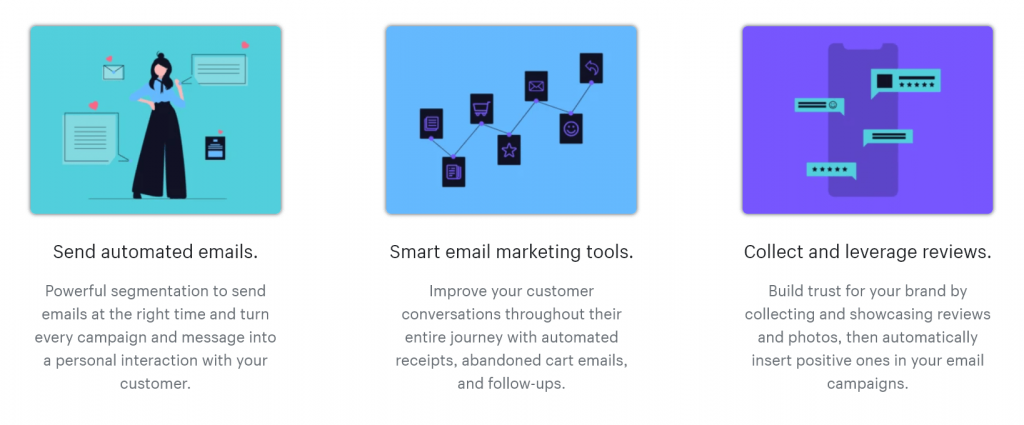 Your emails can show off your products, review your services, and provide helpful content, which can really increase your conversion rate and get your customers to sign up for your emails list. Convert your visitors into customers with the CM Commerce features.
What you will gain:
Abandoned cart and Follow-up emails
Collecting of your product reviews
High-performing personalized marketing automation
Powerful segmentation
Shopify marketing app #6: Exit Intent Pop-Ups — OptiMonk (4.7 ⭐️)
Create delightful shopping experiences.
Free plan available.
OptiMonk is a marketing firm dedicated to helping online merchants increase sales. A user-friendly pop-up provides you a powerful and simple way to increase conversion rates and get more customers.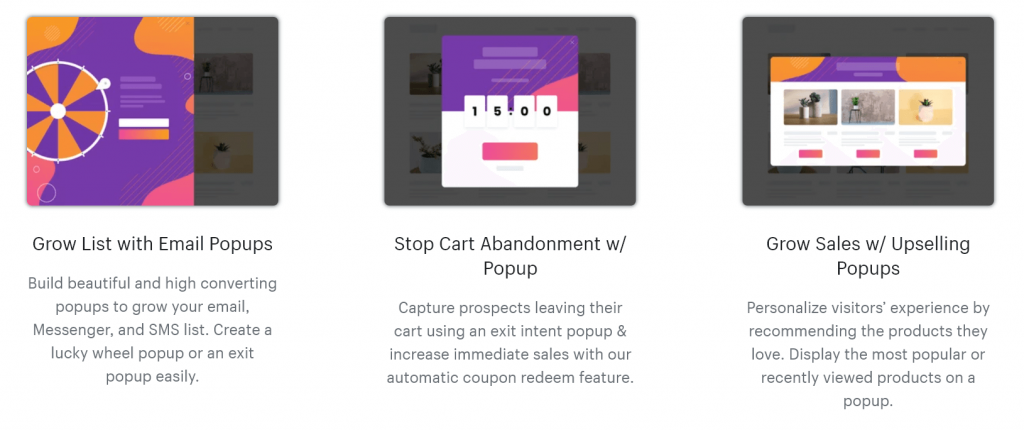 OptiMonk is a powerful Shopify application that enhances your customer's shopping experience by sending them the right messages at the right time. You can boost sales and your conversion rate by creating super-personalized messages customers won't be able to skip.
What you will gain:
Social sharings to get new audience
Product recommendations so that viewers can become customers
Promotion of special offers
Personalized messages for every customer
Fully customized pop-ups
Shopify marketing app #7: Omnisend (4.7 ⭐️)
Increase sales, not your workload.
Free to install.
Omnisend Email Marketing & SMS is a real time-saver for all the small businesses and businesses with just a few customers who you need to turn to loyal customers. It provides end-to-end email marketing tools to grow your customer base, nurture customers, and increase sales.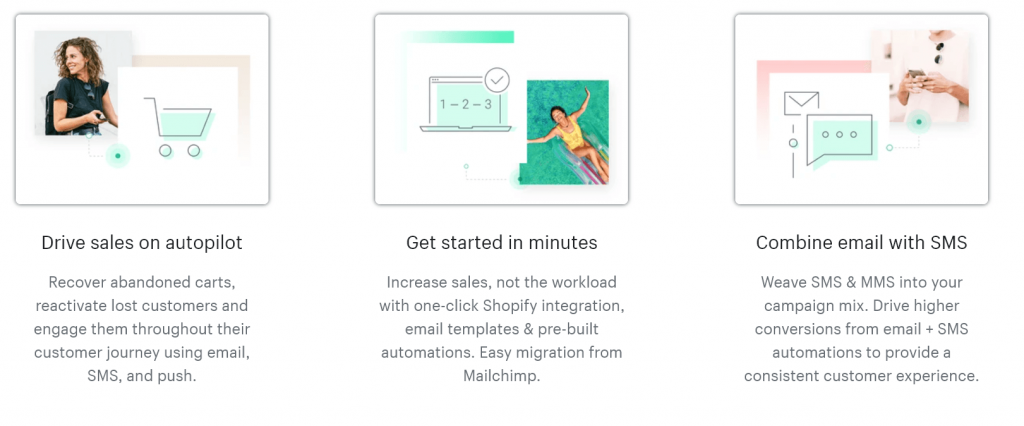 The Omnisend Email Marketing platform will help you become a leader in email marketing. Omnisend will make sure you have the images you need to describe what you're selling, and you'll have the description you want. That means no more emails that are hard to read and poorly designed!
What you will gain:
Pre-built workflow to always be ready to start
Powerful newsletters and push notifications
Building of email and SMS lists
Detailed analysis of your workflow helping you with growth plan
Shopify marketing app #8: Privy (4.6 ⭐️)
Get the tools to help your Shopify store grow.
Free plan + 15-day free trial available.
The Privy Pop-Ups, Email & SMS app for a Shopify store is a perfect way to market your brand and push people to your site. Privy makes the process of setting up a new website, growing your email list, and delivering the best virtual pop-ups simple and easy.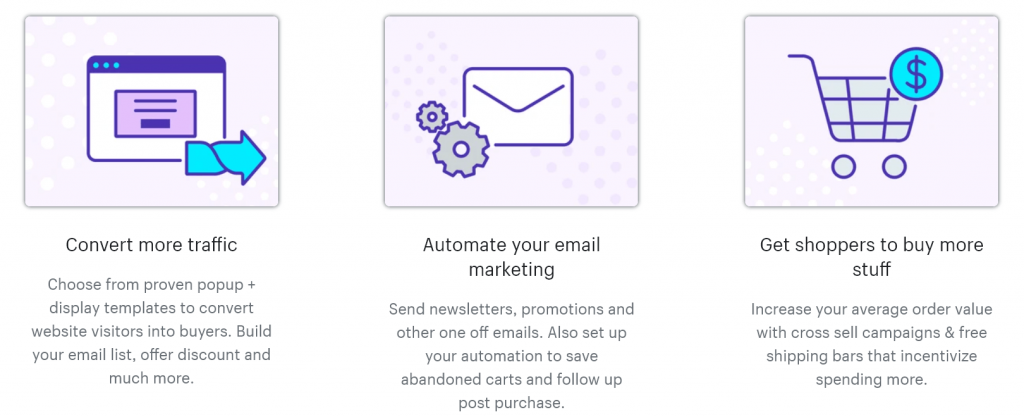 By working with Privy, you can automatically put your name and product at the top of your sales emails and easily make the emails searchable by all users. It's a perfect marketing app, as Privy provides a unique URL shortener and retargets ads for your products.
What you will gain:
Revenue reporting
Automated follow-ups
Professional templates for every email
Intuitive and smart editor of the emails
Advanced targeting of potential customers
High sales rates with special coupons and offers
It's just too easy to get distracted and lose focus on getting your store where you want it to be. So that's why you have to project an efficient plan for referral marketing and marketing strategy.
Shopify marketing app #9: ReferralCandy (4.8 ⭐️)
Grow your sales through word-of-mouth marketing.
30-day free trial available.
ReferralCandy is a unique referral program that rewards users for building high-quality and active referral networks. This app generates special rewards for customers if they share info about your store with a friend, the so-called word-of-mouth strategy.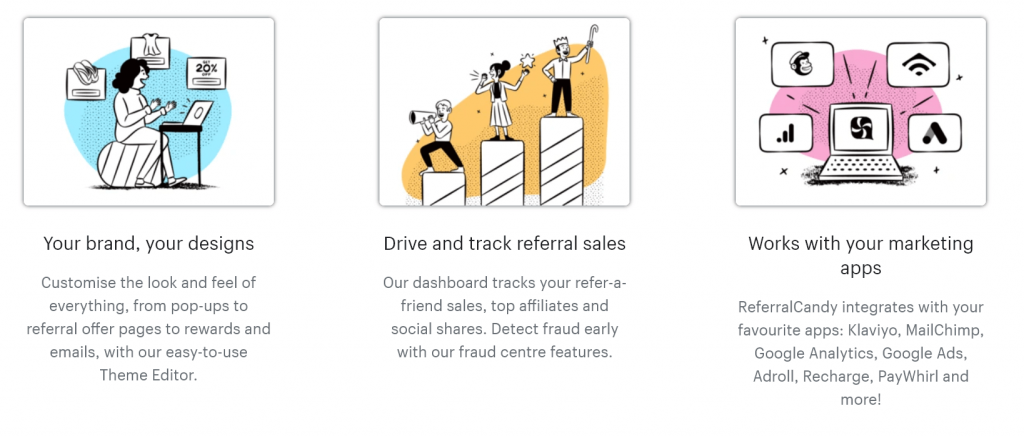 ReferralCandy is an advanced social media advertising platform that will bring your unique products to thousands of people. A double profit — for you and your customers — seems too good to be true. Still, ReferralCandy has made it real! So don't waste your chance.
What you will gain:
Automated referral program
Actionable analytics for your business growth plan
Tracking of your sales to see where you are right now
Seamless integration with your Shopify store
Shopify marketing app #10: Outfy (4.8 ⭐️)
Get Social, Engage Customers, Boost Sales, Grow Faster!
Free plan + 7-day free trial available.
Have you ever heard about a creative tool, social media manager, and business transformer all in one? Well, now you have! Outfy Automate Social Media is all about making social media work for you. It connects to your Facebook, Instagram, and Twitter accounts so you can get all the live updates from your customers and grow your business through social media.


Outfy is a creative tool that helps you to be heard. With Outfy Social Tools, you can set up contests, review your fan base and get relevant messages for the people that matter to your business. It's easy to make your products look good for your customers.
What you will gain:
Easy generation of eye-catchy ads
Actionable promotion of your products
Eye-popping impressions
A bigger audience exposure
BONUS ✨
As a small business owner, you will be interested in accounting software. Synder can save you time and stress, so you can focus on more important aspects of marketing and management. Try a 7-day free trial and register for a Demo, where you can observe how the software works and ask our experts any questions. 
What you will gain:
The best experience
Easy to use features that will do the accounting for you in no time
Accurate tracking of your income and expenses
Zero balance difference between your accounting platform and bank account balance
Start achieving the business growth you deserve with Synder software now!
Continue reading: part 2 || part 3
In the 2-nd part you'll find 10 best apps for management
In the 3-rd part you'll find 10 best apps for selling