All year round, merchants try to find the best opportunities to increase sales. From gift baskets to 2-for-1 deals, many tired and tested selling strategies are implemented. But did you know that there's a name for this strategy? It's called product bundling.
In this article, we'll look closely at this technique. How do product bundles benefit sellers and buyers? What are some good product bundling tips? How can software help you find the best products to bundle together? And most importantly, how product bundling can work for your business.
Contents:
2. How product bundles work for customers
3. Benefits of bundling – customer experience
4. How product bundling benefits merchants
5. How to make product bundles
6. How to find the best product bundling strategy
What is product bundling?
Product bundling is a strategy where items are put together in order to sell them under 1 price tag. The concept itself is very simple but can have many implications and wide usage in strategic business management. Let's look at the 2 main types of product bundles.
Pure bundling
This approach is used when the item in the bundle can't be bought separately. In other words, you can't get a single item from the bundle if you wish to. The products are offered only as a part of the bundle. This restricts the choices of your customers but ensures that if the products are sold, they're sold as bundles only.
Mixed bundling
With a mixed product bundle, a customer can choose either to buy products as a bundle or buy each or some of the items separately. This approach gives customers more flexibility over the assortment of products they wish to buy.
Find out 5 marketing strategies startups should use.
How product bundles work for customers
Successful product bundling benefits both buyers and sellers – that should be a cornerstone of why to dive into this strategy. The two most obvious advantages for customers are time and money.
Price
When thinking about a product bundle from the customer's perspective, the first and most important element is the price. Customers expect that when they buy bundles they'll be saving money. So, financially speaking, getting a bundle is a cost opportunity for a customer.
Time
Another benefit of a product bundle is time saved. If a customer is looking for a gift basket, getting a ready-made bundle saves them time to arrange such a gift. If they buy a product for themselves, buying a bundle decreases the time it would take to find each product and add it to the basket.
Benefits of bundling – customer experience
Product bundles have an effect on consumer behavior because they tap into certain psychological paradigms. Every successful merchant knows that apart from selling items, they also offer customer experience. And with product bundles, there's plenty more that can be offered apart from time and money saved.
Satisfaction
You know the feeling when you spotted products you really wanted to buy, but then saw that they were sold cheaper as a part of a bundle. You were leaving the shop with those items anyways, but now, thanks to a bundle, you feel even better about the purchase because you got the products you wanted at a better deal. A good bundle purchase gives satisfaction to the customer.
Information
There's a clear advantage for customers to buy items in a bundle if assorting the needed products individually would require special knowledge that the customers simply don't have. They might want to make informed decisions based on their own research but oftentimes it's better to rely on the knowledge of the experts who have put a particular bundle together. Buying a desktop is a good example. If customers aren't very familiar with IT hardware and software, it might be a better idea to buy a bundle with all the necessary and compatible items rather than research this field extensively just to make a purchase.
Trust
This element ties closely with the previous one. Creating a product bundle, especially for items that customers don't have extended knowledge of, requires a certain amount of trust. However, trust isn't freely given, but needs to be earned. This usually happens through personal experience with the store and its products. But it can also be accomplished with testimonials or reviews of other customers. That's why brands that have higher levels of trust will have more customers buying such bundles.
Care
Right at the heart of a bundle lies a gift, a literal one, as some of the bundles are in fact gift baskets. That's especially true for beauty and care products, where a customer expects that the products chosen to be in a bundle have been carefully selected to create a full experience.
Care is even multiplied when customers share those bundles with others. Not only do they feel cared for when choosing such a gift basket but they extend that care to those that receive it.
Control
Offering your customers products in a bundle as well as separately provides control over how to best approach the purchase. This flexibility and choice are true only for mixed bundles. Just by providing a choice, we're giving your customers an element of control and power, which is very important from the standpoint of consumer behavior.
Surprise
A special kind of product bundle can give a customer a thrilling element of surprise. This happens when the usual items are paired with products that are either limited or just launched. Then, such bundles seem even more attractive, as apart from the regular products, customers are excited to find out how this new product is going to perform. This is obviously only true for the first experience with a new item, hence it's a great strategy for launching new lines of products.
Find out how to create an actionable business plan for your e-commerce business.
How product bundling benefits merchants
Product bundling is a technique that's both good for sellers and buyers when done correctly. When selling product bundles, you can expect far more than just increased sales. So we'll now turn to the merchants' benefits of product bundles.
The average order value (AOV)
Product bundles make customers ponder whether they should buy a single product or a bundle. And even though not all customers will choose to take advantage of the bundle, some will surely do. That's why product bundling helps you increase the average order value for your store.
Putting it differently, offering good bundles gives your customers a chance they don't want to miss out on, which increases the amount of money they initially wanted to spend in your shop. Without the bundles you offer, your customers would buy less and spend less.
Fulfillment
When it comes to fulfillment options, you can choose to process orders from your inventory by yourself or you can use third-party fulfillment methods. But regardless of your approach, having to pack and send each item individually will always be more expensive than bundling the products together.
Using just one package for a single order saves you money on packaging materials and shipping costs, as instead of sending multiple orders with single products in them, you send a single package.
Storage and inventory management
Storage facilities don't come cheap, so having your stock packed in bundles rather than single boxes is a cost saved. However, there's another crucial element that comes with inventory management and product bundling.
As a merchant, you know that there are just some items in your inventory that don't seem to sell. The options at hand usually are: 1) trying to market them more but that's spending more money on items that are already losing you money in storage facilities, 2) offering heavy discounts on those items, 3) discarding the products altogether, which also generates some costs due to waste management.
Consider product bundling as a great solution to your slow-moving inventory items. Pair up those products with popular items for a good value bundle that your customers want to buy.
Find out 7 inventory management software solutions for small businesses.
How to make product bundles
Deciding how to create product bundles needs a strategy. Having seen how bundling benefits both the buyer and the seller, we need to have both parties in mind when choosing the best approach. We'll now look at how to make product bundles work.
Complementary products
Choosing products that naturally complement each other is always a good strategy. Selling a book with a bookmark, or a laptop with a laptop bag are examples of complementary bundling. You're giving customers an opportunity to buy a useful item that they might need with their main purchase, but buying it together offers an added value – it costs less than buying each product individually.
Assorted products
This type of bundling refers to a selection of products that are put together with a certain theme in mind. They usually take the form of gift baskets. This could be a set of products for a new mom or an assortment of Christmas decorations. If a customer sees a few items they're already interested in buying, having a few other products there additionally could be seen as an opportunity to try something new.
Another example of an assorted product bundle is mix-and-match bundling. With this type, customers can choose, let's say, 5 products out of a total of 10 to create a bundle they like. This gives more control to the customers, as they're the ones selecting the products.
Strategic products
When you have a product in mind that you want to remove from your inventory, or quite the opposite, you're introducing a new product to your store – bundling might be the right solution. Pairing up the items that sell very well together with some slow-moving products gives you an opportunity to clear out your inventory. On the contrary, adding a brand new product that you're possibly manufacturing to the one that sells like hotcakes, lets you introduce that product to your customers without the need to spend a fortune on advertising.
How to find the best product bundling strategy
The best product bundling strategy always is a mixture of great ideas supported by numbers. And what's best for your business, might not work for your competitors. So let's have a look at product bundle strategies for your business.
To bundle or not to bundle?
Here's a resounding yes. Bundling products changes consumer behavior and increases your average order value. Putting it simply, you sell more products by bundling. If we add the opportunity to move some products out of the inventory and decrease fulfillment costs, product bundling can offer a lot.
Reasons for product bundling
We've talked already about some reasons for product bundling, so let's have a look at other reasons that should be considered:
Clearing out storage space;
Selling slow-moving products;
Launching new products;
Saving on fulfillment costs.
Clearing out storage space should get a little more attention as it's a good strategy to decrease your storage fees. Ideally, you'll want your stock to be regularly replenished so that you can optimize the storage space you use.
In many storage facilities, apart from a regular storage fee, you can attract a long-term storage fee that's added to the items that have been stored longer than the specified period of time. You can avoid this inventory issue by scheduling in advance a bundling strategy so that your products don't lie idle in the storage facilities longer than needed.
Let's talk numbers
Bundling products is best made when your reason for bundling and the numbers align. So what to look for in your financial reports?
First and foremost, find out what your best-selling products are. You can look at that from various perspectives, the best-selling item might be the one you sell the largest quantity of. However, your best-seller is also the one that gives you the largest profit. Compare selling hundreds of keychains to a handful of TVs. While it's good to know what your customers find attractive within your store and buy a lot of, knowing where your large profit margins come from can become another part of your marketing strategy.
If you're selling products on one platform only, finding profit margins and quantities shouldn't be too hard, but if, like many merchants, you've expanded your reach and sell on multiple platforms, getting unified data may become tricky. That's why finding the right software that'll provide you with all your financial data with insights is so important, not only for product bundling but for the optimal growth of your business.
Find out what the best products to sell on Shopify, and Amazon FBA are.
Synder: The right software with business insights
Synder Insights brings you key financial data in the form of insights, so you don't need to comb through information, page by page. One of the key metrics for product bundling that the software offers is the average order value report. You can check that metric for each of your sales channels and compare which one performs better and where bundles will be most needed.
If you're thinking of bundling your slow-moving products, how do you find it in your reports? Synder Insights gives you a ready-made metric called the least performing products where you can see exactly which product needs a bundling boost. You can pair it with your best sellers, which are just as easily found in your report under the top-performing products.
Finally, we present the perfect feature for the job – products most purchased together. This is product bundling in its natural form. This is what your customers are mostly buying together. So if you're looking for an idea of how to increase your sales, here's a quick answer to that question, based on actual purchases of your customers. It's solid reporting on what's best to bundle together on your page, according to your own customers.
We pride ourselves on a personal approach to solving the accounting problems of our customers. We can tackle a plethora of unique issues with a powerful toolkit of features. On top of that, we regularly extend our current functionalities to meet the growing needs of our clients. So if you have problems that no other software solution seems to resolve, talk to us, and find out what we can do for you.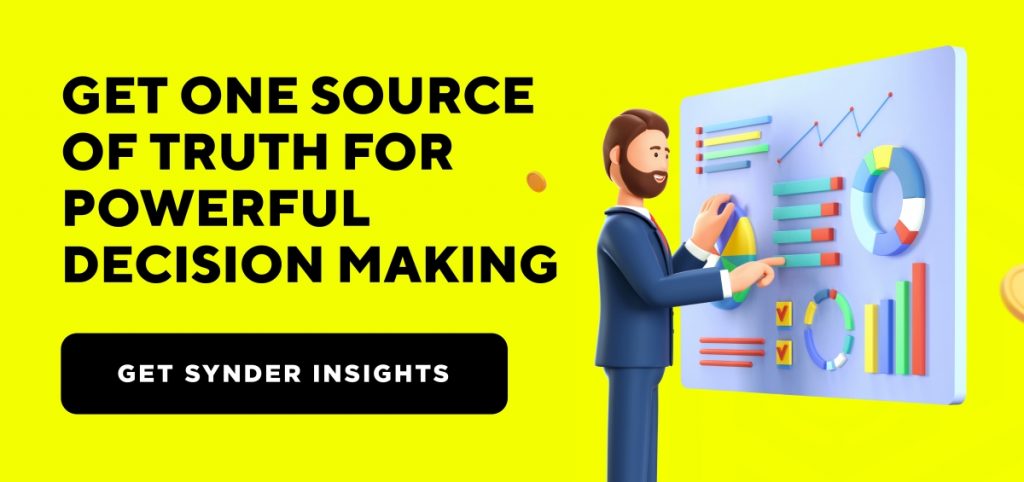 Product bundle: Closing thoughts
Bundling products is a great way to boost your sales and increase your average order value. It's a strategy that can benefit both your customers and your business. We hope that by providing an overview of popular solutions and product bundling strategies, we've shed some light on how to best use this approach in your own store.
Having a clear understanding of how product bundles can help your business is one element and having the right software to supply you with the right numbers is another. Synder Insights is a great tool that gives you reports on your key metrics that help to make the right business decisions, based on your financials.
If you want to find out more about how Synder Insights can help your business, book a demo or sign up for a free trial.