Marketing plays a significant role in increasing visibility and boosting growth. With a startup, it's even harder, yet more crucial to create feasible marketing strategies as you're literally starting from the ground level. By the same token, you're in a unique position to set the right things from the beginning and reap the benefits of successful startup marketing strategies far into the future.
If you're new to startup marketing or are looking to improve your current strategies, this post is for you. We'll explore the best practices for boosting your business with the right marketing strategy and plan.If you're looking for an analytical tool to analyze your marketing practices, check out Synder Insights.
Contents:
1. Startup marketing strategy – where to start?
2. Marketing strategy vs. marketing plan
4. Social media marketing strategy for startups
5. Create a blog on your website
6. Email marketing strategy for startups
7. Collaborate with a startup marketing agency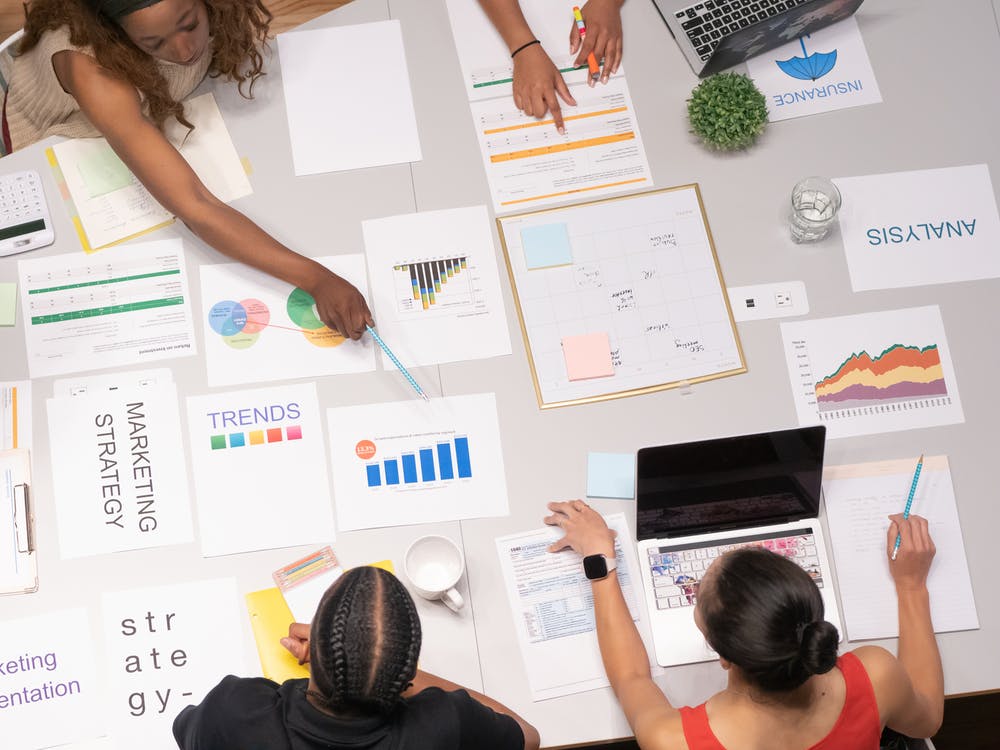 Startup marketing strategy – where to start?
From the marketing angle, startups have one big advantage – they start fresh and can define who they're and what they stand for in the business sense. Even though corporate giants have enormous marketing funds, they can't change the foundation they've been built on and they can only steer their marketing efforts within a certain framework. Startups, however, have the freedom to choose their direction and build on it later.
Find 'why' behind your business
This question is at the heart of your marketing strategy as a whole. Why did you start your business? Why does your business matter to you? Of course, creating a product or service as well as being your own boss are satisfying, but here we're looking for a deeper understanding. The story behind your business will impact your company's values and, in turn, your marketing strategy.
Here at Synder, our founding mission is 'Machine accuracy, human approach.' It helps us guide pretty much all elements of our work, from product development to customer support through marketing. It's a guiding principle that directs all our work efforts.
So dig deeper into the motivation behind your business, and how it relates to your customers. What value do you add to their lives? Ask your teammates about how they see your company, and what it means to them. Once you've gathered all the information, make a guideline about your company's story and share the mission with your team and on your website.
Find the right people for your marketing team
People, especially in startups, are very often multitasking, performing various roles. And while having a skilled team in many areas is certainly an asset, startups are a place where people are willing to roll up their sleeves and tackle new challenges daily. So look for people who are passionate about marketing and who believe in your business mission.
Starting a marketing campaign that no one on your team is interested in is like sailing against the wind. You want their engagement and honesty to shine through so they can take ownership of the tasks and correct the course when needed.
Marketing strategy vs. marketing plan
Marketing strategy and marketing plan are two related concepts but with a clear distinction between them. Strategy is how you do it, while a plan is what you do. So strategy always comes before a plan, and from one strategy you can have many marketing plans.
If we put them in a hierarchy, your mission informs your strategy which trickles down to the plan. Now that we've got the basics covered, let's turn to our main topic – the dos and don'ts of marketing strategies for startups.
Marketing strategies for startups
There are many approaches that startups can use to boost their growth, from the ones that need no financial input, to those that require some investment. There are strategies that are helpful to all business models but also those that are better suited to a specific type of product or service that your company offers. So check out our overview of marketing strategies and try those that suit your business.
SEO marketing strategy
One of the best marketing strategies to use is search engine optimization (SEO). If you can only afford to implement one strategy, pick this one. SEO is the cornerstone of visibility in search engines and lets potential customers find your business on the web.
Appearing on Google's top page isn't, however, an easy task. Everyone wants to be there, hence the stiff competition. Thankfully, with the right tools, it's possible to beat the odds and rank high among your peers in the industry. Below are SEO suggestions that you can try.
Technical SEO:
Make your website easy for visitors to navigate;
Ensure your pages load fast;
Improve the user experience (UX) on your website;
Optimize your website for indexing.
Content SEO:
Create unique and high-quality content;
Use relevant keywords;
Make use of long-tailed keywords;
Strive for link references from other websites (backlinks);
Remember about internal linking for your own pages.
Note that Google doesn't take into account the nature of the startup or business you're running. If you can provide the right content, you can certainly rank high. To get your SEO strategies right, either use the right software to guide you, such as AI-powered content for SEO, employ an SEO specialist or seek the help of a digital marketing agency.
At Synder, we approach all our content with SEO in mind, making sure our customers and users can find exactly what they're looking for. At the end of the day, SEO marketing strategy is a two-way street, you provide the audience with the information they're looking for and they become the users of your website – everyone wins.
Over the years, social media has become one of the most effective digital marketing strategies. Statistics indicate that more than 4.7 billion people are active social media users. That's over half the world's population! So social media for startups is a must.
Social media platforms
There are many platforms to choose from that you can connect to your users or customers. Opening up a business account on those channels is usually free, what's paid are the ads. Before we dive into paid advertising, let's see what social media platforms can do for you for free.
When you first dive into the world of social media platforms, don't get tempted to try to make content for all those channels and keep accounts everywhere. It's very time-consuming and in the early stages, it might be hard to get traction if you spread yourself too thinly.
Criteria for choosing social media channels
To choose the right social media platforms for your business, pick only a few carefully selected channels. To help you decide, consider the following criteria. What kind of content can you easily reuse for other platforms? If you're using YouTube, you can repost a video to Facebook, but if you share a blog entry on Facebook, you can't repost it to YouTube. So think about what's the most economical use of your time and resources in terms of the content you create and how many platforms it can be shared on.
As a side note, there are great free designer software solutions that you can use even if you have no previous experience with digital design. They let you resize posts for various platforms, so if you use a picture for Pinterest, you can quickly resize it, so that it's fit for Instagram, for example.
The second criterion to consider when choosing your social media is your product or service. Which platform will really let it shine? Will picture-based or video-based content better highlight unique selling points (USP) that your business offers?
And lastly, what's your target audience, and on what platforms are they most likely to be found? Once you combine those three criteria, they should point to a selection of social media platforms that best captures your business model.
Creating social media content for startup marketing
Content on social media requires a varying amount of preparation (consider a tweet vs. a video) so think about how to best boost your product. Each platform gives you clear guidelines of what's the best practice for their format of posts. Make sure you read it so that from the moment you first share your content it's optimized for the platform you use.
Before moving to the paid options (should you see the need for it), test the free software or tools you already use. Avoiding unnecessary expenditures is always the right tactic, that's especially true for startups.
Become familiar with search engine optimization (SEO) for your marketing platforms. While creating your content, keep in mind the relevant keywords. Even if it's the name of your account – keywords are really the key.
Try to research long-tailed keywords for high search but low competition and create content around those ideas. It's hard for a new startup to compete in a saturated market, so try to find a niche for your business, in regard to content.
Find out about affiliate marketing basics for beginners and how to join such programs.
Social media marketing plan
Good social media marketing can increase visibility and brand awareness. But above all, it can give you a conversion from your audience to customers, in particular, if you can direct the users from your social media platforms straight to your sales channels.
While increasing awareness and sales are the two key elements, creating relationships is something to be mentioned too when talking about a marketing plan. On the one hand, you give your customers a place to share their feedback and connect to your brand. On the other hand, you can find partnerships or business opportunities on social media groups that you, as a business, can participate in. LinkedIn is a good example here, as well as Facebook groups that are dedicated to your industry.
When making a media marketing plan, focus on the opportunities that social media offers. In your plan aim to:
Create unique content that captures your brand well;
Highlight your product;
Reshare your posts on different social media platforms;
Use keywords in your copywriting;
Follow platform guidelines for the best post format;
Be active in talking to your audience;
Respond promptly to queries, praises, and complaints;
Track progress through platform analytics;
Stay informed about product testimonials.
Find out how social media can help your e-commerce business.
Paid ads on social media
Once you feel like you've established a good footing, consider paid options on the platforms you use. Ads are always an expense, but if you think they can help you spread the word and get more customers, give them a try and find out how they work for you.
Each platform gives you plenty of opportunities to use paid ads. They provide you with targeting options so you can maximize the impact on the audience that will likely be interested in your product or service. Try A/B testing to see which ads perform better for the same audience.
While getting a boost from ads is certainly helpful, it's just that – a boost. You always should focus on growing your organic customer base and creating a solid business foundation.
Create a blog on your website
A blog is a place where you can share not only product-related information but also offer helpful tips and ideas that your prospective customers can greatly benefit from. This gives another reason for people to visit your website, increasing brand awareness and chances that your blog audience will gain interest in what you do as a business.
At Synder, we have a lively blog with content surrounding accounting, e-commerce, and SaaS businesses. The readership of our blog is rapidly growing, even surpassing our goals. There are a few things we always strive for when writing for our blog.
Firstly, we're creating content that answers questions that our readers are searching for. It's relevant, current, and detailed. Secondly, we make sure to optimize each article with keywords to increase the chances of blog entries being found in the search engine. Last but not least, we create content regularly, and a lot of it.
We have different analytical tools that help us check how the audience engages with our articles. We see which topics people find most interesting and then we make more content around those ideas. From our analytics, we see that both quality and quantity matter. So find out how your audience can benefit from your business expertise and turn it into a blog.
Email marketing strategy for startups
With email marketing, you can attract customers to your startup either at no cost or at a relatively low cost. All you need is to get the email addresses of potential and current customers, and you're all set. But that's easier said than done. With a bombardment of marketing materials, people have gotten quite weary of sharing their emails, and for good reasons.
That's why firstly you need to provide value for your customers to share their email with your business. How will they benefit from giving you their email address? Will there be a promotional code, discount, loyalty or referral program, newsletter, or access to special features? That depends entirely on the product or service that you offer – the choices are wide.
Email marketing for retaining customers
It's no surprise that investing in new customers is more expensive than retaining existing ones. That's why email marketing has a special place in fostering a relationship with people who've already interacted with your business.
Here are some good practices when using email marketing:
Strive to remain relevant;
Provide value to your customers;
Send emails at the right time;
Avoid being too promotional in your email content;
Respond to any questions on time;
Consider automating the process.
As a side note, don't send attachments with the email, as with all security matters, people tend to not open them. Also, refrain from overloading your content with hyperlinks. If you want your customers to follow a link, include a clear call to action and a single hyperlink.
Collaborate with a startup marketing agency
Given the challenges associated with starting up a business, using the service of a marketing agency with a proven track of success can be money well spent. It's best to select an agency specializing in your niche so that they can better understand your product and challenges from the get-go.
Such agencies provide in-depth marketing knowledge for startups, supporting the growth process of your business. Most importantly, they'll guide you in utilizing some free startup resources around you and give you a startup marketing plan that you can use in-house. Other benefits of using a startup agency include:
Access to startup experts;
Immediate results;
Support and collaboration;
Reduces chances of failure.
If you're tight on a budget like most startups are, carefully decide what's best for your business. Research some agencies that seem like a good fit. Schedule a meeting and find out what kind of value they can offer and what's the cost-benefit analysis for you.
At Synder, we've employed marketing agencies at different stages of our growth and we were very satisfied with the collaborations. The key is to find the right balance between spending money on those services and gaining a sufficient number of new customers.
Conclusion
There's always a market for superior products and services. So let people know that your company exists and what value it offers. Even though marketing it's usually not an overnight success, a consistent application of startup marketing campaigns will take you far in due time.
How you carry out marketing activities for your startup determines the success of your business. If you get it right, you grow and beat your competitors in the race. With the right startup strategy, you gain focus and speed that lets your business flourish.
At Synder, we've started by creating solutions for accountants, business owners of e-commerce stores, and SaaS businesses. As we grew, so did our products and our marketing strategies. We're constantly learning, but one thing we know for sure is that the more closely aligned with our customers' needs we're, the faster we grow. So being client-centric in a business model makes for a good base for any startup marketing strategy.