In the digital marketing world, there are always risks of making crucial digital marketing mistakes that can lead to a waste of money for your business. Implementing a carefully thought-out strategy to make marketing and accounting work together, e-commerce businesses can think that they're on the right path. However, a bit later, they can find themselves dealing with significant errors and losses. These can be caused by mistakes that could take a lot of time to solve and can have a big impact on the business' goals and its success.
In addition, digital marketing mistakes also prevent you from growing online sales and connecting with your target market. When you don't notice when things are starting to go south, it's good to follow a marketing checklist that points you in the right direction.
Note: Check our article to learn more about starting an online business.
Here is a list of common marketing mistakes small businesses need to avoid. Follow these steps to make your marketing campaigns more effective.
1. Setting unrealistic goals
Read this as goals that just need more time to be implemented.
It's one of the most typical digital marketing mistakes small businesses, especially startups, are prone to.
Have you ever failed to meet your marketing goals? What if this goal was divided into particular steps and more time was given? When your team is creating marketing campaigns, you need to have realistic goals that can be implemented in a timely manner. This could include a specific amount of online sales you want to achieve from your digital marketing efforts or amount of users you want to attract during a certain amount of time. This will help you to be realistic and positive regarding your goals.

How to do it: Remember to make a well-developed plan of goals and objectives you set for your business. Track the changes in Trello or any other tool your team uses. Set the right expectations to make it easier for you to focus on a particular marketing strategy. When your team has a good understanding of your strategy, you have a better chance of being successful.
Some examples of general marketing goals include:
Increasing online sales and revenue by 30% for the third quarter;
Defining five new markets and producing an analysis;
Increasing website traffic by 20% in the next two months;
Growing an email list by 1000 users;
Increasing click-through conversion rates.
2. Weak research of your target audience
How much time have you spent on learning about your target audience and key demographics? When you only make assumptions about who you're promoting your business to, you could lose tons of money, while your customer is awaiting you right around the corner.
How to avoid it: Instead of trying to sell your products and services to everyone on the Internet, focus on a specific group of people. This is your target audience. Learning about your target market is one of the most important strategies for digital marketers to increase the company's sales and raise your brand awareness. Use analytics tools and statistics. Use your Google Analytics account, other tools your company might use, social media, and internal company data.
Talk to anyone in your company who has direct contact with your leads and customers every day. It can be a customer support rep or the sales team. They're the people that understand the needs, wants, and problems of your target audience. If you understand those pain points, you can develop a more targeted marketing campaign for your brand that reaches your target audience.
Make sure you get all the information you need to have a better connection with your target audience while conducting audience research. This will help you in the long run to make better use of the money you spend on your marketing campaigns.
3. Lack of patience with common digital marketing strategies
You should never be in a rush to get immediate online sales. When you don't get quick results, you might feel the need to give up. To be successful, you need to be patient with your digital marketing strategies.
Also, I'd recommend testing a few marketing strategies at a time. On the one hand, we need to be patient, on the other hand we shouldn't be waiting in the wings. By testing several digital marketing strategies, we either can boost online sales if everything works out or at least increase the sales by some percentage.

How to practice patience: This requires you to be consistent with your hard work, and to make informed decisions with your digital marketing strategies. Patience gives you an advantage over your competitors. Track what's been done, and how it's affected your KPIs. With time, you'll see the results. Having patience is a positive attitude that leads you to increasing sales and earning more customers.
To keep an eye on your company's performance, it's always a good idea to resort to automated software solutions like Synder Insights. It gives you detailed information about how well your products or services are doing and provides actionable KPI reports, which will eventually enable you to take your business to the next level.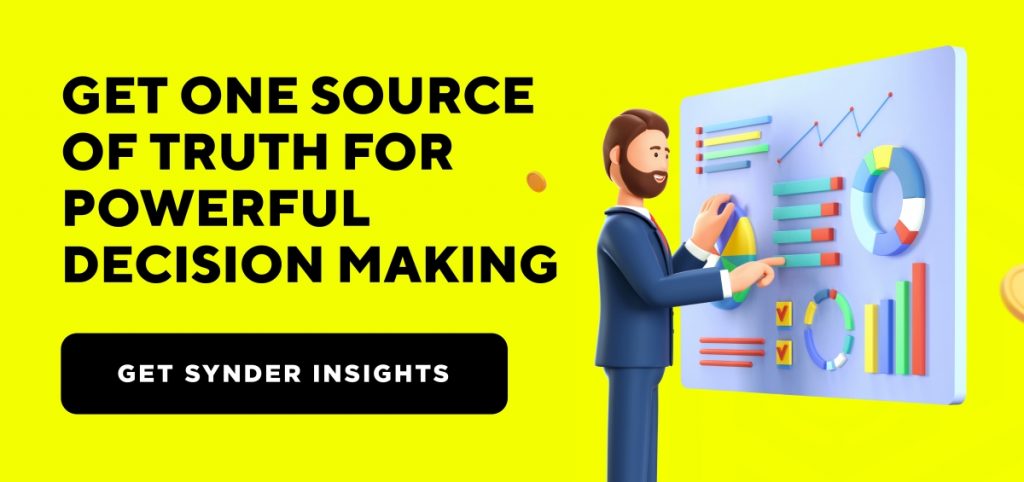 4. Not using safe digital marketing practices
Many business owners want to have a quick digital marketing solution. Blacklist for email marketing, traffic bots, and other cheating techniques… don't use them! A quick solution to increase the website traffic and get the top ranking on Google or reach more customers is just a big waste of money and reflects badly on your reputation. You won't be successful if you engage in any type of black hat techniques. This is a critical and costly digital marketing mistake.
How to avoid it: Don't use cheating techniques that promise to give you instant results or short term benefits. When you practice them, you'll have to deal with penalties from Google, your mailing provider, or just unsatisfied potential customers. You don't want to trick either search engines or people.
Always opt for ethical marketing methods. Undoubtedly, safe digital marketing strategies require more work but deliver better results in the long run. While practicing these marketing techniques, you won't only have better results in the end – you'll also develop a good reputation for your brand and increase customer awareness.
5. Not promoting your website
Search engine optimization (SEO) is one of the most significant sources in attracting new users for many companies. People won't come to your website if they don't know it exists. Without target traffic coming to your website, there will be no leads and sales. Check this 8-point SEO checklist to see if you're promoting your website in the right way.
How to improve your site promotion: Your objective is to promote your website in the most effective way. This increases the visibility of your website and helps you reach new customers. More quality traffic to your website makes it easier for your business to grow.
Google is undoubtedly the most popular search engine among consumers globally. So it can be a powerful instrument in your strategy to drive relevant traffic to your online store (read potential customers). All you need is to appear at the top of the search result page. And it's exactly where SEO can help.
6. Using only paid advertising
Pay-per-click marketing isn't the only way to generate profit. Paid advertising is a great digital marketing method to earn quick sales and traffic. This digital marketing technique is appealing, but it's also expensive. If you don't have the budget to get long-term results, you need to invest in other alternatives.
How to avoid it: Diversify your marketing channels. Cooperate with other bloggers, magazines, journals. It's worth the effort to make use of these marketing techniques.

These techniques are just as effective as paid advertising. You also have peace of mind knowing that you're getting more value for your money.
7. Not using social media posts effectively

Another digital marketing mistake is related to social media marketing. Posting content on social media platforms may not be enough to make your business successful. Often business owners state that the social media strategy may not be working the way they expected. There can be some reasons behind it:
You don't have clear goals for your social media.
You aren't engaging with your community.
You don't think about your ideal customer when creating content.
You don't have consistent content.
You don't analyze and update your content marketing strategy.
How to avoid it: Take a look at your current social media accounts and find out what video content or texts you're missing. Ask your current audience some questions, run surveys about what content is of particular interest to them, check out your competition, and the conversations their relevant followers have. The gathered information will help you create social media posts that solve pain points and add value for your target audience.
Dedicate specific time to interact with the audience in the video format like life stream, or chat and take part in conversations happening out there. Do a search to find Twitter threads and themes where your target audience or influencers can be found.
Create a content schedule and stick to it! Check your analytics regularly and take note of what content is working and what isn't. If it doesn't work, just drop it and focus your efforts on the things that are working. Make sure you have a solid social media marketing strategy to build the authority of your brand.
Closing thoughts:
There are many common digital marketing mistakes to avoid for small businesses. It's easy to make them, and all your effort can go to waste.
Use the guide above to overcome any mistakes your business may have made in its digital marketing. Make sure that you set realistic marketing goals, analyze your digital marketing efforts to see what leads to good results and what needs to be modified. In due time, you'll experience better results in follower engagement, traffic, lead conversions, and sales.
And don't forget that automation of the workflow can also make astonishing changes to your business performance. When you use business software solutions like Synder to help you automate repetitive tasks, you have more time and money to implement best digital marketing practices that foster rapid growth of your business. Check out how Synder can help your e-commerce company via a free demo session.