Now that a lot of businesses are going online and everything can be bought and sold on the Internet, e-commerce has leapt to a completely new level, winning the competition over traditional brick-and-mortar stores. In such competitive conditions, e-commerce analytics is an absolute necessity for e-businesses in order to stay afloat.
E-commerce analytics is vital for a plethora of tasks – from monitoring customer behavior data and refining your conversion strategies to evaluating which products are selling well (and which aren't). Lack of accurate and reliable data results in companies losing customers and revenue as they miss out on important business metrics.
Marketing data analysis gives online store owners valuable insights into the actual business performance and helps them make informed decisions. In this article, we'll break down the four major types of e-commerce analytics, speak about essential business performance metrics for an e-commerce business, how to calculate them, and showcase the ultimate e-commerce analytics tool. Stay tuned!
Contents:
1. Different types of e-commerce analytics
2. Vital e-commerce metrics for analyzing marketing data
3. Synder Business Insights – your ultimate e-commerce analytics tool
Different types of e-commerce analytics
And now we'll look at the primary types of e-commerce analytics and business benefits.
1. E-Commerce audience analytics
Perhaps the most important data in e-commerce analytics is the shopping audience of your online store. This data analytics will help you build a better picture of who your customer is, so you can tailor your promotions and interfaces to improve engagement.
Data available includes things like:
Average customer age
Typical occupation and income
Location
Languages spoken
Another valuable aspect of this analysis is looking at the customer data that shows how your audience uses your services–do they shop on a mobile device or laptop? How many visitors log in from an Android device? When you fine-tune your customer persona based on data analytics, you can hugely improve your targeted marketing and determine the pain points you need to address.
2. Retail customer acquisition data analysis
The next step is to use e-commerce analytics to uncover insights into acquisitions–how do customers find you? Tracking acquisition data is incredibly relevant because it tells you which online channels are worth investing in or which types of product promotions attract the most visitors to your store. This analysis process delivers data that feeds into a successful marketing strategy, such as:
Your return on the cost of paid online ads
Conversion rates for socials, blog posts, and third-party content
Site visitor counts arising from email campaigns
If you have the relevant data about which channels are most profitable, you can allocate your budget to the areas where you can be confident it'll drive traffic your site so that it has the biggest impact on revenue.
3. Analytics of conversion data for an online store
We've mentioned conversions, but this area of data analytics deserves a separate slot because your conversion rates mean everything to your bottom line. It's great to have high visitor numbers on your site, but if only a tiny fraction converts into paid-up customers, something isn't working.
In e-commerce, a conversion assessment will draw on data to tell you:
When, on which pages of your site, and after how many visits does a browser convert into a buyer?
Which channels do your highest-converting customers come from?
Are there particular landing pages that never convert (and therefore need to change)?
You can get as in-depth as you need, getting the data quantifying how consumers behave, why they abandon a shopping cart, and how many return as repeat shoppers. E-commerce businesses also use conversion analysis to look at financials and assess how much revenue they make per conversion–and whether there are opportunities to improve that figure.
4. Online behavior data analytics
Finally, let's talk about consumer behavior data – what does your average customer do when they land on your home page? The data here ensures you understand how a customer perceives each element of your app, website, or store.
For example, you might use your analytics to identify:
The marketing content visitors click on most
Bounce rate benchmarks for your store
Time spent on each website page
Icons that achieve the most engagement
Product pages that receive high visitor numbers but few sales
It can be impossible to assess your e-commerce retail impartially. Shopping behavior analytics show you what your customers really think so that you can respond accordingly.
Vital e-commerce metrics for analyzing marketing data
Data is the key factor in business, whether you're updating your marketing plan or need to know what to include in a business report.
First, we'll look at the most important marketing points e-commerce businesses need to analyze. We'll explore the key performance indicators (KPIs) that businesses should be continually tracking when they sell their goods or services. Want to know more about KPI reporting? Check out our article 'What Is a KPI Report: A Simple Explainer of KPI Reporting'.
Average order value
Average Order Value, or AOV, is one of the most important e-commerce metrics which measures the average total of every order customers place with a business over a definite period of time. It's crucial for online stores to keep track of this metric as it impacts major business decisions such as advertising or pricing strategies.
In order to calculate it, use the following formula:
Revenue ÷ Number of orders = AOV
Customer acquisition cost
As the name suggests, CAC is the total cost of acquiring a customer. This is another important marketing analytics metric for e-commerce businesses which typically includes all data on marketing and other related expenses like advertising costs, salary for marketing people, etc.
The customer acquisition cost formula is as follows:
Money spent on sales and marketing ÷ Number of customers = CAC
Customer conversion rate
In e-commerce analytics, customer conversion rate (CRR) is a customer data metric that equals the percentage of potential customers who take a specific desired action on the website or landing page, for instance make a purchase or sign up for your services.
The conversion rate formula:
Conversions ÷ Total clicks or visits × 100 = CCR
Customer lifetime value
Customer lifetime value (CLV) is a measure which equals the total amount of money a customer spends during their entire relationship with your company.
To calculate customer lifetime value, use the following formula:
Average purchase value of a customer
×
Number of purchases per year
×
Average length of relationship of a customer with your in years
=
LTV
Return on ad spend
Return on ad spend, or ROAS, is an e-commerce metric used to evaluate the efficiency of digital advertising campaigns and see if the marketing strategy the business has chosen really works well.
It's easy to calculate it using the following formula:
Gross Revenue from Ad campaign ÷ Cost of Ad Campaign = ROAS
Read more about ROAS in our article 'Optimizing Return on Ad Spend: How to get 6x ROAS and more sales'.
Sales revenue
As is clear from the name, this index is all about the income an e-commerce company receives from selling its products or providing its services.
The sales revenue formula is:
The number of units sold × The average price per unit = Sales revenue
Now that we've learnt what important KPIs you need to keep track of, you might wonder how to calculate those metrics accurately and fast. Let's look at how to streamline the process of calculating and analyzing this marketing data.
Synder Business Insights: analyze your data with this ultimate e-commerce analytics tool
Big data analytics for e-commerce businesses can be daunting, so why not resort to modern technology? A well-known solution here is Google analytics. But luckily, there are some alternatives. 
Your perfect choice would be Synder Business Insights. This tool was created by YCombinator alumni with 7+ years of experience in solving accounting issues and is aimed at helping marketing agencies, e-commerce and SaaS businesses and accountants make informed business decisions and drive better sales.
With 25+ integrations available, Synder Business Insights lets you capture data from multiple sales channels and payment platforms in use and package it into clear, useful reports accessible on one single dashboard. No more spreadsheets, apps and mistakes made while trying to gather data from all channels in operation!
Real numbers don't lie and Synder transforms them into actionable insights that highlight where a business performs well, and what areas need improvement. Questions like How much time does an average customer spend with my e-commerce business? Do I have more new or returning customers? How much money does an average order bring? How much did I make last month from all channels/a particular channel? What's my bes/least performing item? get answered in seconds!
Just a few clicks and Synder Business Insights will give you actual data on the crucial e-commerce KPIs concerning:
Upon subscription, Synder Business Insights e-commerce analytics tool will become your single source of truth for e-commerce business data and provide you with insights into how to improve your performance. And the best part is, Synder does it all automatically so that you have more time to think about your growth strategy.
Thirsty to get more data about how Synder can work magic for you? Sign up for a free trial or book a demo with one of our specialists to get a guided tour of the tool.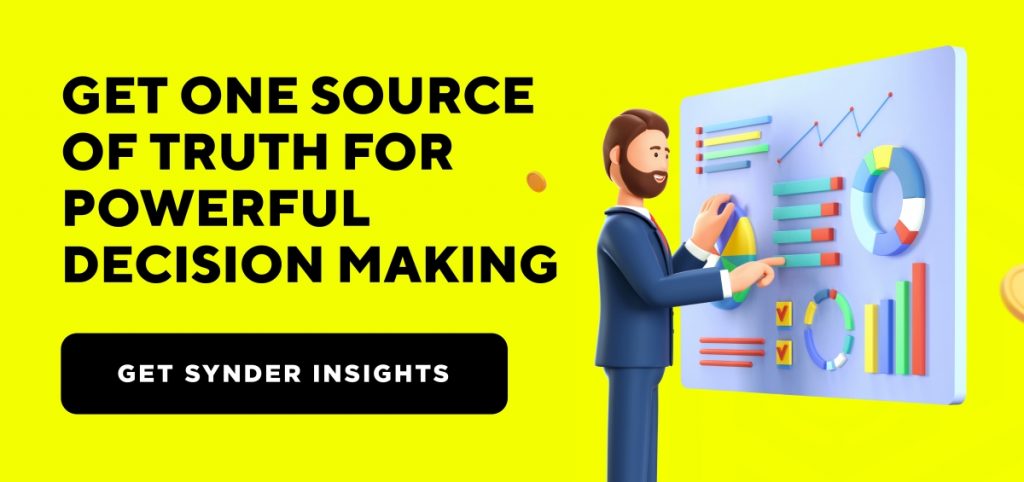 Want to know how Synder compares to other e-commerce analytics tools? Read our article 'E-Commerce Analytics Tools'.
Bottom line
The importance of e-commerce data analysis is hard to overestimate. Analytics isn't purely an administrative exercise – this data science allows you to dive deep into the customer experience and make informed decisions to improve sales, engagement, customer service, profit, and ultimately grow into a big business. Without any data analysis, you're making an educated guess about what will catch a shopper's attention or encourage a customer to return. Learning how your customers react and which promotions achieve success is crucial to a winning marketing strategy.
And keep in mind that nowadays automation of such procedures as the process of extracting and processing data is key to being successful in the e-commerce industry. Synder software will give you valuable insights into the actionable KPIs that must be taken into account when you run an online store or any other type of e-commerce business.