If you're running your accounting business and are looking to attract more clients, you probably noticed that the landscape has changed vastly. The increased client turnover and growing demand for additional services, in particular business advisory ones, call for a different approach to client acquisition and retention.
In this article, we'll review how the working relationship between accounting clients and accountants and bookkeepers has changed and what the new challenges in this new market are. We'll show how to find new clients with a set of tried and tested approaches as well as new ones that are tailored to the growing demand for client accounting and advisory services (CAAS).
Financial services and CAS combined in one accounting software. Find out how Synder can help your accounting practice.
Contents:
1. How do accounting professionals and accounting clients meet?
2. How accountants and bookkeepers can expand their client base
How do accounting professionals and accounting clients meet?
This is a topic that doesn't always get the attention it deserves, namely how the world of accounting clients and accounting professionals intersect.
It might be a surprising idea, but these two groups of people often see accounting services differently and have different expectations. Let's explore it more closely.
Businesses looking for bookkeeping and accounting services
A study by Onpay shows that 41% of small business owners do all the accounting and finance tasks themselves. It presents great potential for prospective clients since those business owners, as their companies keep growing, will need to invest in either an in-house accountant or outsource the services to accounting firms.
The same study showed that 23% of small business owners would likely switch accountants within the coming year. At the same time, a study of Young Entrepreneurs by Xero revealed that 50% of millennials would like to change their accountant. That's a large number of unhappy clients. On the one hand, of course, it puts more accounting clients onto the market, but on the other hand, the key problem remains: why are so many clients dissatisfied with the services provided by accounting professionals?
In the report by Sage, accountants shared that nowadays their clients expect more flexibility (86%) as well as business and financial consultancy (79%). According to the study by Xero, young entrepreneurs look for a person that's "enjoyable to work with" (39%).
As reported by the Onpay study, when small business owners look for an accountant, almost half of them tend to follow recommendations of some professional advisors.
Accounting professionals looking for accounting clients
The main channel of acquiring new customers for accountants and bookkeepers is word-of-mouth and generally, referrals. According to the same report by Sage, 82% of bookkeepers and accountants said that currently clients expect, apart from standard accounting and bookkeeping, financial advising and accounting technologies. This ties nicely with the points mentioned earlier. What's even more encouraging is that 79% of accounting professionals said that they feel confident or very confident in the advisory role. This included HR, payroll, marketing, or cash flow and growth modeling.
While the clients' need for accounting and advisory services (CAAS) seems to align very well with the offer provided by many accountancy firms, there's room for improvement in regard to technology. According to the study by Onpay that we've already mentioned above, when customers were asked to describe their accountants, 'tech savvy' and 'modern' got the 2 lowest scores (around 30%) got. This shows that investing in technology and related training for accountants might be a good strategy for attracting and retaining customers.
Learn more about accounting cybersecurity, common cyber threats for accountants and how to avoid them.
How accountants and bookkeepers can expand their client base
As we've shown, bringing more clients into your firm requires a different approach nowadays, an approach that relies on online resources, tech savviness, and the business and financial advisory role. But that's not all. Let's explore various options for client acquisition and retention.
1. Become an advisor
This is one of the most useful tips you can follow – by becoming an advisor to your clients, you enter a different fee category because you not only deal with day-to-day documents – you become an integral part of the business and its growth. You become a partner to a business owner and a key player in their decision-making.
Services like business planning, advisory budgeting, startup mentoring, virtual CFO services, and more, make a very attractive offer to your potential clients. They'll also be happy to pay for services in which they can see the tangible value. In other words, if you can help them earn thousands of dollars, they'll be happy to pay a thousand or more for that service. 
However, that's not an easy feat. Becoming an expert in so many different fields is mostly impossible. That's why a good mix of training, outsourcing, and technology can help you solve that problem.
Business insights with a click
A good investment is business insights software that offers actionable reports based on your client's financial data. Software like Synder Business Insights provides reports that are updated every hour, ensuring you have the most relevant information.
You don't have to calculate anything, all the reports are ready for you when you open the software. There, you'll find standard metrics such as COGS (cost of goods sold) or AOV (average order value) but also special ones like top-performing products, top-refunded customers, or products most purchased together. These features provide a health check-up of a business and avenues for growth. Moreover, every metric comes with a series of helpful explanations and tips on how to best utilize them in developing business strategies.
With Synder, you get access to real-time multichannel analytics you can trust presented on a single dashboard, easy enablement and start, as well as top-rated customer support. You can unlock new advisory services by translating financial insights to your clients, and secure your professional relationships for years
To find out how Synder Business Insights can help you to diversify your practice and add value to your clients' results, book office hours with our specialists.
2. Use technology to grant you more billing hours
Time is a precious commodity. Investing in technology is not only useful in terms of meeting the client's expectations but also in terms of monetizing your time better. With the help of technology, you can automate manual bookkeeping tasks creating more time for those elements of your job that are strategic.
This can offer you more billing hours to spare, giving you an opportunity to take on more clients than you previously could. We all have the same number of days that we can devote to work, but if we could have some of that work delegated to trustworthy software, which does free a lot of time every month for generating more profits for your own accounting firm.
Find out how to add classes in QuickBooks Online and automatically apply sales to them.
3. Reach out to your existing clients
Since word-of-mouth was one of the most popular sources of prospective clients, speaking to your existing clients and asking for referrals might be a great way to expand the client base of your firm.
Your existing clients are able to give the best testimonials and recommendations when they're delighted with the services you or your firm provides. Many of your clients are happy to be of help when asked and will keep your request in mind when speaking to other small business owners.
4. Tailor your accounting services to niche clients
Niche doesn't mean small. It means that you're being focused and are gaining expertise in one field. This could include choosing your preferred accounting software or working with restaurants, e-commerce, or educational institutions. This approach  allows you to gain a special set of skills, fully understand the accounting cycle of those businesses, and become the go-to firm for that specific category. Journal of Accountancy shares a fascinating story of Chris Farmand, CPA/CITP, the CEO of an accounting practice that serves craft brewing and distilling industry clients.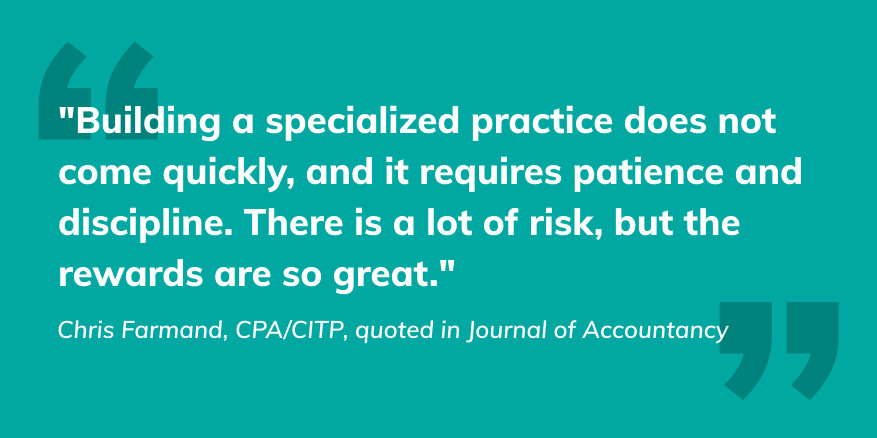 Those accountants that have gone niche have noted that when they become known as the experts of their area, they can charge the value-added fee for a high-quality service they provide.
5. Get featured in online business directories
There are many businesses that keep online directories for accounting professionals in particular. Oftentimes, it's your accounting software provider that can be of great help here. They usually offer special courses where you can receive accreditation from them and afterward be featured in their professional directory.
This makes searching for accounting services easier for prospective clients as well as works great for you since you both are working with the same software, making your job that much smoother.
6. Use social media to make your practice known
Young entrepreneurs are becoming a force to reckon with and social media is their domain of interaction. Be where your clients are. Many of them are using social media for business, so being part of that conversation becomes important in creating those online business connections.
There are plenty of social media platforms out there to choose from. Pick one that speaks to you the most in terms of the format it offers and the way the conversations are made. Whether short tweets or longer videos – find what suits your style best.
As an accounting professional, you're at the forefront of the accounting industry. You have the knowledge that's very valuable to people for whom accounting and bookkeeping are simply rocket science. Bringing it closer to them is a great way to build trust with the audience and leverage it as an outreach tool for attracting new clients.
7. Attend networking events
Moving more from the digital world towards physical, networking events are a great way to get to know people in the accounting industry. Having your colleagues recommending you, as we've seen, stands very high in terms of acquiring new clients.
However, don't limit yourself only to accounting and bookkeeping community events. If like some accounting professionals, you choose to follow the niche market route, attend their industry events too as nothing is better for a business owner than meeting an accountant that knows their industry in and out and can offer solutions they didn't know existed.
Networking events can be a great way to make your firm known and also get known as an individual.
Choose your ideal client
We all know that not all clients provide equally great partnerships. If you need to learn and equip yourself with too many new things in order to onboard a new client, it might consume more time than you can afford. That's why going niche makes sense. Either way, it still is important to have a conversation with potential clients and make sure that you both are the right fit for each other. It'll save you both time and allow you to focus on clients that are going to stay with you long-term.
So think of what your ideal client would be, what services you're able to offer, what parts of your business you enjoy the most, and what type of client work that entails. All these questions will help you narrow down your preference and help you direct your search better. So instead of saying: 'How do I get bookkeeping clients?', you also ask: 'What bookkeeping clients do I want?' – and that completes the picture.
Closing thoughts
There are many ways in which accountants and bookkeepers can expand their client base and grow their accountancy business. Offering advisory services, investing in new technologies, being active in social media, and specializing in niche clients are some of the newest approaches to client acquisition.
Relying on referrals, existing clients' testimonials, signing up for online directories, or attending networking events are some of the more traditional yet still very effective ways that can help your firm find clients.
We hope that putting those strategies into practice will bring you long-term partnerships, and years of sustainable growth.
Want to find out how our software can solve your clients' accounting problems? Book a 1:1 meeting exclusively for accounting professionals.
Find out how Synder solves a wide array of problems for accounting professionals and their clients:
How Synder Simplifies Amazon Sales Tax Collection
How Synder Eases Stripe Export to QuickBooks
How Synder's Daily Summary Helps Streamline Restaurant Bookkeeping