Restaurant bookkeeping can be intimidating even for experienced restaurant owners. There are many important reports to maintain (profit and loss statement, daily sales report, cash flow report, the balance sheet, and others). Many questions arise, such as what is the difference between restaurant bookkeeping and accounting? Which software is suitable for restaurants? What does the restaurant bookkeeping cycle look like?
One thing that makes it particularly tricky is that so many pieces are moving, you often have to hire new people and account for damages which occur from time to time. But it's also incredibly important to maintain a healthy, regular bookkeeping flow.
In this article you will learn about:
Restaurant bookkeeping: why is it different from other types of bookkeeping?
The basics: bookkeeping reports every restaurant needs to maintain.
Bookkeeping cycle: what does it look like?
Bookkeeping automation for restaurants.
Restaurant bookkeeping: why is it different from other types of bookkeeping?
The big thing to cover right away is the accounting method which would be suitable for restaurants. According to Chron.com, small restaurants (under $1M per year in revenue) can choose their own method, and most often it would be the cash method. Larger restaurants must use the accrual method to comply with the IRS.
Accounting method
Cash Method
This accounting method is used to document generated income when cash is received to pay for services or to record expenses and costs that occur. A case for recording opens up every time cash is exchanged. Since in most restaurants, cafes, and bars services are rendered and paid for simultaneously, money is not owed at a later stage, which makes this method so fitting.
One might consider choosing another method because a cash basis while pretty straightforward is not always the most accurate accounting method. The problem is that it does not recognize delayed payments. For example, using the cash method you'd account for the deliveries from your vendors only when you pay for them. But many established restaurants have delivery accounts that allow them to pay their vendors long after the delivery has taken place.
If you follow a similar pattern, the cash method would inaccurately show that you have large sporadic delivery expenses, when in fact they might be smaller and more regular.
Accrual Method
The accrual method is mandatory for restaurants with larger revenue and can be useful for smaller-scale restaurateurs that have delivery accounts, for which they pay after the delivery has taken place. The accrual method accounts for transactions as they occur. What it means is that expenses and revenue are being recorded at the time of the transaction. It does not matter when cash is actually exchanged or payments are made.
Using this method will allow you to see a more accurate picture of how expenses happen and income is generated. It also demonstrates the balance between your revenue and expense spending.
Tips
It's very important to consider the tips (separate from automatic gratuities, which fall under a different IRS category) in the accounting process. Employees are required to report their tips to the restaurant owner, as it is considered employee income. They also have to pay taxes on them. So, while you do not need to report the tips as a part of your restaurant revenue and it can't be subject to withholding, they should be factored in.
The basics: bookkeeping reports every restaurant needs to maintain.
There are several reports that accompany every restaurant business as they go forward trying to maintain a positive cash flow and the overall health of their business. Here are some of the basic essential reports that restaurants use in their bookkeeping process, explaining what they are needed for.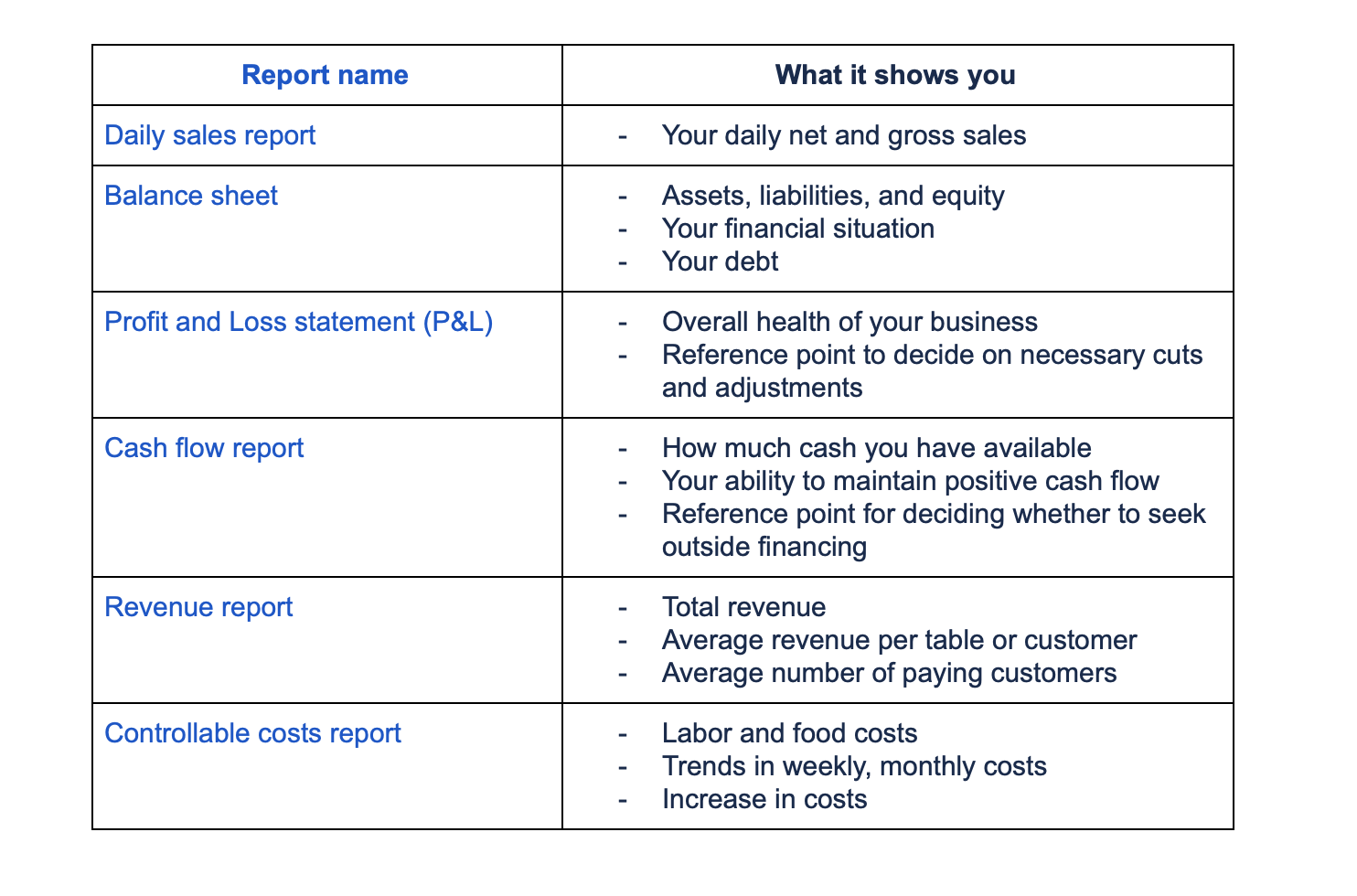 Bookkeeping cycle: what does it look like?
Restaurants often use the four-week accounting period instead of a monthly one, as days of the week tend to affect how the business is doing, which creates a 13-week bookkeeping cycle.
There are several bookkeeping processes that keep your business running smoothly. A typical bookkeeping cycle would consist of:
Reconciling allows you to be aware of any incorrect deposits or discrepancies in data recording.
Paying attention to accounts payable and paying the bills on time is what helps you keep long-lasting working relationships with your vendors.
Payroll tends to be quite complicated and time-consuming, and you might find yourself needing a professional to keep track of different salaries or hourly pay, hours, tips, taxes, and deductions.
Bookkeeping automation for restaurants.
Running a restaurant often requires the business owner to constantly attend to new tasks. This makes automating repetitive processes crucial in order to free up as much expert time as possible for things that truly need your attention.
Many restaurants use an accounting solution to generate necessary reports. Among the most popular ones is QuickBooks Online, where you can effortlessly auto-generate many essential reports.
Pro-tip:
Entering revenue transactions into an accounting system, as well as recording your expenses can be tiresome, that's why it's always better to automate. Even if you use a POS system, the payments might come in from different sources, such as Stripe, PayPal or Square. To ease up the process of recording all transactions, you can enhance your QuickBooks experience with expert cloud-based solutions for small businesses, such as Synder.
Here's a short how-to guide to setup the background automation of data recording:
Connect your QuickBooks to Synder
Connect your Stripe, PayPal, or Square to Synder
Have an overview of your incoming and outgoing online transactions and auto-sync them to QuickBooks in the background
You can also accept online payments in seconds via Synder (a useful option for restaurants would be creating an instant checkout on your website for deliveries and your e-shop without needing any coding skills).
Hungry for more? (pun intended) Check out additional automation options. We hope that by using this guideline you can clarify your bookkeeping strategy and focus on those things that contribute to the growth of your business.