In the ever-evolving landscape of e-commerce, businesses are constantly seeking to optimize their operations and improve customer experiences. Two critical components of successful online commerce are a robust digital storefront and a secure, seamless payment system. This is where Shopify and Square, two leaders in the e-commerce and payment processing arenas respectively, come into play. Shopify empowers businesses to establish a strong online presence, while Square enables easy, secure transactions. When integrated, these platforms combine the best of both worlds, leading to a streamlined, efficient e-commerce solution.
This article explores the process and benefits of Shopify Square integration, highlighting how this unified system can enhance your online business operations and customer interactions.
Brief overview of Shopify
Shopify is a leading e-commerce platform that empowers businesses of all sizes to establish an online presence and sell products. Launched in 2006, Shopify provides an all-in-one commerce solution, enabling businesses to not only set up and customize an online store but also manage products, inventory, payments, and shipping.
What sets Shopify apart is its versatility. Whether you're selling online, on social media, in-store, or out of the trunk of your car, Shopify has you covered. With its user-friendly interface, extensive template library, and seamless third-party integrations, it allows businesses to create tailored e-commerce experiences.
Shopify's comprehensive suite of features makes it an excellent choice for businesses looking to grow their online presence and sales.
Find out best products to sell on Shopify in 2023.
Understanding the role of Square
Square is a renowned financial services and mobile payment company that aims to simplify commerce for small to medium-sized businesses. Launched in 2009 by Twitter co-founder Jack Dorsey, Square started with a simple idea: a small, square-shaped credit card reader that could be plugged into a smartphone, enabling any individual or business to accept card payments anywhere, anytime.
Over the years, Square has evolved into a complete ecosystem of business services beyond just payment processing. These include point-of-sale (POS) systems, online ordering, appointment scheduling, payroll, business analytics, and more. The overall objective of these offerings is to empower businesses with the tools they need to manage their operations seamlessly and focus more on their customers rather than administrative tasks.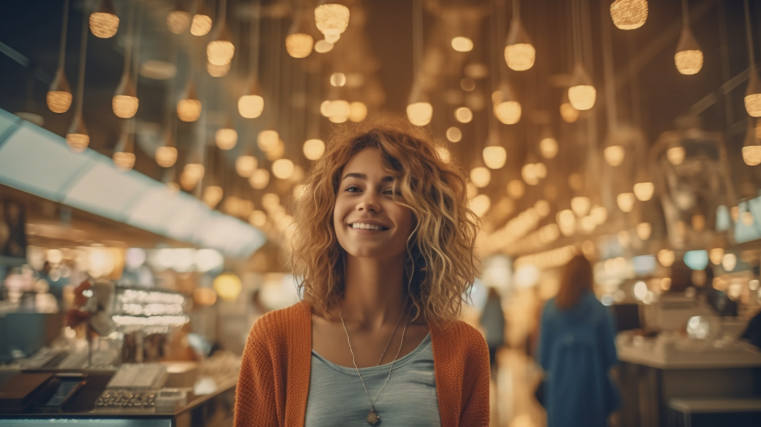 Navigating the features of Square and Shopify
Square and Shopify are powerful platforms independently, each boasting a range of features that cater to various business needs. When integrated, they combine to offer an enhanced e-commerce solution.
Shopify Features
Shopify provides a comprehensive suite of tools to build and manage your online business. Key features include:
Storefront Builder: Shopify's intuitive drag-and-drop builder allows you to design your online store without the need for coding skills. You can customize your store's look and feel with a wide array of themes and layouts.
Multi-channel Selling: Shopify supports selling across various platforms, including web, mobile, social media, online marketplaces, brick-and-mortar locations, and pop-up shops.
Inventory Management: Shopify's built-in inventory management system helps keep track of stock counts and automatically updates inventory levels as sales are made.
Shipping & Fulfillment: Shopify allows you to set flexible shipping rates and supports integration with major shipping carriers. It also integrates with fulfillment services like Shopify Fulfillment Network and third-party logistics providers.
Square Features
Square, primarily a payment processing platform, also provides additional business solutions. Notable features include:
Payment Processing: Square supports a variety of payment methods, including debit and credit cards, digital wallets, and more. Payments can be accepted in person using Square's hardware or online through a website or app.
Point of Sale (POS) System: Square's POS system is a comprehensive solution for brick-and-mortar businesses, offering features like sales tracking, customer directory, and digital receipts.
Invoicing & Estimates: Square enables you to send professional digital invoices and estimates, making it easy to bill customers for goods or services.
Analytics & Reporting: Square provides insightful sales reports and analytics, helping you understand your business performance and make informed decisions.
The importance of Square and Shopify integration
The integration of Square and Shopify brings about numerous benefits, facilitating an optimized, seamless e-commerce experience for both businesses and their customers. Here are some of the primary advantages.
Unified Operations: The Square Shopify integration allows businesses to manage their inventory, sales, and payments for both online and brick-and-mortar stores from a single platform. This streamlines operations and reduces the likelihood of errors, saving time and resources.
Real-Time Inventory Management: When a sale is made, whether online or in-store, inventory levels are automatically updated across all sales channels. This ensures accuracy, prevents overselling, and provides a consistent shopping experience for customers.
Expanded Payment Options: By integrating Square with Shopify, businesses can offer more payment methods to their customers. This enhances the customer experience by providing the convenience and flexibility to choose their preferred payment method.
Consolidated Analytics: Having a unified system means all sales data, both online and in-store, can be viewed and analyzed from one place. This provides businesses with valuable insights, enabling them to make informed decisions and strategically plan for growth.
Enhanced Customer Experience: A seamless integration between e-commerce and payment systems reduces friction in the shopping process. This results in a smoother, more enjoyable shopping experience, which can lead to increased customer satisfaction and loyalty.
Making Payments through Shopify and Square
Integrating Square with Shopify allows businesses to leverage Square's advanced payment processing capabilities alongside Shopify's robust e-commerce features. This harmonized system offers an enhanced checkout experience for customers while facilitating easier payment management for businesses. Here's a snapshot of how this process works both from the customers' and business' perspective.
Making payments: the customer perspective
When customers shop on a Shopify store integrated with Square, they have a range of payment options to choose from, including credit and debit cards, digital wallets, and more. At checkout, they simply select their preferred payment method, input their details, and complete the purchase. The payment is processed securely by Square, providing customers with confidence in their transactions.
Making payment: the business perspective
On the business side, payments made through the Shopify store are managed via the integrated Square system. When a customer makes a purchase, the payment is processed by Square and the transaction details are recorded in both Shopify's and Square's dashboards. The integration ensures real-time updating of sales and inventory data across both systems.
One noteworthy point is that while Shopify has its built-in payment system, Shopify Payments, integrating Square provides an additional secure and reliable payment option. This is particularly beneficial for businesses that operate both online and brick-and-mortar stores, as Square excels in processing in-person payments, enabling businesses to manage all transactions from a single platform.
Want to learn more about Square? Read our articles about the Square Cash app, Square Point Of Sale (POS), or Square Virtual Terminal.
Benefits of Square Shopify integration
The combination of Square and Shopify represents a unique union that amalgamates the best of e-commerce and payment processing platforms, providing businesses with a comprehensive solution to handle their online and physical sales seamlessly.
E-Commerce Excellence with Shopify
Shopify stands out as one of the leading e-commerce platforms, thanks to its user-friendly interface, customizable storefront options, and robust suite of features. It excels at simplifying the creation and management of online stores, with an array of tools that support multi-channel selling, inventory management, shipping, and customer engagement.
Seamless Payments with Square
Square shines in its capacity as a versatile payment processing system. It allows businesses to accept a wide variety of payment methods, both online and in-store. Its point-of-sale (POS) system, invoicing, and reporting capabilities make it an excellent tool for managing in-person transactions and payments.
Synergistic Integration
When Square is integrated with Shopify, the duo provides a seamless selling experience. Shopify handles the front-end e-commerce operations, while Square processes the payments securely. Businesses can manage their online and offline sales, inventory, and payments all in one place, ensuring consistency and efficiency.
Moreover, the synchronization between Shopify's inventory management and Square's POS system means stock levels are automatically updated across all sales channels. This prevents overselling and maintains a consistent shopping experience for customers. The integration also offers enhanced reporting and analytics, as sales data from both platforms can be viewed and analyzed from a single dashboard.
Getting started with Square and Shopify
The integration of Square and Shopify is a straightforward process. Once you have set up your Shopify online store and Square account separately, you can then proceed to link the two platforms. This involves navigating to your Shopify admin panel, finding the 'Payment Providers' section, and selecting Square as an additional payment method. After providing the required details and granting the necessary permissions, your Square account will be connected to your Shopify store.
How to integrate Square with Shopify using Synder
Synder is a popular finance automation software that allows businesses to integrate their e-commerce platforms, such as Shopify, with payment processors like Square. The software synchronizes sales, Shopify and Square inventory, and financial data across the platforms, acting as a bridge. Here's a step-by-step guide on how to integrate Square with Shopify using Synder:
Create Accounts: If you haven't done so already, you'll first need to create your accounts on Shopify, Square, and Synder.
Connect Shopify to Synder: After logging into Synder, go to the 'Settings' tab and click 'Add payment platform'. Select Shopify from the list and you'll be prompted to enter your Shopify URL. Click 'Connect' to link your Shopify store to Synder.
Connect Square to Synder: Repeat the same process to connect Square. In the 'Settings' tab, click 'Add payment platform', choose Square from the list, and follow the prompts to connect your Square account to Synder.
Configure Settings: Once both platforms are connected to Synder, you can adjust the settings based on your preferences. You can set up how your transactions are synchronized and categorized. Remember to save your settings.
Start Synchronization: With everything set up, you can now begin the synchronization process. Go to the 'Dashboard' tab and click 'Update now' to start synchronizing your Shopify and Square data. Synder will pull the data from both platforms and sync them together.
Remember, it's crucial to keep your Synder app updated to ensure it's compatible with the latest versions of Shopify and Square. If you encounter any difficulties, you can reach out to Synder's support team for assistance.
By integrating Square with Shopify using Synder, you can enjoy more streamlined, accurate, and efficient financial management.
Troubleshooting common issues in Shopify and Square integration
While integrating Shopify and Square is usually a smooth process, like any technological undertaking, it may occasionally come with some common issues. Let's discuss these issues and how they can be resolved using Synder:
1. Synchronization Issues: A common problem users encounter is the incorrect synchronization of data between Square and Shopify. This could manifest as inaccurate inventory levels or sales data not being updated correctly.
Solution: With Synder, you can set up automatic synchronization to ensure data is always updated in real time. If you notice discrepancies, you can manually trigger the synchronization in Synder's dashboard to rectify the issue. Remember to double-check your synchronization settings in Synder and make sure the right accounts are linked.
2. Payment Processing Errors: Sometimes, transactions might not go through correctly due to various reasons such as connectivity issues, outdated Square app, or expired customer card details.
Solution: If a payment doesn't process, Synder will notify you about the failed transaction, and you can investigate the cause. Make sure your Square app is updated to the latest version and the internet connection is stable. For customer-related issues, prompt communication to request updated payment information can solve the problem.
3. Incorrect Financial Reporting: Discrepancies in financial reporting could occur due to several reasons, including incorrect setup or issues with transaction synchronization.
Solution: Synder offers advanced financial reporting features that automatically categorize transactions accurately. If notice an incorrect transaction, you can always roll back this transaction, correct the erroneous data, and then resync it.
4. Duplicate Transactions: This issue could occur if a transaction is manually entered into one system and then automatically synced from the other, resulting in duplicates.
Solution: Synder prevents duplicate transactions by matching the synchronized sales with the corresponding transactions in your account.
Remember, for any persistent issues, Synder's support team is always available to assist. Using Synder for your Shopify Square integration not only simplifies the process but also provides a safeguard against common integration issues.
How Synder helps with the multichannel sales model
In today's digital age, the multichannel sales model has become a necessity for businesses looking to provide a seamless and consistent customer experience across various sales channels. Synder plays a crucial role in facilitating the management of this model.
Let's review how Synder can help you manage your sales on multiple platforms, using many different payment gateways or POS systems.
Synchronization Across Platforms
Synder synchronizes sales, inventory, and financial data from different sales channels into one place. Whether you're selling through your website, social media platforms, marketplaces (Shopify, Amazon, eBay, Etsy, and many more), or physical stores, Synder ensures that all your data is accurately synced and up-to-date. This means you can manage your multichannel sales more efficiently.
Accurate Financial Reporting
Synder automatically categorizes transactions across all platforms and creates detailed financial reports. With this, you can gain insights into your sales performance across different channels, understand which channels are most profitable, and make informed decisions for your business.
Real-Time Inventory Management
As part of its synchronization capabilities, Synder updates your inventory levels in real time across all sales channels. This ensures consistent product availability information for customers, no matter where they choose to shop from, enhancing their shopping experience and preventing overselling.
Streamlined Payments
Synder integrates with multiple payment platforms (Stripe, Square, PayPal, Afterpay, and more), making it easy to process not only your Square payments but other types of payments from different sales channels. It reconciles your sales with the payments, keeping your books accurate and making tax time much simpler. Synder also tracks refunds and returns across all your sales channels and updates your financial data accordingly.
Conclusion: Enhancing your e-commerce experience with Square and Shopify
The digital landscape is continuously evolving, and businesses must adapt to maintain competitive advantages. Harnessing the power of leading platforms like Shopify and Square can significantly streamline operations, providing an optimized e-commerce experience. Shopify's extensive suite of tools allows you to create and manage your online store, while Square's secure payment processing capabilities ensure smooth transactions. The integration of these platforms is not only a strategic decision but a key to a seamless, efficient, and customer-friendly e-commerce operation.
When we add Synder into this mix, managing your integrated systems becomes even more simplified. By handling the synchronization of your sales, inventory, and financial data between Shopify and Square, Synder allows you to focus on what matters most – growing your business. It ensures accurate financial reporting, prevents duplicate transactions, and troubleshoots common integration issues.
In essence, the synergistic power of Shopify, Square, and Synder provides businesses with a comprehensive e-commerce solution. Whether you're a small retailer stepping into the online space or an established brand aiming to streamline your operations, this integrated system can elevate your e-commerce experience, driving efficiency, customer satisfaction, and business growth.
Read our Shopify vs Square comparison and the guide How does Square work.