Spend your time with relatives, friends, or just by yourself, while Synder automatically does all the accounting work!
Have you ever thought of yourself as your own boss with a small eBay or Amazon store, or maybe even something more extensive? Or perhaps you already own your own business? In both cases, you need to have a clear goal for what you want to achieve and the path you will follow to get there.
Without these two plans in place, you won't be able to think through the best course of action for your e-commerce business. So let's discuss the issues you may encounter when running a business and how to avoid any unforeseen troubles. And also, learn more about how Synder software helps you with accounting.
Contents:
E-commerce business: First steps
Bottom line: Enjoy the fruit of your labor
E-commerce business: First steps
Let's say you have your own little store on an online platform, and you want to get more people to know you and become interested in your product. You are promoted by advertising or good feedback from customers, who are lucky enough to have ordered a product from you.
It is understandable that, as a result, the demand for the product increases, and with it, the information that you need to keep for the subsequent financial calculation of your income. At first, you try to keep manual documentation to be sure of all the numbers, but they keep growing. Still, there are 24 hours in a day, and you only have two hands and eyes. There may be a situation where you don't even pay your taxes on time because of the hustle and hassle. So what do you do in this situation?
First things first: do not fall into despair, as this can make the situation worse. There is a way out of even the worst situations. In such hard times, Synder software will be your magic wand. Additionally, you can check out this article on best practices for e-commerce businesses.
No time for the bookkeeping
One of the biggest problems for every e-commerce seller is that there is simply no time for all this paperwork. It's relevant and maybe even satisfying to observe all this progress you've made since you started, but it is impossible to sit back and enjoy it, when you have dozens of transactions to check.
The solution is to get acquainted with accounting software and make it your right hand. You may have already heard about accounting platforms or even used one of them to help you with all the financial statement calculations before. If so, it will be easier for you to sign in to Synder – accounting software that will help you categorize all your transactions. This software will store payouts, invoices, and other payments to simplify accounting experience.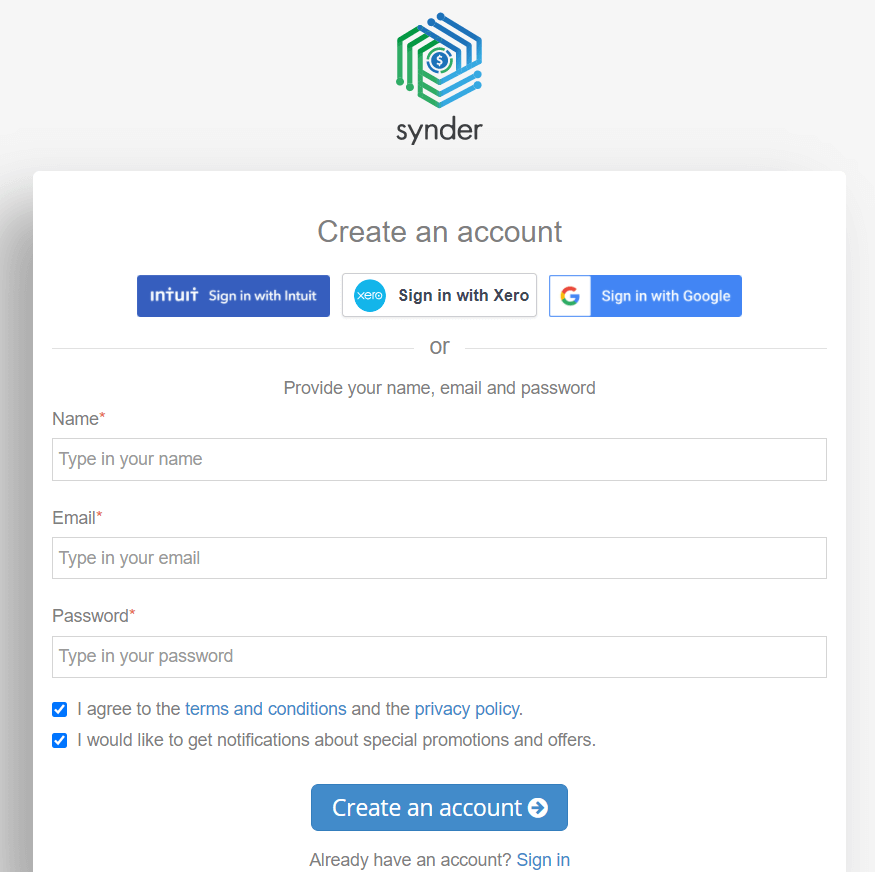 You will be provided with four options:
Sign in with Intuit. Your account will be connected to your QuickBooks Online account's email. For your next sign-in, you always have to choose this option. If you try to enter your login and password from QuickBooks into Synder, you'll get an error. 
Sign in with Xero. The process is pretty similar to the previous one. Your Synder account synchronizes with the email from the Xero account.
Sign in with Google. Synder will use your active Gmail account to sign you in.
Create an individual login and password for your Synder account.
Synder advantages will help you to:
Accurately report transactions into any accounting platform;
Convert the currency. In addition, it adds exchange rates in invoices and sales receipts.
Manage everything in your account as you want with 13 simple steps.
As soon as you create an account, you will have a free trial that includes ten syncs, with no time limits. The count will be shown in your account:


! Tip: Sync in Synder is used to synchronize transactions (payouts, invoice payments, payments, etc.). You need one sync to synchronize one transaction.
Synder will take care of all your transactions, so you don't have to spend sleepless nights trying to find out which one payment you've lost and why the financial statement's numbers don't add up. You also won't be charged until you sign up for the plan, so don't worry about that.
If you are not sure where to start your workflow, here are 3 Must-watch Beginner Guides to Synder. They will answer the three main "How to" questions that may appear in your head:
How to synchronize your online payments;
How to categorize income in your accounting company automatically with Synder;
How to reconcile transactions in your accounting company.
In case any other problem occurs while working with Synder you can check our FAQ page to find out the solution or contact the Synder Support Team at any time.
Bottom line: Enjoy the fruits of your labor
Synder is the right choice for you and your store. You don't need to be a professional accountant or hire someone else to do all the calculations for you. All you need is to be passionate about what you are doing and have high hopes for the future. Synder will be your vital support.
You have the opportunity to watch a Demo, which takes place every Wednesday. The support team representatives will explain, in detail, all the features of this accounting software. If the scheduled time does not suit you, you will be sent a recording of the demo, which you can view, and then ask questions personally to the support team.
This is the perfect opportunity to manage your financial statements and margin in a way that is convenient for you. Assign categories to your items, taxes, customers, and other information to simplify accounting. Synder will do everything with 100% accuracy. Bookkeeping won't be a nightmare anymore, and you'll see how easy it may be – to run your own business with the help of accounting software.
Give it a try, you won't regret it!