As a small business owner, you might prefer to use a Mac over a PC to run your business. For many people, Apple computers look more attractive due to their in-built security features and simplicity of use. However, when managing business finances, Mac users could face difficulties finding accounting software compatible with their operating system. Although the market for accounting software for PCs is still much wider, it doesn't mean accounting solutions for Mac are a rare finding today.
In this article, I want to overview the ten best Mac accounting solutions available on the market that small businesses might want to consider.
Here's what you'll learn about Mac accounting software:
1. Why might small businesses choose Mac?
2. The challenges of choosing user-friendly accounting software for Mac
3. Various types of Mac accounting software
4. Factors to consider when choosing accounting software
5. Top 10 best Mac accounting software for a small business
6. Choosing Mac accounting software: key takeaways
Why might small businesses choose Mac?
It's a common belief that Mac computers are a more frequent choice in the creative niche. It's partially true, thanks to many in-built tools and a wide selection of Mac software making life easier for designers and other creative professions. However, Apple computers may suit various types of small businesses. Just like other PCs, running a business using Mac can have its benefits and some hardships when it comes to business software, including accounting software programs, and we'll look at both.
But let's start with the features that make Apple computers stand out from other PCs.
The simplicity of use. macOS (the Apple operating system) is user-friendly. It makes everyday office work a breeze. Mac doesn't suppose the users should necessarily be tech-savvy to make full use of macOS.
Focus on creativity. It's true that a lot of specific software aimed at designers and other creative people was initially created for macOS, which makes them sometimes fiercely loyal to the brand.
Security. Mac computers feature solid in-built protection measures, making them harder to hack. So if a business deals with sensitive information, like financial data, for example, choosing Mac can be a smart decision.
Maintenance. Being, most often, a more expensive solution compared to devices of the same class from other brands, Macs feature lower maintenance, better reliability, and simpler troubleshooting.
The challenges of choosing user-friendly accounting software for Mac
The biggest difficulty in using Mac computers is probably the limitations in the software you can use. Compared to the software created for other PCs, the choice is narrower, and since you need to stick with the macOS software, it can sometimes be an issue.
Still, it's worth making a small remark: most of these limitations relate to desktop programs. Today, many software vendors either strive to make their software cross-platform or offer cloud-based solutions. The latter eliminates these limitations connected with using this or that operating system. Moreover, it allows businesses to use the computers they (and their employees) are more comfortable with without worrying about compatibility.
We'll still go through the hardships you might face having to stick with desktop solutions, including small business accounting software.
Limited features. The sad truth about PC software adjusted for Mac, it used to provide limited features compared to the PC version. For example, you could have the basic functionality, but some additional features (that could be quite helpful) could have been unavailable.
Excessive functionality. Another side of the same coin. Your Mac-version software might have too many features, some of which you might never need to use. While they might seem great to have, in reality, they create too much clutter, making it difficult to use the software.
Compatibility. Even if you have a totally Mac working environment, it can be different for your external partners, such as accountants or tax advisors. In the worst case scenario, they won't be able to open and use the documents you give them access to because their format isn't supported by the operating system or accounting software they use. In the best case, they'll need much more time to adjust to working with you. Still, such adjustments bear a high risk of inaccuracy due to switching data from one format to another. Add here the fact that the adjustments might stop working after the software gets updated, and you have a pretty sad picture.
Poor business software integration. This one is the sibling of the issue described above. Many business software can be PC-centric. So, if you're using different computers to run your business (like with macOS, Windows, etc.), it can be challenging or impossible to integrate your business software across various operating systems. This way, you'll burden yourself (or your employees) with the tedious tasks of copying data between apps. In the case of bookkeeping, again, it can be extremely error-prone and time-consuming (and you can spend a fortune on a bookkeeper, provided they charge you per hour).
Though, as previously mentioned, plenty of cloud-based solutions are available on the market, including various business software, you still might want to know about these hardships. Switching to new software can be hard for many people. So if your accountant, for example, used to work with desktop accounting software (like QuickBooks Desktop, for example), you might need to find some way to organize your work together.
Various types of Mac accounting software
Before comparing the best accounting software for Mac, let's look at the types of Mac accounting software and what you should pay attention to in choosing the perfect one.
Based on deployment, accounting software for Mac can be desktop, cloud-based, and web-based, and pricing types can comprise free, one-time-charge, and subscription-based solutions.
Types of accounting software for Mac: deployment
Desktop accounting software
Desktop software is usually software licensed for use locally on desktop or laptop computers or related local area network servers. To start working, a user needs to install the software on their computer. Desktop software features great security, as it's run locally, so there's no access to the data from outside the network. However, it can be costly, as you usually pay for such software per license. There also can be compatibility issues (we've touched upon them earlier).
Web-based accounting software
Web-based software usually operates on a server connected to the internet, and users access it from their computers using an internet browser. Examples of web-based software include online stores, social media sites, e-mail services, and various business software, including accounting, CRMs, team collaboration tools, and more.
Cloud-based Mac accounting software
Cloud-based software usually refers to software that is hosted and operates in the cloud server and that you access and use via a web browser, a dedicated desktop client, or an API that integrates with your desktop or mobile operating system. Usually, cloud-based software is provided under a SaaS model, which means you pay to access the software functionality, and in most cases, the pricing is subscription-based.
Types of Mac accounting software: pricing
One-time-charge accounting software
One-time-charge pricing means that you pay once for the use of the software. Depending on the provider, software updates and technical support might be included in this payment, or you'll have to pay for them separately. Basic on-premise (desktop) Mac accounting systems may cost around $200 – $400 for limited user licenses. It can be a one-time expense, giving value for a longer duration. The one-time charge can help avoid frequent payments and outflow of cash.
Free accounting software
Sometimes, vendors can offer the software free of charge. It often comes as one of the pricing plans. The free plan usually provides only basic features. Another way you can use software for free is during the trial period. Depending on the vendor, it can last from a couple of days to a month. Using free accounting software for Mac is more typical for smaller companies that have the most basic accounting needs. But it'll always be a compromise between functionality and sticking with the budget. So as a company grows, it might be more profitable to choose paid accounting software and enjoy wider functionality.
Subscription-based accounting software
Subscription-based pricing is a payment model that allows customers to split the payment for software or services for the period they're going to use it. Usually, a subscription is paid monthly or annually. This flexibility in the level of commitment can be a great advantage. Thus, the monthly subscription allows you to painlessly cancel it after using the software for several months and understanding it's not a good fit for you. An annual subscription, on the other hand, can be a cheaper option in the long run.
Factors to consider when choosing accounting software for small businesses
Though pricing and type of deployment matter, there are more important factors one needs to consider when choosing accounting software for Mac. Just like with any business software, there's no one-fit-for-all solution. There are many considerations and they usually depend on the business and its particular needs. This way, we'll go through the factors that might influence the choice of software for small businesses.
Usability. Ease of use is probably a primary requirement for any solution, not only accounting software. After all, all those great features the software might offer don't matter if you don't understand how to find and use them. Sometimes, it can be hard to set up the solution, the navigation within the software can be poor, or the names of features can be misleading. Even one such flaw can scare users away, leaving aside all of them combined.
For tools, such as business accounting software, it's critical to be user-friendly. After all, people use them to solve pretty complicated tasks. So why add more complications? Ideally, accounting software should be simple, intuitive, and comprehensible (and prepare your morning coffee, but that's optional).
Integrability. Accounting is an integral part of the management of your business. At this point, you might want your accounting software to integrate with the other business software that you use. Depending on the character of your business and what data you want to have in accounting, these may be CRMs, inventory management systems, payment systems, e-commerce platforms, and more.
Apart from the most obvious virtue – automated import of the data from your various business software and other sources into accounting – such integration can help manage your business in a single ecosystem, preventing data loss and inaccuracies and giving you a more comprehensive overview of your business.
Security. As a business, you deal with highly sensitive information, such as your financial data, customer details, etc. It's a common practice for small businesses to outsource their accounting to a third party. At this point, sharing access to your accounting, you need to be sure your sensitive data is protected.
Feature set. How to neither overwhelm yourself nor overpay for accounting software features that you might never use? The answer is to learn what features accounting software offers and put them in the context of your business needs. In general, you might want your accounting software to help you with accurate bookkeeping, accounts reconciliation, financial reporting, and help with taxation. Then, you ask what you might need to fulfill all these. Do you need your accounting software to provide invoicing so that you can automatically send invoices and apply payments to open invoices once they're paid? Do you need your customer data transferred to your accounting? Do you operate abroad and need multicurrency support? Answering such questions may give you more insights into what features you need in your accounting software and what can be unnecessary.
Scalability. Your business will grow, and your needs might evolve with the growth. At this point, you might want your accounting software to have the capacity to adjust. Does the accounting software for Mac that you're looking at have any limitations to the volume of transactions it can record? Does it allow several users to access the same accounting campaign? Providing for scalability in advance might save your business substantial time and money in the future, as you won't need to change your software once your business grows and go through the choice and adaptation to new software once again.

Support. Customer support immensely impacts your experience with accounting software. Nothing is perfect, and flaws can occur, such as downtimes, updates, maintenance, and failed integrations – anything that can happen will happen sooner or later. And in this situation, you better get all the help possible. By the way, customer reviews are one of the best ways to understand if a software vendor cares about customers or if customer support is just on paper. If many people complain about their inquiries remaining unanswered or got answered a year after the issue took place (and it's not even a joke, you might find plenty of such horror stories), it's a bad sign. You definitely don't want to remain without any help during the tax season, for example.
This isn't the exhaustive list of factors you might want to consider when choosing accounting software. However, they're probably the most important, like the basics to start your research with.
As you can see, pricing isn't even on the list. Usually, when you've selected a short list of solutions that answer your basic requirements, pricing can be one of those small details that help make the final decision.
Another great tool that might help you make the right choice is customer ratings and reviews. Though many business owners neglect this sort of information, the way customers rate software and what they share about it can hint at whether your experience will be smooth or bumpy.
Top 10 best Mac accounting software for a small business
Let's look at some great accounting software that can suit Mac users. We tried to pick solutions featuring different pricing and deployment and more than just basic accounting. Moreover, we tried to include software that can integrate with other business tools.
Synder
Synder is an e-commerce accounting and analytics software that allows businesses to integrate all their sales and payment platforms in a single ecosystem with accounting. Synder connects 25+ payment processors and e-commerce platforms to the most popular accounting software, such as QBO and Xero, and its own accounting, Synder Books. Synder users can benefit from accounting automation at its most. Combined with powerful sales analytics and instant business insights, it gives business owners a comprehensive overview of their finances and profitability.
Business types:

Synder can be the best choice for e-commerce businesses, online merchants, and services with high volumes of transactions, SaaS, and other subscription-based businesses.
Synder's most prominent features:

General accounting;
Financial statements;
Accounting automation (daily summaries or per transaction synchronization);
Accounts reconciliation;
Multicurrency;
25+ integrations (Shopify, Amazon, Stripe, PayPal, QBO, Xero, and more);
Invoicing;
Payment links (easily accept online payments from inside emails, social media, etc.);
Inventory management;
Smart workflow automation rules (set up notifications, automatic emails, apply taxes, etc.);
24/7 support (email, phone, live chat), free online demo.
Pricing:

Synder offers a variety of monthly/annual subscription plans. A 7-day free trial is available.
Should you believe Synder might suit your business and want to learn more about how it helps, don't hesitate to request an online demo with the Customer Success team. You might also want to try Synder for free to see how it works and make your decision.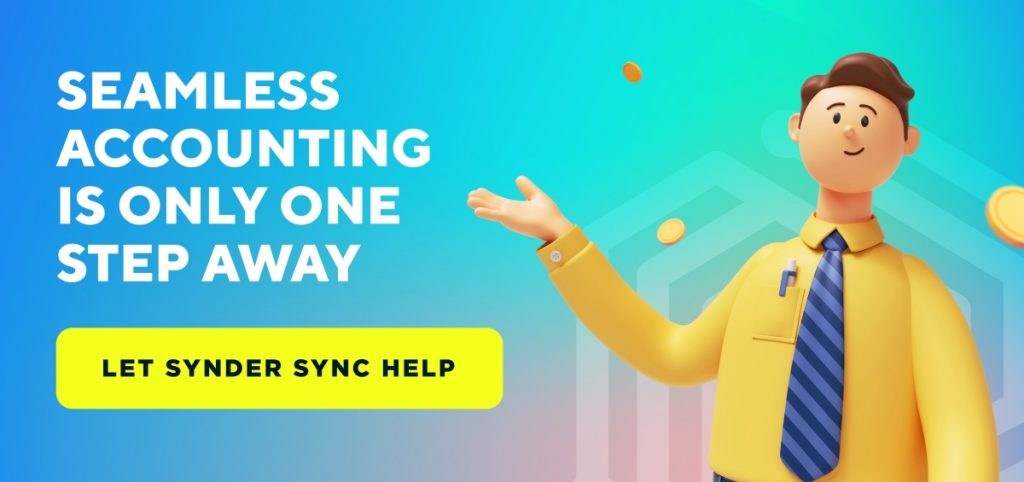 QuickBooks Online
QuickBooks Online is cloud-based accounting helping small businesses manage their finances, including income, expenses, payroll, and more. QuickBooks integrates with multiple payment processors and sales platforms directly or via third-party solutions available on their app marketplace to automate bookkeeping and financial reporting.
A quick note. You might want to know that apart from the online version, QuickBooks also comes as a desktop solution compatible with Mac.

Source: quickbooks.intuit.com
Business types:
QuickBooks accounting can be the great choice for small and medium-sized businesses that need accounting with payroll.
Most prominent features of QuickBooks:
General accounting;
Integration with payment platforms;
Invoicing;
Capturing receipts;
Accepting payments;
Financial reporting;
Payroll management;
Inventory;
Contractor management;
Tax preparation.
Pricing:

QuickBooks offers various subscription plans that businesses might choose from considering their particular needs. A free 30-day trial is available.

Xero
Xero is a cloud-based accounting software tailored for small and medium-sized businesses. It helps automate bookkeeping, invoicing, and payroll management. You can easily connect Xero to your bank and reconcile your accounts. Whichever your accounting method is – cash-based or accrual – Xero works well for both. It also features tired access for multiple users. At this point, a business owner can decide what level of access to give to an accountant or a CPA firm helping with accounting and taxation. Xero accounting can integrate with other business software. It possesses a great app marketplace, so whenever users need to extend their Xero functionality, they have a wide choice of apps that come to help.

Source: xero.com
Business types:

Xero can be a wonderful choice for small and medium-sized businesses.
Most prominent Xero's features:
Cash-based and accrual accounting;
Real-time cash flow;
Automatic import and coding of your bank transactions;
Automated invoicing;
Spend management and billing payments in bulk to creditors;
Instant, up-to-date reporting with quick links to all the original transactions.
Pricing:
Xero offers three subscription plans that might suit businesses at different stages. A free trial is also available.
Zoho Books
Zoho Books is an accounting platform that helps businesses easily do bookkeeping, manage accounting tasks and neatly organize their transactions. The platform features convenient billing and invoicing, accounts reconciliation, financial statements, cash flow control, and more.

Source: zoho.com
Business types:

Zoho Books was primarily designed to simplify accounting for small businesses. Besides, it can suit freelancers and startups.
Most prominent features of Zoho Books:
Customizable invoice templates, online payments, and transaction approval;
Recurring expenses, vendor credits, and landed cost;
Inventory tracking, price lists, and inventory adjustment;
Automated bank feeds, transaction matching, and reconciliation;
Scheduled and customized reports;
Multiple project management, timesheet.
Business types:

Zoho Books is specifically tailored for Mac users. It's designed to work with Apple products and even has an app for the Apple Watch.
Pricing:
Zoho Books comes with a bunch of subscription plans, allowing for a monthly or annual commitment. Users can choose the best fit according to their needs. A free plan is available for businesses with up to $50K annual revenue. A 30-day free trial is available.
FreshBooks
FreshBooks is one of the great cloud accounting apps created primarily for small and medium-sized businesses. Tailored to help companies securely and accurately handle their finances, FreshBooks offers efficient tools for automating the accounting process, expense management, invoicing, business reporting, and time tracking. It's a cross-platform and cross-device app that perfectly fits Mac users.

Source: freshbooks.com
Business types:

FreshBooks can be a good fit for small and medium-sized businesses.
Most prominent FreshBooks features:
Online accounting and bookkeeping;
Expense and receipt tracking;
Estimates and invoicing;
Accepting payments;
Client management;
Payroll management and time tracking.
Pricing:

FreshBooks offers a selection of subscription plans that might suit various businesses depending on their needs. Monthly and annual subscriptions are available. There's also a custom plan that can be agreed between a client and the FreshBooks team.
AccountEdge Pro
AccountEdge Pro is a desktop accounting software suitable for Mac, tailored primarily for small and growing businesses. In addition, it allows remote access for those who might need to perform tasks outside the office by opting in for the AccountEdge Pro Hosted version. AccountEdge Pro offers both self-service and full-service payroll options. It also offers the Shopify Connector and UPS integration for online merchants.

Source: accountedge.com
Business types:

AccountingEdge Pro can be a wise choice for small businesses at the stage of growth. It can perfectly fit Mac users and business owners who prefer desktop solutions.
Most prominent AccountEdge Pro features:
Chart of accounts;
Creating and tracking sales and purchases;
Budgeting, planning, and forecasting;
Customer relationship management;
Job cost;
Order entry;
Project management;
Time and billing.
Pricing:
AccountEdge Pro comes with a one-time fee to get started. Each additional user license is charged separately. A free 30-day trial is available.
Kashoo
Kashoo is a cloud accounting software solution designed for small businesses to simplify bookkeeping for business owners, giving them more control over the books and the possibility to manage them themselves. Thanks to the simplicity of use and intuitive interface, Kashoo offers small business owners a smooth experience in controlling and managing their transactions. It includes a bunch of helpful accounting features: from financial reporting to creating and sending invoices and accepting payments. The software also integrates with some other accounting, payment, and payroll management systems.

Source: kashoo.com
Business types:

Kashoo can suit small business owners who prefer or have to do bookkeeping themselves.
Most prominent Kashoo's features:
Connection to bank accounts;
Income and expense tracking;
Invoicing and accepting payments;
Standard and customized financial reporting;
Clients and suppliers management;
Project management;
Multi-user account management.
Pricing:
Subscription with the possibility to pay monthly or annually: there's only one plan available. Additional fees can be charged for online payment processing, adding more businesses to the account, and payroll management.
FreeAgent
FreeAgent is an online accounting software solution designed to help small business owners, freelancers, and financial specialists, such as bookkeepers and accountants working with small businesses. It automates accounting, helps business owners understand and control their cash flow, and allows for efficiently managing everyday financial routines.

Source: freeagent.com
Business types:
FreeAgent can be a great fit for small businesses, freelancers, accountants, and bookkeepers.
Most prominent features of FreeAgent:
Accounting and bank feeds;
Automated categorization of transactions;
Sales tax reporting;
Multi-currency invoicing;
Estimate templates;
Multi-language and multi-currency estimates;
Project and time-tracking.
Pricing:
FreeAgent is a subscription-based accounting software. They offer a single pricing plan with a 50% discount for the first six months of use for new subscribers. A 30-day free trial is also available.
Wave
Wave Accounting is a free web-based accounting software tailored to cover the needs of small businesses and businesses at the beginning level. It helps business owners manage the most basic accounting processes, such as bookkeeping, invoicing, and financial reporting, in one place through a few internal integrations. The software features several add-ons, allowing it to extend the functionality to comprise payroll and payments. It comes with a user-friendly interface and a comprehensive dashboard giving an overview of business performance at a glance. Only self-service customer support is available, which might be a drawback for a non-tech-savvy person. It means you'll need to browse Wave's knowledge base or communicate with a chatbot to find a solution to your issue, should it occur.

Source: waveapps.com
Business types:

Wave can fit the bill for small businesses, startups, micro-businesses, or sole proprietors that need a simple basic accounting and invoicing.
Most prominent Wave accounting features:
Banking with built-in bookkeeping;
Accounting with income and expense tracking;
Basic accounting reports;
Automated invoicing;
Recurring invoicing;
Accepting payments online;
Payroll management;
Advisor help.
Pricing:
The basic feature set in Wave accounting is free. However, additional features, such as payroll, online payments, and advisor help, come with separate charges each.
Connected Accounting and ERP
Connected Accounting & ERP is accounting software that comes as both desktop, suitable for Mac and PC, and cloud-based. Their Core Accounting solution enables small businesses to manage their financials, accounts receivable, and payable, and offers general accounting reports, such as income and cash flow statements, inventory, sales tax summaries, and 1099 forms. Several integrations with partner services allow businesses to accept and process payments, manage payroll, and customize the program to address the specific needs of a business.

Source: accountek.com
Business types:
Connected Accounting & ERP might suit small businesses that prefer desktop solutions to securely do their accounting.
Most prominent features of Connected Accounting and ERP:
General Ledger, accounts receivable, and accounts payable;
Inventory control;
Support of multi-currency;
Accepting payments;
Managing payroll;
On-demand customization.
Pricing:

The desktop version of Connected Core Accounting comes with a one-time charge for a license. The cloud-based version, Connected on Demand, is offered as a SaaS with a monthly subscription.
Choosing Mac accounting software: key takeaways
Running a small business using Mac doesn't mean you have a limited choice of accounting software options. There's a wide range of cloud-based and web-based small business software for Mac available on the market that is also compatible with other PCs. It enables small businesses to seamlessly integrate all their parts into a single environment, notwithstanding the operating systems.
This way, when choosing Mac accounting software, you might want to focus primarily on your business needs. So, when looking at the provided features, you'll be putting them into the context of your business requirements. You might want to consider the type of your business, the volumes of your business transactions, and what data you need to have in accounting and reflect in financial statements. The kind of relations you have with your accounting specialists may also influence your choice of accounting software. Do you have a full-time in-house accountant? Do you prefer to do your bookkeeping in-house and turn to a CPA for financial consulting and tax filing? Do you outsource your accounting to a CPA firm (it's a common case for small businesses)? Answering these questions might hint at what Mac accounting software will fit the bill for your business.