In the current e-commerce climate, having a return and refund policy has become a necessity rather than a nice-to-have feature. However, such policies don't mean losses for small businesses. Quite the opposite, they can help increase the number of returning customers and bring more profit in the long run.
In this article, we'll explore the reasons behind customer returns and the benefits of a small business return policy. We'll also show you how to craft a good return policy and present real well-written examples.
If you're looking for a solution that'll help you identify your top refunded products and customers across all your sales channels, try Synder Insights and sign up for a free trial or book a demo.
Contents:
3. Do return and refund always go hand in hand?
4. Why does your small business need a return and refund policy?
5. What to remember before drafting your policy?
6. Reasons customers want to return products
7. Returns and refunds from your customers' perspective
8. What to include in your return policy
9. What if I just don't accept returns
10. How to write a great return and refund policy
11. Refunded products and business insights
12. Examples of small business refund policies
What is a return policy?
Let's start from the basics. What exactly do we mean when we talk about a return policy? Return refers to a physical item being returned to your store, warehouse, or a third-party facility. And so a return policy lays out, in a transparent way, the terms and conditions for product returns.
If you're wondering how much of actual online purchases are returned, according to a report by the National Retail Federation, that number stands at 18.1%. This substantial number only stresses the importance of a return policy. On the bright side, the same report mentions that the best shoppers are usually those who return the most.
Refund in e-commerce
Refund deals with the monetary or compensatory element of the transaction. Hence, it's not about the actual product that's being returned but its value. Businesses have few options for how to handle that element of the process.
Full refund
This refers to returning the full amount of payment that was made towards the purchase back to the customer's bank account, credit card, debit card, or other designated payment method. It's the most preferred option for customers and the least one, for store owners.
Store credit
Here, instead of giving the actual money back to the customer, they receive a store credit that can be then redeemed for subsequent purchases. Not surprisingly, this is the most preferred refund method for sellers, as it encourages further buying from the store and doesn't deal with refunds and payments.
Customers are only enthusiastic about store credit if they have high brand loyalty. That's why many store owners offer a slightly higher store credit than the initial purchase value (for example, an extra 10%). This makes for an attractive opportunity for the buyer, as they gain more credits and more 'money's worth' as their initial buy.
It's definitely a practice worth considering, especially for small business owners.
Exchange
Many customers simply didn't get the right size and aren't as interested in the full refund as they're in getting the right item as soon as possible. Therefore, you can create an exchange policy that offers a special route for exchanges, streamlining the process for your customers.
Check out our essential guide to learn about the best payment gateways for your business.
Do return and refund always go hand in hand?
Usually, they do, though there are some exceptions to this rule. In particular, this refers to the shipping costs.
The big financial element of processing a return is a question of shipping costs and who exactly covers that. According to the Power Reviews customer survey, 76% of shoppers said that free returns were important to them when making online purchases, topped only by free shipping which stands at 96%. In other words, whether you send the product initially or process a return, the vast majority of customers expect free shipping.
That's not a small expense for a small business. That's why many owners compare the total cost of the return process and the price of the product. And some choose to forgo the return, meaning leaving the item with the customer while processing the refund as usual.
With this type of policy or this type of caveat, there's sadly a lurking danger of fraud, as some buyers might want to abuse this system and simply receive a product for free.
Find out the benefits of insurance and how it can increase business value.
Why does your small business need a return and refund policy?
We've established that returns are relatively common occurrences, especially in e-commerce, which gives a good reason to implement such a policy. But there's more to a return policy than meets the eye. Let's review the reasons in more detail.
Reputation
If customers are unhappy with the return process, it not only increases the chance of them not returning to a store but also of sharing their negative experience online. And with a growing number of dissatisfied customers, the overall reputation of a business can be negatively affected. This is especially dangerous for small businesses.
Powerful marketing tool
The return and refund process gives your customers a chance to fully experience your customer services. Many savvy businesses have recognized that a strong return policy is a powerful marketing tool. Positive customer reviews, testimonials, and word-of-mouth recommendations will pay off as long-term free marketing.
More sales
Having an easy-to-understand and easy-to-return policy brings in more sales as a well-developed return policy makes potential clients more active and bold when buying your goods.
Also, as previously mentioned in the report by the National Retail Federation, the shoppers who return a lot also buy a lot. And a good return policy encourages them to stay loyal and buy more products without a worry about returns.
Increased CLV (Customer Lifetime Value)
Attracting new customers is considerably more expensive than retaining existing ones. And since a customer already decided to buy a product from you, it'd be such a shame to lose them to an inflexible return and refund policy or what's worse, lack thereof. When your customers know that return and refund will be a simple process, it drastically increases the chances of them returning to your store. And this in turn increases your CLV, bringing you more profit.
Learn about the must-follow marketing techniques to increase sales in 2023.
What to remember before drafting your policy?
In terms of your business, you can decide on the rules that fit your business model and make sense financially. However, you can't infringe the already existing laws, rights, terms, conditions, and policies.
A refund policy is a legally binding document, which means that usually during the purchasing process, customers will be accepting it, either as a wider part of the Terms and Conditions or as a separate Return and Refunds policy. Since it's a legal document, a lawyer should approve the final version of your policy.
Below we show examples of various laws that apply to returning goods. The descriptions are not exhaustive and offer only a snapshot of some laws. For a full understanding of local laws that apply to your store, please consult a lawyer.
Return policy by country or region
In Canada, merchants aren't obliged to accept returns of purchased items unless they're damaged or otherwise faulty. A similar law applies to purchases made in Australia.
In the EU and the UK, the law states that if you haven't physically seen an item when buying it, you have a right to a cooling-off period of 14 days from receiving it (though you can cancel it even before you receive it). That applies to online shopping but also purchases made by phone, mail order, or from the door-to-door salesperson.
There are some exceptions to this rule. For example, you won't be able to return perishable goods like certain fresh food products or cut flowers. Also, if upon receiving the purchased product you've broken a protective seal, that also voids the return option.
If you bought services rather than products such as concert tickets, plane tickets, catering services, or hotel bookings, the cooling-off period doesn't apply. The same policy applies to online digital content that you've already downloaded as by doing so, you lose the right to return since you've already started utilizing it.
The US law, at the federal level, doesn't mandate a return policy for sellers, however, some state laws can give buyers more rights, but none makes returns mandatory. The major addition for some states is a conspicuous display of sellers' refund and return policies.
What is a credit memo in QuickBooks?
Reasons customers want to return products
First of all, no one really likes returns and refunds. Both sellers and buyers usually don't enjoy the process. The consumers made an effort to search for and purchase a product. The hustle of returning it and possibly buying a product that meets their expectations is an added work they wish they wouldn't have to do.
So let's now turn to the various reasons that customers make product returns.
Wrong fit
Buying goods online by definition makes it hard to find the perfect fit. That applies usually to clothes, shoes, or other similar types of products. According to the Power Reviews customer survey, this was the number one reason for all online returns, with 70% of customers saying that they've returned the product because it didn't fit.
Faulty goods
A product that doesn't function as intended is considered faulty. This includes faults at the manufacturing level or damaged post-manufacturing, for example during storage, packing, or shipping.
This was the number two reason in the above survey, with 65% of customers claiming that they made returns based on the fact that the items were damaged or otherwise defective.
Different than expected
Online shopping can only provide a digital experience of your products, whether in the form of photos, videos, or product descriptions. If reality doesn't match those experiences, your customers might feel disappointed, misinformed, or even tricked. Providing all the necessary information will help potential buyers make informed choices.
Bracketing
Bracketing in online shopping refers to buying multiple items of the same kind in different colors or sizes in order to choose the one that suits the buyer best. This model of online shopping was created only thanks to generous product return and refund policies. Bracketing increases the chances that at least 1 item will be bought.
Impulsive buy
That's something quite unavoidable in the world of e-commerce, thus, not uncommon. We've all made purchases that we regretted the very next day. Giving your customers a helping hand so that they can amend that decision with a possibility of a return and refund can be just what they need.
Returns and refunds from your customers' perspective
Making the return and refund process as easy and smooth as possible can turn an unfortunate situation into a relationship-building experience.
If your customers were to draft a return and refund policy for themselves, here is what they'd probably write:
Free shipping;
Full refund;
Fast service;
Long return policy.
While meeting such conditions may be possible for market giants, for small businesses it's much harder to achieve. But that's not a dealbreaker at all. At the end of this article, we'll show you that there are small businesses that don't offer these things from the wishlist, but still, they provide a fair and reasonable return policy for their customers.
What to include in your return policy
Regardless of what type of conditions you'll choose to include in your policy, there are certain topics you need to cover to make it comprehensive.
How long the customer has to return the product
You need to determine how long you'll let the customer keep the product before you no longer accept a return. This can depend on the type of products you sell. The standard allowance seen in many refund policies is 30 days, though there are companies that offer returns even up to a whole year.
How to return a product
This is probably the most basic element that customers need to be very clear about. What steps do they need to take in order to return an item? It's helpful to show a roadmap that takes your customer through all the steps needed to make a return and refund. If you offer different options for returns like in-store returns or pick-up points, make sure that everything is clear and understandable.
How long it takes for the return and refund process to be completed
Specify the time that the usual return and refund process takes. Some business owners prefer to omit this point so as not to disappoint a customer, but this usually leads to the opposite result. A specific timeframe is reassuring and prevents related calls, e.g., When will I get my refund?
What condition the returned items need to be in
While you obviously want them in a condition that allows you to resell them later, it's best to specify what it means: with tags, in the original packaging, like new, etc. Make sure your customers know exactly what you expect.
What products can or can't be returned
It's understandable that not all items can be returned. Maybe it's your final sale and you wish to have no return policy for those items. Also, certain items shouldn't be resold due to health and safety reasons, like perishable foods, some personal care products, or hygienic products. Make sure you specify which items are non-returnable.
What type of refund will be provided
There can be various ways of making a refund or compensation that we've mentioned at the beginning of this article. Some businesses choose to refund the price of the product once it's returned. Another option is to provide refunds in the form of store credit. A stricter return policy may offer to replace the original unit but will make no refund available in terms of cash or credit.
Learn about 7 tips to create content for e-commerce websites.
What if I just don't accept returns
Some retailers choose to go with a no-refund policy, and that might be just the right idea for the niche of non-returnable products. Otherwise, in the current market, a return policy in e-commerce is a must.
Even if you decide not to accept returns, you'll most likely still have to deal with situations when goods are faulty or damaged as well as with cases when a customer feels misled by a product image or description. And the more dissatisfied with the process customers will feel, the more negatively your profits and reputation will be impacted.
In other words, there's no running away from return and refund, even if you set the rules for no-returns.
How to write a great return and refund policy
Now that we've shown what elements should be included in your policy, let's look at how to actually write it. You can craft a good refund policy yourself using the pointers below, However, if you wish to get a ready-made document, a policy generator or policy template can also be of help.
Use simple language
Legal documents are usually full of specific jargon which makes them understandable only to a narrow group of people. However, everything that concerns your customers regarding returns and refunds should be explained in simple terms so that every buyer can fully understand all terms and conditions of your policy.
Use client-friendly language
It's best to avoid phrases like "you must", "you are required", or "we are not responsible for." To build customer relationships, it's best to use the language that isn't antagonizing and off-putting but friendly and accommodating. Compare the following sentences: "Without a sales receipt, no refunds will be accepted" vs. "To make refunds easy and simple, all you need is a sales receipt for an item you'd like to return." They both cover the same idea that a sales receipt is necessary for a refund to be made, but they do it in two very different ways.
Include visuals in your policy
Try including the following in the returns and refund section of your site: the process roadmap, icons, helpful images, videos, or any other visual elements that'll help users understand your return and refund process better.
Be transparent in your policy
Trying to hide information under covert names isn't ever a good idea. Your customers will most likely feel tricked by those practices and won't be willing to return to your store.
Put the Frequently Asked Questions section
Many users of your site will appreciate the FAQ section that deals with specific issues that they might have. Even if all those details are clearly spelled out in your policy, having FAQ is beneficial. Finding just the right answer to the question they have saves them time, gives confidence in solutions, and improves user experience.
Refunded products and business insights
While refunds are a part of e-commerce, it's good to minimize them if they're due to some inherent issue with the product or product description. When you sell multiple products on many different marketplaces, finding the items that trigger more refunds than expected can be difficult.
Your top refunded products
Analytical software like Synder Insights can help you overcome this issue with a helpful reporting feature called Top refunded products. There, you'll see all the refunded items aggregated across all your sales channels, so that you can have a holistic view of your entire business. If you're interested in individual platforms and their performance regarding the most refunded products, that's easily done too.
What's great about Synder Insights is that you don't have to calculate anything or go through various steps to discover those insights. Every single report is right there when you open the software, as it works in the background, bringing new data and updating the reports on a regular basis.
The top refunded products report is only one of many reporting features that the software has. You can also discover your top-performing products, least-performing products, returning customer rate, gross sales, top-performing customers, and much more.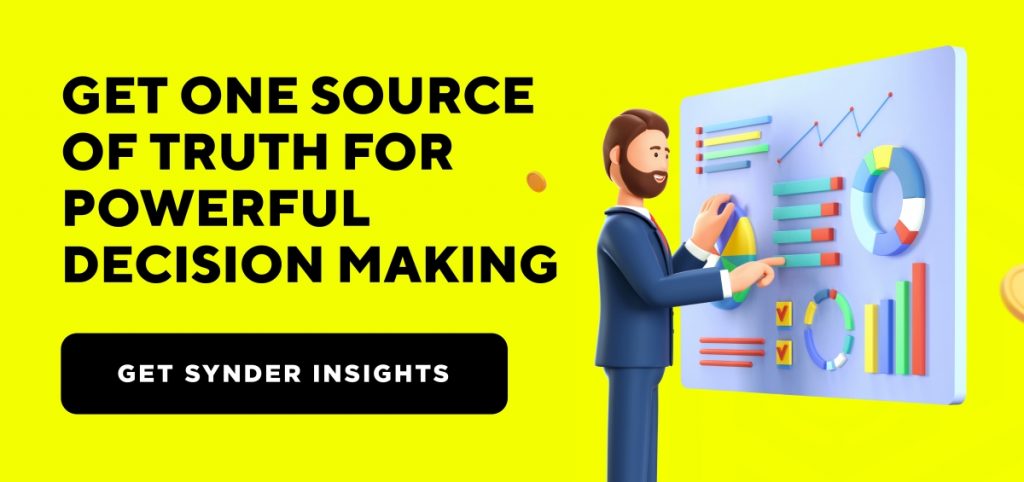 Decreasing avoidable refunds
Having identified your top refunded products, you can then take action and inspect why those particular products are being refunded. Maybe it's due to manufacturing or shipping. It's also possible that the product description or visuals have some inaccurate or confusing information that leads to a higher-than-expected refund rate.
Now that you know what products need special attention, you can nip the issue in the bud. But without analytical software, it'd be very hard to spot these patterns and discrepancies in such a large pool of data.
Examples of small business refund policies
Last but not least, we'll review some real examples of small business return policies that manage to strike a balance between being client-oriented and business-friendly.
Luckyleo Dancewear's return policy
Luckyleo Dancewear is a brand that offers uniquely designed dance clothes like leotards and skirts.
Their return policy includes the following information:
30 days return from the date it was delivered;
The state of the clothes eligible for refund: unworn, with original tags;
The timeframe for a refund: 14 days;
Detailed steps of the return and refund process;
Who pays for return shipping costs: customers are responsible for paying return shipping costs.
The interesting thing about the policy is that certain elements seem to be very specific to their own business and experience. For example, it states that no makeup stain can be present on the returned clothes. This must have been an issue several times, so putting this condition in the policy surely helped clarify that.
Olli Ella's return policy
Olli Ella is a company that makes sustainable products for children, such as clothes, toys, furniture, and more.
Their return policy includes the following information:
A full refund or 110% store notes (store credit);
The state the returned items should be in: unworn, unsoiled, unused, in the original packaging, and with the original tags;
Which items are non-returnable: underwear;
The roadmap of the return and refund process;
Who pays for return shipping costs: the brand.
The company provides a very easy-to-follow and customer-friendly approach to returns. The use of store credit at the value of 110% of the original order looks like an enticing option for a buyer.
Return policy: closing thoughts
The customer expectations and market demands make the return policy a necessity rather than an option. But as we've shown, there's much to be gained for a small business from a well-thought-out, customer-centric return policy.
We hope that with our helpful guide, you'll be able to craft a return policy that works well both for your business and for your customers.