When your small business is always on the go, trying to keep track of all your business expenses can be a challenge. Luckily, it doesn't have to be that way. By creating an expense report, you can track all your business spending in one place so you don't have to worry about forgetting anything.
If you're trying to grow your business and stay on top of things, you need to know where your money is going. Thankfully, creating an expense report isn't a hard process. Even if your business is small, you can generate a simple expense report to keep track of your business expenses. Use this guide to create an expense report for your small business and stay on top!
Contents:
2. What does an expense report look like?
3. How to create an expense report
4. What is an expense report used for?

What is an expense report?
Operating a business requires managing a lot of different tasks and expenses. From advertisements and purchasing additional supplies to covering business taxes, every expense has to be accounted for.
An expense report is a record of expenses incurred by a business. It's a financial document that lists all the expenses of a small business and their corresponding cost, time, and origin details.
You can use an expense report to find out what the business's biggest expenditure was and how much it cost you during the accounting period. It's also useful for checking the accuracy of the expenses recorded by the business. It serves to keep track of the company's financial activities and to monitor the company's spending patterns.
What does an expense report look like?
Small business expense reports need to be accurate and reliable. An expense report should be detailed and reflect all of the company's spending. This will help you to keep track of where your money is going, as well as verify that you're not spending money frivolously.
What should an expense report include
As an e-commerce business owner, you should be aware of the following costs that you need to include in your expense report:
Products. The items and additional cost for the manufacturing that you spend on the actual goods you sell.
Storage. The amount of money you spend on the warehouses where you keep the final products.
Platform fees. No matter which platform you are selling on (Shopify, Etsy, WooCommerce, etc.), they likely have fees.
Additional apps. If you're using some additional apps for better performance (whether it's accounting software or an app that helps you with advertising), you need to include them into your reports since they're expenses as well.
Shipping cost. The cost you pay for shipping to your customers.
Refunds. No e-commerce business is safe from products arriving damaged at times or customer's displeasure with the product. You need to be prepared for these expenses in case the customer wants to return the product.
Bank/processing fees. Whether you're using Stripe, Square, PayPal, or any other payment gateway, they will have additional fees for the processing of your transactions.
Taxes. Be ready to deal with taxes as well. You don't want to make a mistake with these.
Insurance. It's not one of the essentials, but still, if you want to protect your products from theft and any other disasters, you need to consider this.
How to create an expense report
When it comes to managing your business or accounting for your finances, one thing's for certain: you'll need to know how to create an expense report. Whether you're a small-time hobbyist looking to keep tabs on your spending, or a self-employed business that needs to monitor your business expenses, you'll have to control your finances.
How to make an expense report:
Manually
With the help of expense report software
Let's look at both solutions.
Hard mode: Manually with the help of expense report template
It's best to go to the bank directly. Once you log in, you'll be presented with the categories for your manual expense report. You can even sort them out so that the expenses you want to keep track of are at the top. After you choose your categories, the rest is easy. You just need to either copy or attach the information from the bank, and then update the spreadsheet.
However, creating an expense report manually can be stressful and troublesome since you need to be sure that you or your accountant/bookkeeper put all the numbers into the table correctly. A small mistake and you'll have to recheck everything in your expense report from the very beginning and redo the final calculations.
Pro mode: Use expense report software solution
A well-written expense report can help you effectively manage your business finances and stay on top of all your business spending. At the same time, lots of businesses provide little attention and neglect planning in the process of creating expense reports. Consequently, it becomes a source of stress and drains their resources. If you want to simplify the expense report generation, keep track of your finances, and monitor your business spending, you should consider using a special expense report software solution that will help you deal with all the necessary tasks.
While you may use a specific tool for creating expense reports, implementing actual accounting software is much better. It'll solve lots of problems and you can be sure that everything is done correctly. A huge benefit is that everything is done automatically.
This is an example of the expense report in Synder: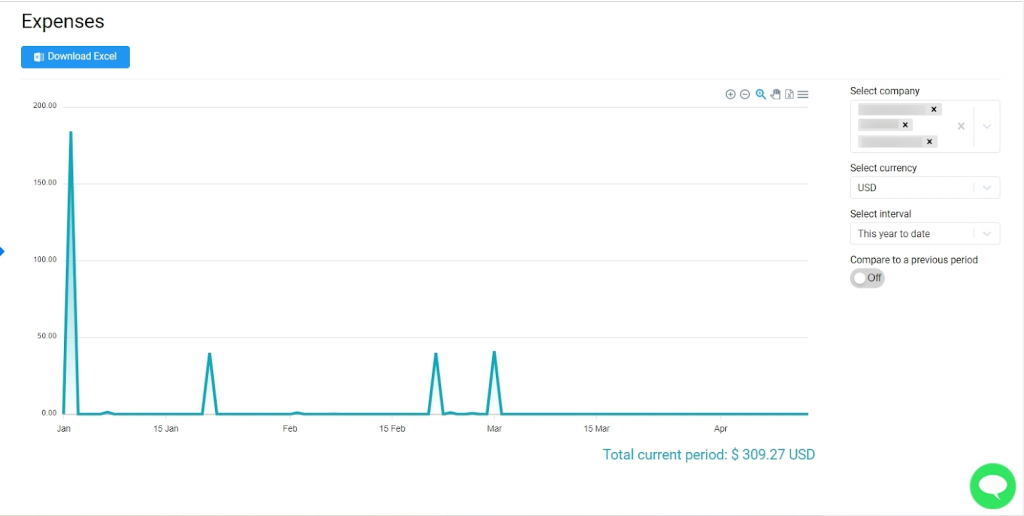 You can get an overview of your business performance in your home currency and even compare the results with the previous period. You can also download the expense report in the form of an excel file:


Basically, this is what your expense report would look like if you did it manually. The only difference is that Synder Accounting calculates everything automatically within a few seconds.
Learn more about how Synder can simplify your e-commerce business and check the features or schedule a Demo session with Synder's specialists.
What is an expense report used for?
Business owners must keep records of every penny spent on their company's expenses. That's what almost all accounting books are about. However, there are a lot of other uses for an expense report. It can help you prioritize and make informed decisions about where to spend your time and money. It's also a way to keep track of your day-to-day spending to avoid overspending.
Let's look at some benefits of using an expense report regularly in detail.
Be fully prepared for a tax audit
Having trouble sleeping because of tax reports? Even the smallest of businesses are concerned about the possibility of being audited by the tax authorities.
The fear of being audited can lead to hesitation, indecisiveness and even stress among small business owners. This makes them wonder if they're doing everything they can to maintain their tax compliance.
You might wonder how you can be prepared for a tax audit, and what you can do to ensure that your business is in the right. A proper small business expense report is an answer.
Learn some more tips on how you can avoid tax audit and be sure that your business is performing well in our blog post IRS Audit Red Flags: How to avoid tax audit.
Understand your budget and business performance better
Maintaining a budget and financial records is something every business needs to do. A lot of business owners get cautious and only spend as much money as they can afford. While you should always keep your business finances in check, you should also be able to see that your business is performing well.
An expense report helps you know how much you can spend. By understanding your business finances, you can make informed decisions and take the right actions to improve your performance. There are many ways in which you can track your business performance. However, a small business expense report is one of the easiest ways to understand how much money you spend on a daily basis.
Plan future strategies
With the right expense report you can plan the strategy for future business planning and performance. Since you'll see details of how much the separate parts of your business cost, you can create a proper strategy that'll be both affordable and profitable. 
Read our artcle and learn about Bad Debt Expense.
Bottom line
Companies spend a large amount of money on accounting and auditing. If done correctly, the small business expense report is essential to any company's success.
With implementing a software solution for your e-commerce business expense report and accounting, you can create a system that will help you with producing new strategies and forecasting for the future. You'll be one step ahead with the vision of your business performance.
Synder Accounting software provides you with a great opportunity to not only create a thorough small business expense report, but also keep track of your accounting as well. Are you ready to give it a try?