Selling online has recently become a new normal. So if you've ever thought about having a cozy little shop offering handmade items or vintage clothing (or even some used stuff you don't need anymore but someone might find interesting), starting an online store might look like a better option than a boutique at the first floor of a stunning residential complex downtown. And eBay might as well be your choice of an e-commerce platform. It's extremely popular among online buyers, easy to handle, and offers comparably attractive conditions for sellers, making it a wonderful option if you want to sell remotely.
However, opening and managing a store on eBay efficiently might require some learning curve. At this point, we created a guide on how to set up an eBay store, putting together some steps and tips you might want to know.
Hop on reading to learn how to set up an eBay store in 4 steps:
1. Why would you want to open an eBay store?
2. Step 1. Registration and creation of an eBay business account
3. Step 2. Choosing a payment method
4. Step 3. Creating a policy for your eBay business
5. Step 4. Choosing your eBay store subscription level
6. Benefits of opening an eBay store
Why would you want to open an eBay store?
Let's start from the very beginning by explaining what eBay is and why it's so popular today. eBay is an international e-commerce company established back in 1995 that serves as an online sales platform. eBay ranked as the second most visited online marketplace in 2021 based on the number of monthly visits, and is the second most popular e-commerce and shopping website worldwide in 2022 based on the share of visits.
Moreover, if we take a look at the annual net revenue of eBay from 2013 to 2021, it becomes evident that numbers are stable from year to year and, more importantly, they continue to grow:

Summing up all of the above, it should be noted that eBay is a worthy competitor in the online arena and provides its users with convenient conditions of use. We'll give the most accessible and comprehensible guide on how to create an eBay shop, and the answers to various questions ranging from "How" and "What" to the most prominent one – "Is it worth it?".
Let's start our journey step by step.
Step 1. Registration and creation of an eBay business account


Before you set up a store, it's essential to make sure that you're familiar with the policy of eBay concerning ways to create the store of your dreams. This will help you be more flexible, and ready for anything that may come your way. eBay's Rules and Policies include information concerning prohibited items, listing policies, eBay Money Back Guarantee policy, payment policies, etc.
If you already have an eBay account, use it. Because of the accumulated feedback, you'll be more trustworthy not only to potential buyers but also to eBay. You can use it to your advantage.
Is there a difference between a personal and seller account?
When registering on eBay, you'll be offered two options: creating either a personal or business account. The difference between these two isn't that significant. The personal account is for more casual selling and buying the items, while the business account is a good option if:
You're a business;
You're a nonprofit;
You regularly sell a large number of goods.
Note: You'll be able to change the type of your account from 'personal' to 'business' in settings after the registration, so don't worry if you can't decide right now which account is right for you.
After answering the questions such as your email address (in case you want to create a personal account) or business name, type, and address (if you're creating a seller account), you'll have access to your Selling overview (My eBay → Selling) and be able to make your first sell. Welcome!
What is eBay Seller hub?
After your first sale, you'll gain access to your eBay Seller hub, a more updated version of the Selling overview.
The Seller hub is a centralized place for sellers on the platform to access all the information and tools they need to grow their business. It's also where you can manage your seller account, view performance metrics, and monitor your listings.
If you're an active seller account user, accessing the Seller hub will be essential for managing and monitoring your accounts. Once you activate your account as a seller, you'll get a verification email from eBay with instructions on how to access the Seller hub. These instructions are only sent once, so if you don't see them in your inbox or spam folder, look for them in other mail folders.
Step 2. Choosing a payment method


You need to set up a specific payment method to pay the required fees on eBay. You can choose a debit or credit card or a linked payout bank account. You'll receive monthly invoices that will include details of your seller fees, including those for listings, sales, subscriptions, refunds made to buyers, and shipping label charges.
Typical eBay fees you might face as a seller
You might be charged several types of eBay seller fees, some of which are obligatory while the others can be optional and only apply if you choose this or that additional service from eBay. Here's a quick look at the typical fees eBay might want sellers to pay.
These are fees charged to list an item for sale on eBay. The amount of the fee depends on the starting price of the item and any optional listing features the seller chooses to add, such as a reserve price or a Buy It Now option.
These are fees charged as a percentage of the total amount of the sale (including shipping and handling fees). The percentage charged depends on the category of the item being sold, and there may be a maximum fee cap.
Sellers may choose to add optional upgrades to their listings, such as bold or highlighted text, gallery photos, or subtitles. These upgrades come with additional fees.
If a seller chooses to accept payment through PayPal, they may be charged a fee by PayPal for each transaction.
eBay may charge additional fees for certain services, such as listing designer services or promoting listings.
A usual recommendation and a wise approach can be to go through eBay's fee structure before launching a store to understand all the costs associated with selling online on the platform and know exactly how much it will charge you. After all, you'll need to account for eBay fees and might want to do it properly (especially knowing that some of them can be deductible expenses, which can impact your tax returns).
How to optimize handling fees and the eBay accounting process in general
But instead of preparing yourself to spend sleepless nights with a pile of papers, you can do the manual work with the help of accounting software! These three smart steps might simplify your life:
Create a Synder Sync account. The software provides its users with the opportunities to manage their businesses by implementing a set of useful features such as Smart Rules, Reporting, Multiсurrency, Importing historical data, and more. It'll act as a bridge between the channels you use for sales and payment processing.
Connect your eBay account and payment gateway to Synder. Synder Sync will store all the necessary transaction information from all the channels in one source of truth. After integrating your sales channel and payment gateway, you can manage the way they'll be recorded into your accounting software.
Connect your accounting software to Synder. This will be the final destination of where the transactions will be recorded. All you need is to integrate your preferred accounting system with Synder.
You can book office hours with our specialists and register for a 15-day free trial that'll show you Synder's workflow and give a better understanding of all the functions.
👉 Check our integrations – eBay + QuickBooks, eBay + Xero, eBay + Synder Books – to see which option suits your business best.

Step 3. Creating a policy for your eBay business


These are the three most prominent policies you should pay attention to: payment, return, and shipping. The creation of each policy is mostly the same. You need to give it a name (visible to you only) and a description (optional). All of them depend on the supplier you're working with. For example, shipping and return prices may vary from e-commerce to e-commerce.
Let's look at each of them.
Payment policy
Payment policy is the same for everyone. This policy outlines the information on how to pay, and what the person shall do if something goes wrong. The best option here is to select "Require immediate payment when buyer uses Buy It Now".
The main point of this option is to avoid situations when a buyer adds your brand item to cart but doesn't purchase it, it'll act as an open transaction. It can be very annoying as the transaction will be shown in your book.
Requiring immediate payment will save your time and prevent tons of headaches.
Return policy
Return policy is an excellent opportunity to save time and set up rules concerning accepting returns or giving instant refunds. It's up to you whether you accept the suggested feature or not, but it can be of great use.
You have 8 business days to decide whether you want to provide an opportunity for domestic/international returns or not. It's generally accepted that If you accept returns, you're more trustworthy to potential customers. You can also set up a time limit for the return (14, 30, or 60 days).
As for a shipping cost return:
The buyer pays for shipping if there's no valid reason why the product needs to be sent back;
The seller pays for return shipping if the store offers a free returns policy or if the item is damaged, faulty, or doesn't match the listing description
Shipping policy
Shipping policy ensures you're able to ship items within the time stated in your listing, using the shipping service your buyer chooses at checkout.
The eBay Global Shipping Program is a great option. Your products will be available to more than 60 million people around the world, and, more importantly, you'll be safeguarded from any reviews that may be detrimental to your eBay store. You'll also be able to choose what to send through the program.
Let's explore the shipping policy further.
eBay GSP (Global Shipping Program)

One of the most significant challenges for any seller is to keep on top of taxes (sales and income) and your eBay Managed Payments sales and fees. It's especially tough to keep track of every shipping payment and remember which form you need to fill in and how much the fees are.
The Global Shipping Program has benefits both for sellers and buyers. It's an excellent option for sellers to gain more customers without struggling with customs and import paperwork. For buyers, it's a chance to search for more products with transparent shipping fees and processes.
eBay GSP will also help you reduce unwanted headaches, as it takes care of everything after you send your item to a global shipping center. You don't need to worry about custom forms, import fees, or end-to-end international tracking anymore. eBay GSP will do it for you. Besides, this service will help increase your sales by up to 50%.
The only thing you're responsible for in this case is the returns. You need to uphold the rules of your buyer's country when it comes to offering returns. That's why you need to know and understand the requirements of the recipient country.
👉 Check our guide on eBay Global Shipping to have a better understanding of how this program works, and what challenges it brings, as well as get some tips and more!
Step 4. Choosing your eBay store subscription level


You've done a great job and prepared your account for the final transition to eBay. Many people get confused about the difference between opening an eBay account and opening an eBay store. You have to create an account first and only then can you start your eBay store.
Your eBay store has to have an eBay subscription with a monthly paid subscription fee, where you can show all the items you've got listed. The subscription will allow you to sell more than 50 items per month.
On the subscription page, you'll be offered a list of five different eBay subscription plans: Starter, Basic, Premium, Anchor, or Enterprise.


So how to choose the perfect one for you? Let's look at the benefits of each eBay subscription:
Starter Store: for sellers with a small number of products and who want an eBay storefront to brand and promote their business.
Final value fee: 2.0 – 12.20%
Basic Store: for sellers who want to unlock more zero insertion fee listings, final value fee discounts, and a coupon for eBay-branded shipping supplies each quarter.
Final value fee: 1.5 – 12.20%
Premium Store: for sellers who have an extensive product assortment – this subscription gives substantially more zero insertion fee listings.
Final value fee: 1.5 – 12.20%
Anchor or Enterprise Store: for high-volume sellers who have an extensive product catalog or are running a business that would benefit from dedicated customer support.
Final value fee: 1.5 – 12.20%
You can verify the fees on the eBay website, or check the table below: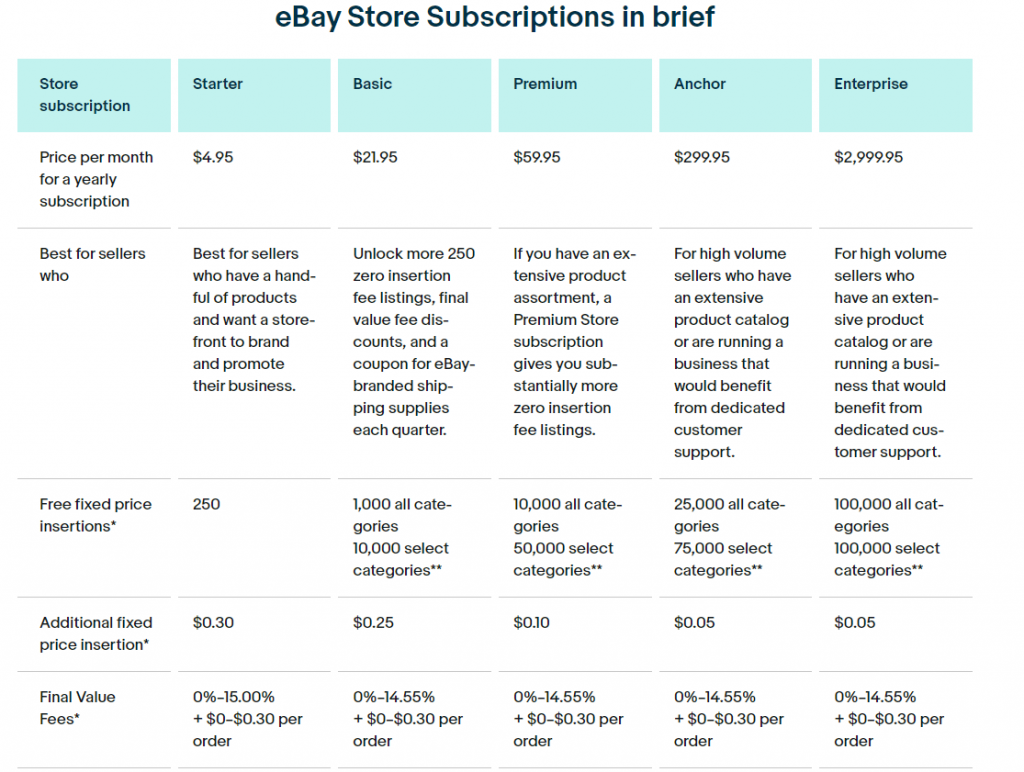 Check more details about the fees and listings in a full table here.
Is it difficult to change your eBay subscription plan?
Not at all.
You just need to go to the Subscription page from your eBay Account. From the Subscriptions page, click "Change level" to upgrade or downgrade the eBay subscription and that's all.
Note: Your live listings will remain live on the site after changing your subscription level.
Benefits of opening an eBay store
eBay is considered the most accessible platform for online sales, where anyone can start their own eBay store and sell whatever they wish. Thus, there are many pros for your business, but let's look at the top-5.
1. eBay Small Business Central
eBay provides a complete course on how to grow your business with Seller School. Watch virtual lessons and videos that will help you increase your margin. You can choose one of three options of how to take a course: general access, advanced course, or timeline.
2. Categorization
You'll be able to create as many categories for your items as you want. It can later on help with inventory management (either through the inventory or accounting software). If you don't want to lose these categories, we recommend you try an integration with Synder. You can create additional categories in Quickbooks, so your subsequent money transactions will be automatically added to these categories.
3. Fair fee price.
eBay's seller fees are highly competitive in comparison to other e-commerce platforms.
4. Access to a worldwide marketplace
Millions of people use the eBay online platform every day to find the items they need. Invoices are sent every second inside this vast online marketplace. If Google is the search engine for information, eBay is definitely considered the platform for finding interesting products. The fun thing is that you can find anything you want there.
5. Easy to start
This article is a confirmation of this statement. All you need is imagination, a draft of how you want your eBay store to look, as well as a basic plan for future development.
How to make an eBay store work: bottom line
When creating your eBay shop name, brand, images and strategy for further development, make sure they're unique or offer a new perspective and promote a fresh idea. Your store should stand out from the crowd and catch potential customers' eye with its name or design as well as be easy to use. Before starting your online store, conduct a thorough analysis of what net revenue you want to ultimately achieve and which items are the most popular. You should have a plan in hand, which you'll follow in subsequent development.
Start your own small business by opening your eBay store! Make your ideas work and sell like hotcakes!