Why is integration with payment platforms so important?
The world of e-commerce is growing at a fast pace. While digital payments are also on an uptrend, the fragmented nature of payment methods remains a problem. In addition to this, sometimes the complexity of integrating with different payment platforms makes it even more difficult for an e-commerce firm to accept digital payments. But still, integrating a payment platform with an accounting software is an essential part in organizing an e-commerce business.
Don't know which payment gateway will suit all your needs? Check our article "How to find the best payment gateway for your business" to learn some tips.
How does it work?
Integration with a payment platform isn't as hard as it may seem. But it will work much more efficiently if you go through all three steps of integration – connect your e-commerce platform, payment platforms and accounting software.
While onboarding to Synder Sync, you'll be provided with some options when selecting your preferred platforms. From these options you can choose either sales channels or payment platforms, or both categories, and connect them to one of four accounting solutions: Synder Books, QuickBooks (Online or Desktop), or Xero.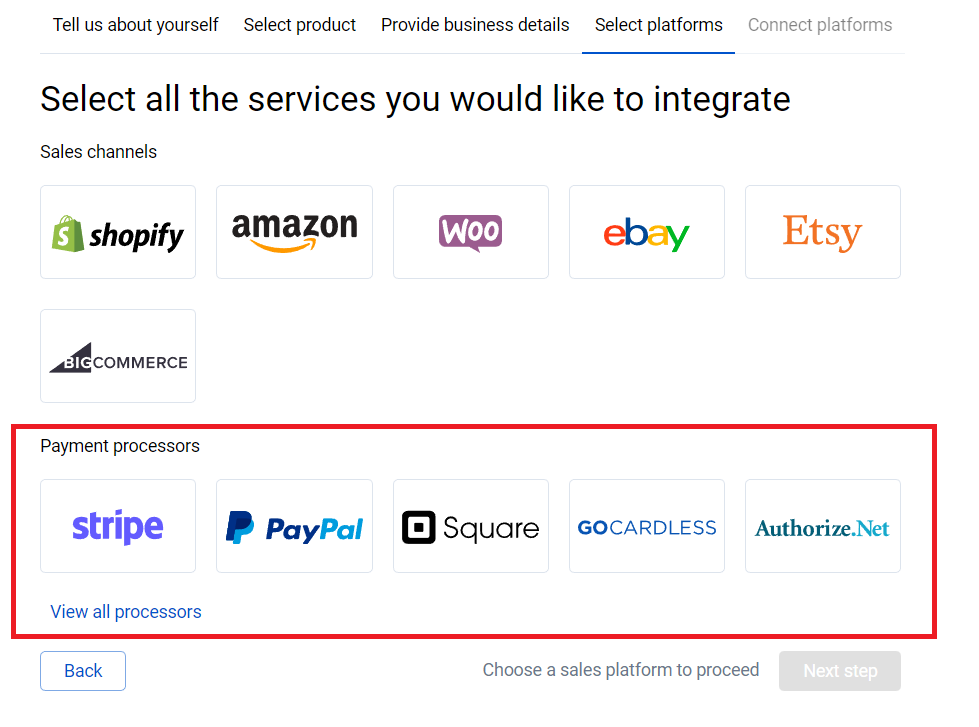 Such an integration is important for tracking business performance since Synder Sync gently takes the information from the connected sources and transfers it to the final destination – the accounting software – without any loss.
Depending on the policies of some payment platforms, you can record details such as sales amounts, taxes, processing fees, items, customers, classes, shipping and discounts to the connected accounting software automatically.
Why Synder?
You don't have to worry about the state of the business's books when you're using the right tool.
Synder Sync creates a strong bridge between point A – payment platform – and point B – accounting software. The best part is that you're a designer of this bridge, and we're the architects. You can optimize the workflow as you want with the help of filters or special features and create a safe space for all your transactions. Here are some of the top features:
✔️ Accurate reports
After the connection, Synder Sync is at your service to create detailed and comprehensive P&L reports. Moreover, with the help of the software you'll be able to identify from which particular platform the income/expenses are, since Synder automatically creates tags with the name of the gateway from which the transactions came.
✔️ Simple categorization
Smart Rules feature deals with categorizing bank deposits and expenses. The flow is done with the help of blockchain – an easy to use if-then system without any coding. You simply create the pattern that Synder Sync will follow when syncing new transactions.
✔️ Multi-currency management
Synder takes the transactions in the actual currency they were made and then automatically converts them to your home currency – the currency that you put in the settings. Like that, it'll be easier both to manage accounting when the currency is the same and to keep track of business performance.
Watch how far your business can go, or how you can help manage your clients' books by scheduling a Demo session. Or, try Synder yourself after completing registration and onboarding that'll take no more than a couple of minutes!