About the business
Mariama Okorie is the founder of a design tool. Her SaaS company is based in Melbourne, Australia, and it has over 50 employees. Since December 2020, the company has been funded by an angel investor.
Using Xero accounting software was great until the company faced some challenges which they needed to fix.
Challenge
Mariama Okorie's company came across the following issues: auto-reconciliation and applying payments to invoices. This is what Mariama says about her experience:
"We were managing invoices in Xero via a plugin that pulls open invoices from the website into our Xero company. However, we needed them close!"
So, they wanted to find a way to close those invoices with payments.
"We also wanted to record the data as already reconciled in Xero so that we don't need to go through each transaction manually."
Solution
When you have an open invoice in your Xero and the payment in a payment processor, it may take a while to find the correct payment and apply it to your invoice. In addition, all of it has to be done manually.
So the first thing they did was configure Synder correspondingly and switch on the Apply payments to unpaid invoices setting.


You can read our guide on how to do it in your accounting books.
Synchronized transactions are temporarily kept in a clearing bank which is created when Synder integrates the payment processor with Xero accounting.
"We were physically unable to move all of those invoices manually and mark them as "reconciled". Can't imagine how much time we would waste with our 1000-1200 sales per month."
So the next thing Mariama Okorie did was enable the auto-reconciliation feature for the Bank accounts and auto-reconciliation of the Checking account on Xero.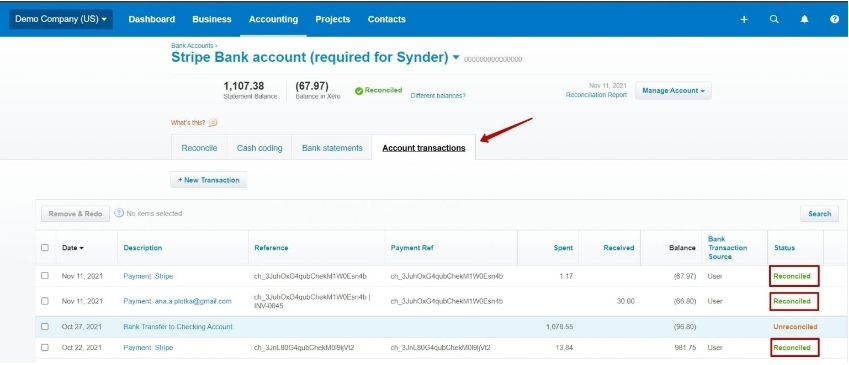 The auto-reconciliation feature lets them mark all the synchronized income and expense transactions in the clearing account as "reconciled" automatically. And this does not affect the checking account reconciliation process. More information on this issue can be found in our guide.
Results
With the help of Synder, the ongoing transactions were synced as invoice payments without creating double-entries. Now Mariama no longer needs to monitor, close, and mark invoices as "reconciled" one by one in Xero.

"We're a rapidly growing company and we simply couldn't spend hours reconciling invoices. We also have responsibilities in front of our angel investor, so we'd rather put our effort into making money and not counting it manually. So, when we found Synder and realized it could solve all of our problems with accounting, we went for it right away!"
Say goodbye to manual money management and hello to automated accounting
Synder will synchronize subscriptions from various payment platforms and sales channels in one place for you. Send one-time and recurring invoices, as well as manage your taxes for international sales.
Our accounting software makes it easier for you to consolidate your cash flow with the help of cash on hands and profit and loss reports. Control your burn rate and you will be always ready for an investor update.
If Synder can address at least one of your business' weak points such as Amazon fees, reconciliation, etc., it is high time you signed up for a free trial and booked a live demo with our Synder expert. Synder has a lot of customizable features which will simplify bookkeepers, accountants and business owners lives.
Do you have a story to share?
Write about your experience with Synder to [email protected] and become the next main character in our use case!