According to experienced business specialists, the key to gaining new customers is to cover more channels of communication with potential clients. Sales platforms such as Stripe, PayPal, Shopify, and eBay provide your customers with an easy and convenient way to complete purchases online so that business owners can enjoy the benefits of an incoming stream of customers. However, many business owners struggle to handle the accounting part that might seem tricky at first glimpse. Very often businesses with both offline and online sales face difficulties gathering all sales info in one place.
This is where Synder comes into play, being a smart accounting software Synder mirrors the actual money flow happening in your Clover and records live transactions and historical data in your accounting system providing you with precise tax, item, and other transaction details. With the Synder solution, you will be able to track inventory and run accurate Profit and Loss reports with all the details auto-reflected by Synder for efficient analytics of your business.
Follow easy steps in this helpful guide, and enjoy seamless synchronization with Synder.
Overview:
Start the Clover integration from scratch
Create an account
If you are getting started with Synder you will need to create a free Trial account and connect your accounting system first. Check out this guide if you would like to integrate Clover with Synder accounting, QuickBooks Online or Xero and this article to connect your QuickBooks Desktop company.
Set up your organization
The first step you will go through is setting up an organization for your business. Fill in the information about your company and hit the Next step button.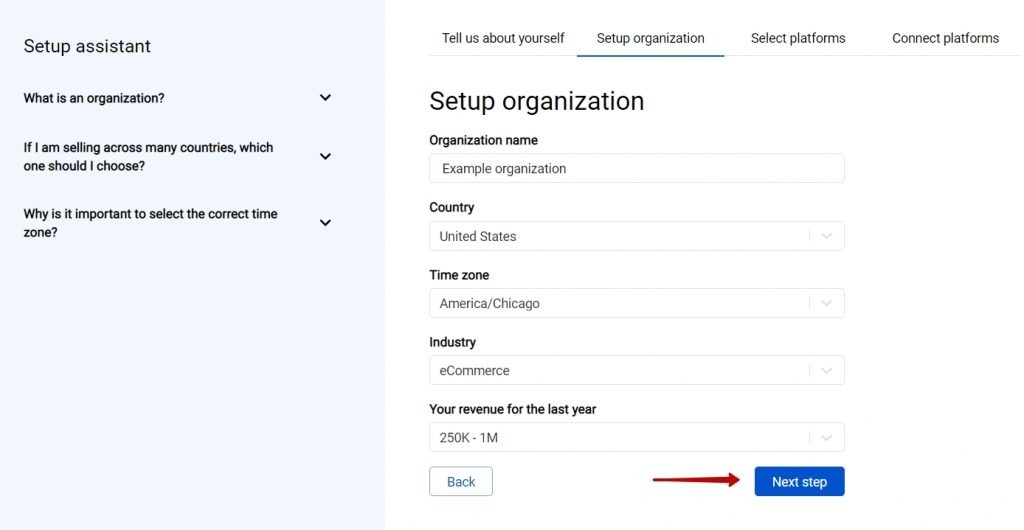 Select the platforms you would like to integrate
Now you need to select the platforms you would like to connect to Synder. Mark Synder, QuickBooks or Xero, Clover, and other platforms you would like to integrate with Synder (click View all processors to see the list of all available platforms).
Note: Mark all the services you are using to receive payments, you will be able to connect all of them right away or skip the connection of particular integrations and set them up any time later.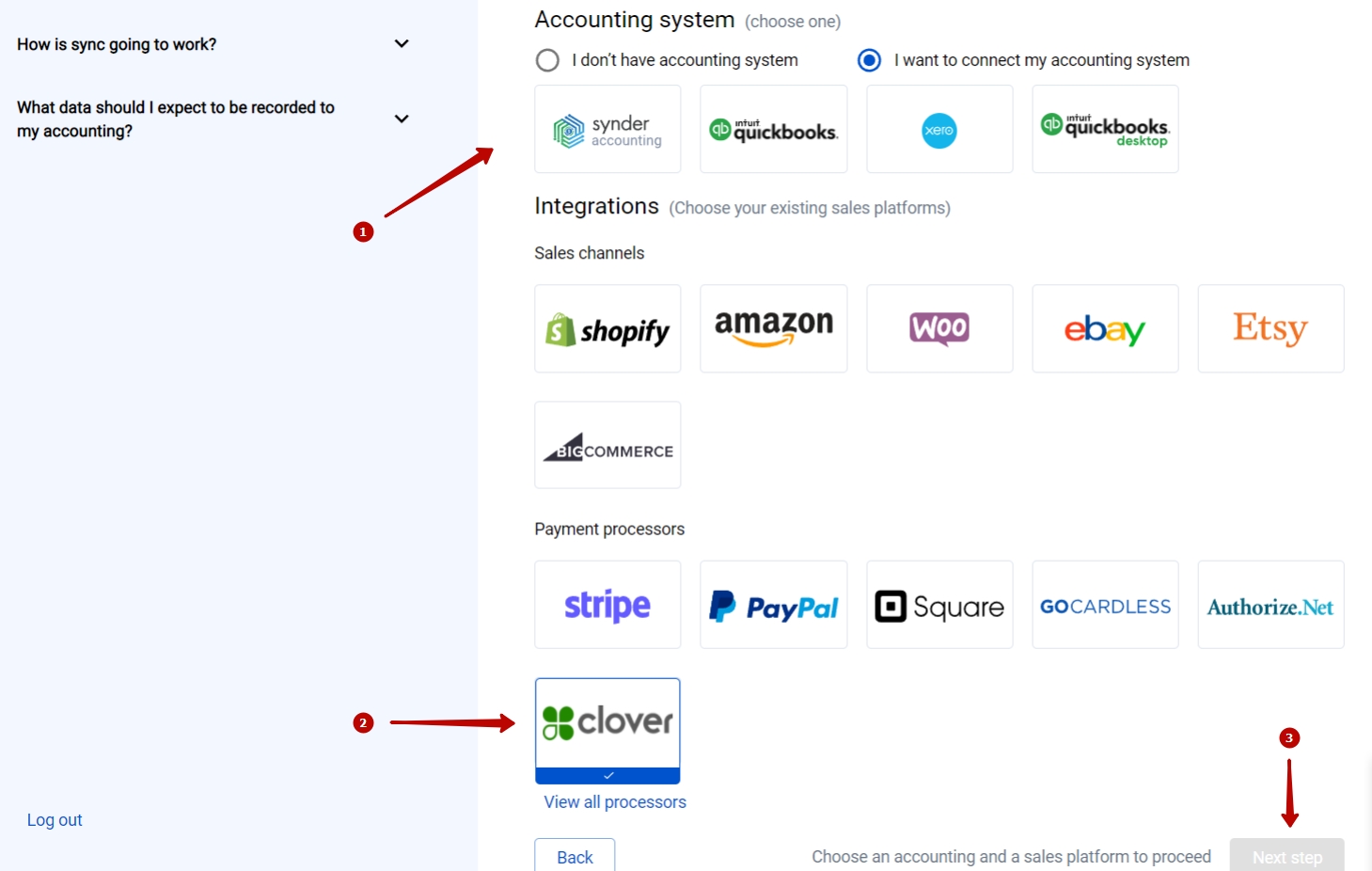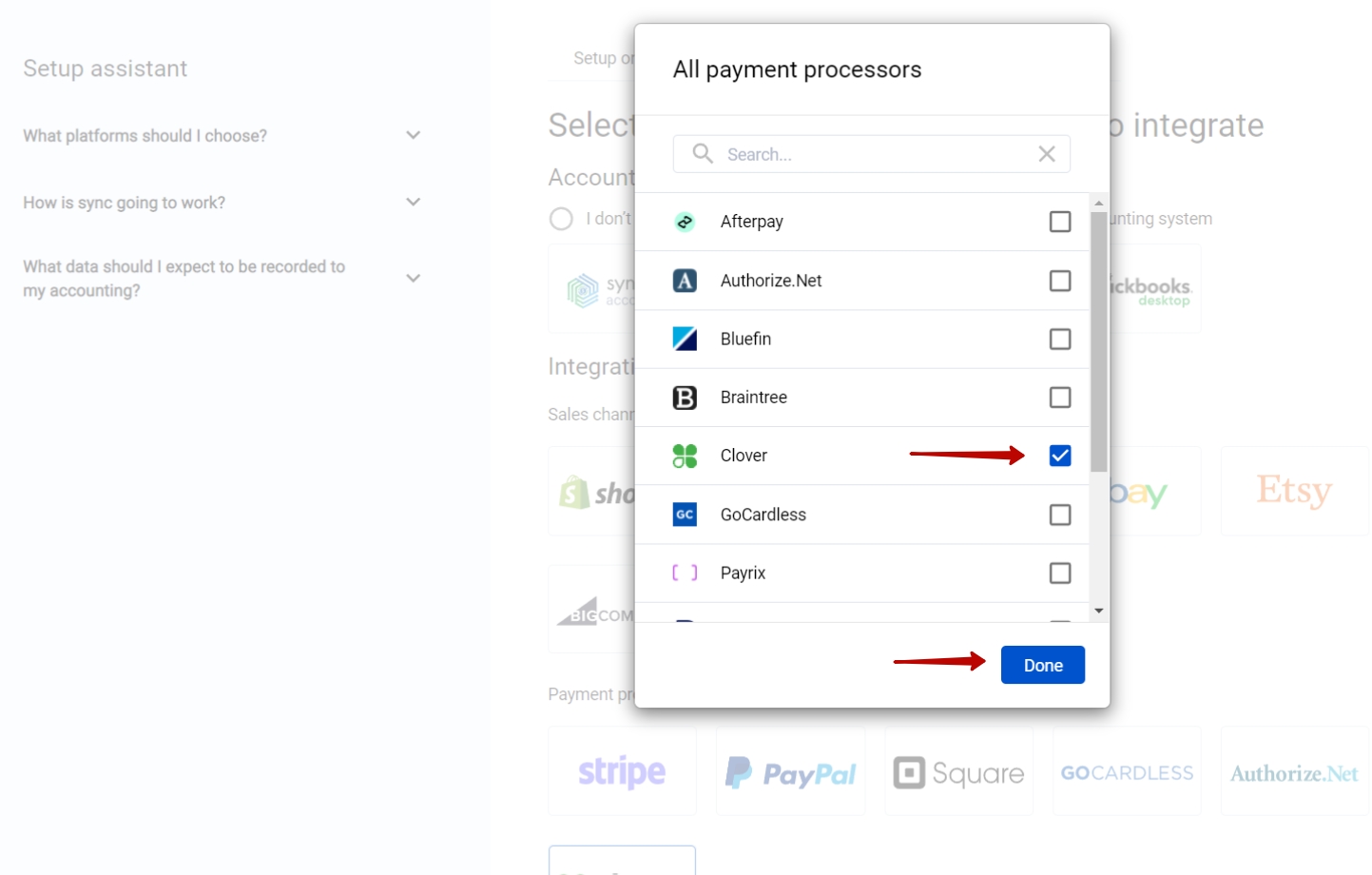 Connect your accounting platform
Set up Synder accounting by selecting your home currency, the first month of the fiscal year, and connecting your bank account following the steps in this article.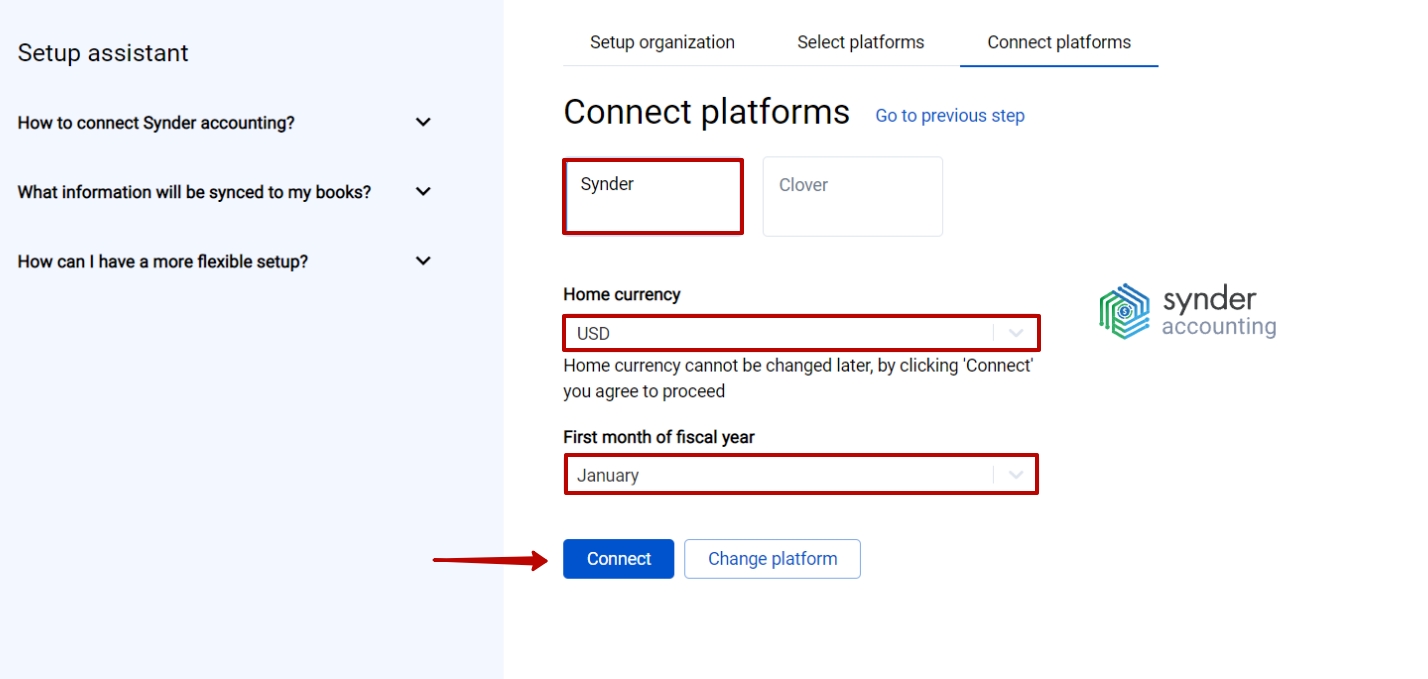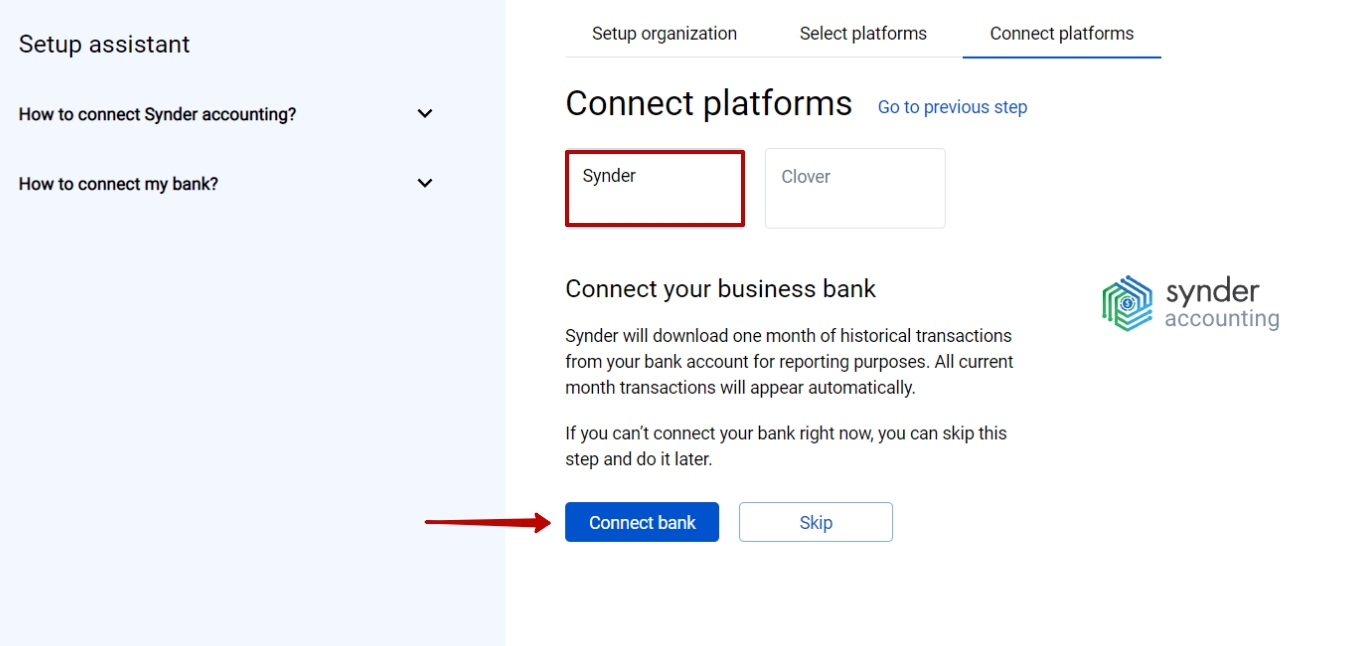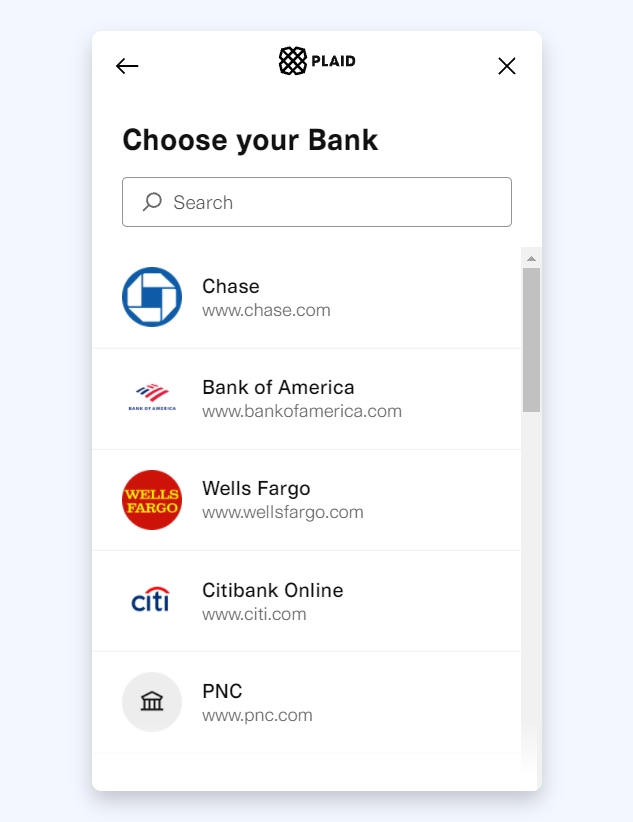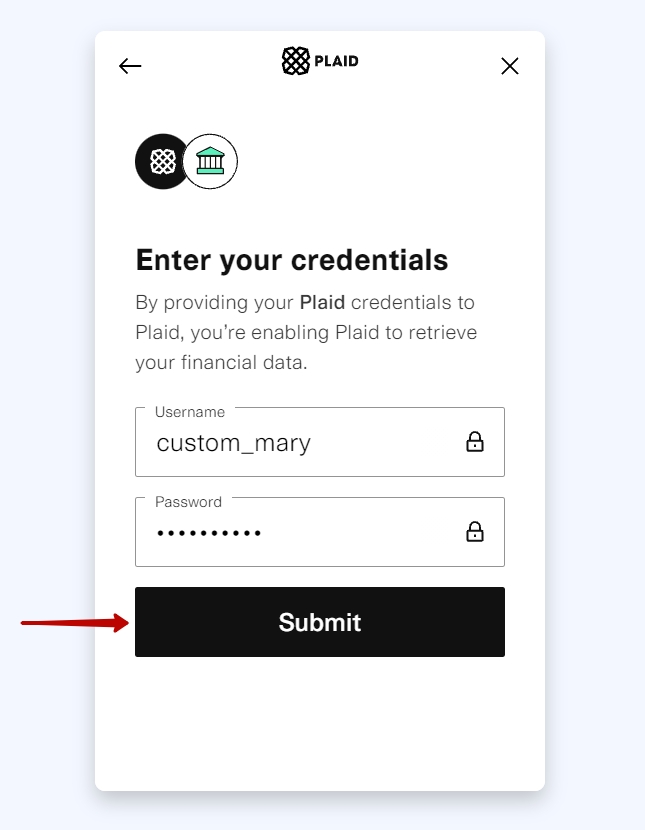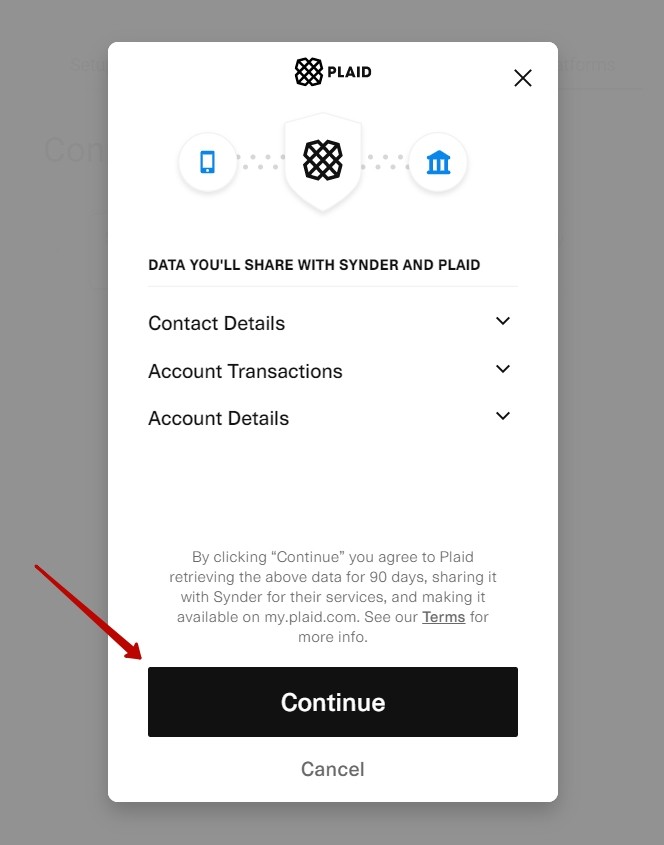 Alternatively, follow the steps on the screen to grant permission to Synder to record data in your QuickBooks or Xero company. If you are a QuickBooks Desktop user, check out this video tutorial to learn How to connect and sync data into QuickBooks Desktop.
Connect your Clover account
Almost there! To complete the setup you just need to connect your Clover and other sales platforms to Synder:
Hit the Connect button and log into your Clover account to grant permissions to Synder.
Select your Checking account in the Payouts dropdown to complete the connection.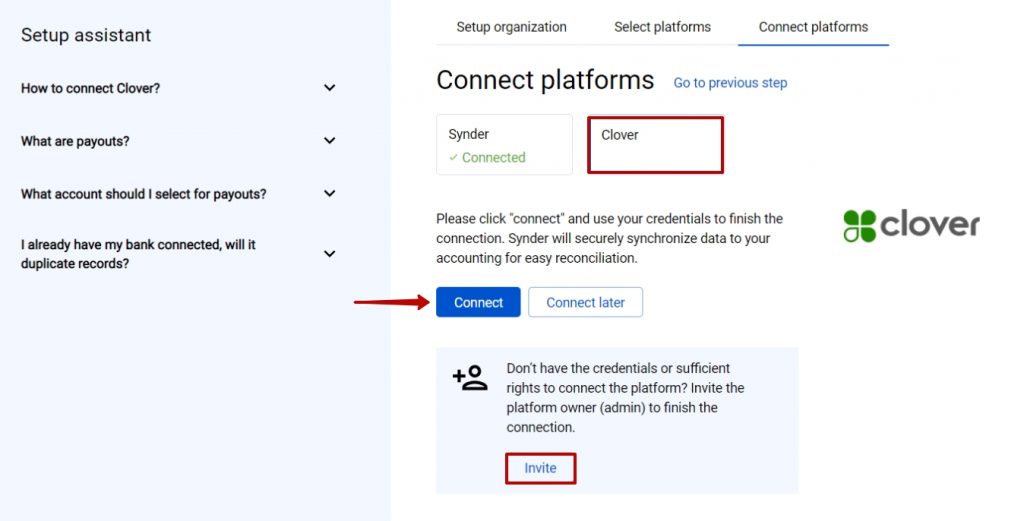 Note: If you do not have admin access in Clover, please, hit the Invite button and specify the account owner email. They will receive an invitation via email and will be able to grant the required permissions and connect Clover to Synder.
You can integrate sales platforms one by one straight away or skip the connection for other additional payment processors and set them up later in the Settings: tap the Settings button on the left side menu → hit the Add payment platform button.
Note: You can find our detailed guides on how to connect your sales channels and payment providers to your accounting via Synder in our Help center.
Tips and tricks on the Clover integration
Note 1. Synder mirrors real money flow in your accounting by recording live sales in the Clearing account (Clover Bank account in your books) that Synder creates automatically during the initial setup.
Note 2. Synder protects your data with two flagship features: duplicate detector and rollback. You can give yourself peace of mind knowing that all the power is in your hands and your accounting is secured.
Note 3. Get familiar with the software in our 3 Must-Watch beginner guides and Features of Synder taking your experience to the next level to find out how Synder can help you automate your bookkeeping.
That's it, you've successfully connected your Clover account to Synder, enjoy the ride! If you feel like some adjustments are necessary (e.g. you would like to change tax or item configs), you can manage that in Synder settings. Open them on the left menu → hit the Configure button under your Clover platform. If you need to fill in gaps with missing data after the sync into your QuickBooks Online, like applying classes or locations to transactions, the Smart Rules feature will be of great service. Now, you can customize Synder according to your needs.
Get in touch with the Synder team via online support chat, phone, or email with any questions you might have so far – we are always happy to help you!
Was this article helpful?