Finance and accounting are the foundation of every business, whether it's a small venture or a large corporation. That's why tailoring your operations to your business is so important.
In this article, we'll review finance and accounting outsourcing (FAO), in particular its benefits for small and medium businesses. We'll also discuss how accounting software can streamline and optimize your business operations.
To automate your finance and accounting, sign up for a free trial or book a demo.
Contents:
1. Managing finance and accounting in-house or outsourcing for SMBs?
2. Benefits of finance and accounting outsourcing for SMBs
3. When should I consider accounting outsourcing and bookkeeping services?
4. How to make outsourced finance and accounting work for your business
Managing finance and accounting in-house or outsourcing for SMBs?
Large companies are in a different position than small and medium-sized businesses when it comes to managing finance and accounting. While for those corporate giants having elaborate departments is somewhat typical, for SMBs the situation looks rather different.
Many small business owners choose to initially manage their finances by themselves, sometimes with the help of only Excel spreadsheets. But as the business grows, so do the needs. Payroll tax, invoicing, and leger management are becoming more complex and begin to take much more time than initially anticipated.
And in the crucial time of scaling, many business owners might spend hours over the books and accounts instead of marketing their products or services.
In-house accounting for SMBs
The next natural step is to employ an accountant or a bookkeeper in-house. This clearly can unburden the already busy business owners or other employees. Accounting professionals can easily take care of their assigned tasks. However, it incurs the following costs:
Hiring process;
Salary plus payroll taxes, insurance, health care benefits, etc.;
Continuous training costs;
Office space (not applicable for remote work);
Office supplies;
Accounting technology.
Read our beginner's guide for improving the management of the payroll system.
Outsourcing for SMBs
Now let's look at outsourcing and what it's like for small business owners. Here, there is usually a single cost associated with outsourcing, which is service charges.
While on the whole, outsourcing is supposed to give you a financial advantage, it's best to compare expenses associated with both types of management of your accounting needs (i.e. in-house vs. outsourcing). Currently, there is a shift in pricing models as more and more work is being done through smart technology and automation, which changes how much time is devoted to taking care of clients' operations. Amidst the ever-changing world of financial technology consulting, small and medium-sized businesses can uncover new opportunities by considering the top benefits of outsourcing their accounting processes.
More than just cost-effectiveness
While costs should definitely play a part in choosing the right model of handling your business finance and accounting, we shouldn't discount other aspects.
The survey by UpCity has found that business outsourcing brought the following benefits:
Greater flexibility;
Increased efficiency;
Gaining access to additional resources;
Freeing up employee's time for other projects;
Receiving help and guidance from experts;
Better risk management;
Lower cost than hiring in-house;
Better tax breaks.
That's a lot of advantages that are directly tied to the growth and development of your business rather than just to cost saving.
Learn all you need to know about small business tax deductions.
Benefits of finance and accounting outsourcing for SMBs
Let's take a deeper look at some of the benefits of outsourcing accounting and finance for small and medium businesses.
Get access to the team of financial and accounting professionals
When working with an outsourced accounting firm, you can rely on qualified professionals who provide bookkeeping and accounting services to manage your finances for you. By finding an accounting practice that suits you, you can rest assured that financial reporting will be done accurately and in compliance with the latest regulations. They can also provide you with financial planning and other advanced financial services that require a higher level of knowledge and skills.
You don't need to invest money to find and keep key talent in your company, as through outsourcing you always have access to experts both in terms of their work and helpful advice. Moreover, those companies have many specialists on their teams which also gives you a unique chance to lean on their expertise that you otherwise couldn't achieve with in-house employees.
Grow your business and increase productivity
While finance and accounting are the key operations for any business, it doesn't mean it's best done by your team. It's important to ask: "What's your and your employees' key function in your business? How each one of you adds to the growth of your enterprise?"
For you, as a business owner, it's important to prioritize your own time so that you can focus on developing and managing business activities that are vital.
As we've seen in the UpCity's survey, some of the top benefits were related to better use of time as well as increased productivity and efficiency. Outsourcing finance and accounting can provide you with those advantages, which in turn contributes to the growth and development of your business.
Optimize accounting functions with process automation
Let everyone do what they do best. Accounting professionals know how to make their work easier by streamlining the business process and relying on digital finance technology. But there are other industry secrets that make accounting tasks more efficient and accurate. Outsourcing can give you that edge.
Even if you choose to outsource finance and accounting tasks for a limited period of time, optimization is certainly an invaluable advantage that can be implemented even if you decide to discontinue the services. At later stages, process outsourcing can be transferred to your team to further their efficiency and productivity.
When should I consider accounting outsourcing and bookkeeping services?
Not every business needs outsourcing. But some situations should certainly encourage you to consider it. Here are a few reasons:
You have a small business and no need for a full-time employee but you can benefit from an advisory specialist with accounting and bookkeeping expertise.
You have an urgent need to get help with reports or reconciliation due to the looming IRS audit, tax season, or your previous bookkeeper is unavailable.
You've been looking for a staff accountant for too long and haven't been able to find one because of the related costs. Check out how much accounting should cost a small business.
Accounting has become a general pain point in your workflow and you're looking for accounting services with expert assistance.
Learn about basic accounting for a small business: bookkeeping and accounting basics.
How to make outsourced finance and accounting work for your business
Outsourcing isn't a one size fits all type of process, hence before you dive into it, it's best to check how outsourcing can be tailored to your unique business needs.
Evaluate your finance and accounting operations
Make a list of different aspects of your business accounting that you're currently tapping into. Consider any changes that you're planning to implement within the next year or so and the effect they'll have on your finance and accounting operations.
This provides you with clear data on the type of services you might need.
Perform a cost-benefit analysis
Stack the pricing of outsourcing financial services against the cost you're currently incurring. Cutting costs will surely be a great benefit for your company.
Compare offers from different outsourcing companies. Auxis or Deloitte are some of the large providers, but there are a host of smaller companies too. Keep in mind that there's a shift in the pricing model being made now: since technology allows for much faster processing of data, companies are updating the way they charge clients for their services.
Remember the intangible benefits of outsourcing like higher flexibility, increased efficiency, or access to specialized knowledge. While it's hard to put a number on those gains, it's worth stressing that in the above-mentioned survey, these were the top reasons for outsourcing. Financial benefit was the second last reason, with only 7% of businesses claiming that.
Take stock of finance and accounting services you want to outsource
Since you can outsource all your finance and accounting tasks, it doesn't necessarily mean that you should. You can pick and choose which services you want to outsource and which you'd rather handle in-house.
With the help of good software, many of your finance and accounting duties can be automated and will require a minimum of your time at a subscription cost only. This is certainly a solution worth considering, as it provides you with a middle ground between completely relinquishing your involvement and full in-house accounting.
Online accounting system
If you're still unsure about reaching out to a firm, or you consider leaving some part of finance and accounting with you, try online bookkeeping and accounting software systems. They perfectly fit small and medium businesses due to their good pricing and user-friendly approach.
Accounting systems have a wide-ranging functionality that lets you record entries in your books and produce financial statements and other reports in a couple of clicks. Synder is a great example of such smart cloud accounting.
Integration with sales channels and payment gateways
Synder connects to more than 25 different platforms including sales channels like Amazon, eBay, Etsy, or Shopify and payment gateways such as PayPal, Stripe, Square, or Afterpay. You can also connect other types of software to Synder, click here for a full list of integrations.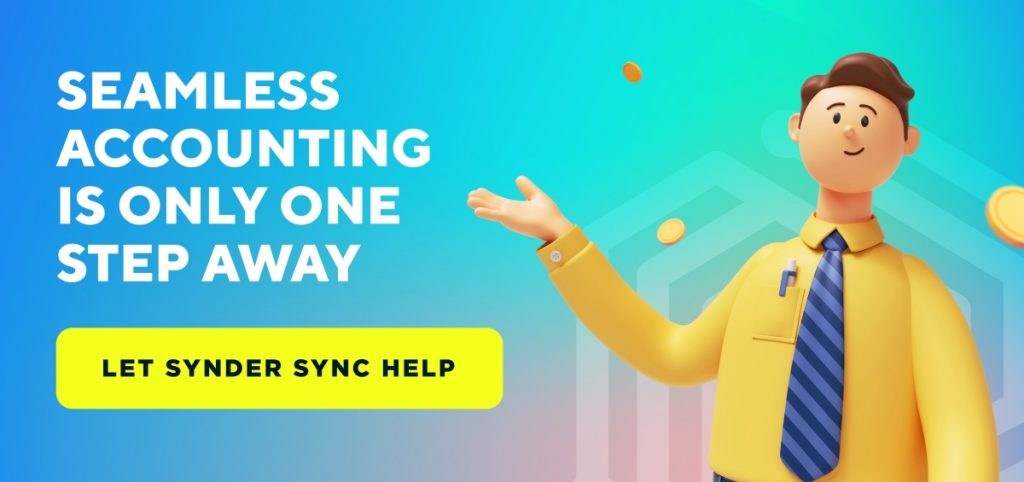 Accurate data for all your transactions
The software connects your accounting platform, like QuickBooks or Xero, with your online payment processors and e-commerce platforms to synchronize your transactions thoroughly and consistently. You can create various combinations of platforms like Shopify+Stripe, and many more. No matter how many transactions you have, Synder can record them all with such details as taxes, locations, discounts, shipping information, etc. while ensuring there are no duplicates.
Daily summary for ease of reporting
With Synder, you can sync individual transactions. But if you'd rather deal with summaries of all your daily sales transactions, Synder can do that too. With the daily summary mode, you can record your transactions in a summarized and compressed form. This is a perfect solution for accounting purposes as it brings you just enough data for proper bookkeeping without overwhelming your accounts.
Smart rules to personalize your accounting operations
One of Synder's main features is its ability to create smart rules that further automate your bookkeeping. With the rules, you can assign product categories, product names, fee categories, and perform many other helpful data operations. With product mapping, you can categorize different products across all your sales channels and bring them neatly into your accounting books, the way you see fit.
Automated invoice closing
For accrual basis accounting, Synder automation lets you close open invoices upon payment from sales channels without the need to manually match open invoices in your books to your bank account payments. This feature greatly streamlines your work and unburdens you from error-prone manual tasks.
Conclusion
Outsourced finance and accounting can be an attractive option for small and medium businesses as a single in-house employee will never be able to offer such a variety of services. Moreover, outsourcing comes with the perks of expert knowledge and an advisory role as well.
In the current market of outsourced services, you can tailor them to fit your unique business needs and reap the benefits it offers.
However, for those business owners who want to leave some accounting management in-house, process automation with cloud accounting can be a great solution. Taking care of your business finance with the help of accounting software can free up a lot of time and provide smart and accurate financial reporting.