eBay is one of the biggest online retail sites and home to millions of customers who are always looking for popular brands as well as new and exciting products to buy. It's safe to assume that any e-commerce business owner who sets up an eBay store will be able to find plenty of potential customers who are willing to pay for their products. However, it won't always be as simple as creating an eBay account and uploading your stock – you'll need to conduct some research beforehand and have a backup plan for future strategic decision making, in order to make sure you're selling something on eBay that people really want and are happy to pay for.
The growth of eBay has led to an increase in competition, especially in markets with a few major players. As a result, eBay needs to continue to innovate and be creative in order to stay ahead of the pack. And to keep up with such pace, the eBay sellers must know the answers to two questions:
What's trending right now across the marketplace in general? and What are the most popular products in their own stores?
This article will uncover some tips, tricks and trending product categories that are already selling well on eBay and will continue to do so in the near future.
Contents:
1. eBay: How to find the products selling well if you have or don't have an online store
2. Top eBay items: What is trending right now and what is selling at a high rate?
3. Strategies and tips for eBay sellers
eBay: How to find the products selling well if you have or don't have an online store
When you're looking for eBay best-selling items, you need to consider a variety of factors. There are many different things that make a product sell well, so think about which of these will help your e-commerce business have the greatest impact.
Everyone has different methods for finding new best sellers to advertise on their own online store or on an e-commerce platform like eBay. Whether you're looking for up-and-coming eBay trends or new items based on current demand among your customers, here are some tips and tricks that will help you bring home more eBay sales with less hassle.
You can find your top-selling products:
1. With the help of software (popular)
First option is to use a third-party software whose workflow is based on storing your eBay information. By doing so, you'll be able to see the statistics on the products you sell on eBay. Here are some options:
Google Trends
Both Google and the Internet are excellent means of searching for information. However, users can only type in so many keywords before their search becomes repetitive and unproductive.
Google Trends is a tool that enables users to track topics or search queries based on their popularity over time. The user can see how often certain search queries have been searched in the last months and which geographic locations are more interested in specific subjects. With the help of a Google Trends API, these queries can be extracted and compiled into a readable format. Based on this information, they can create some ideas of what they can sell in this particular period.
This option will suit the eBay sellers who already have some options in mind and just want to make sure these eBay products are in high demand. That's a good starting point to generate ideas for sales.
Synder Business Insights
Synder is a software that will be a good fit for the sellers who are already selling items on eBay and want to find out more information about their own eBay store performance, not across the marketplace in general. Synder Business Insights provides eBay sellers with the most detailed eBay data analytics on the top selling and worst selling products, best items to sell together, total sales, and other important e-commerce metrics. The most essential KPIs are displayed on the main page so that the users can have a clear picture of how well their e-commerce business is performing and their products are selling.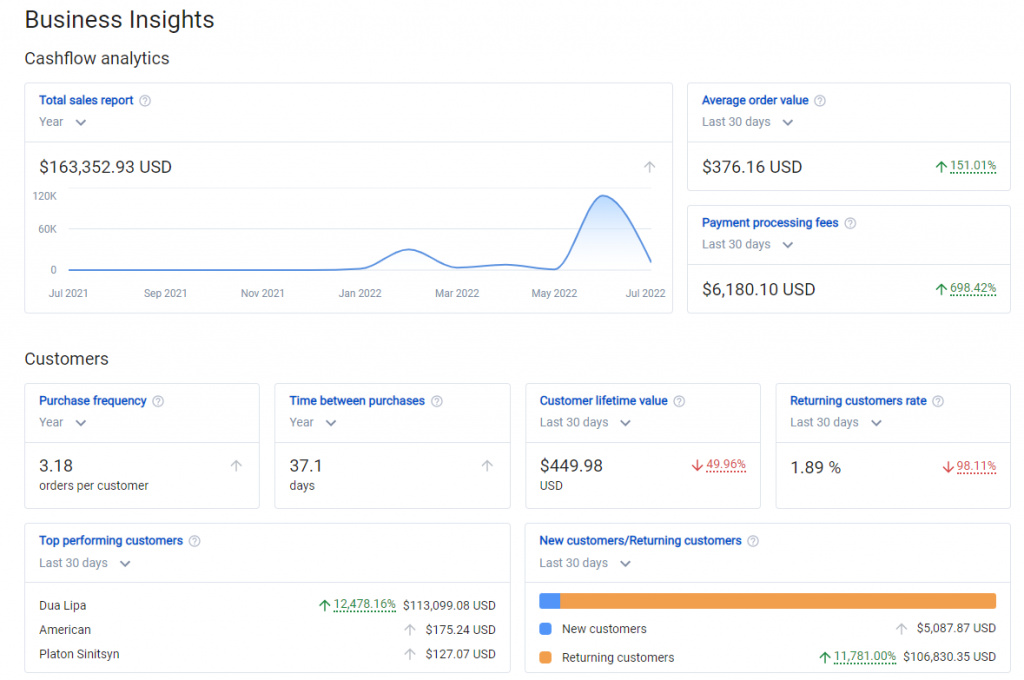 There are three main blocks with their own metrics: Cashflow analytics, Customers and Products. Today we'll focus on Products.
This block gives you access to such reports as top performing products, products most purchased together, the least performing products and more, giving all the necessary information about which products are selling better than the others. When creating a strategy, it's important to understand which products are in high demand and hence, more valuable to your final P&L reports.
Here are some more examples of what the reports in Synder Business Insights look like:




Gather major KPIs and track your real numbers with Synder Insights – create your personalized dashboard.
ZIK analytics: eBay market research
In the e-commerce world, data is everything. Without proper eBay market research and analysis tools, you won't be able to sell popular products and develop a strategy for future growth. It's essential to know which eBay top products are and which are trending right now on the market.
ZIK Analytics provides the users with the information about the products on eBay based on relevant keywords. The software shows the average product selling price, sales earnings, the percentage of successful listings and shows the top products right now on this particular request. The tool also provides its users with the dynamic report on the product demand similar to the one Google Trends has.
2. Manually
If you have time to spare and want to find profitable niches, browsing through eBay and checking the list of eBay's best sellers might be a good idea. However, it can be rather time-consuming and frustrating. You need to filter out non-profitable products that aren't worth your time as an aspiring reseller. To identify the best items selling on eBay, it's a good idea to look at how many views a product has and its average selling value.
You can use these two factors as indicators on how profitable a niche will be for you, and how much effort you'll need to put into it. The more views a product has, the better – that means potential customers are interested in buying it!
The best case in eBay manual research is when you already have an idea of what you want to sell. You can start from one general category your potential products are in and go deeper, narrowing the information about the product and observing how the number of listings is changing. For example, if you're eager to sell jeans, try to narrow down the research by adding filters such as style and the material. When you have the final number of the products on eBay similar to yours, you can check the average product price and calculate the average successful listing rate.
For example, the number of final results is 54.000. Now you need to filter the products on eBay so that only the sold ones appear on your screen. Let's say you'll get 13.000 – this is the number of items sold during the last 90 days. With these results, you can now calculate the successful listings rate for the last 90 days:
At first you'll find out the amount of the product sold on a monthly basis:
13.000/3 = 4.333 (sold items per month)
Then you'll divide it by the total amount of the results this product has on this particular day:
And this will be the final percentage you can use to create your own eBay strategies.
To make the final decision, you can try these calculations on several categories you have in mind and just compare and find the best option. However, it's better to implement at least one software solution just to double-check your predictions.
And that's how you do your eBay research, folks!
Top eBay items: What is trending right now and what is selling at a high rate? [eBay categories]
We've analyzed the information from different sources and compiled the list of the most trending and best-selling products across all the categories eBay has. And today we want to share this information with you.
Remember that these results are just rough estimates and this list was compiled to give the overview of the marketplace and doesn't force you to sell these particular items. But it's always nice to have some information about recent trends on the marketplace and know who your potential competitors are!
Now, let's dive in!
💻 Electronics > Consumer Electronics
Not surprisingly, this eBay category has been among the best eBay top-selling categories for years. Consumer Electronics will continue to grow as one of the most popular categories and this provides an excellent opportunity for sellers.
While hardware and accessories will certainly sell well in the future, technology will play a big role as well. Electronics are a huge draw for people now, and they'll only continue to attract more and more interest so selling items of technology is going to bring revenue in the years to come.
Top products:
Headphones;
Speakers;
Computers/Tablets and Networking equipment;
Laptop & Desktop Accessories.
📱 Electronics > Cell Phones & Accessories
As more and more people rely on their cell phones for daily information, eBay is the top destination for people to purchase these products.
The cell phone and smartphone accessories market has been growing every year, so expect this category to continue its strong momentum as the best-selling items on eBay during the last seasons. Sales of cell phones have been dominated by Apple and Samsung.
Top products:
Cell Phones, Smartphones & Parts;
Cases, Covers & Skins;
Headsets.
🎮 Electronics > Gaming
With so many people already using eBay to sell their old games, consoles, and gaming accessories, it's no surprise to see lots of market growth in these items. Sony's Playstation has done particularly well in this category, with a trend towards re-selling that's likely to continue. There's a large and growing market for used and refurbished equipment in this category.
It's predicted these products will only continue to grow as the stigma of buying used consoles and games reduces and their value continues to grow (who doesn't like classic?).
Top products:
Video Games;
Controllers & Attachments;
Video Games Merchandise.
🎨 Collectibles & Art > Collectibles
When you think of collectibles and art, you probably think of selling something that is expensive, difficult to find, and one-of-a-kind. While those things are true for a lot of collectibles and art, the market also contains plenty of affordable and accessible options.
You don't have to be a selling expert or have a budget of several million dollars to dive into the art world. From affordable prints and posters to original paintings and sculptures, there's something on eBay for everyone at every price point. If you love collecting art as well as other unique pieces like jewelry, vintage clothing, and more, then you'll find exactly what you're looking for on eBay and will be able to create your own flow when focusing on this category.
Top products:
Vintage accessories;
Baseball Trading Card Singles;
Original Art Prints.
🏡 Home & Garden > Furniture/Home Decor
The current eBay market for these kinds of products is driven by one big factor: convenience.
Home and garden products are always among the top-selling items on eBay. Homeowners' need for home improvements seems to never end – there's always some sort of project that needs to be done. Sprucing up your backyard might have been on your mind for months now. Who knows what's next?
Top products:
Home furniture;
Afghans & Throw Blankets;
Space Heaters;
String Lights, Fairy Lights.
👕 Clothing, Shoes & Accessories > Clothing/Shoes
eBay is a great place to sell clothing. Currently, about 40% of the items on eBay can be found in its Clothing, Shoes & Accessories section.
As more people become comfortable wearing and buying clothing items online, selling clothes on eBay is expected to be booming. Even if you're not planning to start a clothing, shoe, or accessories eBay business right now, you might want to start keeping an eye on this market.
Top products:
Women's jeans;
Men's t-shirts;
Men's hats.
🪀 Toys & Hobbies > Action Figures/Collectible Card Games
Toys and hobbies can be a good niche to start an eBay business.
Toys and hobbies are a broad eBay category enjoyed by people of all ages. If you have a passion for toys, crafts, or other hobbies, there are plenty of opportunities to make money from home selling them online. Whether you're an expert on the latest toy trends or have a knack for creating your own handmade items, this extensive list of categories is filled with products waiting to be sold online.
Top products:
Disney, Star Wars, Marvel, etc. themed toys and games;
Sealed Booster Packs;
Diecast & Toy Vehicles;
Nintendo.
⚽️ Sporting Goods > Fitness Equipment & Gear
Before you dive into the world of selling sporting items on eBay, it's important to know that this is a niche market with very specific needs. If you're thinking about venturing into this eBay business, you should really have an idea of where your audience stands and what fitness products they're looking for.
If you're new to selling on eBay or just testing the waters with a limited listing test, it might seem like an uphill battle. However, armed with the right information, you can launch a successful campaign that drives eBay traffic and sales to your listings.
Top products:
Aerobic Step;
Red Dot & Laser Scopes;
Suspension Trainer.
💊 Health & Beauty > Fragrances/Vitamins & Lifestyle Supplements
The world of health and beauty products is booming right now, and eBay has a good deal to do with it. The global online marketplace has grown to become a major player in selling health and beauty products.
eBay sales in this category are expected to be brisk throughout the rest of the year. The customers are specifically looking to buy beauty and personal care products. Those items include perfumes, makeup, and skincare products.
Top products:
Men's Fragrances;
Vitamins & Minerals;
💼 Business & Industrial > Healthcare, Lab & Dental
It's not surprising that this category is one of the best selling ones on eBay and has been growing at an incredible pace this year. The way we see it, there's no better time to be selling health related items online than today.
To give you a glimpse into the popularity of the top products in this eBay category, the search results for healthcare, lab and dental disposable face masks are about 32%.
Top products:
Disposable Face Masks;
Other Envelopes & Mailers;
Shipping & Moving Boxes.
🧸 Baby Essentials > Toys for Baby
Baby products are some of the most popular items to sell on eBay and even online in general. Having children of our own, we know how expensive raising a kid can be. From monthly childcare costs to new clothes and toys, there's no shortage of expenses for new parents. Thankfully, the Internet makes it easier than ever to sell your used baby products and earn some extra cash in the process. eBay sellers looking to get started should first identify their target audience, choose an appropriate category, and find related keywords for their product listing.
Top products:
Developmental Baby Toys;
Plush Baby Toys;
Baby Monitors;
Musical Duck Toy.
⚾️ Pet Supplies > Dog and Cat Supplies
Selling pet care items is a big business, and people who love cats, dogs and other pets are willing to pay for products, services and experiences that make their lives better. Pet lovers are willing to spend more than the average person on products that meet their needs.
Pet Supply Stores range from small local businesses to large chains and everything in between. Moreover, providing comprehensive care options for pets, including quality products, expert advice, and even pet insurance coverage, can further enhance your customers' trust in your brand. If you're selling pet supplies online, the right keywords can help your products show up when someone is searching for pet supplies on eBay.
Top products:
Cat and dog food;
Live Plants;
Reptile Supplies.
Strategies and tips for eBay sellers
A basic foundation is essential, so don't forget to pay attention to how you're actually going to sell your product. Every best selling item on eBay belongs to categories with a highly competitive rate. The market is already saturated, so make sure to find the right selling strategy for your eBay store.
Here are 4 tips on how to sell on eBay that can help you.
Be strategic with the pricing
You have to consider every additional expense you need to pay (packaging, shipping, eBay fees, etc.) to calculate the price that will be profitable.
Learn more about eBay Global Shipping Program here.
Manage your supplies and inventory in general
Efficient management of your inventory and supplies gives you time to promote your products, which increases margin and helps you not to miss sales. Synder software will help you with your inventory tracking. It'll fetch the data from your sales channel right into the accounting system. The amount will be taken from the receipt and deducted from the amount in the connected accounting software so you'll always know how much is left on hand.
Book office hours and check out Synder's free trial to learn more about how you can improve your e-commerce experience. Synder software will keep all your sales in one place and synchronize your historical data in no time.
Check the integration page to find out which platforms this software works with.
Use SEO
The SEO title and descriptions are basically your golden tickets to the top-seller list and increasing conversions, so think carefully about these aspects.
Keep an eye on your competitors
Check eBay Home Page and Google Trends regularly to know what's happening in the marketplace in general and stay up to date with how your competitors are doing.
Bottom Line
When it comes to selling on eBay, the best thing you can do is stay up to date with the latest trends. With so many changes happening in fashion and technology, it might be difficult to keep up with the trends. But for sure, there will always be high demand for certain eBay products.
It's hard to predict what eBay's items will be selling well in the future, but we can analyze the situation on the market, and see what's popular now, what drives revenue, and where eBay's trends are going. And this is a great starting point!