Since eBay's announcement about their migration to their own card processing and consolidated payment service, this topic has become a hot issue for every e-commerce seller. What does this transfer mean for their sales rates and business flow itself? Will it affect the payment operations and, if so, how? What are the advantages and disadvantages of this transfer?
There are multiple questions from eBay sellers starting with "How" and ending with "Why" when trying to find the best way to maintain customers, provide the best service and more. These questions will now be answered!
Contents:
Hot topic: eBay Managed Payments
Just a PayPal alternative or something bigger?
Synder software and how it can simplify eBay Managed Payments workflow
Hot topic: eBay Managed Payments
Recently around the globe, all international sellers received the invitation from eBay to sign up for the new Managed Payments service.
The email contains a link to connect your eBay account with a Payoneer platform, which is now used as a PayPal alternative. For anyone who has been working with PayPal for the past couple of decades, this change in their everyday workflow may seem like a thunderbolt.
For the past year, people on various accounting blogs were asking one and the same question, "Is it true?" And now, after the official announcement of the partnership, yes, it has happened!
For those who are stumped and hearing about Payoneer for the first time, it is the leading international payment platform. The partnership between eBay and Payoneer has the potential to keep track of eBay transactions, simplify the selling process and manage your finances more flexibly.
Essentially, with the Managed Payments possibilities from now on, the eBay store owners can sell and get paid in one place without any third-party interruption and transfer payouts directly to their physical bank accounts.
The process will be in three steps:
Buyer pays for the purchase (payout sent to your bank account within 2 business days) → Choosing the preferred payout method (daily as funds are available, or weekly) → Bank account post funds to your account in 1-3 business days.
With a new update, eBay also points out its security measures. All the shared information will be used only in terms of the User Agreement, the Payments Terms of Use, and the User Privacy Notice.
But for the actual actions, you need to prepare first, so let's consider the steps of connecting your eBay and Payoneer accounts and look at how this collaboration truly works, as a lot of people are confused about whether this switch is for better or for worse.
Just a PayPal alternative or something bigger?
It is natural to consider before clicking on a link, even from eBay, first of all, we will try to confirm what is happening on the internet. Maybe we just need to hear that one guy on the accounting blog confirming in the comments that "Yes, actually, I've got this email too."
Okay, so what next? Now we want to see the process of this transition and be aware of the pros and cons the change may bring to you beforehand.
So let me be your guide to this huge event if we can call it so, and tell you more about the Payoneer platform, how it works and how not to be hit with a list of documents needed for verification at the last minute.
As it was mentioned before, Payoneer is a payment platform that provides you with the option of bank accounts to which you can link your actual bank account and take your money from there directly. In this step, you have three options: transfer the funds
to a Payoneer account
to a bank account
batch payment to multiple bank accounts
The main advantage is that you need to make your account verified to use it hereinafter as your eBay store.
Some people may say that that's just a time-consuming useless process. Well, to that I say, "Finally, no more stealth accounts with fake information!" Hey, I still remember that one time when some store stole my $20 and didn't send me that definitely legit pure golden ring.
The good news is that this process is one-time only. After that, you can create as many eBay stores as you want.
So let's finally uncover all the answers.
The process is in fact, pretty simple. Clicking the link, you'll find yourself on the webpage where Payoneer offers you to choose one option: either open a new Payoneer account to connect it with your eBay profile or log in through the existing one.
The following steps look not so complicated either: connect account, sync eBay and Payoneer profiles, add your card, and submit.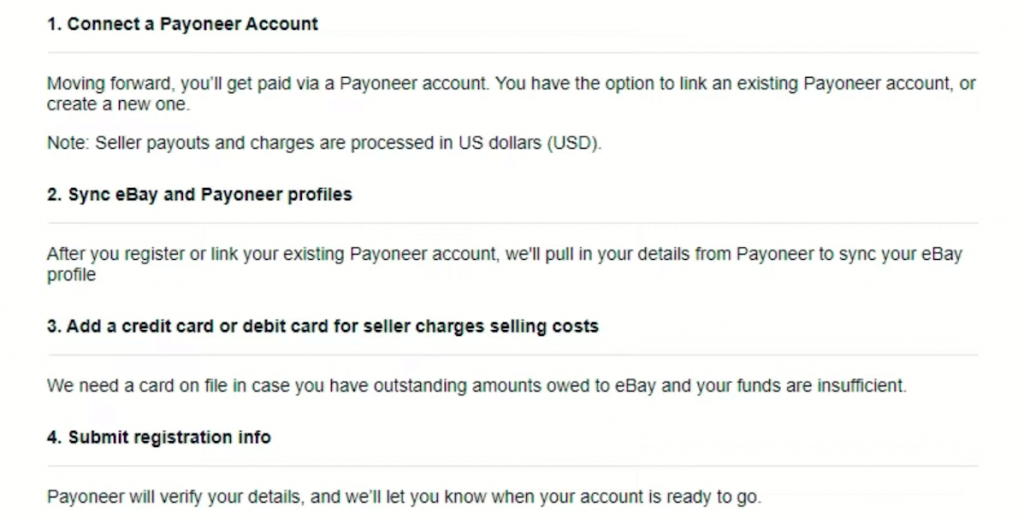 As you need verification for your profile, here are the lists of the essential documents. Forewarned is forearmed, right?
If you are an eBay individual influencer, the documents are not so tricky. All you need are the statements that confirm your
Name;
Address;
Date of Birth;
Bank account details.
In case you run a company, things are a little bit difficult, but still not impossible. Your must-have confirmation documents for the following:
Business name;
Address;
Business Number;
Beneficial owner and Director information;
Company Documents;
Bank account details.
The only trigger point here is that the completed onboarding process only is not enough. You'll still be receiving payments from PayPal until you finish 100% of the migration process. Nevertheless, as soon as everything is done, your direct PayPal account will no longer contain the sales data needed to automate the accounting of your sales.
As we now have the whole picture of the process, we can identify the pros and cons of the eBay migration to Managed Payments. Stay tuned!
Gains and losses
The main thing that makes every seller tear their hair out is fees. Sometimes the word "fee" on your receipt occurs more often than we would like, am I right?
Being an e-commerce seller means always being ready for all variations of transaction fees. But as eBay changed its payment platform, these fees have undergone some kind of alterations as well.
According to ZIK Analytics, we can observe an interesting fact when comparing PayPal and Payoneer fees during their partnership with eBay: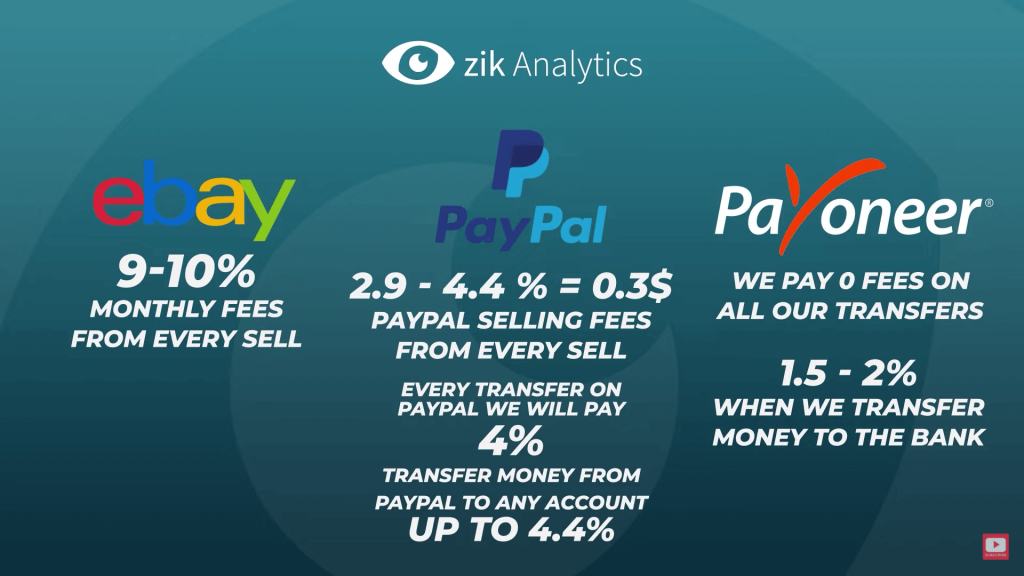 As we can see, PayPal has many more numbers in comparison with Payoneer. When PayPal requires selling fees from every sale, fees when transferring money from PayPal to any account, and also every transfer obligates with a fee, Payoneer free the transfers from any fees. The only time you'll need to pay extra money is the time when you have to transfer money to the bank.
For me, that sounds just like eBay Managed Payments advantage number one.
The choice for payment can be the other advantage as eBay provides different payment options (credit, debit, and gift cards; Apple Pay, Google Pay, PayPal, and PayPal Credit), as well as the new security policy that was mentioned before, and automatic funds transfer directly to your bank account.
Unfortunately, on the other side, the two disadvantages stand together as they both are connected to the delay and the previously noted direct transfer. eBay Managed Payments has a 3-5 business day lag before the payments are deposited in the bank account. And as there is no immediate access to the funds, the shipping time also slows down. The point is that the seller needs to be assured that the transaction was not canceled and he or she has an appropriate amount of money in their bank account.
When talking about fees, the situation seems fine, but still, there are some additional fees: per order and listing. This is not such a big deal compared to the PayPal platform, but it still needed to be mentioned.
As it can be seen, eBay Managed Payments have more pros than cons. Moreover, the majority of these disadvantages are just inconveniences that can be overcome. You just need to find the most suitable method.
But what if the problem is much bigger than that? Maybe you're more used to working with another payment platform such as Stripe or Square but still want convenient accounting. Why not?
In that case, let me introduce you to Synder — accounting software that will be your umbrella on these rainy days.
Synder software and how it can simplify eBay Managed Payments workflow
The option of transferring your funds directly to the bank account seems lovely, but how about the idea of connecting your eBay profile and any platform you like with your accounting platform to speed up the accounting processes?
With Synder, you'll seize the opportunity to manage all your funds and sales with detailed reports. Let's look at how it works and what benefits it has:
Reconciliation. If your accounting platform is either Quickbooks or Xero, well, I have some wonderful news! Having Synder Free Trial, you'll have the opportunity to reconcile your sales. All you need is to synchronize the completed transaction, and it will be added into the clearing account, where it will stay till you reconcile it to confirm that every detail is correct. Then this transaction will automatically transfer to your accounting platform, and the balance of the clearing account will equal zero.
Learn more about the clearing accounts.
Multi-currency. Sometimes, accepting payments in multiple currencies may become a burden for e-commerce sellers because of the exchange rate differences. It's also trickier to predict how much profit you can gain from sales because of it. Synder has a unique feature to facilitate your workflow with multi-currencies. It will convey accurate conversion rate calculations so that you won't be on the losing end.
Reporting. Reporting shows you the total sum of your sales and expenses during a particular time and allows you to keep track of your sales to react immediately if any error occurs. With Synder reporting feature, you won't miss a dollar and will keep track of every additional expense you've made.
Why wait for a miracle when you can create it by yourself?
Bottom line
Global change doesn't always mean that from now on, your business will go down. It just shows that a user, an e-commerce seller, in that case, needs to adapt and find loopholes to simplify the new workflow with a platform.
You have the desire to continue running your eBay store and grow your business further and we have a tool that will help you. It grants not only the reliability and sustainability of the workflow but also confidence in future development.
To manage your work with the eBay store and the accounting platform via Synder, it'll be helpful to watch a Demo (held every week) and try out Synder Free Trial. Have a question? Our Support Team is available all day long to answer you!
Ready to take advantage of our partnership?