In this guide, you will learn how to reconcile Stripe payments and your Checking account in QuickBooks Desktop after you launch the Stripe QuickBooks Desktop integration by Synder.
Follow our step-by-step instructions to achieve an accurate account reconciliation with the proper records of all Stripe payouts and Stripe fees.
Overview:
Reconciliation process by Synder
How to reconcile Stripe payments in QuickBooks Desktop
Reconciliation process by Synder
The reconciliation process is simple. First, Synder will put all the payment information including Stripe fees and into a clearing account created in QuickBooks Desktop.
Creating a clearing account in QuickBooks Desktop
What is a clearing account? It is an account that is automatically created by Synder in the accounting company. You will find it in the Chart of Accounts section in your QuickBooks Desktop. It will be called "Stripe Bank Account".
Synchronizing Stripe payouts
Once the Stripe payment system withdraws the money to the bank, Synder will synchronize this Payout. Then the Transfer from the clearing account to your Checking account will be created.
Having this Transfer recorded in the accounting company by Synder, you will be able to reconcile in QuickBooks Desktop with one click.
Note: there is no need to match individual invoices to deposits in your bank feeds. With Stripe payouts synchronized, you will reconcile automatically.
How to reconcile Stripe payments in QuickBooks Desktop
Please, follow the steps below to learn how to reconcile Stripe payments in QuickBooks Desktop.
Step 1: Check the "synced" status of Stripe payments
First, make sure that you have both sales transactions and payouts synchronized. How you will know this? They will have green "synced" status in Synder.

Note: if you see that transactions are stuck in the "scheduled" status, you just need to launch the Synder Connector desktop application, which should be installed on your desktop. The transactions from the queue will go through automatically.
Step 2: Open the transaction list in the Bank Feeds Center
Then please go to the Bank Feeds Center in your QuickBooks Desktop company. To do this, follow the route: Banking->Bank Feeds->Bank Feeds Center.
Press the Transaction List button.
Step 3: Approve reconciliation in QuickBooks Desktop
There you will see your Payout—a transfer from the clearing account ("Stripe Bank Account") into your Checking highlighted in purple. It means that the program recognized this Stripe payment.
If the transaction is no older than 90 days, it will be prematched by the accounting software automatically.
Please press the Approve button in front of the Payout you need to reconcile in QuickBooks Desktop. Or select multiple transactions from the Stripe payments processor accounted by Synder and approve them in bulk by clicking on the Batch Actions button.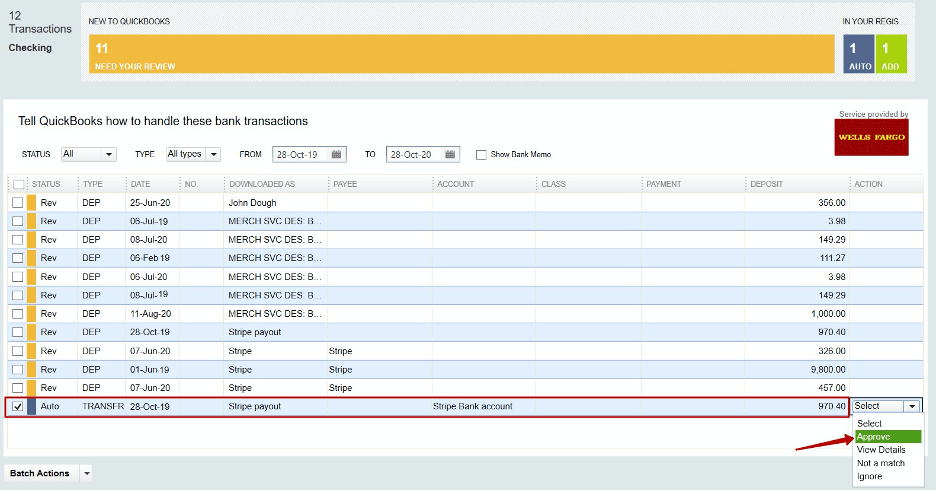 Note: The balance of the clearing account in your Chart of Accounts should go UP with each sales transaction synchronized and it should go DOWN with each Payout synchronized. So usually, it is equal to the current balance of your payment system (as the clearing account plays the role of your actual Stripe account).
That is it! With just a few clicks, you are done with the reconciliation of your Stripe payments in QuickBooks Desktop. Synder has done all the bookkeeping for you!
Note: Synder can connect as many sales channels to your accounting company as you need. Learn more about other payment platforms you can integrate into QuickBooks Desktop using Synder automation software.
Was this article helpful?