Why is the Reconciliation feature so important?
Reconciliation is the process of identifying and correcting accounting mistakes, omissions, or inconsistencies in financial records. It's a process that every company must go through to ensure their books are balanced and accurate. Having an organized reconciliation system can save you time and money by reducing manual intervention and minimizing the risk of error.
Reconciliation is important because it helps you identify and correct any discrepancies before they become larger problems.
The main reason to reconcile is to ensure the accuracy and validity of financial information. When you reconcile transactions, any discrepancies or unauthorized changes that have occurred during the reporting period come to the surface, giving you a clearer picture of your finances.
To learn more about what reconciliation is, check our article "What is Reconciliation in Accounting?" which uncovers the details of this feature.
How does it work?
If you're using accounting software, the actual reconciliation process is very easy. If you don't have any online transactions in a particular checking or credit card account, you just have to verify transactions that your system has pulled in from your account by ordering them into proper categories. Once everything is categorized, you can start the reconciliation. All you'll need is the corresponding bank statement ending balance. Upon entering your ending balance, you'll see a zero – it means everything has been recorded correctly.
Let's see how you can ease the reconciliation process and maximize the percentage of hitting zero at the very end with the help of Synder Sync!
We'll take Stripe and QuickBooks Online as the services connected to Synder.
Step 1: Sync Stripe transaction in Synder so that it'll be shown in QuickBooks account:




Step 2: Synder Sync will create a "Stripe Bank account". Once Stripe transfers money to the actual bank, the software will record a transfer from the Stripe Bank account to the Checking account. The process shows the actual money flow starting from the moment when the funds hit the Stripe account to the moment when they're transferred to the Checking account.
Step 3: QuickBooks pre-matches the transfer from "Clearing" to "Checking" account for the same amount of the bank statement line. At this point, QuickBooks makes a guess about which of the bank statement lines corresponds to a particular transaction that is created in the "Checking account". You are able to confirm its guess by clicking "Confirm":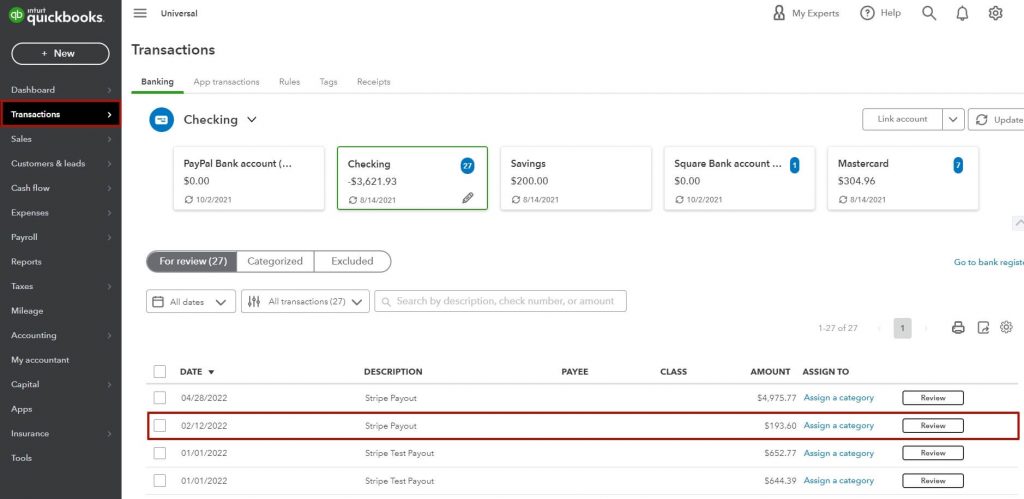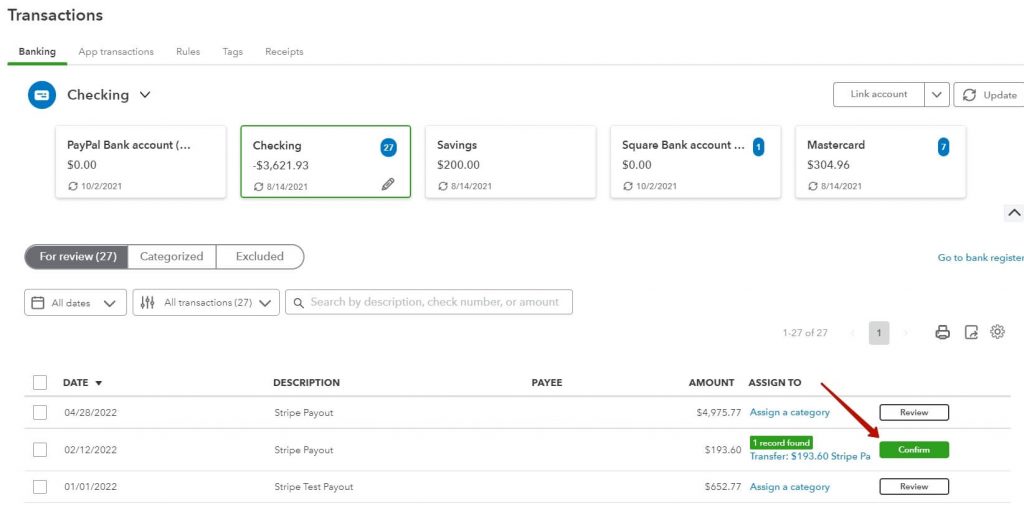 📌 Note: Once you match all the transactions, the difference should be 0 to prove that your accounting is correct.
Check our tutorial for reconciliation to see how it works step by step (e-commerce and payment gateway connection):
Why Synder?
Checking each transaction manually to make sure that there are no errors in the accounting software will probably take so much time that by the very last line you may start questioning whether you've done everything correctly. That's why Synder Sync may become an indispensable helper for busy accountants and overworked business owners.
Synder Sync doesn't only automate the accounting workflow but also creates the opportunity to prepare for tax season flawlessly. Make sure to check the other useful features that the software provides its users with and take advantage of them:
✔️ Accurate reports
Keeping track of your company's P&L is essential for any business that wants to succeed. Due to the information from synced transactions, Synder Sync provides its users with accurate and detailed financial reports. They help business owners to get the insights into their businesses and make decisions based on actual numbers.
✔️ Smart automation rules
With Synder Sync the users can automate the accounting processes in the easiest way possible. Smart Rules are the best example: it's a no-coding blockchain if-then system which business owners and accountants use to create a smooth transfer of transactions from the connected platform to the accounting software.
✔️ Multi-currency support
Selling all over the world and receiving the money in a different currency can be challenging for a business owner. That's why we've implemented the Multi-currency feature into Synder Sync. It helps users track their income in the most convenient way – receive transactions in different currencies and accurately record them in the accounting software making sure the correct conversion rates are taken.
Improve e-commerce business accounting by automating it! It's a perfect solution for both business owners and accountants that includes all the necessary features for a better workflow. Find out how to make accounting easier with Synder's free 7-day trial or book a demo session where our specialists will walk you through the onboarding process and answer any questions you'll have.
Create a safe space for your business with Synder Sync and avoid the hassle when tax season comes!