Whenever you get an idea of compiling a business plan for your future company selling online on Amazon, or maybe you already own one, and you are thinking of improving its strategy, you cannot help but think of possible ways to do it. Doing business requires all of your dedication, time, and effort. Having a limited budget for business needs does not help either.
But what does it take to build a prosperous business? What significant parts of your business plan might be missing? What are the ways to automate your business to help you clear your headspace and turn your workflow into a smooth and easy process? We are willing to share the answers to all of these questions and more in this article!
Contents:
Keeping a close eye on expenses sorting
Well-thought-out Amazon FBA Business Plan
Simple steps to start your business automation
Amazon: yay or nay?
Amazon is the largest e-Commerce platform at the moment. You can find literally any product or item there. More than 130 thousand customers have a Prime account, which means you can get the biggest amount of customers when compared with selling anywhere else. One of the main reasons to choose Amazon as a platform for your business is the unlimited profit potential: you can grow as much as you wish.
On the other hand, breaking Amazon's selling policies may lead to serious consequences, such as shutting your account down or Amazon's withdrawal of your money, so you should remember to stay honest. You might also have to deal with unscrupulous sellers, who might steal your listings or do something else in order to spoil your selling process.
After all, business owners have to risk it. However, it is up to you to decide whether the risk is worth it. You may get acquainted with an expert opinion about the pros and cons of selling on Amazon Marketplace.
Keeping a close eye on expenses sorting
Bookkeeping or accounting for retail store owners is essential, as it allows you to calculate your gross and net profit, as well as be able to plan future expenses. You may use a bookkeeper's or accountant's help or track your financial transactions using accounting tools. For instance, there is such accounting software as QuickBooks, Xero, and others.
If you were wondering how to categorize expenses in QuickBooks or Xero, there are two ways:
If you add your expenses manually, log in to QuickBooks Online account → click Expenses → click Expenses beside Vendors → select needed transactions → click on the drop-down arrow beside Batch actions → select Categorized selected → choose a category→ click Apply.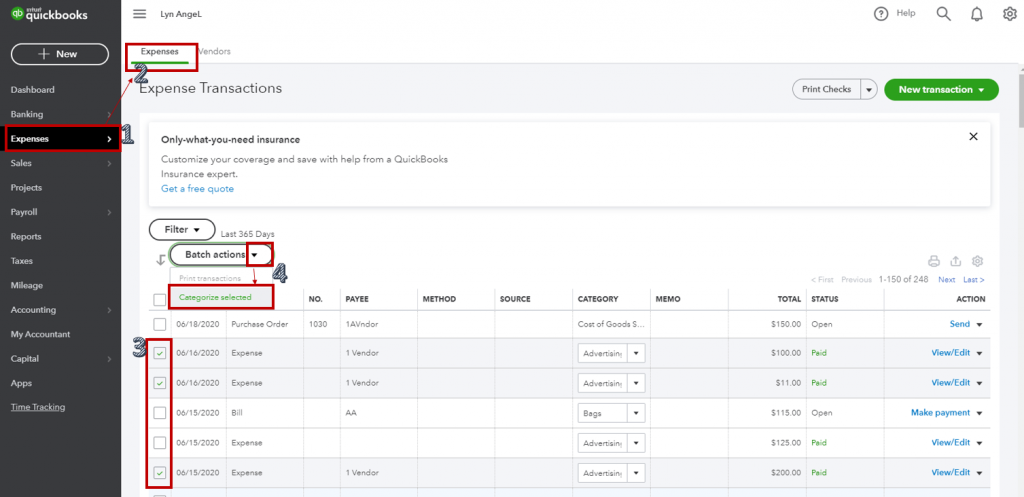 On the other hand, if the transactions are downloaded from your bank, you can categorize them by following these steps: click on Banking at the left pane → find the expenses for categorization → check the box beside the Date column → choose a category.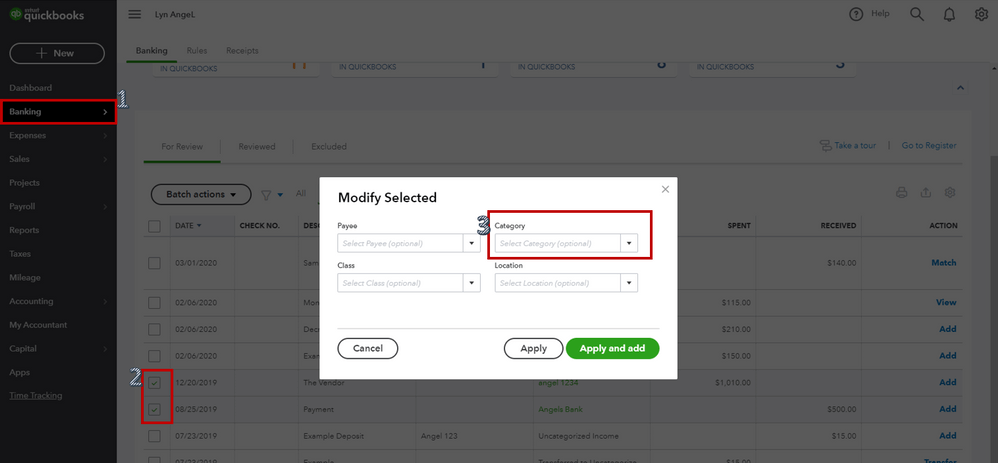 Well-thought-out Amazon FBA Business Plan
Let's suppose you were wondering what Amazon FBA is, how to start an Amazon FBA business, and how to make money on Amazon FBA. Amazon FBA may help you bring your business to a higher level. Allowing Amazon to manage your logistics makes operations easier. A huge amount of customers shopping on Amazon is also tempting for retailers when deciding where to search out new customers.
As a result, your products become more visible to millions of Amazon customers while providing world-class fast shipping and acclaimed customer service.
A guide on what to include in your Amazon FBA Business Plan
An Amazon FBA business plan template assists in establishing a good start to your business and its further growth. It's an essential amount of work needed to set up your business positioning, analyze the way to achieve your goals, and make sure that your business is capable of succeeding in e-commerce.
Here are the basic parts of the detailed A2X Amazon FBA Business Plan Template
1. Executive Summary
This is the most critical part of business planning. It is where you introduce your business and consolidate all key elements of your plan – an essential tool to structure your business plan. Ideally, this is recommended to be completed last in order to summarize each section of your plan.
2. Company Description
An Overview of the company. You may include your mission and vision, company formation information, founders, location, and notable achievements, if applicable. It features three important sub-sections:
Main objectives: This answers your goals and purposes of starting this FBA business.
Products or services: This is where you identify your products. This involves the development stages, product images, pricing, past test results, and anticipated future products.
Value proposition: This defines your edge over the other competitors. Your value proposition is there to answer the questions, 'What do you offer, what makes you different, and why do you do what you do?'. Essentially, this gives you a good gauge of how clear your business trajectory is.
3. Marketing Plan/Analysis
An absolute must-have, this serves as a vital guide for the merchant as to which marketing activities need to be done, how they will be executed, and where the future goals tie into your Amazon FBA Business Plan.
It holds the key information that all your partners and potential investors are going to want to know. You may include the following, depending on your needs:
SWOT analysis: Strengths, weaknesses, opportunities, and threats. This analysis focuses on determining the best opportunities to pursue in order to achieve your growth goals. SWOT analysis may look something like this.
Financial projections: Based on your expected sales figures, how much do you envisage your business turning over?
Target market research: Target market size, total addressable market (TAM), market research/trends, and what you do. Note: to learn more about trends for any particular niche, try the Google Trends tool, and Jungle Scout web app
Customer segments/target customer profiles & personas: This is where you identify your mass and niche markets. Here, you identify the groups of people who are most likely to buy your products and the qualitative factors that matter most to them.
Customer relationships: Strategies to build a lasting relationship with your target market.
Brand and product positioning: Where in the market does your brand sit? Are you offering a premium range of items? Does your brand convey cheap and cheerful? Is design a major selling factor?
Elevator pitches and taglines: quick and creative ways to describe your brand.
Marketing plans/channels to be used: Include details of whether you plan to reach customers via paid ad placement or organic search engine ranking, affiliate outreach, or a combination of all three.
Marketing ideas and strategies: planning this ahead of time will ensure that any money you spend on advertising, you have considered first, and can track progress.
Marketing budget: Based on your company's finances, how much can you afford to spend on marketing?
Estimates of 'cost per action' of any testing conducted: this can include cost per click, cost per conversion, sampling costs, and more. Whilst it can be very easy to get bogged down in detail, it's important to only focus on metrics that actually matter to your business.
4. Operational Plan
This part is intended to organize the moving parts of your business and allow for a practical understanding of the industry and your products.
If you are starting out on a shoestring budget, much of the operational plan will be irrelevant. However, we have included a detailed checklist of components to consider for businesses with access to larger amounts of capital and bigger plans. Here are the most important things to keep in mind:
Facilities and space needed: Either within FBA warehouses or if you are also handling warehousing, then this would include the space needed in your own house/distribution center/other facilities.
Technology needs: There is a range of software and cloud-based technologies that can be useful for simplifying the operations of an Amazon seller business. For example, A2X simplifies Amazon accounting by automating the flow of financial data from Seller Central to your cloud accounting system.
Equipment needs.
Supply chain management: Stock requirement prediction tools such as Forecast.ly and inventory management applications like Cin7 can be very helpful.
Logistics and distribution plans: Consider including details about your prep warehouses and freight forwarding partners.
Order and fulfillment processes.
Quality control checks.
Legal and accounting needs.
5. Management & Organization
In a nutshell, this section of your Amazon FBA business plan discusses your management and industry experience of your team and provides a rundown on the assigned people for each task.
You may be keen to include some or all of the following, depending on your needs:
Founders and executive team.
Any owners and shareholders.
Board of directors.
Consultants and special advisors.
Key team members and department heads.
6. Financial Plan
This is a critical part of your Amazon Seller business plan because this is where you show the exact figures and a run-through of your current financial state, thorough startup cost, forecasts, and goals.
This is geared towards providing secure funding of what you need and a product/business development budget. For those who loaned the startup funds, it is here that you want to include a repayment schedule, rundown of the exact use of funds, steps you plan to reach your goals, payment schedule in detail, petty cash funds, and contingency funds.
Here are some prompts for what to include:
Revenue streams: Look at what you are charging and if you could be charging more. How are you receiving your payments, and does it contribute enough to overall revenue?
Cost structure: Pin down fixed and variable expenses to give you an opportunity to see what you can improve on.
Current balance sheet: This is applicable for existing FBA businesses.
Past two years' financial list, if applicable.
Projections for 12 months and annually through year 5.
Break-even analysis.
Cash flow projections.
Income and expenses.
Expense projection.
7. Appendices
This includes the finer details that are referenced throughout the business plan.
You may want to include the following:
Articles of incorporation and company status.
Shareholders agreement and company constitution.
Resumes of founders and key team members.
Copies of insurance contracts.
Licenses.
Trademarks and patent registrations.
Employment and supply contracts.
Appraisals.
Deeper research data or links to references.
DBA registration look-in
DBA stands for doing business as. If you want to register your business name, it needs protection. First of all, you do not have to reveal your personal name or your formal business entity name, as you may create a different name under which you can manage your business. Secondly, opening a business bank account becomes possible with a DBA and Federal Tax ID Number (EIN).
Let's say you would like to open an optical shop, but you don't want to operate under your own name. What you could do is file a DBA for Perfect Vision and start doing business under a new name.
You might decide to turn Perfect Vision into an LLC, and it is doing so well that you would like to expand into sunglasses and accessories. You wish to stay under Perfect Vision LLC but also sell under Sunny Accessories. In this case, a DBA helps differentiate the businesses without creating various corporate structures.
Do not confuse an LLC and DBA. An LLC is a formal business structure, whereas a DBA is another name for your company to operate under.
Amazon SKU
An Amazon SKU is a unique code used to track a product for inventory and sales purposes. Typically, it includes product attribution details such as size, color, and any other pertinent information that you can glean at a glance.
One of the most confusing things for Amazon sellers is understanding the difference between an SKU and Amazon's ASIN. An ASIN is Amazon's SKU to identify a product universally and should NEVER be used as your SKU. An ASIN simply means a product exists on Amazon for sale, but it is not your SKU. When listing products, configure your own SKUs and don't let Amazon configure them for you or rely on ASINs.
SKUs in your inventory management system will make it possible for you to:
Record loss
Make strategic inventory forecasting decisions
Track item location within your warehouse
Improve inventory accuracy—no overselling
Identify shrinkage
Reconcile inventory in your inventory management system with items actually in stock
Make it easy for employees to look up inventory for customers
Perform profit analysis by SKU to determine best/worst sellers via attributes
Use the same SKUs on all your marketplaces
Have better communication with vendors
Pick, pack, and ship orders faster
Understand how long the product has been in inventory
Each SKU needs to be entered into your tracking system (not a spreadsheet!) in QuickBooks, Xero, or another accounting software. Your accounting system needs to be able to integrate with your inventory management system. If you plan on selling on multiple marketplaces, it will act as a hub for your SKUs. It's important that you do not forget to use the same SKU on all marketplaces.
Amazon Taxes
The amount of tax depends on:
The identity of the seller
The type of item or service purchased
The time and location of fulfillment
The shipment or delivery address of your order
Taxes for certain products or services also depend on city, county, or state laws. So you will need to either consult your accountant or have neat accounting books to file Tax reports on your own. You can read more about tax calculations on Amazon.
Simple steps to start your business automation
What is Amazon automation? It is the ability of your business to work and make a profit even if you are not working on it. It may be easily achieved with small business accounting software.
You will save money and be ready for tax time without much preparation done if you connect your Amazon account(s) to your accounting platform and automate your transactions. Using the best small business accounting software Synder gives you the opportunity to examine all the wonderful product features it has to offer.
Every transaction made in your payment gateways connected to Synder will be automatically recorded in your books, so you will not need to wonder how to get receipts from Amazon. Track 100% precise and detailed transaction data of your receipts, which you can see by the date, product, customer name, card or Amazon business account number, shipping location, etc. Synder will take care of every receipt from Amazon and keep it organized so that you are ready for tax season.
In order to sync Amazon Payouts with Synder, click the Match option next to all Amazon transactions, and you'll be ready for reconciliation. Real-time synchronization guarantees accurate reconciliation of your books within 60 seconds. Your financial information will stay safe, and do not be afraid of duplicate data, for the Duplicate Detector will not let it happen in your books.
Are you ready to integrate your Amazon account(s) with accounting and payment platforms to understand what a real automated Amazon business is like? Here is what you should start with, just three simple steps:
Try Synder's free trial or sign up for a subscription plan.
Connect your Amazon account(s) to Synder.
Connect your QuickBooks/Xero accounts and/or payment methods.
To sum up
So is Amazon business worth it? Amazon is one of the best platforms for selling online. However, it has its own quirks, so consider all the advantages and disadvantages.
What we know for sure is that the bigger your profit grows, the more complicated it becomes to keep track of your financial activities, nor is it a fascinating part of the business dealing in general. If you choose Amazon for your retail store, it would be wise to automate all the possible processes to the fullest. After that, you may get more time to work on building strategies, planning, and growing.
Accounting software Synder has advantages over manual work, as it can reconcile books accurately and seamlessly in less than 60 seconds. Amazon automation business will make your Amazon accounting so much easier. You will be able to track your expenses, synchronize all of your transactions, create Sales and Tax reports, all while selling on Amazon. Get ready to use small business accounting services with a powerful QuickBooks Amazon integration or Xero Amazon integration.
Related articles: