In today's digital age, selling digital downloads has become a popular and profitable business venture. One platform that offers immense opportunities for digital creators and artists is Etsy. With its large and engaged community, Etsy provides a thriving marketplace for individuals to sell their digital products. If you're looking to tap into this market and learn how to sell digital downloads on Etsy, this comprehensive guide on selling digital products will walk you through the process and help you succeed.
Understanding the products for digital downloads on Etsy
Before diving into the details, let's first understand what digital downloads are in the context of Etsy. Etsy digital products refer to digital files that buyers can purchase and download instantly, such as printable art, digital planners, e-books, stock photos, and more. Selling digital downloads on Etsy has numerous advantages, including low production costs, unlimited inventory, and the ability to reach a global audience. The growing demand for digital products makes Etsy an ideal platform to showcase and sell your creations.
Why sell digital downloads on Etsy?
Selling digital downloads on Etsy combines the benefits of a popular marketplace, global reach, low overhead costs, and the opportunity to tap into niche markets. With the right strategies and quality products, you can establish a thriving digital download business on Etsy and turn your creativity into a sustainable source of income. There are several compelling reasons to sell digital downloads on Etsy. Here are some of the key advantages:
Etsy is a large and engaged marketplace
Etsy boasts a massive and active community of buyers and sellers focused on handmade, vintage, and unique products. This built-in audience provides a ready-made market for your digital downloads, increasing your chances of reaching interested buyers.
Global reach
Etsy enables you to sell your digital downloads to customers worldwide. The platform eliminates geographical barriers, allowing you to tap into an international customer base and expand your reach beyond local markets.
Low production costs
Unlike physical products, digital downloads don't require materials, manufacturing, or shipping. This means you can create and sell digital products on Etsy without incurring significant production costs, resulting in higher profit margins.
Unlimited inventory
With digital downloads, you have unlimited inventory. Once you create a digital product, you can sell it on Etsy an infinite number of times without worrying about stock running out. This scalability allows you to focus on creating quality products while serving a growing customer base.
Immediate delivery when selling digital downloads
Digital downloads offer instant gratification to customers. Buyers can access and download their purchased files immediately after completing the transaction, eliminating shipping delays and enhancing the overall customer experience.
Flexible pricing
Selling digital downloads on Etsy gives you the flexibility to set your prices based on the value you provide. You can experiment with different pricing strategies, offer discounts, or bundle multiple products together to attract customers and maximize sales.
Niche market opportunities
Etsy caters to various niche markets, allowing you to find a specific audience interested in your digital products. Whether it's printable artwork, digital patterns, or specialized digital resources, you can target a niche market that aligns with your skills and interests.
Community and support
Etsy provides a supportive community of sellers where you can connect with like-minded individuals, seek advice, and learn from their experiences. The platform offers resources, forums, and educational materials to help you grow and succeed in selling digital downloads.
Built-in marketing tools
Etsy offers built-in marketing tools and features to help you promote your digital downloads. You can optimize your listings with keywords, utilize social media sharing options, participate in Etsy's advertising programs, and leverage the platform's SEO-friendly structure to increase your visibility and attract potential buyers.
Getting started: How to sell digital downloads on Etsy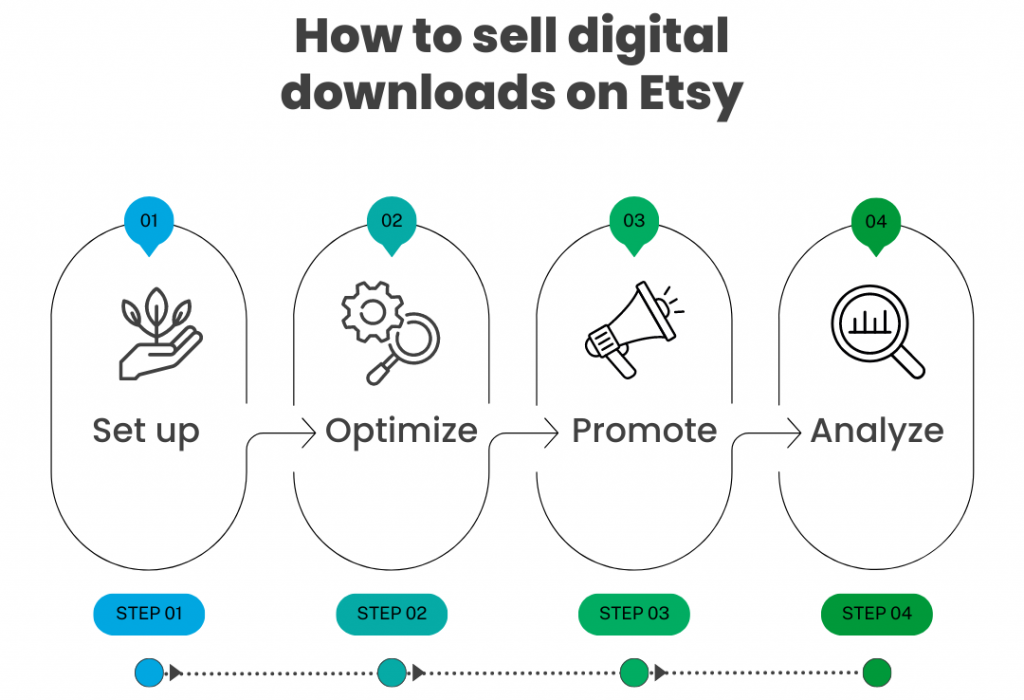 Set up your Etsy shop
To embark on your selling digital downloads journey, the first step is to create an Etsy account. Sign up and choose a shop name that reflects your brand or the type of digital products you offer. Ensure that your shop name is unique and memorable. Once your account is set up, it's essential to establish shop policies, including shipping information, return policies (if applicable), and frequently asked questions (FAQs) to provide clarity to potential buyers. Familiarize yourself with Etsy's fee structure to understand the costs associated with running your shop and Etsy payments.
Check our comprehensive guide on how to start selling on Etsy to be forearmed.
Create and prepare your Etsy digital downloads
Creating high-quality digital products is crucial to attracting buyers and standing out in the Etsy marketplace. Start by identifying a profitable niche or target audience for your digital products. Conduct market research to understand what types of digital downloads are in demand on Etsy and tailor your offerings accordingly. Choose the appropriate file formats and resolutions that ensure optimal quality for your customers. Invest time and effort into creating visually appealing and well-designed digital products. Additionally, organize your digital files effectively, making it easy for customers to download and use them.
Once you've set up your Etsy shop and started selling digital downloads, it's essential to understand the tax implications. Explore our guide on Etsy taxes to ensure you're informed about tax responsibilities.
Optimize your Etsy listings for maximum visibility
To increase the visibility of your digital downloads on Etsy, optimize your listings with effective strategies. Craft compelling and descriptive titles and descriptions that accurately represent your products and include relevant keywords. Research and utilize appropriate tags and keywords on Etsy to help your listings appear in relevant searches. Optimize your product images and thumbnails on Etsy to showcase your digital downloads attractively. Highlight unique selling points, such as customization options, special features, or bonuses, to differentiate your products from the competition.
Create pricing strategies for digital downloads
Determining the right pricing strategy for your digital downloads requires careful consideration. Start by researching the prices of similar products offered by your competitors on Etsy. Evaluate the value and uniqueness of your digital products and set prices that reflect their worth. Find a balance between competitiveness and profitability. Additionally, consider using discounts and promotions strategically to attract customers and encourage sales. Experiment with different pricing strategies to find what works best for your business on Etsy.
Promote your Etsy shop
To drive traffic and increase sales on Etsy, it's essential to market and promote your Etsy shop effectively. Use social media platforms like Instagram, Facebook, and Pinterest to showcase your digital products and engage with potential customers. Participate in relevant Etsy communities and forums to connect with like-minded individuals and gain exposure. Collaborate with influencers and bloggers in your niche to expand your reach. Consider running paid advertising campaigns on Etsy to reach a broader audience.
Provide customer service
As digital downloads are delivered electronically, the fulfillment process is relatively straightforward. Ensure that your customers receive their downloads promptly and securely. Be responsive to customer inquiries and provide excellent customer support. Address any concerns or issues promptly and professionally. Encourage customer reviews and feedback, as positive reviews can boost your shop's reputation and attract more buyers. Focus on building customer loyalty and fostering repeat business.
Monitor and analyze your Etsy shop performance
Regularly monitoring and analyzing your Etsy shop's performance is crucial for ongoing success. Keep track of your sales and revenue with the help of accounting software to understand your shop's financial health. Utilize analytics tools to gain insights into customer behavior, popular products, and traffic sources. Identify trends and adjust your strategies accordingly. Continuously refine and improve your shop by experimenting with different techniques and staying updated on the latest Etsy trends and features.
Learn how Synder can help you track your Etsy business performance.
The best digital products to sell on Etsy
When it comes to selling digital products on Etsy, the options are vast and diverse. The best digital products to sell on Etsy depend on factors such as your skills, interests, target audience, and market trends. However, here are some popular digital product categories that perform well on Etsy:
1. Printable products (art)
Digital art prints, wall art, inspirational quotes, watercolor illustrations, and customizable printables are highly sought after by customers looking to decorate their homes or offices.
2. Digital planners and calendars
With the increasing popularity of digital planning, selling digital planners, calendars, and organizers is a lucrative niche. These products on Etsy can include daily, weekly, or monthly planners, goal trackers, habit trackers, meal planners, and more.
3. Graphic design resources
Offering digital assets like fonts, clip art, icons, patterns, brushes, and textures for graphic designers and artists on Etsy can be a profitable niche. These resources enable creators to enhance their projects and designs.
4. Digital scrapbooking kits
Digital scrapbooking papers, embellishments, templates, and elements cater to scrapbook enthusiasts who prefer the convenience and flexibility of digital formats.
5. E-books and guides
If you have expertise in a particular field, consider creating and selling e-books, guides, or tutorials. Topics can range from self-help, recipe collections, DIY projects, fitness plans, or specialized knowledge in areas like photography, marketing, or creative writing.
6. Photography and stock photos
High-quality stock photos, nature photography, travel images, and styled stock photos are in demand for bloggers, website owners, content creators, and marketers seeking visually appealing imagery.
7. Digital wedding stationery
Offering digital goods such as wedding invitations, save-the-dates, thank-you cards, wedding programs, and other stationery items allows couples to customize and print their wedding essentials.
8. Digital embroidery patterns
Digital products such as embroidery patterns and designs cater to the growing community of embroidery enthusiasts who use digital files to create stunning hand-stitched artwork.
9. Educational printables
Educational materials for teachers, homeschoolers, and parents, such as worksheets, lesson plans, flashcards, and educational games, are in constant demand on Etsy.
10. Digital music and sound effects
If you're a musician or sound designer, selling such digital products as music tracks, sound effects, jingles, or audio logos on Etsy can be a profitable avenue, catering to content creators, video producers, and podcasters.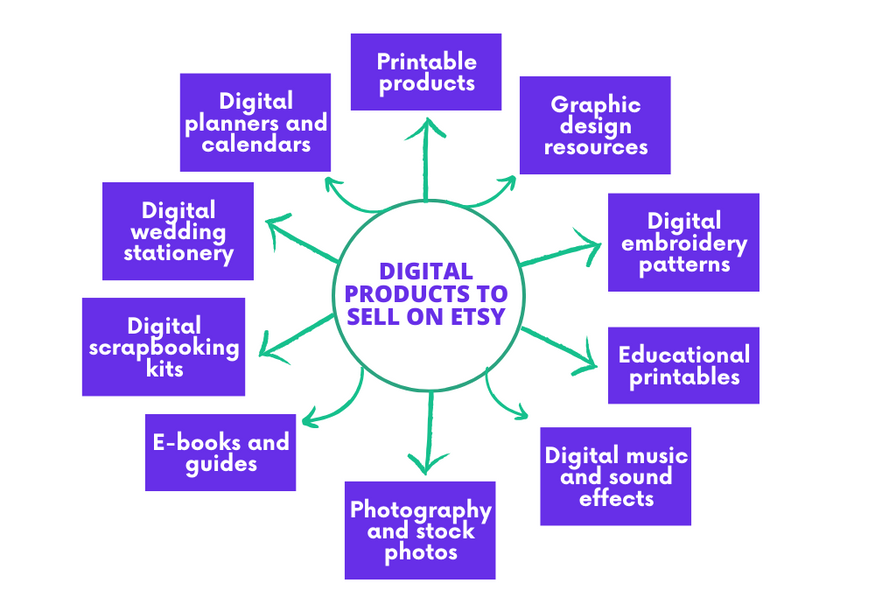 If you're interested in selling printable products on Etsy, delve deeper into the specifics with our guide on how to sell printables on Etsy. It provides valuable insights into this niche.
Conclusion: Is it worth selling digital products on Etsy?
Selling digital downloads on Etsy offers a fantastic opportunity for sellers to showcase their creative talent and earn a living doing what they love.
By following the steps outlined in this comprehensive guide, you'll be well-equipped to set up and optimize your Etsy shop, create high-quality digital downloads, effectively market your products, and provide exceptional customer service. Consider implementing a good management software solution when you'll start growing on Etsy; automation will save you a lot of time and help increase your income. Remember, success in selling digital products on Etsy requires dedication, continuous learning, and adapting to market trends. So, take action, unleash your creativity, and embark on your journey to sell digital downloads on Etsy. The possibilities of digital products are endless!