Business budgeting is an integral part of running a business. A recent study analyzing startup failures showed running out of cash as one of the top reasons for them to crumble. In light of this, business budgeting looks like something not to ignore. Still, nearly half of small businesses don't embrace formal budgets for various reasons: from a vague idea about how to put one together to the time investment is required and lack of awareness of how it can help the business.
Meanwhile, creating a business budget isn't that difficult if you know how to approach it and have the right tools to help you, which is business budgeting software.
In this article, I'm taking a quick look at why business budgeting should be a common practice for businesses and putting together a list of helpful business budgeting software.
What is a business budget, and why do you need it?
Before we get to business budgeting software and compare some budgeting software tools, it'd be great to look at the overall idea of a business budget and see at which points it helps businesses.
What is a business budget?
So, what does a business budget stand for? By definition, it's an estimation of future business incomes and expenses based on the evaluation of the business finances over a certain past period. Usually, a business budget gets created annually. However, short-term budgets, like quarterly or even monthly, also make sense and can perfectly co-exist.
Usually, a business works out a general budget for the whole company. Also, each department might have its budget (like marketing, sales, the IT department, if you have one, financial, etc.) to include the anticipated expenses and revenue. So, the general budget encompasses all those departmental budgets.
Types of business budgets
A business budget is a wide concept that might include various types of budgets a company might want to create, depending on their goals. The most typical types of budgets include:
Master budget – the general company-wide budget containing projections and goals for the whole fiscal year. Usually, it takes all the three major financial statements – the income statement, the balance sheet, and the cash flow statement – to create a master budget.
Static budget – the most basic type of budget that takes into account only fixed expenses – the ones that don't depend on production or sales volumes.
Operating budget – the budget that focuses on the operating expenses, such as cost of goods sold (COGS), and the revenue from the day-to-day business operations.
Cash-flow budget – the budget that focuses on all the company's inflows and outflows of cash (including the due cash).
Why does your business need a budget?
A budget is a tool that gives business owners more control over their finances, allowing them to track and compare anticipated against actual expenses and revenue and make more informed and timely decisions on handling their cash flow balances more efficiently.
Thus, a well-elaborated business budget will help you:
Forecast earnings and expenses and help your team better understand financial goals.
Cut unnecessary expenses, see whether you need to increase your revenue, and provide for unexpected spending. This way, you can keep your business stable in case of negative events on the market.
Scale for growth and give you an advantage when looking for funding from a bank or a potential investor.
Be more financially disciplined and achieve your financial goals with more confidence.
How to create a realistic business budget?
Oversimplified, business budgeting includes three basic components – income (or revenue), fixed costs, and variable costs. Knowing them is pretty much enough for a rough budget. However, to have a more realistic budget, you might need to consider more factors and put a bit more effort into the analysis. So, let's take a quick look at the steps you might need to follow to create a more effective business budget.
Cost analysis
Understanding the expenses involved in your business operation is the first step to budgeting. Here, you might want to focus on fixed, variable, one-time, and unexpected costs.
Fixed costs are the recurring monthly expenses you pay regardless of how much revenue you gain. These might include rent, utilities, business loan payments, some taxes, business software subscriptions, etc.
Variable costs are expenses that might vary depending on business performance. They might include COGS, marketing and advertising costs, commissions, office needs, etc. Some of these costs can be less essential for the business than others, so they'll be the first to look at when cutting your budget.
One-time costs are the expenses previewed just in the current budgeting period. They won't repeat, and this way, won't be included in your next budget. These can be spending on company events, buying new office furniture or appliances, etc.
Unexpected costs are the expenses you factor in just in case any event you don't anticipate occurs. Providing for unexpected costs in your budget, you create a safety pillow for your business if anything goes not as planned.
Cost negotiations
This can be a helpful step, especially if your business implies dealing with suppliers. If you have long-established relations with your suppliers, you can try to renegotiate some costs, which might include better pricing for in-bulk purchases, delivery costs, etc. This way, you'll preview your renegotiated costs in the upcoming budget.
Cost negotiations work at their best for long-term budgeting, like at the end of the fiscal year, when you create a budget for the upcoming year. You can also negotiate on the cost of business software – vendors often provide custom plans upon request.
Revenue analysis
At this point, you might want to look at all your revenue channels and track how your revenue changed period over period in the past to make more accurate projections, based on the change trend. However, it's important to not overestimate the expected revenue and stick closer to the figures from the previous period (unless you're almost hundred percent sure in your revenue growth).
You might also want to take into account some seasonal fluctuations in revenue. It might require thorough trend analysis based on the previous year data to identify those months most affected by seasonal increases and decreases in revenue to factor them into your budget.
Profit margin analysis
Understanding your gross profit margin is essential when creating your budget. After all, this metric gives you the most realistic picture of the cash you end up with after dealing with all expenses. It gives you insights into how well your business is doing and whether you need to reduce costs or increase revenue (and factor it into your budget).
To calculate your gross profit margin, you need to subtract the cost of goods sold (COGS) from the net sales (which is gross revenues minus returns, allowances, and discounts) and divide the result by the net sales. You might also want to multiply the final result by 100 to receive the percentage.
Gross Profit Margin = ((Net Sales – COGS) / Net Sales) * 100
What to consider a good gross profit margin depends on the industry. While a 50%-70% ratio can be considered healthy for such businesses as retailers, restaurants, manufacturers, and other producers of goods, for many service and technology businesses, law firms, or banks, this figure increases up to 90%. So to understand what's good for you, it's a good rule of thumb to benchmark against your niche.
Cash-flow analysis
Understanding the cash flow is crucial for a business. The two most important cash flow components you might want to consider are your customer payments (inflows) and supplier payments (outflows). Cash flow analysis can give you insights into how well those two are balanced. Moreover, you'll get a clear picture of how timely your customers pay you, whether there are any bad debts (from customers that don't pay), and whether your cash inflows cover the outflows. In other words, do you have enough cash to cover your due payments, including suppliers, salaries, etc.?
Basically, cash-flow analysis can help you understand whether you'll be able to reach your budget goals and set these goals more accurately. Usually, your cash flow statement and balance sheet help you get all the necessary answers.
Creating a budget
After analyzing all the above factors, you can start putting all the data together and creating your budget. Just to recall, you'll sum up all your expenses (adding here the anticipated one-time spending and the provision for unexpected expenses and taking into account renegotiated costs). Then you sum up all the revenue. Extracting expenses from the revenue, you'll get an amount to work with.
This way, you'll be able to decide how to distribute this money to reach your company's objectives.
Again, this is a really quick look at creating a budget, just to give you a general idea.
What is business budgeting software, and how does it help?
As you can see, the key to creating a proper budget is accurate financial data in the form of various reports, such as balance sheets, P&L, cash flow statements, etc. Putting it all together manually (like with spreadsheets) can be inefficient and time-consuming. Moreover, there's a high risk of losing some records or letting in errors while consolidating the reports.
And it's where business budgeting software comes to give a helping hand in the management and optimization of the budgeting process. Most business budgeting software helps create and manage various financial statements automatically. It can also automate gathering data like sales, expenses, taxes, etc., that is needed to generate reports. The advantages are pretty obvious: apart from the time saved, there's a clearer view of business finances based on full and accurate data.
What to consider a budgeting software solution?
Usually, when we speak about software for business budgeting, we mean solutions that help create a budget in many ways: from automatically putting together your financial data (revenue, expenses, etc.) to forming a budget. In light of this, you might want to consider business accounting software a solution for business budgeting. It absolutely makes sense because many accounting software can automatically generate all the necessary financial reports that you use to create your budget. Moreover, various accounting solutions on the market come with in-built budgeting functionality, making it even easier for a business to generate a pretty accurate budget.
There are many business budgeting tools on the market, from simple to the most sophisticated, so it might take you some time to explore them, identify their pros and cons, and decide on the best fit for your business. However, it's an investment that definitely pays off.
Business budgeting software you might want to look at
Now, let's look at some business budgeting software tailored to help financial teams prepare budgets in a more efficient manner.
Synder – Accounting and analytics for e-commerce and SaaS businesses
Synder is an accounting and business analytics software specially designed for e-commerce businesses and SaaS companies that need accurate accounting and quick access to instant business performance insights. Synder allows for consolidating financial data from all your sales and payment channels, automatically bringing and categorizing it in accounting, and flawlessly reconciling your accounts with the bank.
The most prominent Synder features include:
25+ integrations with the most popular payment and e-commerce platforms;
Automated data integration in the background;
Sales and expenses reports;
Financial statements;
Smart rules to customize your integrations;
Invoicing and payment links;
Instant insights into sales, products, and customers;
And more.
The powerful analytical functionality – Synder Insights – allows for instantly tracking your business performance, including sales, products, and customer behavior, enabling you to make more informed decisions based on accurate numbers. The reporting within Synder allows you to have all the necessary information for business budgeting automatically, taking a big chunk of manual work off your plate.
Should you believe Synder can be the right solution for your business, feel free to schedule a demo with the Synder support team to see how it works and ask your questions. You can also just sign up for a free trial to explore Synder and make your decision.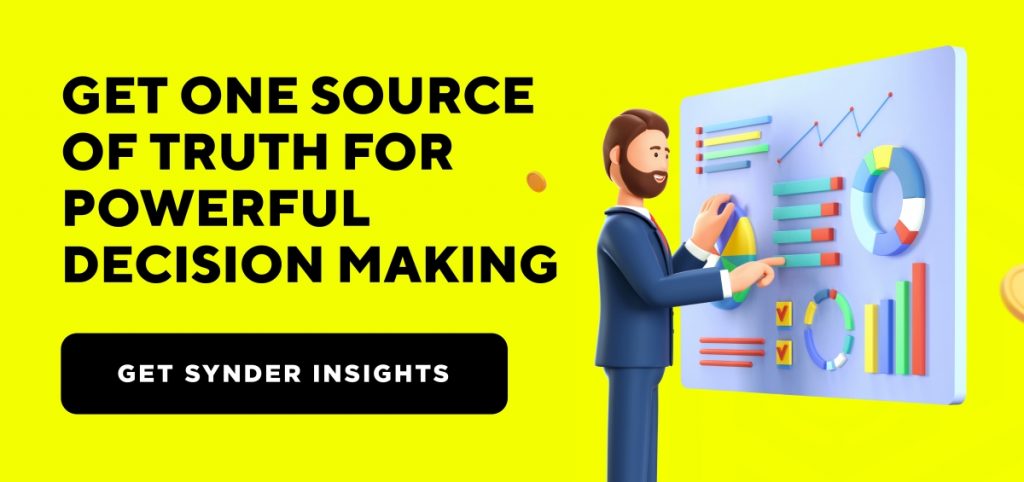 QuickBooks Online – Small business accounting with in-built budgeting functionality
QuickBooks is the number one accounting software that helps small businesses with covering their accounting needs. The solution helps to create and send custom invoices, sales receipts, or estimations in two clicks. Besides, QuickBooks can track income and expenses, and you can even take photos of receipts and save them in the QuickBooks Online mobile app.
QuickBooks Online will be available for you any time anywhere, and the information is updated in real-time. All you need is an Internet connection and a device that you can use to log in.
In addition to the standard set of features, QuickBooks Online offers:
1099 contractors management;
Batch invoices and expenses;
Customizable access by role;
Project profitability tracking;
Exclusive premium app integrations.
QuickBooks Online features a built-in budgeting solution that helps you generate a budget based on your accounting data.
As well as receiving ready-made solutions for all your accounting needs, you get access to a team of accountants who you can contact if you ever need help or advice.
Xero – Best accounting features in one app
Xero is an accounting and budget software for small businesses, bookkeepers, and accountants. Featuring pretty comprehensive accounting functionality, it also connects with 800+ smart business apps for inventory tracking, time tracking, payments, invoicing, and CRMs. So if you don't find a specific feature in Xero, you'll most likely find it within their integrations.
Within Xero, you can:
Pay bills;
Claim expenses;
Accept payments;
Reconcile bank transactions;
Manage payroll;
Apply sales taxes automatically.
Xero offers a standard set of features for each pricing plan and add-ons that you can purchase extra to customize your plan when needed.
Dynamics 365 – Best company budget software
Dynamics 365 used to be among the top 20 budgeting software in 2020 and is definitely worth paying attention to in 2023. The app is a full-body CRM that, besides budgeting, allows you to keep track of clients and communications and plan marketing activities around the provided statistics.
Dynamics 365 will improve your control over business finances and help you to make timely and well-informed decisions with the help of its embedded analytics and AI-driven approach.
Among the features you can find:
Cash management;
Forecasting;
Income & Balance sheets;
Multi-department project management;
Asset management;
General ledger;
Profit & Loss statements.
NetSuite – Financial planning and budgeting software for mid-sized and enterprise businesses
NetSuite helps to manage finances with forecasting by comparing and analyzing current results with what a company can achieve in the future. The app is the best cloud ERP and financial management provider.
Specific budgeting features include:
What-If scenarios;
Asset management;
Cash management;
Consolidation;
Forecasting;
General Ledger;
Income & Balance sheet;
Multi-company management;
Multi-department management;
Multi-project management;
P&L reports.
There are many more features useful for accounting, accounts payable, accounts receivable, resource planning, manufacturing, e-commerce, and more. NetSuite will fit a mid-sized business or a large enterprise.
Workday Adaptive Planning – Business financial planning software
Workday Adaptive Planning aims at better forecasting, planning, and business growth. Within the app, you can plan finances, workforces, and sales. Besides, you receive updated information from ERP and HCM systems and track the current tasks of employees.
As for working with finances, you can significantly reduce reporting time, analyze a large amount of information, and integrate the app with other systems like Oracle, NetSuite, Sage Intacct, and more.
Powerful features you can find:
Competitive analysis;
Correlation analysis;
Dynamic modeling;
Exception reporting;
Graphical data presentation;
Modeling & Simulation;
Performance metrics;
Sales trend analysis;
Statistical analysis;
Donation tracking;
Payroll management.
Workday Adaptive Planning will suit those companies that use spreadsheets to cover their basic budgeting needs and want to deal with the issues that can occur when using spreadsheets.
PlanGuru – Budget planning software
PlanGuru has over twenty methods for analyzing and forecasting budgets with balance sheets, income, and cash flow statements. With the app, you can set goals for your company and see if you're progressing or not. The forecasting feature helps with decision making and seeing what's achievable. You'll also have access to strategic planning that will correct you and present to your employees what the company will focus on in the nearest future. It's proven that a team with a clear goal that everyone understands will be the most productive.
Among the abilities that the app has, you'll find:
QuickBooks, QuickBooks Online, Xero, and Excel import;
Budget forecast for up to 10 years;
Built-in templates for financial statements;
20+ Standard forecasting methods;
Forecasting with non-financial data;
Payroll;
Custom report builder for Excel.
PlanGuru will be a match for a small business, accountant, business advisor, or nonprofit organization.
Besides all the integrations and functions, there are also some resources to learn more about the app. You can sign up for a live demo, watch video tutorials or visit the knowledge base.
Sage Intacct – Business budget software for mid-sized companies
Sage Intacct provides a more detailed look at the scalability and flexibility of a business. Sage allows businesses to automate ordering processes, keep track of company performance, communicate between departments, and find ways to grow customer satisfaction.
Among all the features you may be interested in are the following:
Accounts Receivable;
Bank reconciliation;
Billing & Invoicing;
Expense Tracking;
Fixed asset management;
Fund accounting;
Payroll management;
Project accounting;
Purchase order management;
Tax management.
Expensify – Simple business budget software for receipts and expense management
Expensify helps to track receipts and expenses on the go. The app allows you to upload photos of your receipts, automatically categorize them, and submit them into your accounting system. Expensify integrates with QuickBooks, Xero, Sage, and other apps. It offers an extensive set of features, including:
One-click receipt scanning;
Corporate card reconciliation;
Multi-level approval workflows;
Audit and compliance;
PCI security;
What-If Scenarios;
Forecasting.
Expensify will fit individuals and organizations from different industries and of various sizes.
Kashoo Online Accounting – Online accounting software for small business
Kashoo makes it easier to do accounting for a small business. The app will automatically sort and categorize all the transactions of your business. They have implemented OCR technology to be able to scan receipts and import+categorize them in your accounting company. Whenever you have a new vendor you haven't worked with yet, Kashoo will create a new contact in the contact list with no need for you to enter any information manually.
The advantages you receive when working with Kashoo Online Accounting:
Categorization with Machine Learning;
Easy reconciliation;
Income & Expense tracking;
OCR receipt import;
Easy to receive financial reports.
Kashoo can suit small businesses and individuals that look for a solution at an affordable price.
The bottom line
Well, such a variety of solutions can ensure that, most likely, you'll find the best fit for your business. At the same time, it can be pretty complicated and confusing to understand what to go with. So I'd recommend starting with analyzing the issues that your company is experiencing and that you need to solve. Thus, it'll be easier to understand what features you might need in the software and base your research and choice on them.
I hope that this article will help you decide on the best budgeting software for your business.