Accounts Receivable is a vital aspect of a businesses' fundamental analysis. Being a smart accounting software, Synder records all payment details once the purchase is made, and furthermore, it is a great help in managing AR in your books. With the Synder solution, you can automatically close open invoices with synced payments and generate open invoices from Stripe in your QuickBooks Online or Xero once the invoice is issued in your Stripe.
Let's take a closer look at the functionality and enable syncing unpaid Stripe invoices on the background with Synder!
Overview:
Important note. Sync unpaid invoices functionality is available for QuickBooks Online and Xero integrations and Stripe invoices only.
How to sync open Stripe invoices
Step 1. Enable the Sync unpaid invoices config in Synder in the Settings tab → hit Configure for Stripe → turn it on in the General tab, and hit the Update button.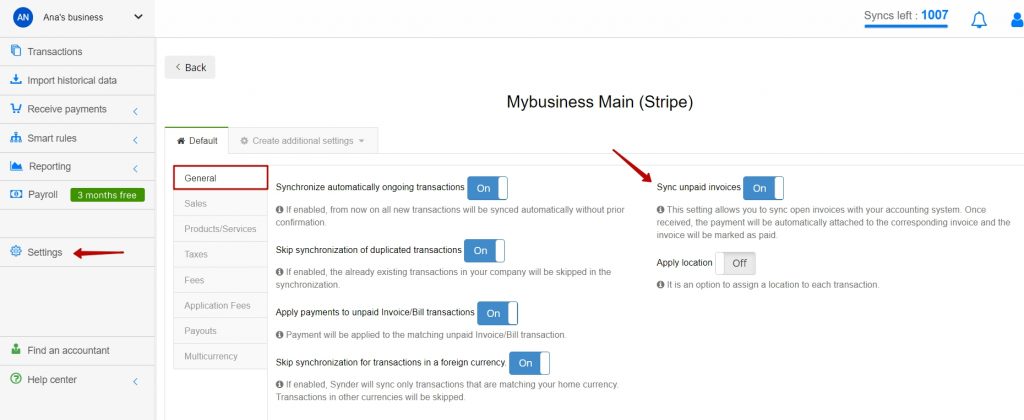 Step 2. Create an open invoice in Stripe or find one you would like to sync in your Stripe: Customers → Invoices (you can filter by the Open status).
Important note. Only invoices with the Open status will be synced, voided, or marked as paid outside Stripe invoices will not be imported.

Once the corresponding setting is enabled in Synder, the software will automatically import and sync ongoing open invoices from Stripe into your QuickBooks or Xero with the Invoice type.

Important note. Historical open invoices will not show up in Synder until you import them in the Import historical data tab on the left menu of Synder. So you can either Import transactions for review or Sync right away, check out our detailed guide on How to sync historical transactions with Synder.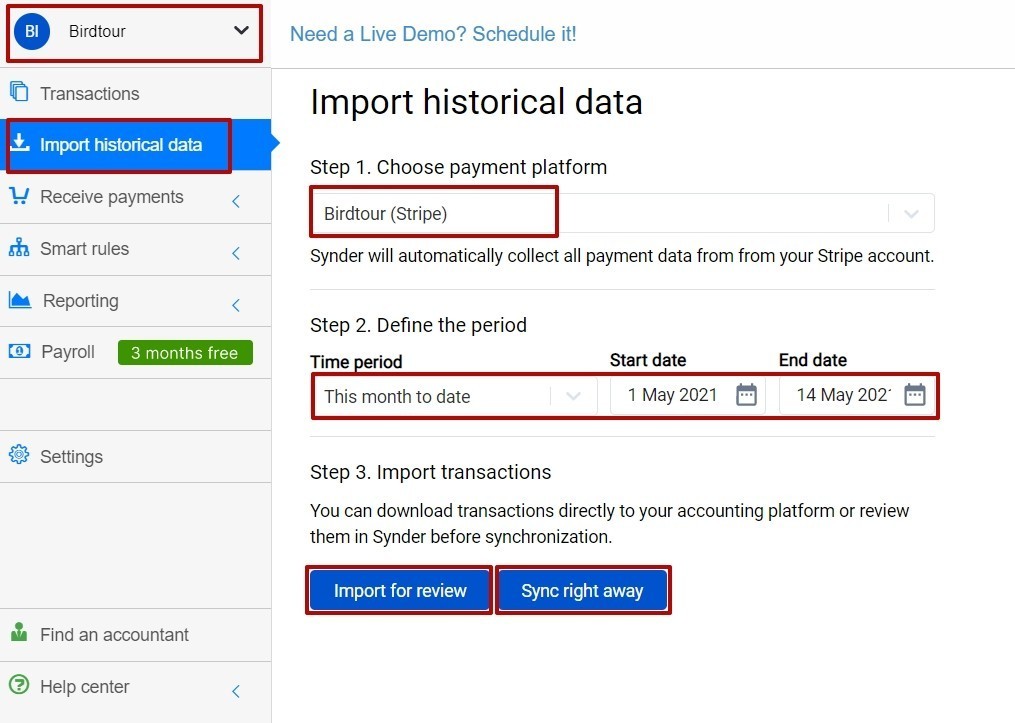 How to link payments to open Stripe invoices in QuickBooks or Xero
As soon as the invoice is paid, the payment will be applied to this very invoice automatically, and the sale will be recorded in your Stripe bank account in QuickBooks or Xero.
No worries, Synder tracks such linked invoices+payments separately – so it doesn't conflict with the regular setting Apply payments to unpaid invoices, which looks for existing invoices in your QuickBooks or Xero.
Important note. Open invoices are not taken into consideration during reconciliation (as they are non-posting transactions) and they show in the Accounts Receivable. Once the payment is received, Synder will close the invoice, record the payment in your Stripe bank account and prepare the sale for one-click reconciliation in your QuickBooks Online or Xero.
Tips and tricks
Note 1. You will be charged one sync credit for each synced invoice and one sync credit for each synchronized payment (2 sync credits in total to record invoice+payment).
Note 2. If the setting Sync unpaid invoices is disabled, open Stripe invoices will not be imported or synced even if you have them in Stripe. Instead, Synder will only synchronize paid invoices and other transaction types like charges, refunds, payouts etc.
Congratulations, you did it! All you need is to open your books and check the open invoice created.

Get in touch with the Synder team via online support chat, phone, or email with any questions you might have so far – we are always happy to help you!
Was this article helpful?