It's no secret that being a business owner means constantly juggling many tasks at once. If you or your accountant records your business transactions in Xero or QuickBooks manually, human error is almost unavoidable. Errors in individual transactions lead to serious issues in cash flow statements, balance sheets, and income statements. That's where the Synder smart bookkeeping automation solution comes in, doing everything possible to keep your books in great shape, up-to-date, and comprehensive. Synder will detect your transactions once the money goes into the payment processor that you are using in your Ecwid, and from there it will go to the Ecwid app to grab details about items, customers, etc. Setting up Ecwid Xero or QuickBooks Integration you will be sure that every transaction (be it a customer payment, refund, payout, or a fee paid to the vendor) will be recorded with maximum details into the accounting company allowing for easy categorization and reporting. Using Synder software you can automate reconciliation (a serious headache for many accountants and business owners) of sales from your Ecwid e-commerce with accounting to always have your books prepared for correct reporting and hassle-free tax filing!
Overview:
Important note: In order to record data in your accounting, Synder needs ALL the supported payment gateways connected in addition to your Ecwid store (e.g. Stripe, PayPal, Square).
If you connect only Ecwid to Synder without the linked payment gateways, Ecwid orders won't show up in Synder.
Start the Ecwid integration from scratch
Create a free trial account
If you're getting started with Synder you'll need to create a free Trial account and connect your accounting system first. Check out this guide if you would like to integrate Ecwid with Synder accounting, QuickBooks Online or Xero and this article to connect your QuickBooks Desktop company.
Select the product(s) you are going to use:
Synder Sync;
Sales Analytics;
Or both of them for perfect control of your business.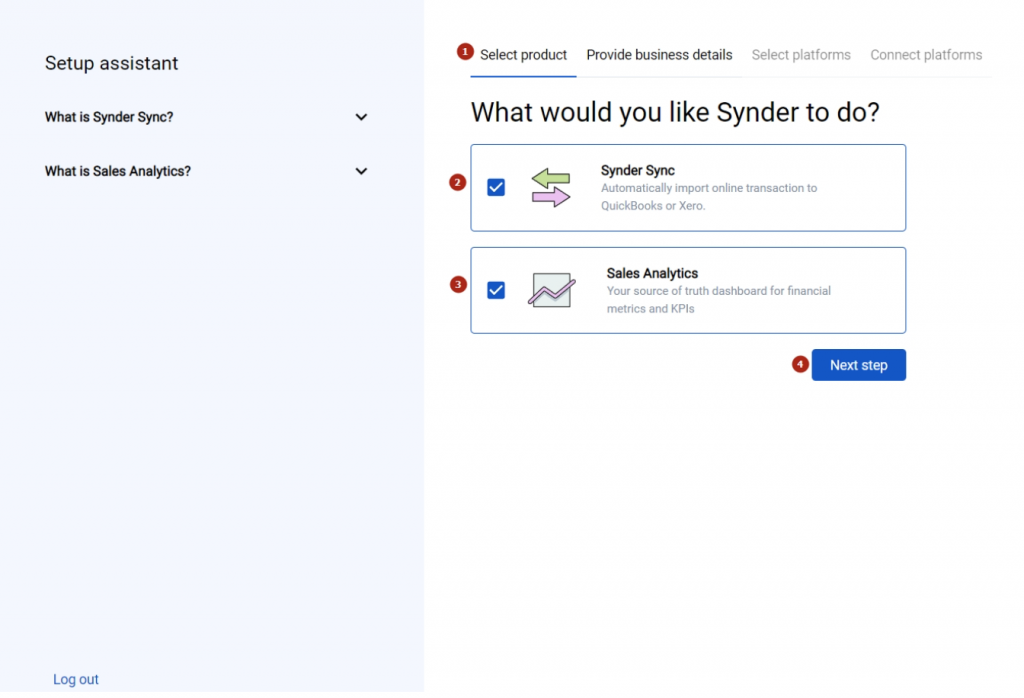 Synder Sync: choose this product to push all of your transaction data from all sales channels into QuickBooks Online, QuickBooks Desktop, Xero, or Synder Books – our native accounting solution.
Sales Analytics: this Synder product lets you see how your business is doing. It aggregates data across all of your connected sales channels and payment gateways and provides you with timely insights into your products' performance and your customer behaviors, as well as financial health indicators such as total sales, average order value, etc. The data is updated every hour!
Provide your business details
Going through the set-up process of an Organization for your QuickBooks/Xero company or Synder Books – just fill in the information about your business and hit the Next step button.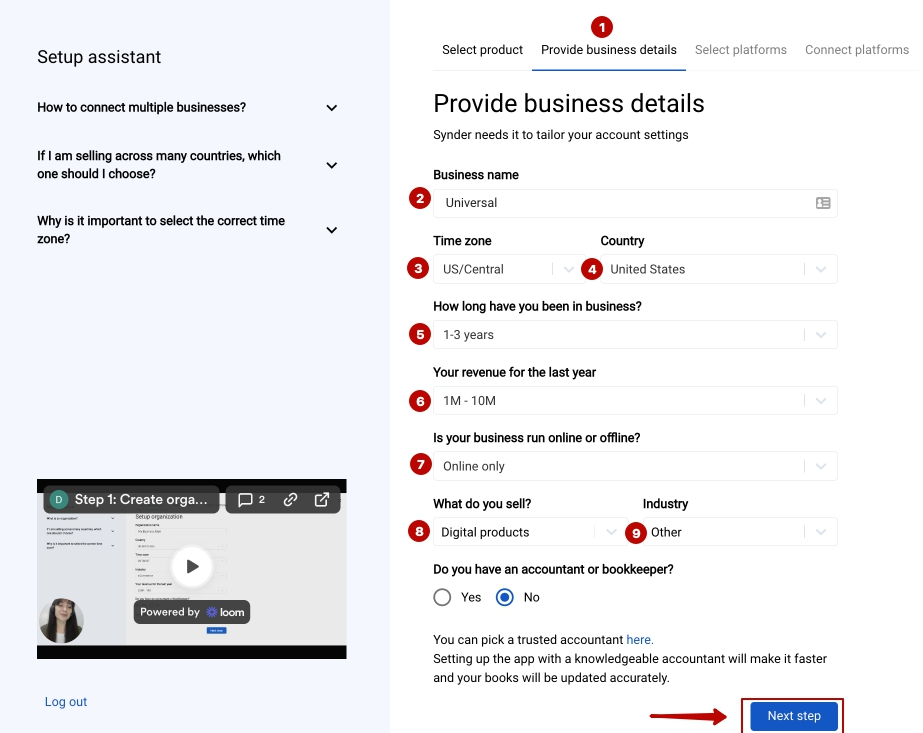 Select the platforms you would like to integrate
Now you need to select the platforms you would like to connect to Synder. Mark Synder accounting, QuickBooks or Xero, and select a payment processor that you are using in your Ecwid online store – we will take Stripe as an example in this guide (you can double-check it in your Ecwid in the payment section on the left-hand menu):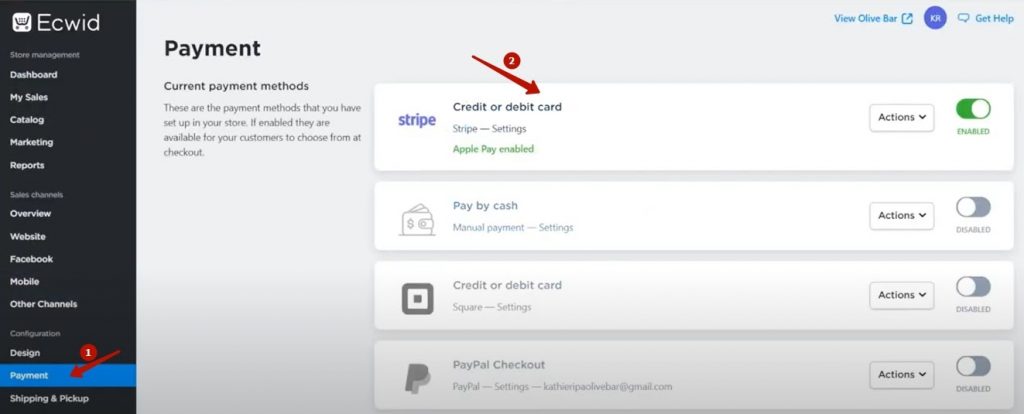 You may choose all other sales platforms you would like to integrate with Synder (click View all processors to see the list of all available platforms).
Note: An Ecwid store can be connected to Synder from the Ecwid side only (that is why Ecwid is not listed in the Select platform tab in Synder among other supported platforms).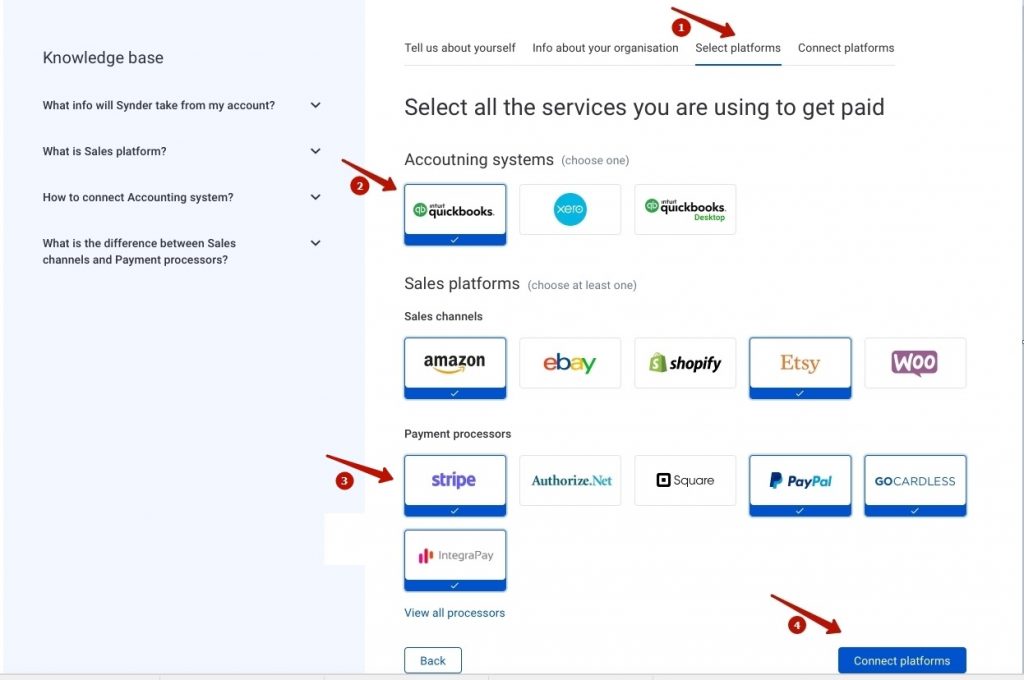 Note: Mark all the services you are using to receive payments, you will be able to connect all of them right away or skip the connection of particular integrations and set them up any time later.
4. Install Synder from Ecwid App Store
Install Synder from your Ecwid store:
1. Navigate to Ecwid Apps.
2. Click Apps on the left menu.
3. Select Synder.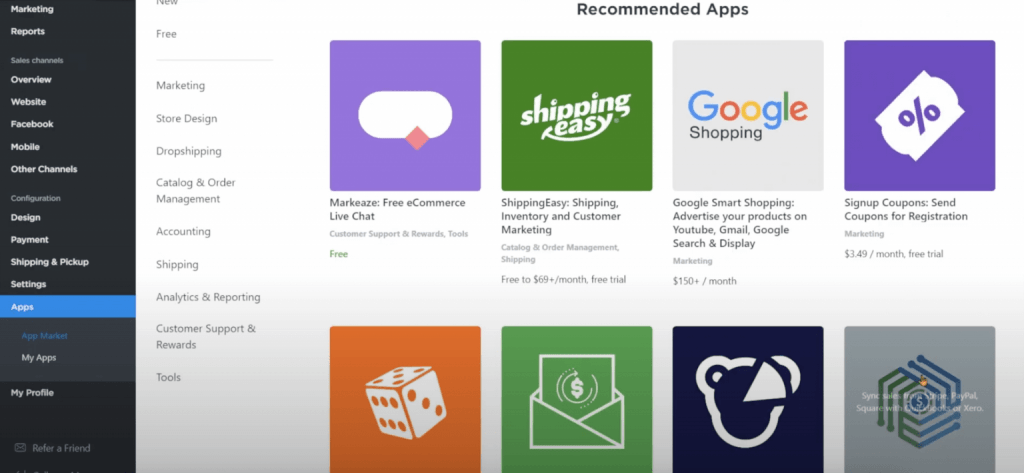 5. Connect your accounting platform
Connect your QuickBooks Online or Xero company by clicking on the Connect button and grant permission to the app to record data in your QuickBooks or Xero company. If you are a QuickBooks Desktop user, check out this video tutorial to learn How to connect and sync data into QuickBooks Desktop.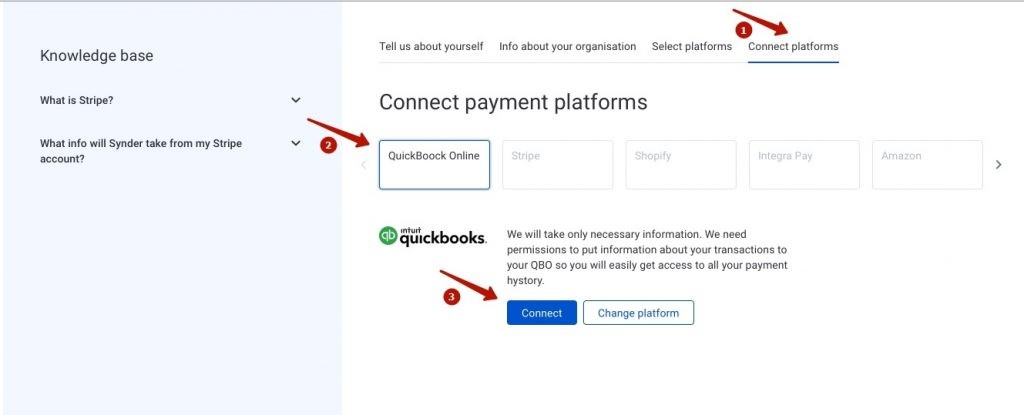 6. Connect your payment provider
Connect payment gateways you use in your Ecwid eCommerce (in this guide we use Strtipe as an example). You can integrate them one by one straight away following the steps on the screen: just hit the Connect my Stripe account button → grant permission to Synder.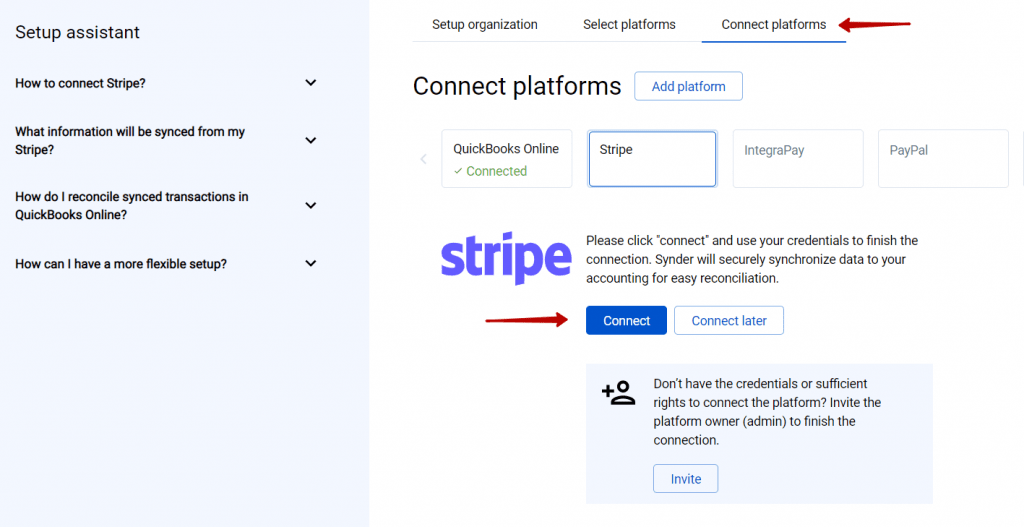 You can connect other sales platforms later in the Settings: tap the Settings button on the left side menu → hit the Add payment platform button.
Note: You can find our detailed guides on how to connect your sales channels and payment providers to QuickBooks Online/Xero via Synder in our Help center.
7. Set up your payment provider
To complete the setup for the Stripe integration choose an account for payouts (usually, your Checking account) that will allow smooth reconciliation of your Stripe transactions in one click.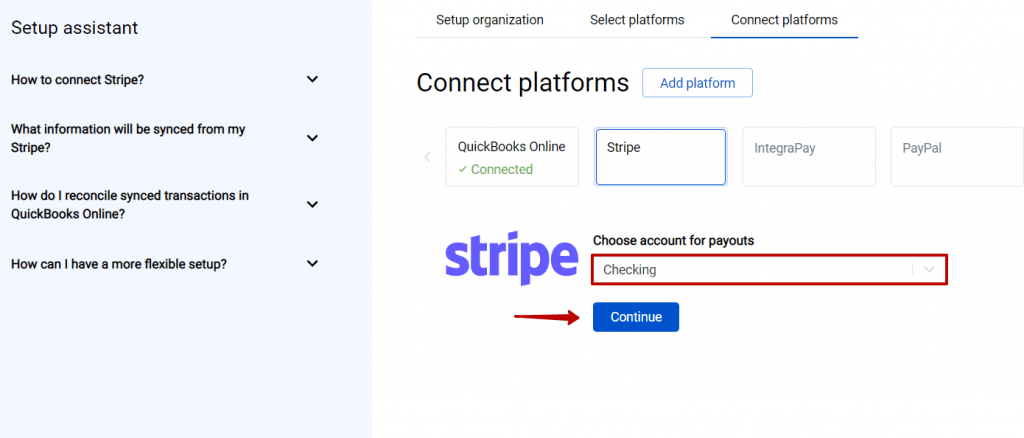 Connect Ecwid to an already existing account
If you have already set up a Synder account and your payment providers and would like to integrate your Ecwid store with the software check out the Step 4. Install Synder from Ecwid App Store above to connect Ecwid to Synder.
In order to add a payment provider (e.g. Stripe) that is used in your Ecwid store, follow these steps:
Switch to the needed Organization in the top-left corner of the Synder page.
Navigate to Settings on the left-side menu.
In the Payment platforms section and click Add payment platform.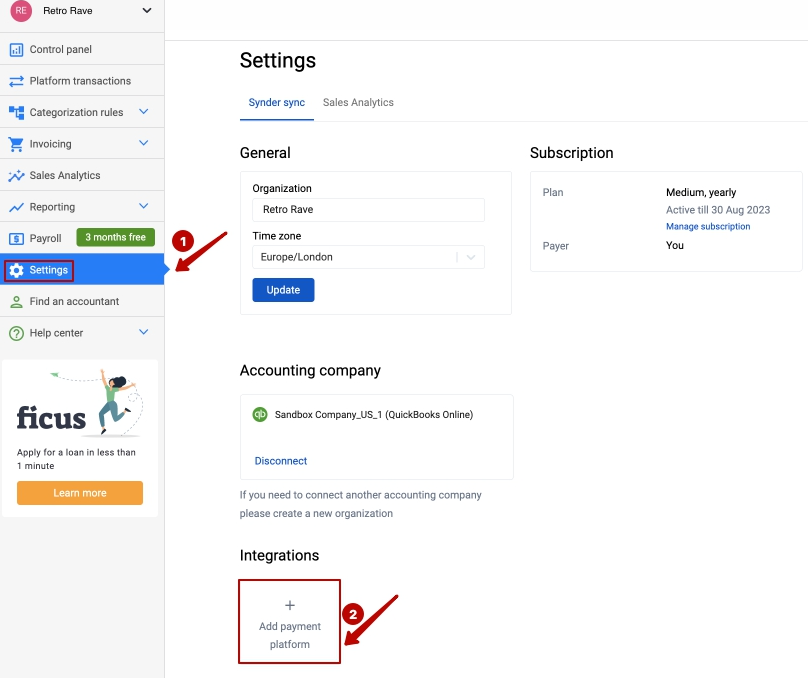 4. Select Stripe in the dropdown and hit the Connect button.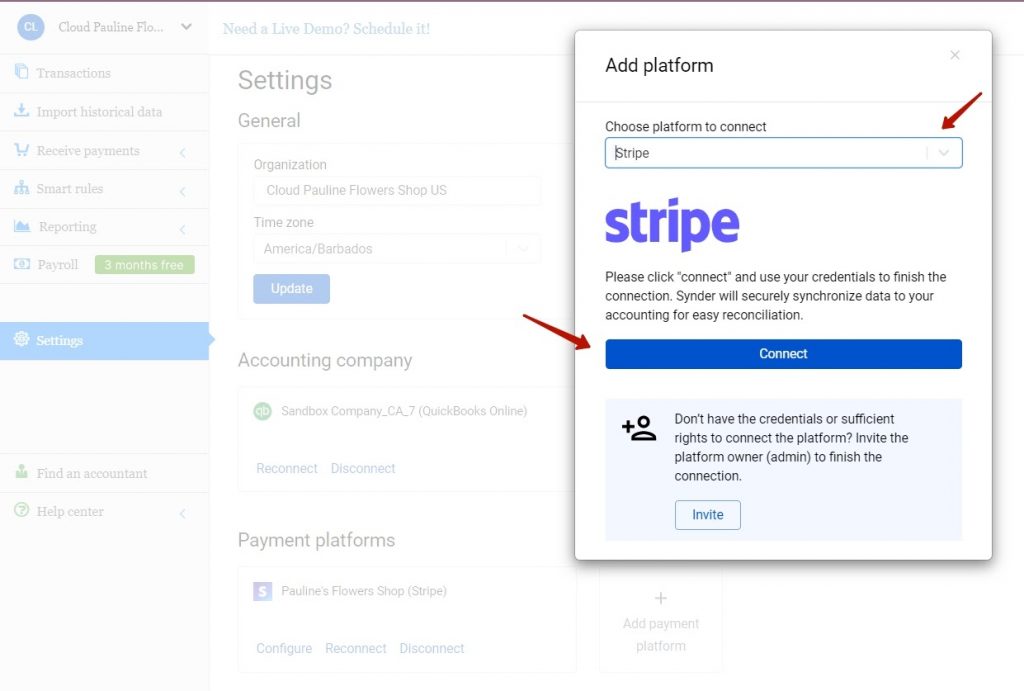 5. To complete the setup for the Stripe integration choose an account for payouts (usually, your Checking account) that will allow smooth reconciliation of your Stripe transactions in one click. Hit Continue to finish the configuration.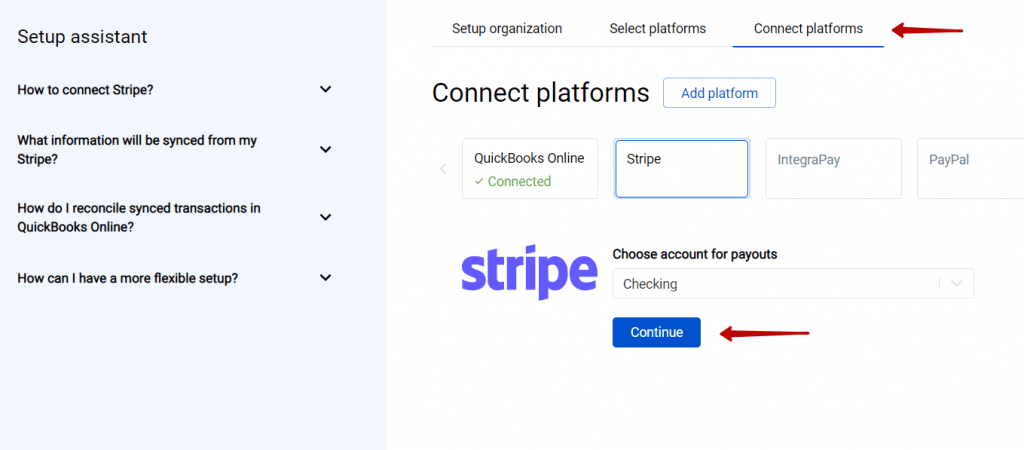 Tips and tricks on the Ecwid integration
Note 1. Ecwid needs to be connected from the Ecwid side only and have at least one payment provider (e.g. Stripe, Square, PayPal etc.) integrated with Synder. The software will import and synchronize transactions from the payment provider you use in Ecwid and record the Ecwid order details such as taxes, customers and items in your books.
Note 2. You can connect only Ecwid stores on a Business plan or higher to Synder.
Note 3. Check out our 3 Must-Watch beginner guides to find out how Synder can help you automate your bookkeeping.
Bravo, you have set up the integration between Ecwid e-Commerce store and Synder! If you feel like some adjustments are necessary, you can manage that in Synder settings. Open them on the left menu → hit the Configure button under your payment platform (e.g. Stripe). If you need to fill in gaps with missing data after the sync into your QuickBooks Online, like applying classes or locations to transactions, the Smart Rules feature will be of great service. Now, you can customize your Synder according to your needs.
Get in touch with the Synder team via online support chat, phone, or email with any questions you might have so far – we are always happy to help you!
Was this article helpful?