Overview:
This guide will give you some more details upon settings of your Pin Payments Xero integration that can be customized in the app to tailor it to your needs. To access Settings after the connection, click Gear Icon on the top right corner of the app.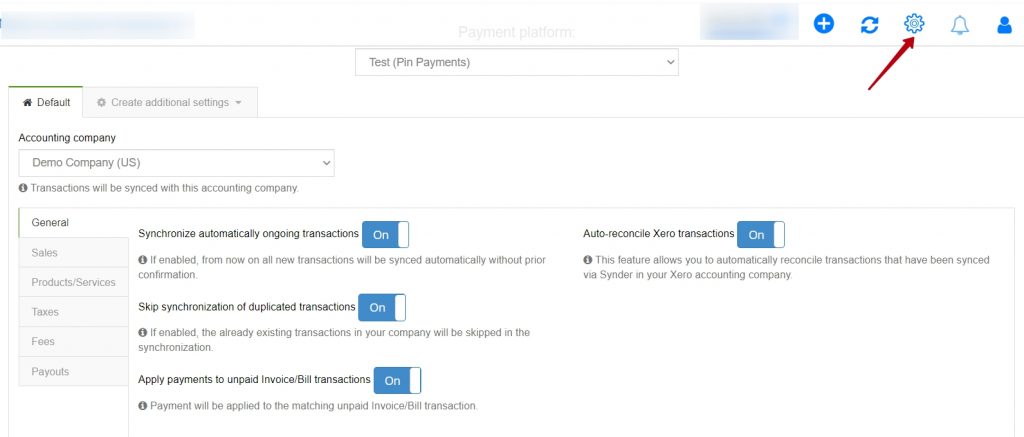 1 – General settings

You can enable Synchronize automatically feature so that the app can sync your new coming transactions automatically within an hour after appearing in Pin Payments. If you want to sync your historic transactions, you can also do that with our app. Please, go to Import historical data (on the left), set the dates, and click on import. You may read about importing historic transactions here.
Skip synchronization of duplicated transactions – when "ON", transactions that already exist in your QuickBooks Online company will not be synced again.
Apply payments to unpaid Invoice/Bill transactions – when "ON", once the system encounters a payment that matches an unpaid invoice, it will be automatically applied to it.
Auto-reconcile Xero transactions – The feature helps to automatically reconcile transactions that have been synced via Synder in your Xero accounting company. Please note, reconciled transactions cannot be rolled back via Synder unless you unreconciled them on the Xero side first. Find more information about the auto-reconciliation feature.
2 – Sales
1 – Bank Account – Select a clearing account for your Pin Payments transactions here. The app creates a Pin Payments Bank Account for you in your Chart of Accounts. All the sales, expense and refund transactions will be deposited to this account initially, and then transfers will be recorded by Synder to balance your checking account.
2 – Apply default customer feature helps you to account for all the sales under one customer (as opposed to sending over each individual customer name).
3 – You may choose the name of the default customer from drop-down menu and all your transactions will be synced under the name of the default customer selected.
3 – Products/Services

1 – Generic Product – enabling this feature will replace the name of the product from your transaction to selected in Generic Product name. So all the sales will go into your accounting platform with the same product name (as opposed to having individual product names specified in the payment processor).
2 – Default Product – choose or type in a name to be used if there is no product name to be found in your transaction.
3 – Product Income account – you need to set the account the new products will be associated with when they are automatically created by the app (when something is missing in your Xero). All existing products will be matched with no issues (in case names are the same on Pin Payments and Xero sides).
4 – Product mapping – Synder is able to identify existing products in your accounting company and apply them to transactions. If product names in your payment system and accounting company don't match 100%, fill in the product names from your payment platform in the right field to map it to product names from your QuickBooks in the left field. Check out an additional guide about product mapping feature.
4 – Taxes

1 – Apply taxes – when "ON", the system will search for a matching tax code. In case the system cannot find it, a tax amount will be included in the total sum. If you enable this feature, then taxes from your Pin Payments account will be properly reflected (as taxes) in your Xero.
If you disable the taxes the app will put the amount into a separate product line in the transaction.
2 – Sales tax settings. Apply generic tax code – when "ON", the app will apply the tax rate you specify in the settings to both taxable and non-taxable Sales transaction you sync with the app.
3 – Expense tax settings. Apply generic tax code – when "ON", the app will apply the tax rate you specify in the settings to both taxable and non-taxable Sales transaction you sync with the app.
5 – Fees
1 – Set the Fee Bank account for your fees to be applied, please note that fees account and sales accounts should be the same. We recommend using a Pin Payments Bank Account for it.
2 – Supplier – the app will use this Xero Supplier to associate with your Pin Payments fees. Select available, or type in a custom one, like "Pin Payments".
3 – Fee line account, select the category your fees will be applied to.
6 – Payouts
1 – Process Payouts – once you enable Payouts, the app will create transfers to match them to the bank feeds records for easy reconciliation. It will be done automatically as soon as the app will detect Pin Payments payouts to the bank.
2 – Transfer funds to – please select your checking account here.
The app synchronizes all the sales transactions (and fees) into the clearing Pin Payments Bank Account, so to reconcile your checking you need to record a transfer from the clearing account to your Checking. The app will do this for you if Payouts are enabled.
Do you have any questions? We would love to hear from you. Please, contact us via online support chat.
Was this article helpful?