Overview:
How the products are treated by Synder
Synder is able to recognize existing product names in your accounting system and if the identical match (spelling should be exactly the same) is found during the transaction synchronization (by the product/service name or SKU) Synder will apply the product found to the transaction.
If the product name is missing in your accounting system Synder will be able to create the product or service during the synchronization of the transaction according to the settings (check out Products/Services tab).
Enter Product Mapping: the silver bullet that can solve these issues.
Product Mapping Flow in Synder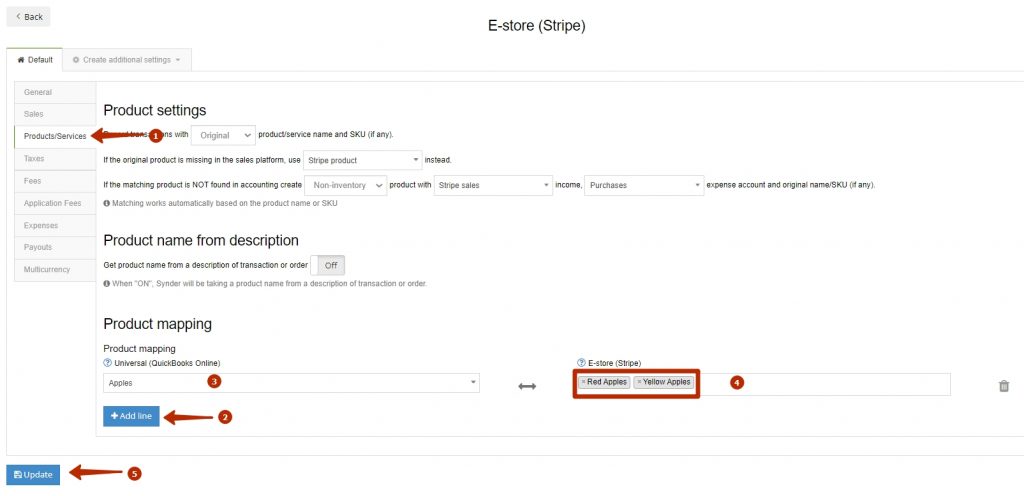 To map product names from your payment platform to your accounting company:
Go to Synder settings —> Products and services tab.
Click Add line to add a new line for mapping products.
Select your QuickBooks or Xero products from the dropdown (the left field).
Fill in the product names from your payment platform in the right field. Please note that the names you type in the Payment Platform field must be absolutely identical to the names you have on your payment platform side (yes, those colons and underscores matter, too, so better copy and paste the name you need). You can match more than one name from your payment platform to one product in QuickBooks or Xero.
Click Update to save the settings.
Synchronize your transactions to check the results in the accounting company.
What You Get As The Result
Once you map the products, you will not have any duplicate products in your accounting system. The recorded transactions will be nicely categorized to the income accounts linked to the products in your QuickBooks.
Was this article helpful?