It's vital for any competitive business to keep track of their data, which allows them to adapt to the changing economic situation and stay on top of the game.
This idea isn't new and various ways of collecting and analyzing business data were used years ago. We might say that today businesses have no lack of data, on the contrary, the abundance of business information urges savvy business owners to analyze and prioritize.
If we come to the notion of "business intelligence", today it's used to describe software and services that help to turn business data into actionable insights and data-driven decisions making businesses successful. There are numerous ways business intelligence helps businesses grow and prosper. While surfing the Internet, one may come across various terms related to business data processing, the difference between them will be covered a bit later.
This article will focus on the following points:
1. What is Business Intelligence?
3. Essential statistics on Business Intelligence 2021-2022
4. Business Intelligence vs. Business Analytics
5. Types of BI Tools and Software
6. How does Business Intelligence help businesses?

What is Business Intelligence?
According to CIO, a magazine related to technology and IT, Business Intelligence (BI) leverages software and services to transform data into actionable insights that make an organization's strategic and tactical business decisions. Business Intelligence tools help to access and analyze business data and then present the findings in the form of dashboards, reports, graphs and summaries, which reflect the state of the business. Such tools provide quick and easy-to-grasp information on the current state of the company.
Investopedia sees Business Intelligence (BI) as the procedural and technical infrastructure that collects, stores, and analyzes the data produced by a company's activities. BI is a broad term that includes data mining, process analysis, performance benchmarking, and descriptive analytics. BI collects the data generated by a business and presents easy-to-digest reports, performance measures, and trends that inform management decisions.
Statista.com represents Business Intelligence as software tools which analyze, visualize and present data and information in business context, which in its turn supports rational business decisions. BI tools help to access data, implement queries, create reports and perform advanced analytical procedures. There are two ways BI Software can be provided: on-premises, and cloud-based software (software as a service or SaaS).
The main point in all these definitions is transforming business data into informed business decisions by means of software tools, which may be seen as a modern view on Business Intelligence.
Some history of BI
It's clear that the term "Business Intelligence" didn't appear yesterday, though today it's closely associated with information technology.
About 150 years back Mr. Richard Miller Devens used the term "business intelligence" in his book Cyclopedia of Commercial and Business Anecdotes, which was first published in 1865. The term was used to describe how a successful banker managed to profit from gathering and using information to surpass his competitors. That proved using data and empirical evidence more reliable and effective than "gut feeling" when it comes to working out a business strategy.
Frederick Winslow Taylor, an American mechanical engineer, is considered to be one of the first management consultants and is widely recognized for his methods of improving industrial efficiency. The main principles were described in his book "The Principles of Scientific Management" which saw the light in 1909. He argued that scientific study of the industrial processes might help to improve their efficiency. Thus, he studied and analyzed production techniques and laborers' body movements to find the best combination for production boost. Taylor's work made a huge contribution to the way manufacturing industry is managed all around the world.
The advance of computer technologies gave a rise to modern Business Intelligence that was no longer done with pen and paper.
1956 saw the invention of the first hard disk drive by IBM, which made it possible to store large amounts of information with greater flexibility of access. IBM researcher Hans Peter Luhn published a historical paper called "A Business Intelligence System" in 1958.
The term "Business Intelligence" was coined in 1989 by Howard Dressner, who was a research fellow at Gartner Group. He used it to describe using fact-based support for improvement of business decision making.
It's safe to say that Business Intelligence has been evolving for at least 150 years and has come a long way from pen-and-paper reports and the first decision support systems (DSS) in 1960s to various forms of analytical and data storage software tools in many offices today.
Essential statistics on Business Intelligence 2021-2022
Some quantifiable data on BI will certainly help to see its importance in today's business world.
According to statista.com:
The Business Intelligence Software segment is projected to bring the revenue of $23.43 bn in 2022, most of which ($11.71 bn in 2022) will be generated in the United States.
The annual growth rate of the revenue (CAGR 2022-2027) is predicted to be 6.75%, which turns into a market volume of $32.48 bn by 2027.
The average Spend per Employee in the Business Intelligence Software segment is projected to reach $6.78 in 2022.
More companies considerd BI vital to their operations in 2021 compared to the previous years. In 2021 27.5% of the respondents agreed that BI was a critical business system, while only 20% supported BI importance in 2020. 2019 saw the growth rate of 16.5%, which shows the growing popularity of BI. Logically, companies that saw BI as unimportant made 7.5% in 2021 and 2020 compared to 14% and 11.5% in 2019 and 2018, respectively.
According to TrustRadius (research and review platform helping to select the right software for various business needs), market share of the top Business Intelligence software is headed by Microsoft Power BI as of 2021, based on the data gathered by the company.

Business Intelligence vs. Business Analytics
Although Business Intelligence and Business Analytics are used interchangeably by many people today, initially those were two distinctly separate vectors of work.
In a nutshell, BI uses past and present data to describe the state of your business today, Business Analytics mines data to make predictions on your business development and prescribes certain actions to bring the best outcomes.
BI provides insights into the current state of the business by giving clear numbers, like what the conversion rate of your business today is, what the retention level is, and how has the cost of advertising changed during a year, etc. That helps to see the whole picture clearer.
While Business Intelligence describes what happened in the past and the outcomes of it now, Business Analytics predicts what will happen in the future and prescribes what should be done to correct, avoid, and improve some outcomes. Business Analytics is a part of data analysis.
According to CIO, the line between Business Intelligence and Business Analytics is really blurred today, as more companies demand predictive and prescriptive functions from their BI platforms. If earlier analytics was the domain for advanced data specialists, businesses today need predictions that are easily interpreted by non-technical end users and lead to some actionable insights maximizing positive outcomes.
Traditional and modern Business Intelligence platforms
This requirement of modern businesses is proved by the Deloitte report on Modern Business Intelligence, which states that in the past two decades the traditional Business Intelligence platforms "succeeded in providing comprehensive historical reporting and user-friendly ad-hoc analysis tools". Despite the fact that many users benefited from traditional BI platforms, many of them now require more advanced data analysis techniques. Hence, there's a shift to modern Business Intelligence platforms, combining both descriptive and predictive/prescriptive functions. This tendency is clearly seen in the following classification of BI tools, some of which are analytical.
Synder Insights is a good example of a working combination of Business Intelligence and Business Analytics aiming to help your business grow strategically. Synder Insights is a tool that contains your business data and gives you access to reports on it with clear explanations of how the insights of these reports might scale your business. Reliable information takes a guessing game out of everyday decision making and boosts your business growth. All you need to do is connect all your sales and payment platforms to Synder. Business insight reports are created in seconds and displayed on a customized dashboard.
Synder Insights provides its clients with the following features:
Hourly multichannel data imports
Sales analytics
Product and COGS analytics
Customer cohort reports
Cross platform e-commerce KPIs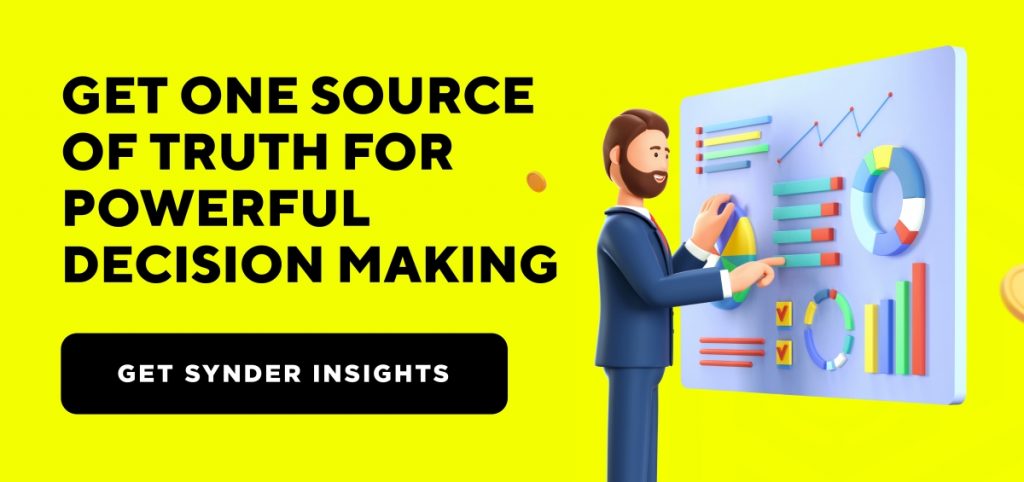 Types of BI Tools and Software
It has to be said that "BI tools and software" term embraces a whole variety of forms and solutions that fall into the following categories, according to Investopedia:
Spreadsheets like Microsoft Excel and Google Docs are considered to be the most well-known to a large audience BI tools.
Reporting software has its purpose to report, organize, filter, and display data.
Data visualization software transforms data sets into easy-to-digest, visually attractive graphical representations to quickly gain insights.
Data mining tools, as it follows from the name, "mine" large amounts of data searching for patterns with the help of artificial intelligence, machine learning, and statistics.
Online analytical processing (OLAP) tools allow users to analyze datasets from a wide variety of perspectives based on different business goals.
It's necessary to add some more types here, according to the software selection service SelectHub:
Automated dashboard software is an information management tool that automatically analyzes, tracks, and displays key performance indicators (KPIs), which is a very important feature to keep your business competitive.
ETL (extract-transfer-load) tools help to import data from one data store into another.
Predictive Analytics tools have advanced analytical capabilities like text analysis, real-time analysis, statistical analysis, machine learning modeling and optimization, and many others to help predict the outcomes of certain operations.
Drill-Down tools allow users to instantly switch from an overview of data to a more detailed and granular view within the same dataset they are analyzing by clicking on a metric in a dashboard or report. This option helps to explore specific information in a report from different angles by changing the levels of information hierarchy.

How does Business Intelligence help businesses?
The very tendency that more and more businesses are adopting various BI solutions and relying on their work tells us that there are some solid reasons to do so. Let's explore the main reasons making BI vital for modern businesses.
Business Intelligence solutions help to:
Get Actionable Insights based on improved reporting
BI is the very source of enormous amounts of information to gain actionable decisions. Analyzing various metrics may help companies to understand where the problem is and to choose better options for resolving it. BI platforms create reliable and clear reports while slicing data to uncover hidden insights and tendencies with or even without consulting data analysts. Making better decisions allows them to gain an advantage over competitors and dominate a supply chain.
Make Business Operations transparent
Utilizing BI techniques guarantees better control over business operations, simplifies identification and correction of possible errors before they bring some undesirable outcomes. BI solutions give access to real-time information which reduces the risk of potential errors and enables the users to address all the challenges in time.
Understand Customers
A lot of data about clients/customers of a business is processed with the help of BI practices to create customer profiles and analyze their buying patterns. Such information enables the improvement of products and experiences, which has a positive effect on both customer retention levels and attraction of new clients.
Improve Efficiency
Availability of data across all departments minimizes waiting time and improves overall performance of the team. Valid data helps the teams to make data-driven and cost-effective decisions that boost a company's productivity.
Make Stronger Marketing Efforts
Relying on the information about a company's KPIs like customer acquisition cost (CAC), return on investment (ROI), lifetime value of a customer (LTV) is a solid basis for creating robust marketing campaigns.
Get Competitive Advantages
Understanding the value of key metrics and overall information on the way your company works enables you to clearer see how your competitors work, how a particular business field operates in some region. This certainly gives you competitive advantages when planning a budget, launching new products or improving existing products and services.
Identify Market Trends
Robust BI platforms analyze market conditions and customer profiles, detect market trends which makes it possible to enter new markets, launch new products and services. Working with customer feedback and using social networks information helps to stay on top of the game.
Increase Revenue
Leveraging BI tools to compare data across various dimensions, keeping track of your KPIs, identifying strengths and weaknesses of your business processes and acting accordingly to adjust your business strategies may well boost a company's revenue.
Bottom line
Today, when the amount of data produced every day sees exponential growth, investing in solid Business Intelligence solutions seems like a reasonable idea. Large amounts of information need to be structured and organized in the most visually perceptible ways. As the business landscape is changing continuously, modern Business Intelligence platforms are keeping up with it by perfecting self-service analytical tools, introducing new software and taking the companies that adopted them to the next level of using data science to their advantage.
Whatever Business Intelligence solution a company chooses, one thing is clear: knowing the business numbers is most certainly a game changer.