As a business owner, you know how much effort is needed to create actionable strategies for your business to increase sales and go ahead of the competition. Sometimes, it seems to be an ongoing struggle: making assumptions, testing theories, and trying to predict how this or that step of yours affects your business performance. At this point, shifting your focus to data-driven decision-making seems to be a much wiser approach. Moreover, businesses usually already have all the necessary data. What they might lack is the means to extract valuable insights from the data they possess. And that's where business intelligence tools can help.
In this article, we'll delve into business intelligence and BI tools. We'll also see how e-commerce businesses can leverage them: from a better understanding of business performance to creating more efficient strategies, including marketing, sales, etc.
Keep reading to learn more about BI:
1. What is business intelligence?
2. The difference between business intelligence and business analytics
3. What is e-commerce business intelligence?
4. What are business intelligence tools?
5. Types of business intelligence tools
6. Why do e-commerce businesses need business intelligence software?
7. E-commerce business intelligence tools to consider in 2022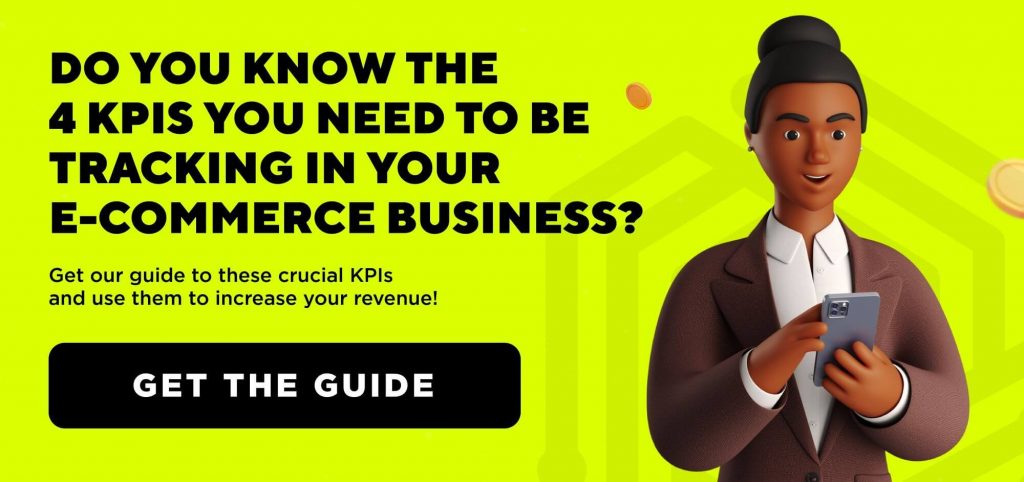 What is business intelligence?
Before we get to business intelligence tools, we'll take a look at business intelligence as a concept and define what it means in e-commerce.
In general, business intelligence – often shortened to BI – is a broad concept that finds application in different areas as a means of ensuring more efficient decision-making powered by relevant business data. In recent years, it has acquired wide recognition in the business world, and more businesses embrace and implement it. The data that the business intelligence operates on, its goals, and objectives may differ slightly, given the specifics of a particular industry.
In a wider meaning, business intelligence denotes the process of collecting and analyzing various business data and technical infrastructure that helps perform it and present the results in understandable reports, performance measures, or trend overviews. As mentioned above, business intelligence can include various techniques, such as data mining, performance benchmarking, descriptive analytics, and more.
The difference between business intelligence and business analytics
Business intelligence can often be confused with business analytics. There's no surprise, as both concepts imply analyzing business data. However, BA and BI use different approaches, pursue different goals, and present different final results.
Thus, business intelligence collects and analyzes data on past and current business performance and presents business insights that help assess the business operation, identify trends and patterns that influence business performance, and make better decisions on changing tactics, improving strategies, etc.
Business analytics, in its turn, works with past data to identify the trends in business performance, overall market trends, and customer behavior patterns that might influence the operation of the business and recognize the reasons behind them. It usually requires a more thorough study of the consolidated business data, applying statistical analysis. Based on this data, business analysts create forecasts and projections on future business income, expenses, and overall business performance and come up with recommendations.
In other words, business intelligence tells what's happening to the business now, how tactics and strategies work, and where the change might be necessary.
Business analytics describes why certain things happen and what's likely to happen with the business in the future and offers recommendations on the needed changes.
What is e-commerce business intelligence?
As mentioned above, business intelligence is a broad concept that can be used in many industries. But let's narrow it down to the e-commerce industry and look at how it applies there.
In e-commerce, business intelligence usually provides insights into sales, product performance, and customer behavior, based on which a business can make better decisions and create more effective and efficient strategies, including marketing, customer acquisition and retention, inventory management, and more.
It usually involves integrating data from various sales channels and other sources, including e-commerce platforms, marketplaces, and payment gateways – everything a business uses to sell their products and services, as well as receive and manage payments.
Operating with so much data might require something more actionable than a simple Excel file or a Google Spreadsheet. And business intelligence tools are what businesses might leverage to ensure the overall success of the initiative.

What are business intelligence tools?
Business intelligence tools (often referred to as BI tools) are software used to fetch, organize, analyze, and visualize data a business acquires through its operations to present trends and patterns influencing business performance in easy-to-digest reports. As a result, they help informed decision-making, powering it with data-driven business insights.
Types of business intelligence tools
Business intelligence comprises a wide range of analytical techniques that allow deciphering the data behind business insights and organizing it into valuable business reports. Besides, they can differ based on the approach to analyzing data, access, and devices they're compatible with. At this point, we can speak about a variety of the types of business intelligence tools available. Here's a short overview:
Ad hoc analysis
When you need to receive a real quick answer to a specific business question, ad hoc analysis is here to help. Unlike many other business intelligence techniques, it allows for answering specific business inquiries quickly and doesn't require much analytical expertise. Usually, ad hoc analysis applies to test tactics and powers up short-term decisions (like what channel brought you more sales last week, etc.)
Online analytical processing (OLAP)
OLAP is a business intelligence technology that allows for organizing and ad-hoc analyzing large sets of business data from various dimensions. OLAP is capable of complex calculations, trend analysis, and sophisticated data modeling (what-if scenarios). That's why OLAP usually powers solutions for business performance management, financial reporting, budgeting, financial forecasting, etc.
Mobile BI
Mobile business intelligence – or mobile BI – embraces a wide range of tools that allow accessing and performing BI-related processes on mobile devices and tablets. It facilitates tracking KPIs and other business metrics through mobile dashboards and reporting.
Real-time BI
Real-time business intelligence (RTBI) comprises various analytical instruments that allow for instantly aggregating data from multiple sources, anatomizing it, and delivering highly accurate and up-to-date business insights. RTBI tools enable businesses to quickly capture time-sensitive opportunities, detect potential risks and critical issues early, and quickly apply decisions based on the insights where necessary.
Operational intelligence (OI)
Operational intelligence involves analyzing the business operation data gathered from multiple sources in real time as soon as the data is collected. It helps owners quickly understand how their business is performing, providing valuable insights into how to improve the operation. The OI tools usually present insights through reports or dashboards.
SaaS BI
As the name denotes, these tools are offered under the SaaS distribution model with flexible pricing, often subscription. Saas business intelligence tools are, at large, cloud-based and hosted by third-party vendors, providing users access to analytics services like dashboards and reports and storing data in a secure online environment.
Embedded BI
Embedded business intelligence comprises BI solutions that can integrate with the applications or portals a business already uses to manage its operation to join those siloed data sources into a single analytical system. They allow for comparing and analyzing different data sets from existing business applications using interactive dashboards, reporting, predictive analytics, data analysis, and more.
Collaborative BI
The concept of collaborative BI (collaborative business intelligence) usually implies merging business intelligence software with collaboration tools to encourage better decisions across various teams, giving access to critical business insights to a wider audience. Simply put, such software allows for shared discussion using business intelligence results, helping improve decision-making throughout a company. From discussing specific report findings to including multiple reports in the discussion and pointing at them for insights while working on an issue – businesses can leverage collaborative BI in many ways.
With so many BI software types available, a logical question can be how to define which would be a better fit for your business. And the good old mantra about sticking with your particular business need might be the best answer. Defining your goals should be the primary thing before choosing BI tools because the choice will directly depend on what you'll be using BI software for, how you'll be more likely to access it, etc.
Why do e-commerce businesses need business intelligence software?
While it may seem that business intelligence is more applicable to big enterprises or the IT industry (like all that big data thing), businesses of different sizes and sectors can leverage it. E-commerce is no exception.
One of the key benefits of BI tools for e-commerce businesses is helping make sense of the data a company receives from all of the tools and sales channels, opening a wide-angle lens into its performance, customers, and overall activity in real time.
Besides, there are a bunch of advantages that e-commerce businesses might find helpful and valuable: from improving operation and efficiency to reducing risks to gaining competitive advantages. Let's break down some more virtues of using BI software.
Facilitated, data-driven decision-making
Business intelligence tools help accurately consolidate and analyze data from multiple sources, giving a business a comprehensive overview of its most critical numbers and KPIs and making necessary calculations automatically. This way, the guesswork element is practically eliminated from decision-making. Moreover, it drastically decreases the time a company might need to test theories and elaborate more actionable strategies on sales and marketing activities, and more.
Improved data accessibility
The way a business uses data can greatly affect decision-making at different levels. At this point, BI tools help beat the silos by widening data accessibility across various parts of a company, dramatically improving the collaboration within the company. As a result, there'll be no such thighs as departments that operate within their data bubbles with no access to critical information that might help implement more actionable strategies.
Ameliorated business processes and operation
Having a generalized view of your data and the ability to sort it by sales channels, customers, and products and compare these data sets against one another can give an e-commerce business invaluable insights into where exactly change or more investigation is required. For example, quickly identify products that might go obsolete or see which sales channel performs best or worst of all. At this point, a business owner can instantly see whether some tweaks might make it work better (like improving customer experience, working more on SEO, rethinking inventory practices, etc.). BI software is capable of highlighting such things and helping track the change.
More drill into customer behavior
Customers being the source of an e-commerce business existence, always require a careful approach. The one who understands how customers behave, what makes them purchase, how often they buy, or when they're ready to buy again can stay on top of sales regardless of the season, the position of the stars in the sky, Mercury retrograde, and so on. At this point, customer data can be a secret weapon for an e-commerce business. And it's BI tools that can turn it from a secret to a weapon by drilling into customer data and presenting it in an easy-to-get manner, visualizing trends and behavioral patterns that can help improve the marketing strategy and, consequently, increase sales.
Spotting problems and preventing risks on the go
The beauty of BI tools is that they help you track business data in real time, displaying changes as they occur. At this point, they enable businesses to spot any unusual happenings – such as a rapid drop in sales, for example – on the go, timely investigate the case, and react accordingly.
Moreover, business intelligence tools power up business reporting with a high level of data accuracy and an overview of the data from a wider angle by consolidating otherwise siloed data sets. It can enormously help in detecting suspicious activity and fraud attempts. This way, a company can find the roots of fraudulent transactions faster and take measures to prevent their future occurrence.
As you can see, e-commerce businesses can dramatically profit from implementing business intelligence software into their management process. And sometimes, this implementation doesn't require a sophisticated infrastructure and complex processes, which makes it accessible to small businesses. Even the most simple business intelligence tools (combined with elaborated data policies regulating how data should be gathered and used across the company) can change the game.
E-commerce business intelligence tools to consider in 2022
At this point, we'll look at some business intelligence software that e-commerce businesses can use to analyze and visualize their business data and streamline their decision-making. There's a wide choice of BI tools available on the market, from the most simple to more sophisticated, so basically, there are options to suit almost any business. Well, let's get to it right away.
Synder
Synder is a cloud-based e-commerce accounting and analytics software that provides a 360-degree business overview through a business intelligence dashboard and a set of sales, products, and customer reports – Synder Insights. It connects with more than 25 different data sources, including e-commerce platforms, marketplaces, payment systems, and accounting solutions. Synder provides multiuser access, making it easier to share insights with everyone involved in decision-making.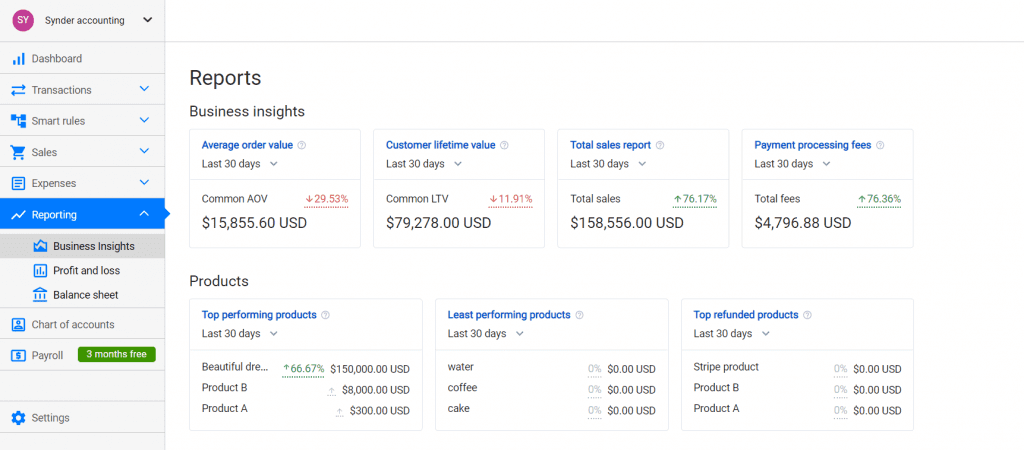 What's so cool about Synder for e-commerce businesses?
Synder is created for e-commerce businesses with a deep understanding of their needs. At the same time, it can perfectly suit other online product and service-based businesses with high transaction volumes. The platform is easy to use – connecting all the necessary data sources requires several minutes, and there's always a possibility to add more anytime you need it. Some settings might need a little bit of a learning curve, but it compensates with a detailed knowledge base and a super cool support service available 24/7.
Synder allows for analyzing past and current business data with the ability to sort it by sales channels, products, or customers to assess business performance from different dimensions. This way, it provides instant insights into sales, product performance, and customer behavior patterns that can dramatically impact strategic decisions.
If you believe Synder Insights might be the right BI tool for you or want to learn more about how it can help your business, don't hesitate to schedule a free demo with the Support team or just give it a try to see how it works in practice.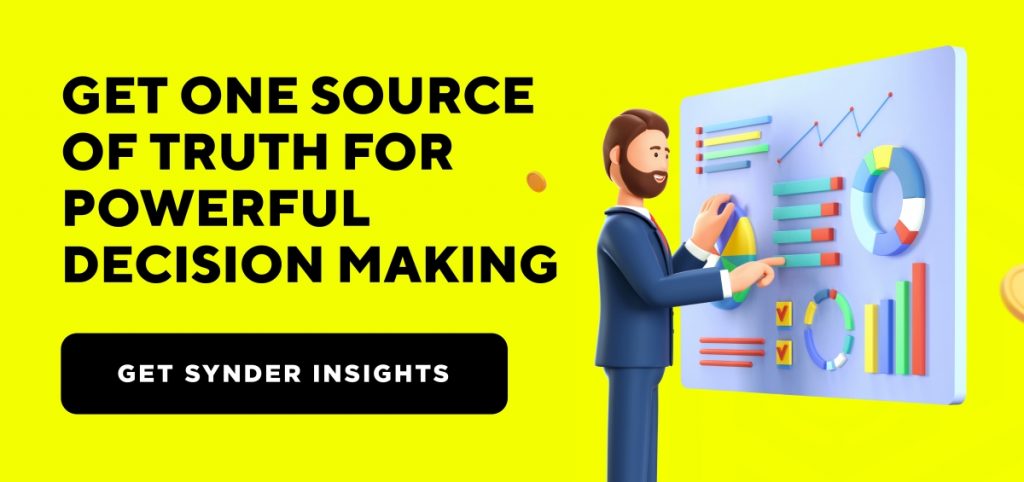 Tableau
Tableau has been one of the most popular solutions in the BI tools market for about ten years. Thanks to its great data visualization capability and comparatively easy implementation and use, Tableau holds a strong position above most of its competitors.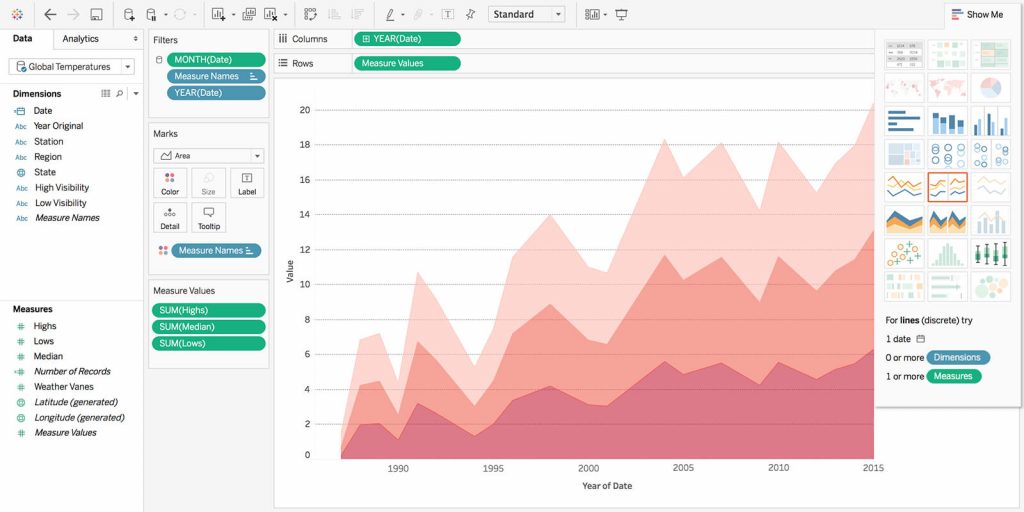 Source: Tableau
What's so special about Tableau BI?
Tableau helps users visualize and analyze data from various sources and build the necessary reports and dashboards using simple drag-and-drop modules. It integrates with many business tools and databases, which makes it simple to implement into the existing business infrastructure.
Moreover, it features wide accessibility, offering desktop, mobile, and cloud versions compatible with the most used operating systems. One of the outstanding advantages of Tableau is its collaboration feature helping various teams to work together with reports for better decision-making. As mentioned above, Tableau doesn't require deep programming knowledge to implement, so businesses might start working with it almost right upon installment.
Power BI

Microsoft Power BI is a cloud-based software accessible via the web or a mobile app and can be embedded into existing business infrastructure. A free desktop version is available, though its storage is limited, which makes it suitable for smaller businesses. At this point, you might want to switch to a paid cloud version and enjoy the full functionality as the business grows.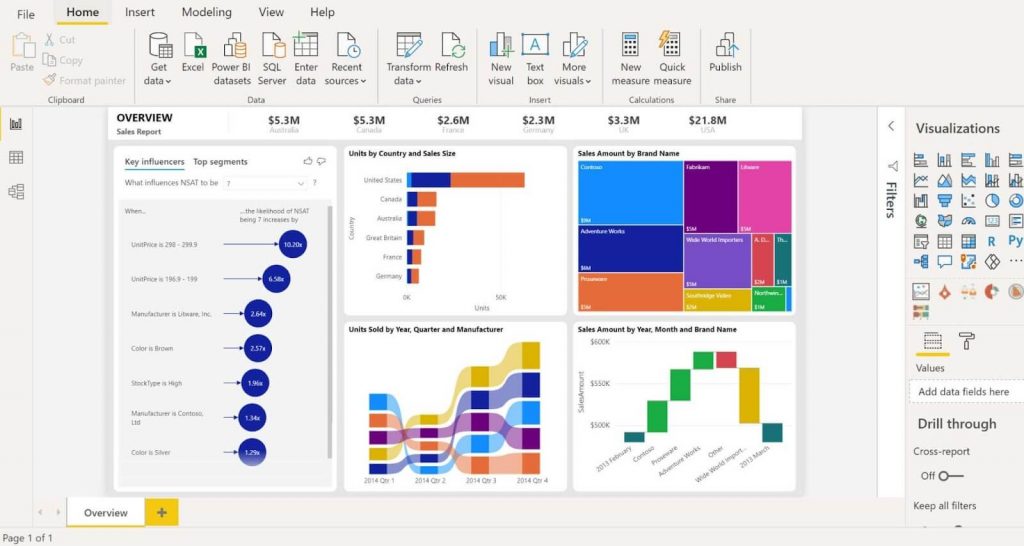 Source: Microsoft
What makes Microsoft Power BI so cool?
Power BI integrates with a wide range of pre-built dashboards and data sources, both cloud-based and on-premise, enabling users to consolidate large volumes of data and analyze it comparatively fast. The amount of possible visualizations it provides is immense, allowing for a comprehensive overview of business-critical KPIs and overall performance. Moreover, it allows for collaboration and interactive real-time reporting.
It still needs to be mentioned that Power BI is more complicated to implement and operate than many other solutions on the market, even though it provides a vast knowledge base. And though the ability to quickly analyze large data sets and enjoy the variety of informative dashboards and reports pays off all the effort, you might want to consider this complication while planning the Power BI implementation and turn to professional help.
Looker Studio
Looker – former Data Studio – is a powerful business intelligence software that helps businesses of various sizes explore, analyze and share real-time business insights. It's a browser-based embedded BI tool that doesn't require any installation and enables users to generate interactive and dynamic dashboards in a couple of clicks, schedule and automatically share reports, receive report alerts, and more.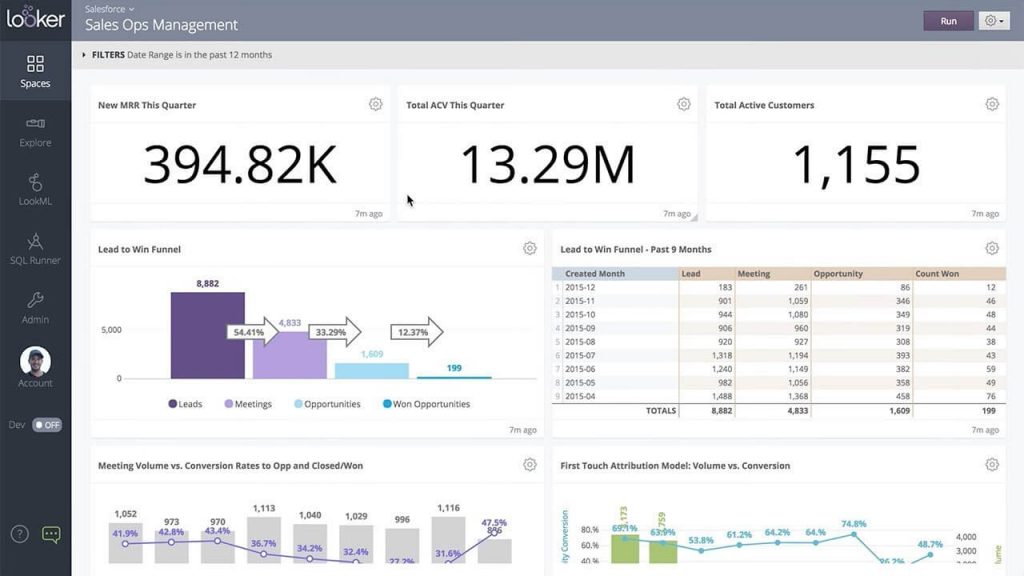 Source: Looker
What's so beneficial about using Looker?
Looker can smoothly work with a variety of popular databases and other cloud and on-premise-hosted data sources (if you've ever worked with Data Studio, you might remember the wide selection of data sources it comprised). Its own query language, LookML, drastically facilitates creating queries without any previous data analytics background. This way, users can create the dashboards they need from scratch if they can't find anything covering their needs in the base of the pre-built tools. Add here the functions tailored specially for e-commerce businesses, and you can easily see why Looker is so popular.
Sisense
Sisense is an AI-based business intelligence software that simplifies complex data analysis and helps visualize business data, set and track KPIs, and provide insights for decision-makers. Sisense integrates with multiple data sources and allows various data mashups and data export in different formats (CSV, PDF, Excel, and more).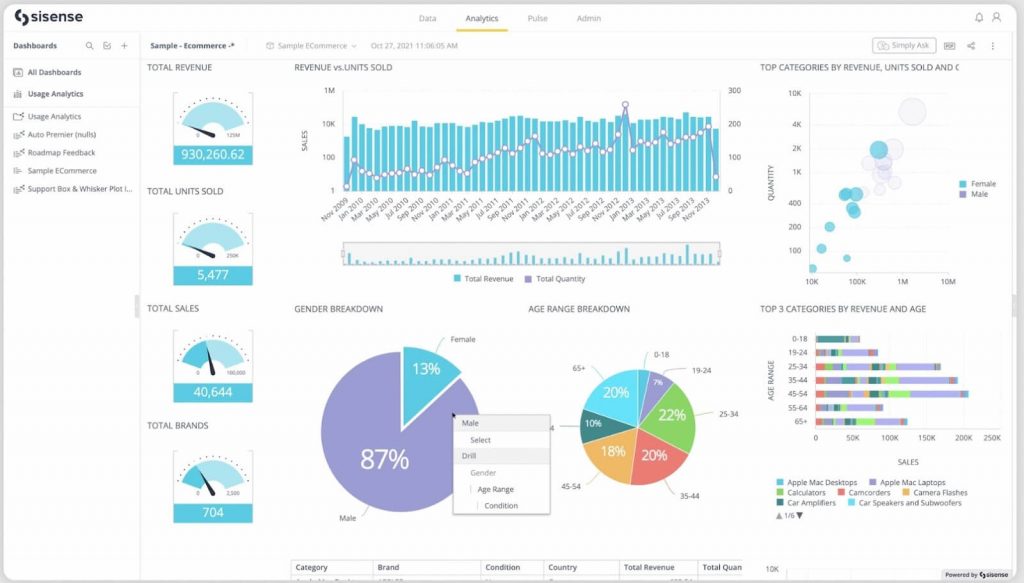 What's so peculiar about Sisense?
Sisense allows working with complex and high-volume data sets using a simple drag-and-drop functionality, which makes it suitable for non-tech-savvy people. It offers a wide selection of embeddable widgets, such as charts, gauges, graphs, and even dashboards, to use and share with everyone involved in decision-making. It also provides a capability to scale, so there's no risk of having to switch to new software as the business grows.
Final word: How to choose the right BI tool for your business
I'm pretty sure there's no need to convince you that business intelligence is a must-have practice for e-commerce businesses that want to understand their performance and fine-tune it based on real numbers. However, provided there are so many different solutions on the market, it might not be obvious at first glance which would be the best options for a particular business.
At this point, you might want to consider first of all what kind of intelligence you want, whether it should be a quick daily real-time overview of the data to make quick decisions on specific questions, should it provide more drill into the data and give a basis for deeper business analysis, you see the idea. Then, obviously, it's how well a solution integrates with other business tools and data sources you have (so that you won't need to rebuild your whole business infrastructure). The ease of implementation might also matter, especially for smaller businesses that might not have specially trained staff to perform complex implementations. Reporting and visualization capabilities as well as available customization might also be a decision-making factor. Ultimately, it's scalability because as the business grows, you might want to be sure your BI software will be able to cope with the growing volumes of data to analyze.
Do you use business intelligence tools or plan to implement them in your business? Share your thoughts in the comments, your opinion is very welcome.