It's a known fact that your routine can be automated with the help of various platforms, tools and software. The only challenge is to find the best solution for your business. So let us help you make your choice by providing useful information on the most necessary tools one needs to apply in their business.
If you don't have an online store, we have an article that will tell you how to start an online business. Once you open your own store or if you already run your own business, it's high time you applied automated ways to make your business grow, bring you more profit and happy customers.
Contents:
Accounting & Finance Management Software
Introduction to Automation
Automation gives you the opportunity to automate your business activities by incorporating tools that are simple, user-friendly and efficient.
Here are some key benefits of automating your business:
Higher conversion rate.
Increased sales and brand awareness.
Better customer service.
Having a 24/7 business.
Improved your customer experience.
Less time spent on repetitive tasks.
Increased employee morale.
Accounting & Finance Management Software
A common myth about starting up a small business is that you need to be an accountant. While you can use a good bookkeeper, accounting software such as Synder is more flexible and cost effective. Synder is a reliable accounting software, and it's more affordable than many traditional accounting packages, while delivering all the tools you need to manage your accounting and finances. So, you don't have to be an accountant to run a business. Now accounting software can take over a lot of the work that you might normally do, such as account reconciliation, expense tracking, managing invoices and payments, and more.
Synder – 4.8 ⭐️
Price: free trial; pricing starts at $39.99 per month
Features: Synder is the best accounting software for SMBs. After you connect your payment platforms and sales channels, you get automated bookkeeping: automated live reconciliation, accurate and hassle-free synchronization of your payment data. Your data will be recorded seamlessly without any duplicates. You will Receive comprehensive and 100% error-free Profit and Loss reports, which will help you with future budget planning and make your business prosper.
Everything is done automatically within a single interface. The invoicing feature allows you to send one-time or recurring invoices to remind customers about regular payments. You may apply taxes based on location, sales taxes, product name, shipping address, etc. You can expect correct conversion rate calculations for your multi-currency payments. Excellent 24/7 support service is as remarkable as a unique opportunity to register for a Demo to find out about Synder's worthy features live-time. Signing up will let you try out Synder for free and realise that this is the software your business was craving for.
Adaptive Planning – 4.5 ⭐️
Price: free trial; pricing starts at $15000
Features: Adaptive Planning software is a business strategy suite that is designed to allow marketers to improve conversion rates and sales for their clients. The platform is designed with real-time, 360 degree view into all of your customers' actions, so you can evaluate them and develop strategies to engage them more effectively.
This Adaptive Planning software comes with a powerful and convenient drag-and-drop dashboard for rapid event and sequence management. Its platform enables efficient task organization and enables you to set up flexible reporting, dashboards and graphs to easily view the data your business requires.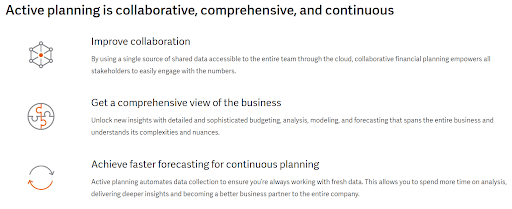 Sales Automation
As a small business owner, you know you are the customer's first interaction with your brand. You only have seconds to grab their attention, and convince them to give your product a try. So, there is a need to find an ideal solution that can assist you with customer interaction. That is where online automated sales solutions come into play. Automation software can make the selling process faster and more efficient for your small business. As a small business owner you will not have to constantly work with customer relationships. With the help of automation software you will be able to take up other tasks that will enable you to focus on your work.
SALESmanago Marketing Automation – 4.5 ⭐️
Features: SALESmanago is a marketing automation platform that enables you to reach out to and speak to new prospects and customers. The solution is best suited for sales, marketing, sales and service professionals who sell, market and provide services to customers online or offline. It's designed to improve your conversion rate, increase average order value and improve customer satisfaction.
SalesManago provides a complete solution to engage with your potential customers on different social channels like Facebook, Twitter, Instagram, Google+, Pinterest and LinkedIn.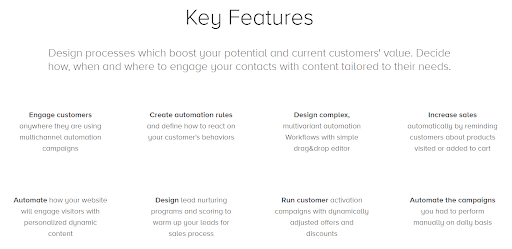 Freshsales – 4.6 ⭐️
Features: Freshsales improves sales by allowing your customer-centric team to respond to emails, texts, phone calls and other communication with customers. You can create a mix of automated communication for your customer, which makes the user-customer relationship more engaging and emotional.
Freshsales' CRM tool will automate your customer's lifecycle from initial contacts, billing, remarketing, collections to close.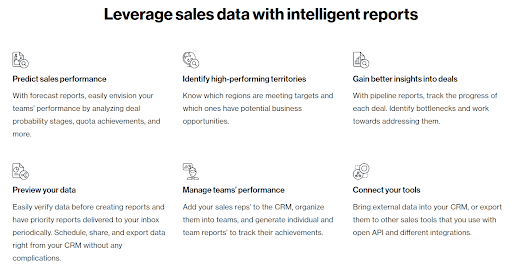 Email Marketing Automation
Tired of maintaining your email list and the prospect of attracting the people who aren't yet ready to buy? Just Wait! What if you can automate this part of your process? What if you can generate leads and nurture them with an automated email message based on their email preferences? That will surely save your time.
Encharge – 4.9 ⭐️
Features: Encharge is an excellent enterprise-level email automation software that works very well for SMB and even large companies. It can create personalized and customizable email campaigns as per your customers' needs.
It can perform predictive remarketing, create lead scoring, send email and SMS auto responders, and automate tasks that are important for day to day operations. It can also save time in following up, and take action on customer interactions with marketing automation features such as, CRM, Salesforce, HubSpot, Marketo, SAP, and Microsoft.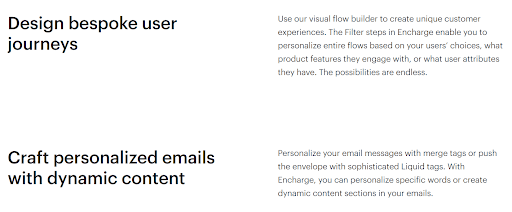 Benchmark Email – 4.2 ⭐️
Features: by adding Benchmark Email automation to your email marketing campaigns you'll increase your lead conversion rate and boost your click-through rates. This email marketing software is easy to integrate into your existing or new marketing campaign which can be personalized to suit your individual needs.
The software enables you to automate simple tasks such as sending your customers' emails to your marketing list, identifying the potential prospects' activity based on engagement or loyalty, and sending them personalized messages to their inbox.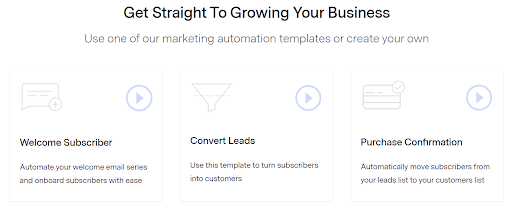 Final Thoughts
Automation is a trending field for many companies nowadays. It saves both time and effort and makes it easier for everyone. Automation is one of the key steps of a business. It provides customers with personal attention and gives the freedom to do whatever it takes to meet a certain milestone.
As seen from above, these services come in three categories. These automation tools can help in improving your business and reduce the time taken to serve customers.
Now is the time you can finally start your automation process with the best accounting software – Synder. Don't waste your chance and sign up for a free trial. And also you have a special opportunity to register for a live Demo and get to know Synder with our experienced specialist.