Real estate investing is a very lucrative field that allows you to take advantage of the rising housing market and increase your net worth. However, it needs a lot of management work. There are many different aspects of owning property – from leases to taxes – that need to be kept in check. If you have multiple properties, trying to keep track of it all with manual spreadsheets or an Excel file can become overwhelming.
Unlike other types of business accounting, real estate accounting focuses specifically on the financial aspects of real estate transactions and can provide valuable insight into the financial health of a real estate business.
As a real estate investor, you'll need to track all your expenses, manage your properties, and monitor your cash flow. If you want to succeed in real estate investing, you'll need the right tools to manage all this information. In this article, we'll explore what makes a great piece of software for real estate investors and share some top recommendations on accounting software for real estate investors.
Contents:
1. What is real estate accounting?
2. How does real estate accounting differ from other types of business accounting?
3. How to choose the best estate accounting software
4. Best real estate accounting software solutions with general accounting features
5. BONUS: How to ease your workflow when choosing QuickBooks and Xero
6. Best real estate accounting software solutions made specifically for real estate businesses
What is real estate accounting?
Real estate accounting is an important part of the management on the way to growing a successful real estate business as it helps to provide financial visibility and accuracy. This type of accounting is different from other types of accounting in that it considers the unique aspects of the real estate industry, such as property ownership, financing, and leasing. Real estate accounting helps to track and report the financial activity associated with a real estate business, including income, expenses, and other transactions. It also helps to ensure that taxes are paid on time and that all financial documents are in compliance with applicable laws.
By utilizing the right real estate accounting, investors can gain insight into the profitability of their investments and make more informed decisions. Additionally, it's beneficial for both buyers and sellers as it helps them protect their financial interests.
Taking into account the real estate accounting and handling it in the right way will allow an owner or an investor to assess and predict the following financial information:
the possibility of further development and growth of the real estate businesses in question;
the area for the future improvement of the business;
the total amount of profit in a given period of time;
the list of payables (including taxes and fees).
The demand for real estate business
The real estate business is booming, and the demand for buying, selling, and renting properties is higher than ever. With the right business acumen and a bit of luck, real estate businesses can be extremely lucrative. Especially, since the average price of newly listed homes has climbed 13.5% in 2022.
From the perspective of an investor, the advantages of investing in real estate are numerous and include stability, access to financing, and tax benefits. For entrepreneurs looking to start their own real estate business, the opportunities are endless.
The statistic also shows that interest rates on 30-year fixed-rate mortgages have been increasing starting from the very beginning of the year 2022. From January's 3.45% the rate climbed to 6.90% in October. For now, excluding the November and December months, the annual rate is 5.08%, which is the highest percentage in the last decade.
How does real estate accounting differ from other types of business accounting?
Real estate accounting management is a unique and complex process that requires specialized knowledge to accurately track and report financial information related to the real estate business. It's different from other types of accounting because it involves various elements of the real estate industry, such as investments, financing, taxation, and legal requirements. 
As any businessman, real estate specialist primarily focuses on three things:
evaluating expenses;
maximizing business revenue;
minimizing business debts.
Besides these, there are many equally important tasks in real estate accounting to draw attention to:
structure a business in the most tax-efficient way;
estimate the value of the real estate;
quickly show the best performing investment properties;
protect financial documents;
accept rental payments online;
accurately evaluate asset;
keep data safe and accessible in case of an audit;
track your portfolio's performance;
have powerful reporting;
separate real estate business and personal expenses.
An automated accounting tool will significantly assist an experienced real estate accountant with tracking and recording income from rental properties and understanding the financial implications of real estate investments.This will help you to stay on top of your financial obligations. Let's find out how to choose the right software and which factors to look at. After that you'll find some examples of real estate accounting software solutions that might be of great help to the real estate business.
Property management software: How to choose the best estate accounting software
When it comes to real estate accounting, having the right accounting software management is essential. With the right software, you can easily track income and expenses, manage clients and vendors, and generate reports to help you make sound financial decisions. But with so many real estate accounting software solutions on the market, how do you choose the best one for you?
Since many real estate agents are self-employed, they're potentially subject to quarterly tax estimate payments. As such, the accuracy of their payment information is crucial. They need to know how much they earned, what their expenses were, and how many miles they drove.
However, there's no universal solution to everyone's problems. And even if it existed, it'd add up more mess, since it wouldn't be able take into account details of each particular situation of a real estate business.
So, what to look at when choosing real estate accounting software?
When it comes to finding the right software for your business or personal use, the last thing you want is to be bogged down with a complicated and difficult-to-navigate system. Whether you've already worked with other accounting software solutions or it's your first try, it's better to work with something that's not too overwhelming. Otherwise, trying to understand how the tool works and/or watching the tutorials from other users, you'd spend the same amount of time as you'd spend on manual accounting. It's not worth it.
The cost and fee should be affordable for small to mid-sized real estate agents, otherwise the price will be higher due to the amount of additional features. There are numerous factors that can influence the overall cost and fee of a given product or service, including but not limited to the quality of the product, the complexity of the service, and the amount of time involved. Understanding the cost and fee associated with a particular purchase or activity can help you make an informed decision and save money in the long run.
Having good customer support from the platform you're going to use is also an essential part of the whole journey. Good support specialists will answer all your questions and help you achieve your goals. The customer support service is an essential part of the workflow especially when you're constantly working with lifeless programs and numbers.
Now let's talk about the functional part and list the features essential for efficient real estate accounting software in 2022.
Features to look for when choosing real estate accounting software
Real estate management is a unique business that has its own accounting needs. While you can use general ledger software for small businesses to manage basic accounting, real estate investing requires a lot more than just keeping track of debits and credits. You need special features to help you keep track of all your properties, track rental incomes, manage expenses, and even compute depreciation.
You need accounting software tailored specifically for real estate business management. There are several features you should look for when choosing the right software for your needs:
tracking expenses;
sending invoices to the clients;
performing accounts receivable and payable;
accepting online payments;
managing the inventory;
collecting and/or submitting sales tax.
As it was said before, the list of features may vary depending on the processes required for your business and its size as large real estate agencies and solopreneur agents need different features and capabilities.
The best way to choose the right software is to create your own list, adding the features you need from the general accounting features and the features that are specific to your real estate business. After that you can compare the features of the software solutions among which you're trying to choose and find out which tool suits you and your real estate business needs.
There are mainly two types of accounting software solutions that will suit particularly real estate businesses:
general accounting software solutions with basic accounting;
accounting software solutions designed specifically for the real estate business needs.
Today we'll go through both categories so that you can have some options to choose from.
Best real estate accounting software solutions with general accounting features
1. Wave: Best free solution
Free option
Wave allows users to effortlessly manage their finances, create invoices, and track their expenses, all without the need for costly accounting software. If all you need is free basic accounting functions, Wave is the right choice. You can connect to bank and credit card accounts, print balance sheets and income statements, and balance your books.
Top available features:
Inventory tracking;
Multiple payment methods;
Invoicing.
Cons:
Doesn't allow to separate profit and loss by property;
Accepts only one user.
2. QuickBooks: Best overall accounting software
Free trial: 30 days
Choosing QuickBooks for accounting is always a good idea for any business management, and real estate is no exception. It perfectly syncs with your bank accounts, gives you the ability to classify income and expense accounts, creates professional-looking invoices, and keeps a photo record of every receipt for you to be always ready for tax time. QuickBooks makes it simple to manage your finances without having to learn complicated accounting principles. The software also offers a range of features that can help you keep track of your business operations.
Top available features:
Plans suitable for real estate agents;
Built-in payroll functionality;
Flexible and easy to use.
Cons:
It's not specifically designed for real estate investors, so you'll need a little time to customize it.
It's not all-inclusive and lacks features that you may need. You'll have to use separate software for, for example, receipt capture and upload.
3. Xero: Best cost-effective cloud-based solution
Free plan: 30 days
Xero is a full-featured cloud-based software. It's a powerful accounting software that enables businesses financial management of all sizes. It streamlines and simplifies the entire process, from tracking income and expenses to preparing tax returns. You can run your business from anywhere and stay connected while you're out and about. You can see how things are going with a glance at the up-to-date charts on the Xero dashboard and combine smart small business payroll software with your online accounting. It also allows you to sync Xero with third-party apps made for real estate specialists.
Top available features:
Contact management with all the customer's data in one place;
Reporting of your finances;
Expense management on the go.
Cons:
No automatic quarterly tax prep functionality.
Some important features require third-party apps.
BONUS: How to ease your workflow when choosing QuickBooks and Xero
If you're a QuickBooks or Xero user, I've got some good news for you! You have a special opportunity to simplify your accounting workflow even more. Let me introduce you to a salvation for your accounting!
Synder Sync is a cloud-based accounting software solution that is designed to smooth the workflow between the payment provider and the actual accounting software. The tool represents a massive bridge between these two sides of the road with a whole set of traffic control.
All you need to do is to:
Choose the payment platform you use;
Choose accounting software (QuickBooks or Xero);
Connect them all together via Synder Sync;
Witness the magic happen.
No entry errors, no duplicates, just the way you like it.
Since Synder Sync stands as the bonus option, here are some pros and cons for you as well!
Top available features:
Direct connection between a payment platform and accounting system;
Income and expense management;
Guaranteed amazing experience with the support team;
A great number of features available.
Cons:
No mobile version yet.
We still don't have you.
See for yourself how the work is done by scheduling a demo with Synder specialists who have answers to all your questions and sign up for a free trial to get your own hands-on experience!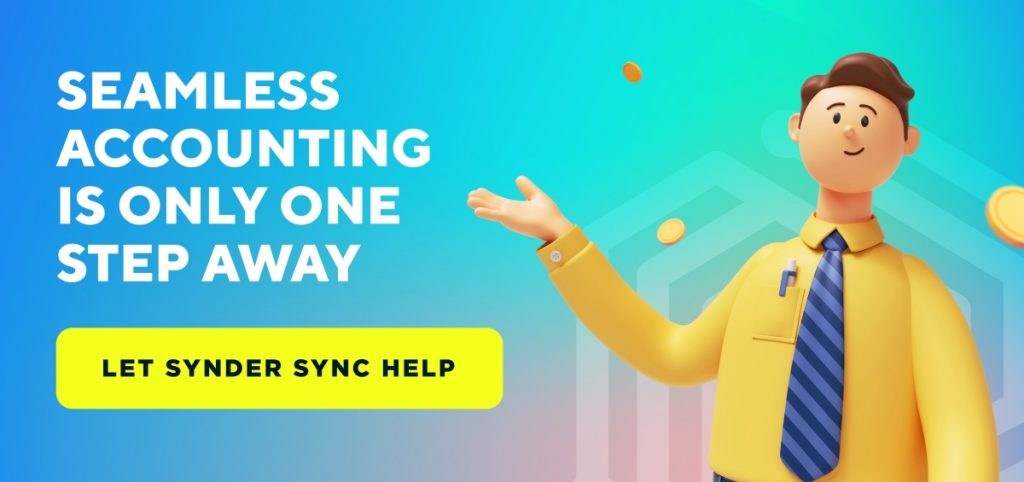 Best real estate accounting software solutions made specifically for real estate businesses
1. Buildium: Perfect solution for a real estate business
Free trial: 14 days
Kudos to the accounting software that was created especially for real estate investors! This comprehensive property accounting software is designed to take the hassle out of manual processes and provide users with an easy-to-use, all-in-one solution for their accounting and financial management needs. Buildium can help you to track budgets, rent, vendor payments, and more with powerful reporting. According to Buildium reviews investors can make and accept payments online for rent, association fees, and vendor fees. One of the Buildium features is retail cash payments – you can easily make, receive, and process cash payments from residents. It also takes industry-leading security measures.
Top available features:
Financial health reporting;
Payment and expense tracking;
1099 e-filing and online payment processing.
Cons:
No integration with QuickBooks;
Limited on some basic accounting features.
2. AppFolio: Best solution for large real estate business
Free demo session
AppFolio accounting software is a powerful management tool that enables businesses to streamline their accounting processes, track financial performance, and make more informed decisions. With AppFolio, real estate businesses can quickly analyze financial data to gain key insights into their business operations and financial health. The software simplifies complex tasks and provides businesses with a comprehensive view of their financials. AppFolio is the perfect solution for businesses looking to take control of their financials and gain greater visibility into their operations.
Top available features:
Smart bill entry;
Automatic rent payments;
Security deposit account holding.
Cons:
A bit pricey for small real estate businesses;
No integration with QuickBooks.
Conclusion
Whether you're a seasoned investor or just starting out, real estate investing is a great way to earn a steady income while building a portfolio of properties. As you know, there's a lot of paperwork involved in owning properties, and keeping track of all the different documents required to manage your real estate investments can be overwhelming. You also need to make sure that you're running your business correctly and the management is in place.
Accounts are the most important financial tools in any business, as they help you keep track of your income and expenses. These tools help you maintain a balance between your cash flow and expenses, so that you can get the most out of your money. However, accounting can be challenging and time-consuming for many small businesses. Whether you own a single property or operate several real estate investments, you'll need an effective way to manage your finances and track your business performance.
That's why it's so important to make sure the software you choose is compatible with the type of business you're handling. As always, the final decision about the best accounting software for your real estate business rests with you and your accountant. Set your priorities wisely and choose the best accounting solution that'll be your companion on this journey!