Automation and workflow optimization aren't new words to those working in the accounting field. However, the dawn of artificial intelligence has raised a number of new questions, and many accountants and CPAs in particular worry that automation will kill their profession, or change it completely.
How justified are these fears? Do the benefits outweigh the fears? In this article, I will attempt to answer these questions and describe the benefits of automation for CPAs.
Level of automation in CPA firms: present and future
If you look at the trends and statistics, you see that the accounting profession is one of the most likely to be automated by 2040. But another interesting fact that there has been a consistent increase in the number of accounting jobs added, and it's projected to grow another 6 percent by 2028. How can you explain a projected growth in a profession that is supposedly endangered by automation?
CPA firms can provide a good answer.
In recent years productivity has increased across all fields, giving the CPAs an ever-mounting workload to deal with. Truth be told, automation couldn't have come into the picture at a better time. Without it, it wouldn't be possible to manually manage an increasing volume of data, avoiding the mistakes which can occur when human beings are the ones entering the data manually.
With technology there to perform such tasks as transactional accounting work, bookkeeping, payroll, expense recording, verify e-signatures, and complete tax preparation, accountants can do the higher-skill level of work they have been trained for. In fact, many already do.
Institute of Management Accountants' report found that 53% of finance and accounting organizations are developing strategies around the use of big data, which can help to uncover correlations, hidden patterns, and other important insights.
The benefits of leveraging accounting automation
Benefits of accounting automation #1: Saving the costs on bookkeeping and payroll
Different studies show that as much as 86% of present-day accounting work has the potential of being automated. If it takes so much of working hours to perform these tasks it's clearly quite natural that by automating these processes the costs are saved on a significant scale.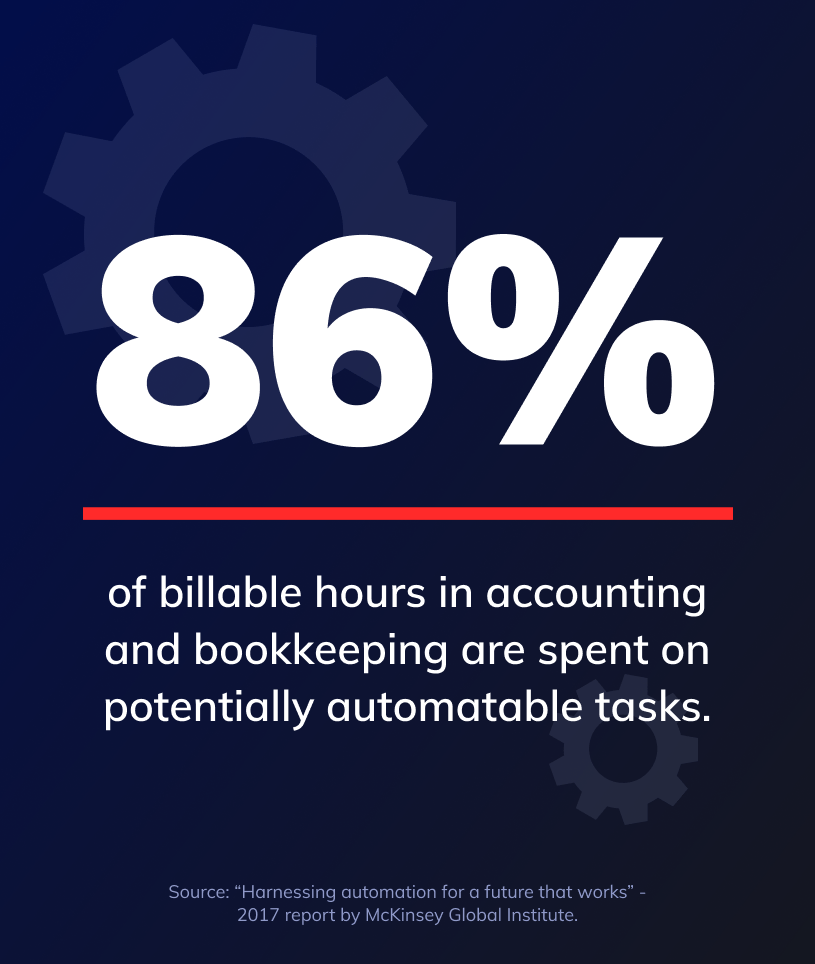 Expense-processing, payroll, file reviews – all of that can be automated. Now imagine it in billable hours. Services like Synder, when used by CPA firms, allow them to put the data entry processes on auto-pilot, at the cost of a few billable hours a month, saving up to 10 hours weekly on repetitive tasks that can and should be automated.
A perfect accuracy necessary for data entry in the CPA environment is also achieved thanks to this level of automation.
Benefits of accounting automation #2: Saving the valuable time
Everything takes less time now, and the clients of CPA firms are aware of that. They expect everything to be done instantaneously and are often unwilling to wait. In order to stay ahead of this time pressure, tech-savvy accountants have begun using software that replaces those processes they have previously performed manually. It doesn't matter to their clients. If anything, the clients will appreciate the efficiency and accuracy of machine-generated reports. It's the CPA expertise that matters, and entire careers that have been built around entering data, finding numbers, and other repetitive tasks now have the opportunity to transform into those that use the valuable time wisely.
A much-discussed McKinsey report shows that accountants and bookkeeping professionals are the ones that spend most of their time on tasks that can be automated. This revelation changes the perspective of forward-looking accountants, rephrasing the question of whether to use automation into how to leverage it in the most effective way.
Benefits of accounting automation #3: Verified quality of data
Accounting software brings a new level of security and reliability of provided data into the game. Reconciliations, once dreaded, become a one-minute process when all transactions are directly sent into the accounting software in real-time; expenses are automatically organized by intuitive solutions such as Expensify; the time is effectively tracked by providers such as TSheets. Eliminating these tasks from the list of tasks that accountants even have to think about allows the CPAs to work with data provided with this automation, and let the machines take care of the rest.

Benefits of accounting automation #4: Value of essentially human skills
True skills that belong to the future cannot be automated. An ability to connect, to tell a story, to empathize, to come up with innovations and create opportunities that do not currently exist – all of that, based on the intimate knowledge of the industry, will allow CPAs to become increasingly more creative, spend less to no time on mundane tasks, and go beyond the expected, beyond the logical. It is also fortunate that these are the skills that the clients value the most.
The role of an advisor that begins to define CPAs becomes possible when the human skills can begin to shine, and that becomes possible when the weight of recurring repetitive tasks is lifted by smart automation.
Benefits of accounting automation #5: Stronger partnerships
Clients of accountancy firms ultimately look for a trustworthy partner who can guide them through the intricacies of the finance and tax regulations. Without automation, an accountant can advise on regulatory questions but would not have the time necessary to delve into forecasting, wouldn't have the tools to back their insights on the financial future of their client with smart data analytics, and would be prone to human error. Professional accountants who can consistently deliver expert, error-free results will be able to build long-lasting partnerships with their clients.
Summary
The transactional part of the accounting work will be automated. It is inevitable. Those whose skills center mostly around manual data entry will have to up-skill their portfolio. But there are so many skills, which Unilever's Chief Human Resources Officer Leena Nair has called the skills of the age of the heart, that are intrinsically human and will only galvanize and be developed further. CPA firms can look into the future with confidence, as backed by automation and equipped with new, higher skills they can keep advancing.